The Lijiang Old Town is a crazy maze of winding cobblestone roads and tacky gift shops, but one place that really stood out was the giant Mufu Palace. We went there in October with our three year old daughter Lisa, and we enjoyed the contrast between the clean order of the tranquil palace courtyards and the noisy labyrinth outside. Here's our guide to visiting, enjoying and photographing Mufu Palace in Lijiang, China.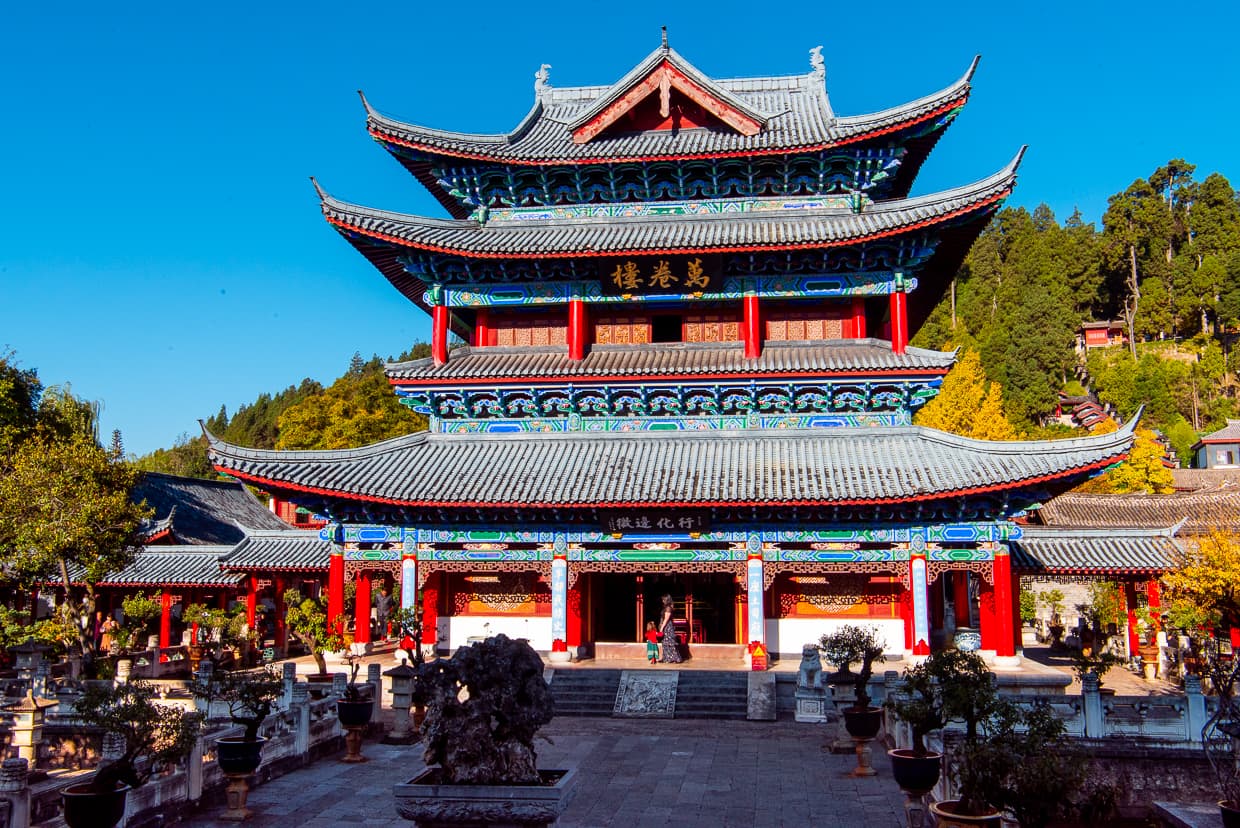 By the way, this article contains affiliate links. If you click on one and make a purchase, we will earn a small commission at no extra cost to you. These commissions help fund our travels and this website. 
What is Mufu Palace
The Mufu Palace was the home of the powerful Mu family and the political center of the Naxi People (we learned a lot about the Naxis and other Chinese ethnic minorities at the Yunnan Ethnic Village in Kunming) from the 13th century until the early 20th century when it was destroyed during a Qing Dynasty war. It was rebuilt just a couple decades ago, and now it is the most popular tourist attraction in the Lijiang Old Town. (Actually, the water wheel is more popular, but only because it's right at the Old Town entrance).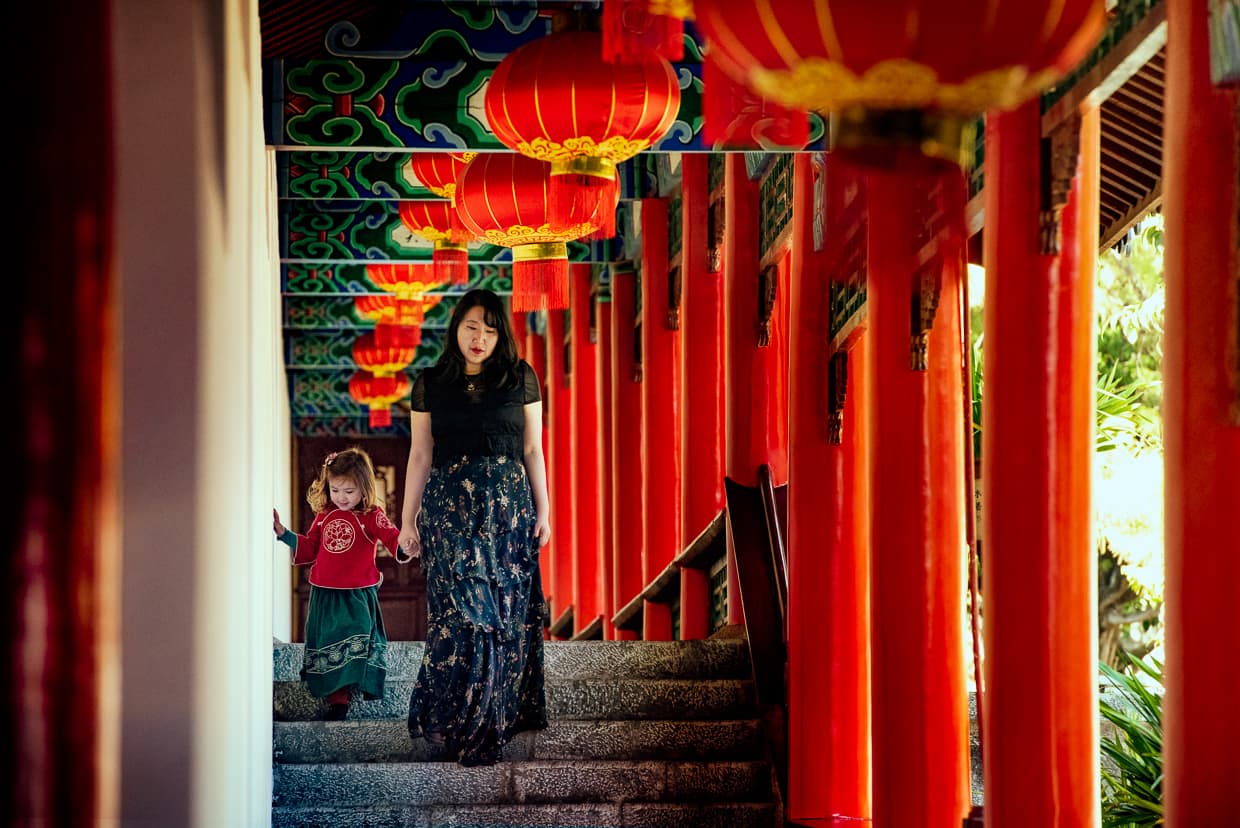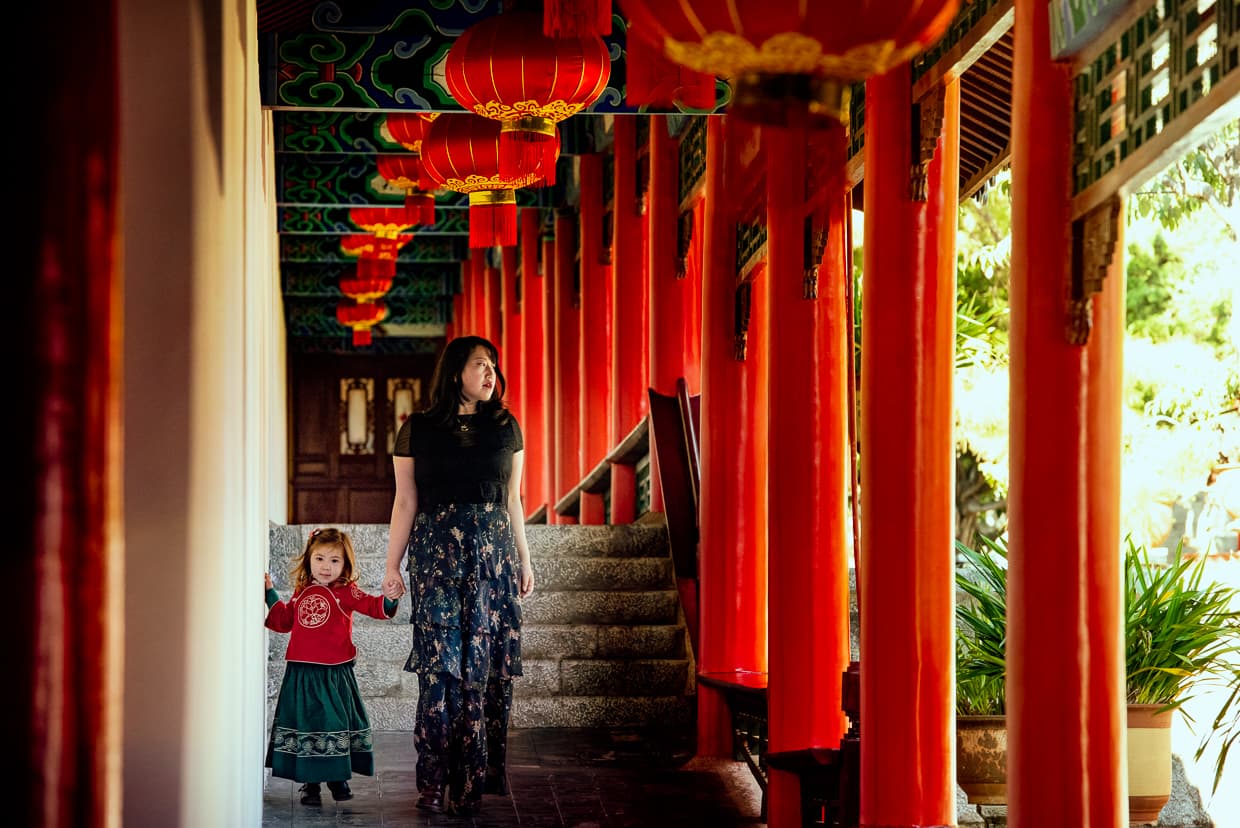 I should point out that Mufu Palace isn't actually a "palace", technically. It is more accurately referred to as a "mansion" or "residence" because in China, only the imperial family inhabited a palace (think Forbidden City). However, many have noted that the Mufu residence (which I will now go back to calling a palace) looks an awful lot like the Forbidden City, something that could have landed the inhabitants in trouble. I guess the whole "Wild West" mentality applied in China as well.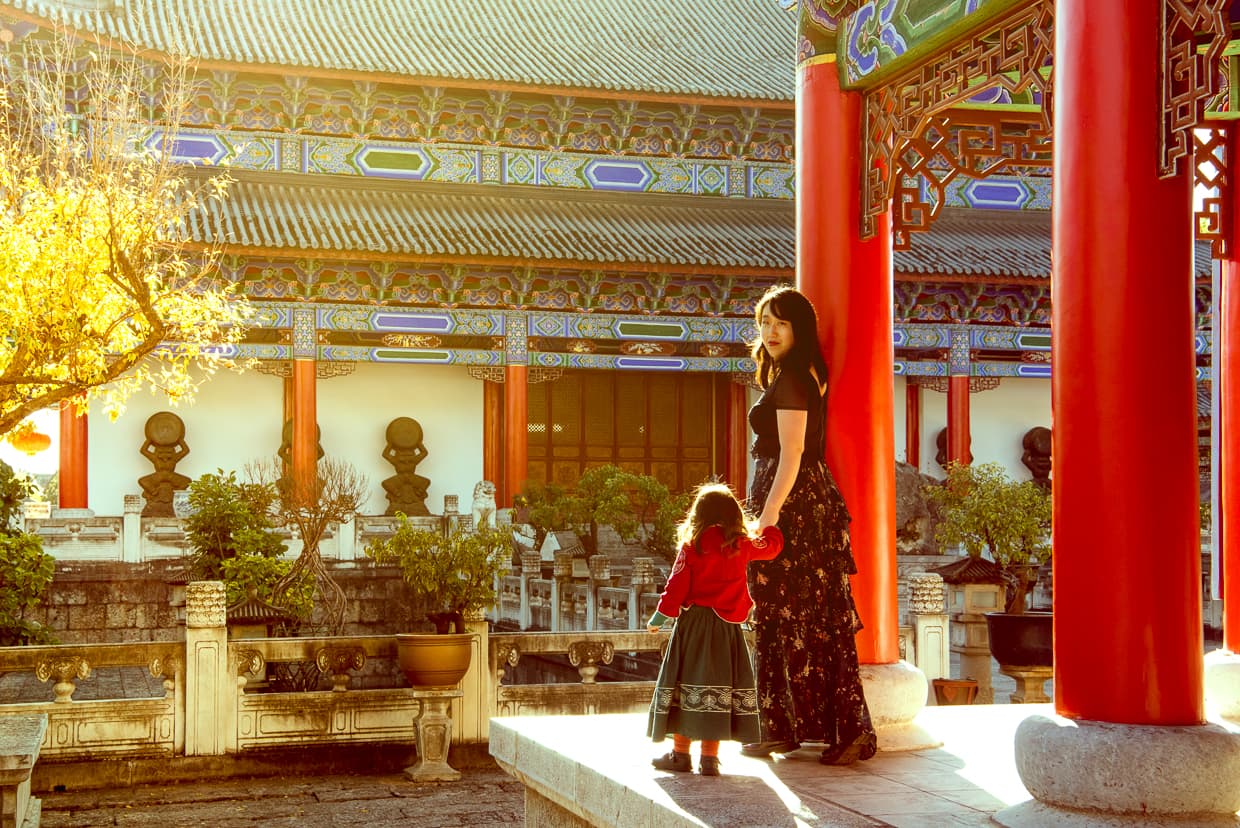 Mufu is a sprawling estate that covers several acres. Like other Chinese mansions and palaces, it is divided into courtyards, each beautifully manicured and with its own purpose. The buildings within are great examples of Ming Dynasty architecture (with some Naxi influence), and when compared to the rest of the old town, this is the place to go in Lijiang if you want to be wowed.
How to Visit Mufu Palace
The nature of the Lijiang Old Town can make any activity a challenge, especially for travelers who don't speak the language. I've seen foreigners walking around with a tour guide, but that's never been our style, so here's how to visit Mufu Palace on your own without getting overwhelmed.
Mufu Palace Hours and Prices
Mufu Palace Ticket Prices
Tickets for adults cost 40RMB (about $5.75). Children under 1.2 meters (about 4ft) are free. I don't think they take credit cards. I couldn't even find an official English language website.
Mufu Palace Hours
The Mufu Palace is open from 8:30 to 17:30.
Where in the Lijiang Old Town is Mufu Palace?
A lot of people say that Mufu Palace is in the center of the Old Town, but… not really? If you look at a map of the area designated as the "Old Town," it is indeed centered from East to West. But when you take into account the area's that most people actually explore, it might be more accurately described as in the South of the Old Town (assuming you arrive from the north entrance like most people do). If you're worried about getting lost, you should read our in depth guide to navigating the Lijiang Old Town.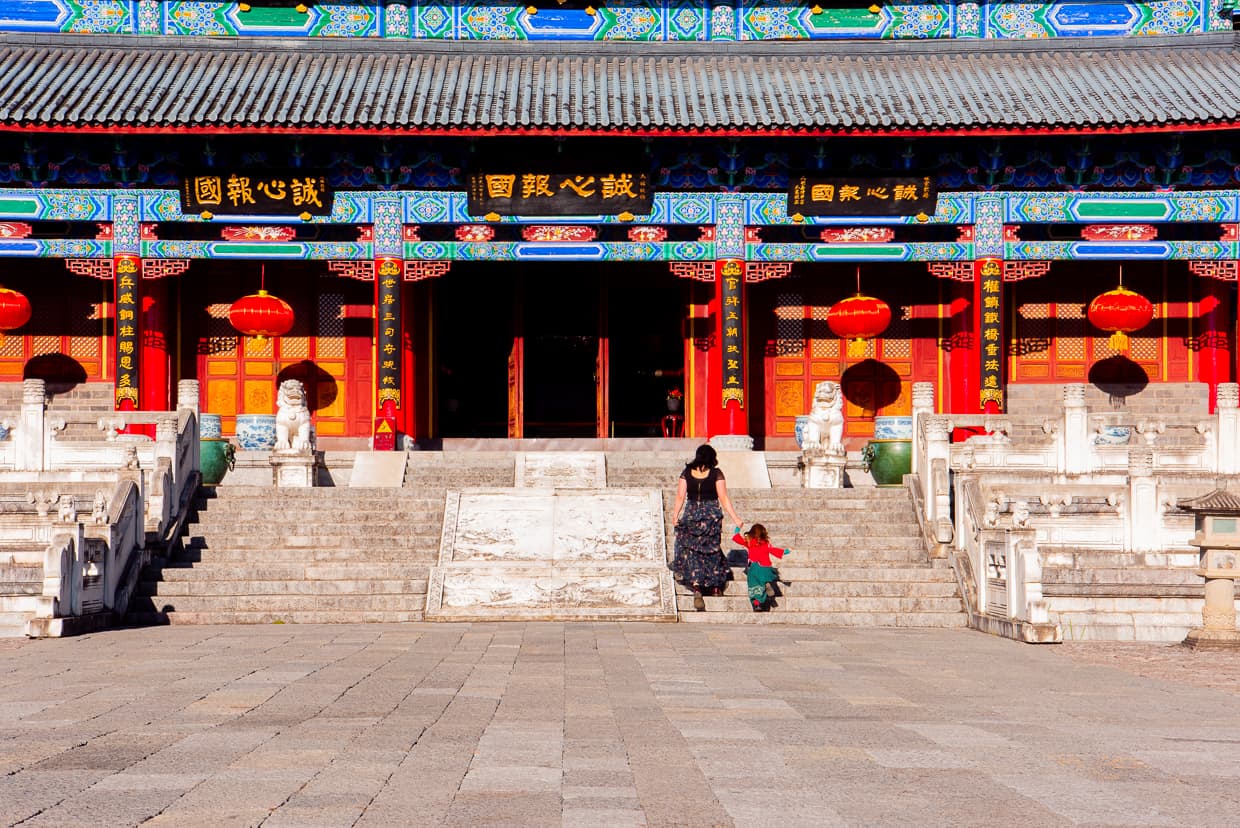 To the West of it is Lion Hill (also a great attraction), and to the Southeast is a large area that is a mixture of mostly smaller streets, guest houses, and little restaurants and stalls. Many parts of this area are beautiful and worth exploring if you have the time, but visitors on a day trip or a tour are likely to skip it.
The entrance to Mufu Palace is on the eastern side of the complex, and it is about half a kilometer due south of Square Street. However there isn't really a very direct route to get there; the main roads just kind of go around it without ever taking you to the gates. Google Maps is useless in the Lijiang Old Town, so download the Baidu Maps App, and look for these Chinese characters:
木府
You can try using the directions, but even though Baidu Maps is accurate with geo locating and has all the roads and buildings on the map, the interface for directions is terrible, it's only in Chinese, and it tends to switch routes midway. Just select the location and navigate manually by looking at your current location and direction on the map. There are also signs located on some of the walls that will point you in the right direction if you keep an eye out for those characters above. Unfortunately, Baidu Maps does not make it easy for me to share the location of the palace entrance (it does not generate unique URLs based on the map you are viewing), but if you enter the characters above into the search bar, it will be the first result.
You will know you have reached the entrance when you see this big stone gate in the picture below. That's where you buy the tickets.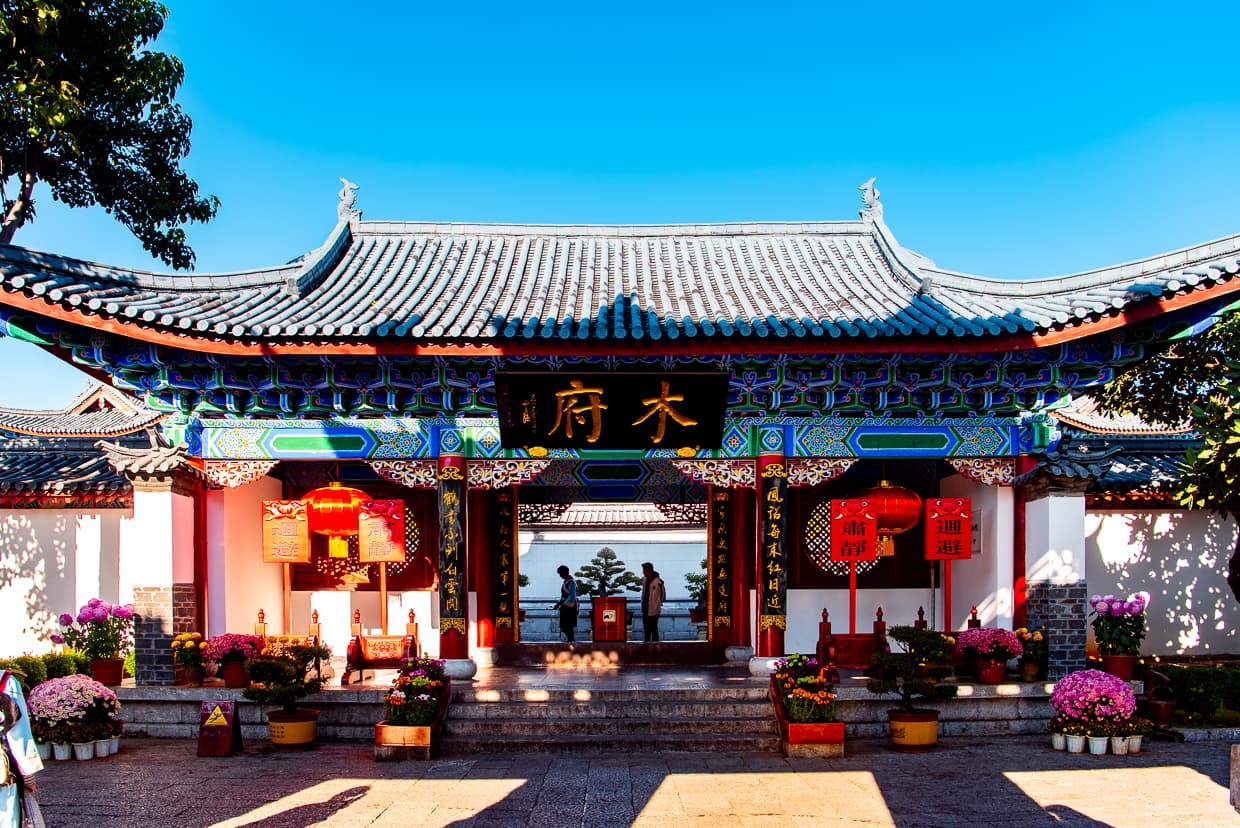 When to Visit Mufu Palace
If your goal is to avoid crowds, then the earlier the better. We were in Lijiang in late October, and when we showed up at about 9:00, there were very few other people there. It's a popular attraction with tourists, but tourists like to sleep in a little. By 10:00, we had to contend with large tour groups that were making their way through the complex.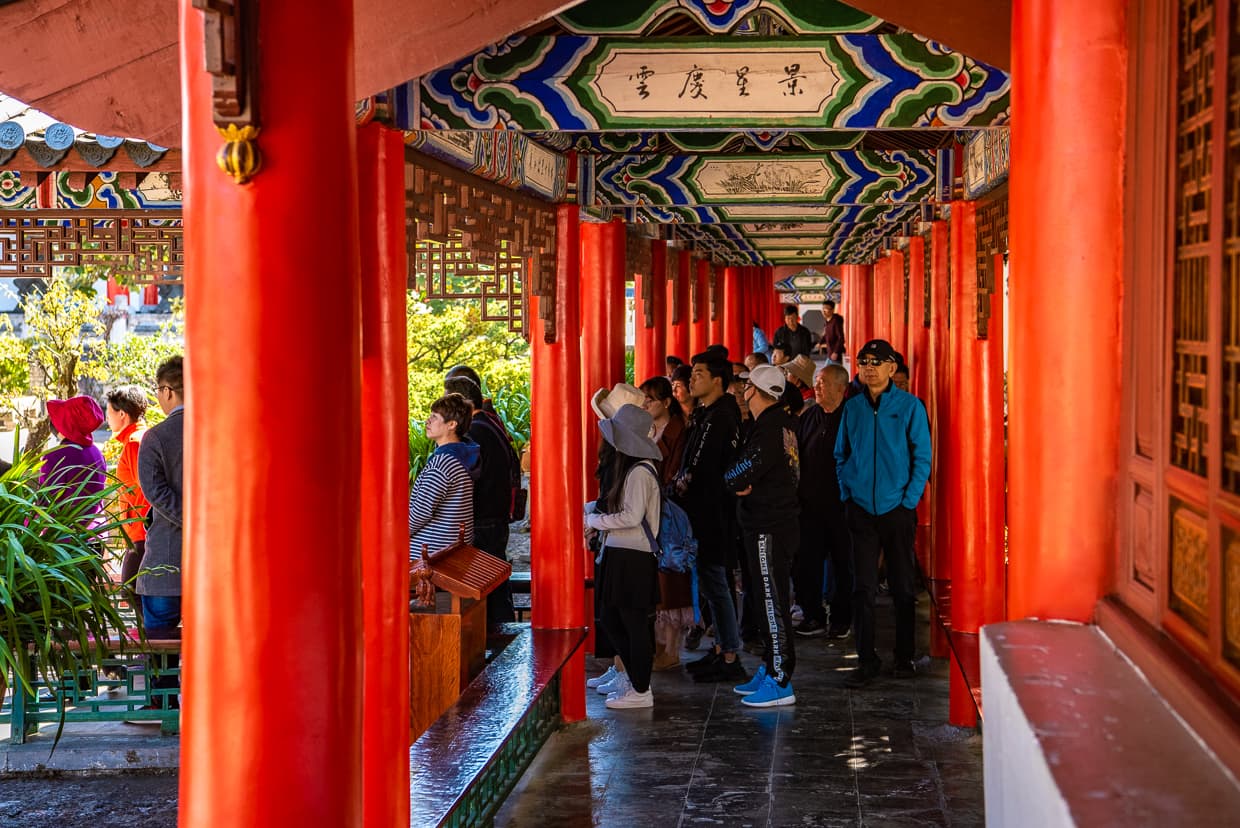 Though the courtyards are wide open, the tour groups seemed like they were always standing in one of the many bottlenecks so we had to wait around for them to get out of the way when we were trying to make our way back out after taking all of our photos. Humorously, since we've arrived in China, we've had fewer photography struggles with Chinese tourists than we had when we tried to photograph the Charles Bridge in Prague.
Doing more than just a cursory walk through takes about two hours, so plan accordingly. We underestimated how big Mufu Palace was, and visited it in the morning on the day when we were supposed to switch hotels (read our hotel reviews for Lijiang and Shuhe). By the time we left we had to rush back and throw our stuff in our bags before we wound up paying for an extra night.
Is Mufu Palace Stroller Friendly?
Like the rest of the Lijiang Old Town, Mufu Palace is not stroller friendly. It is full of stairs and other obstacles that make anything with wheels nearly useless. Just take the entrance as a warning. In Chinese homes, the higher the status of the resident, the higher the door step is at each gate and building entrance. Lisa could barely get over it on foot, let alone in her (otherwise awesome) travel stroller.
If your child is small enough and you have a chest carrier, bring that. We have gotten good use out of our ErgoBaby Omni 360. (Read our in depth review.) In Lijiang we let Lisa explore on foot.
Exploring Mufu Palace
As I mentioned earlier, it takes about two hours to see the entirety of the Mufu Palace. After entering through the front gate, you will find yourself in a big open square, and even though the building on the opposite side is impressive, this is actually the least interesting portion of the palace complex. Get a photo of the grandeur, and then it's time to move on.
Mufu Palace doesn't have a designated route that you are expected to follow like many museums might have. I feel like it was built for nobles to wander around in their own opulence, and that's kind of how it's meant to be explored. Luckily, it's separated into courtyards that are laid out linearly, so you can spend your time checking out every nook and cranny of each section before moving on to the next one. You don't have to worry about which path to follow or whether you'll ever find your way to the best parts.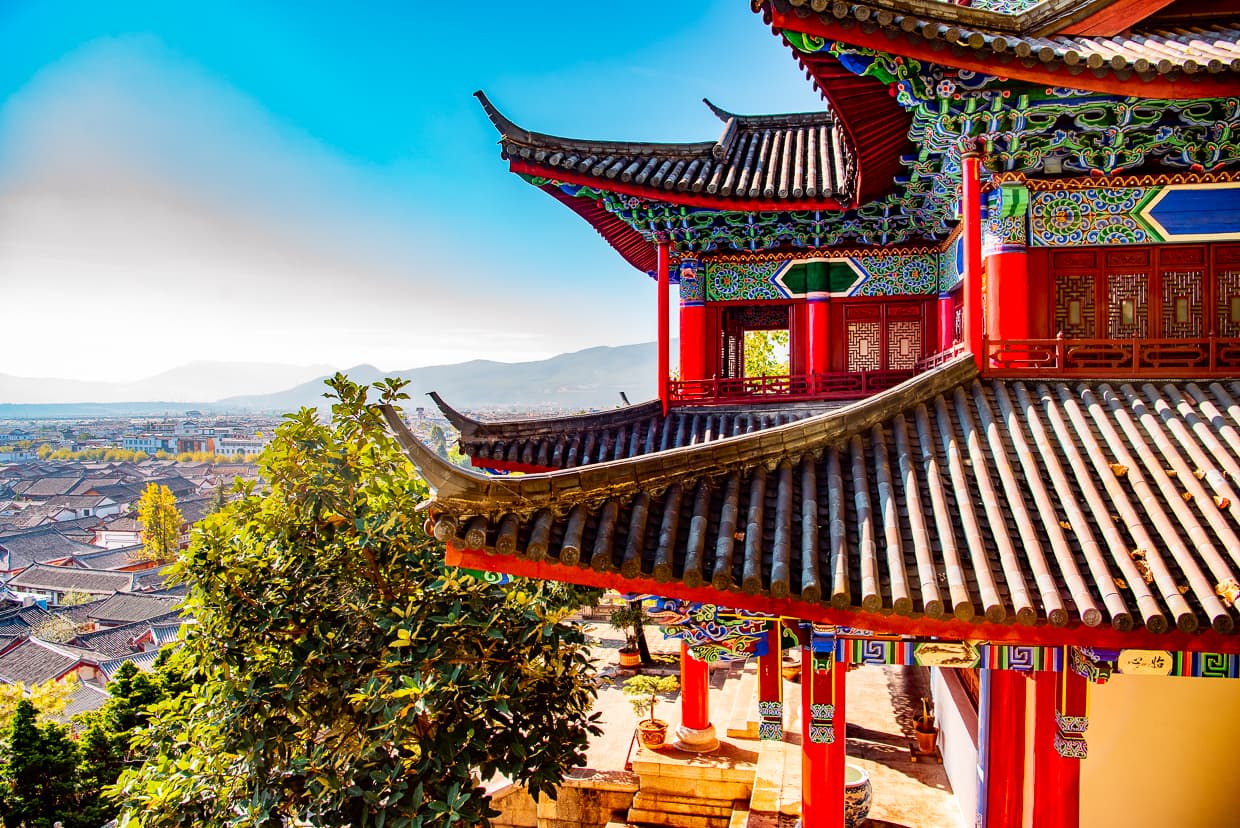 As you make your way deeper into Mufu Palace, you'll notice that it starts to slope uphill. That's because the grounds start on flat ground but go higher and higher up the slope of Lion Hill. The final stages are actually very steep and you feel more like you are hiking than touring a museum. Eventually, you will make your way to a Buddhist Temple that looks out over the rest of the palace and much of the old town as well.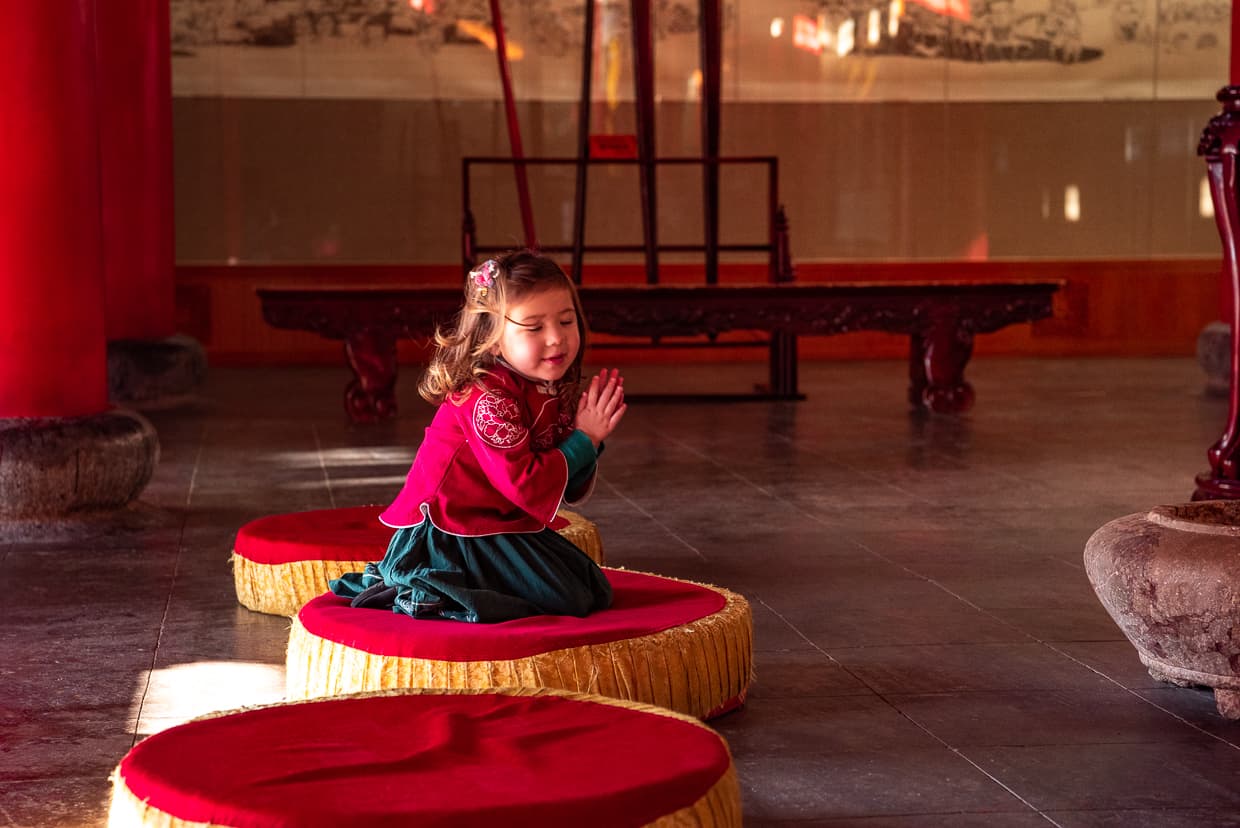 The interiors of all of the buildings are put to good use as well, and you'll find many exhibits to teach you about everything from clothing to weaponry. And of course, there is also a gift shop.
In the temple, high on the hill, there is a full on Buddhist shrine, complete with statues and prayer mats for those who wish to worship. Don't forget to look up while you are indoors, the exteriors of the buildings are impressive, but the interiors and the ceilings are also quite beautiful.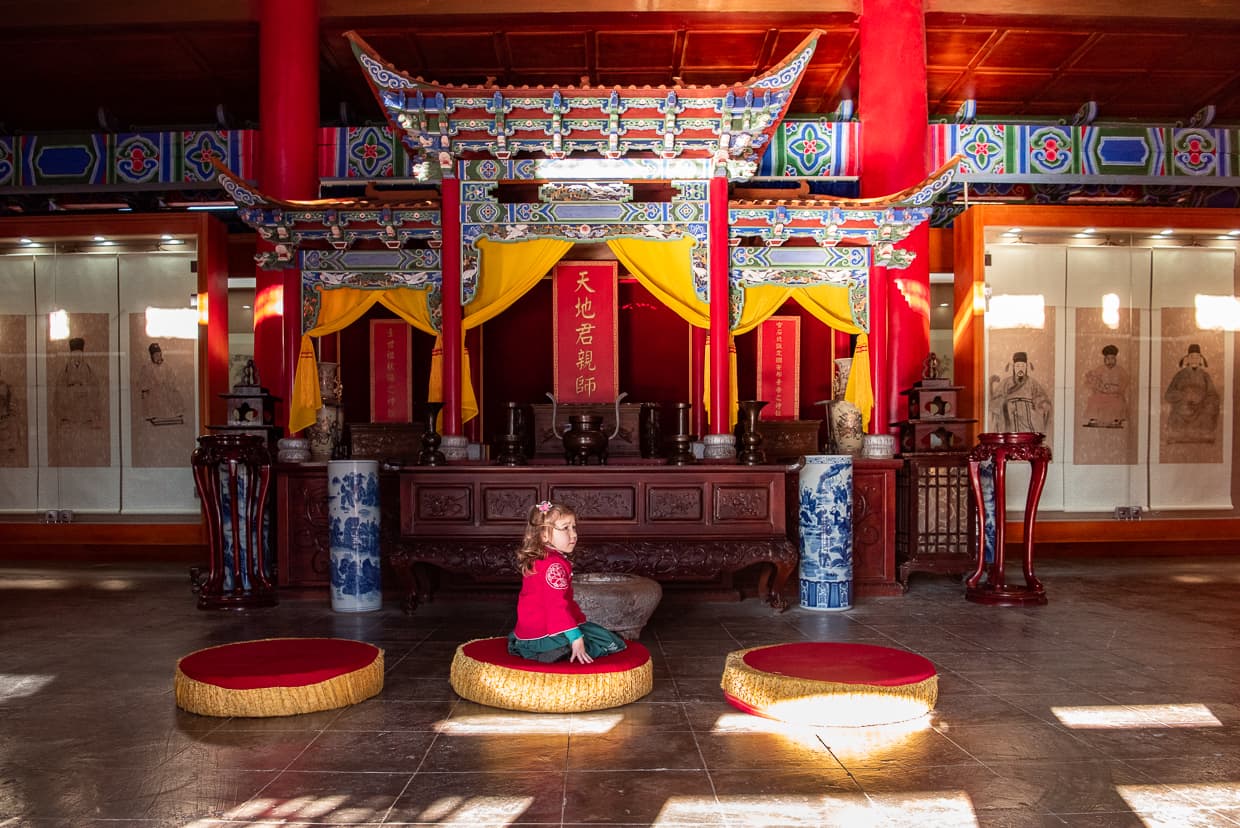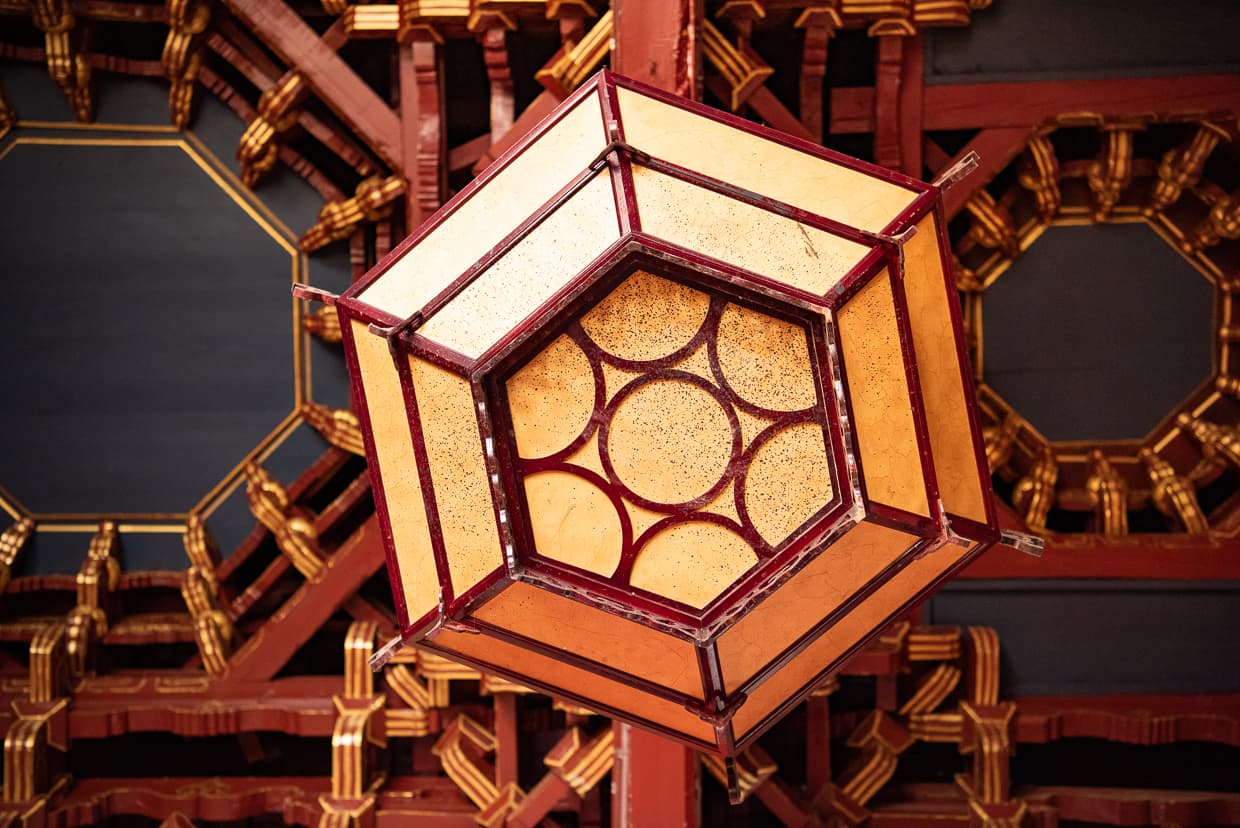 Photographing Lijiang's Mufu Palace
They don't seem to care how many photos you take in Mufu Palace - or where you take them - so snap away. Here are some tips for getting good photos while you are there.
Bring a Wide Angle and a Zoom Lens
With scenery this diverse, you will want to keep your options open. You will need a wide angle lens to take a photo of some of the huge palace structures in their entirety, but for many detail shots, and for some creative angles, a zoom lens comes in handy. If you're not quite sure how that works, read this article on how to get creative photos using a zoom lens.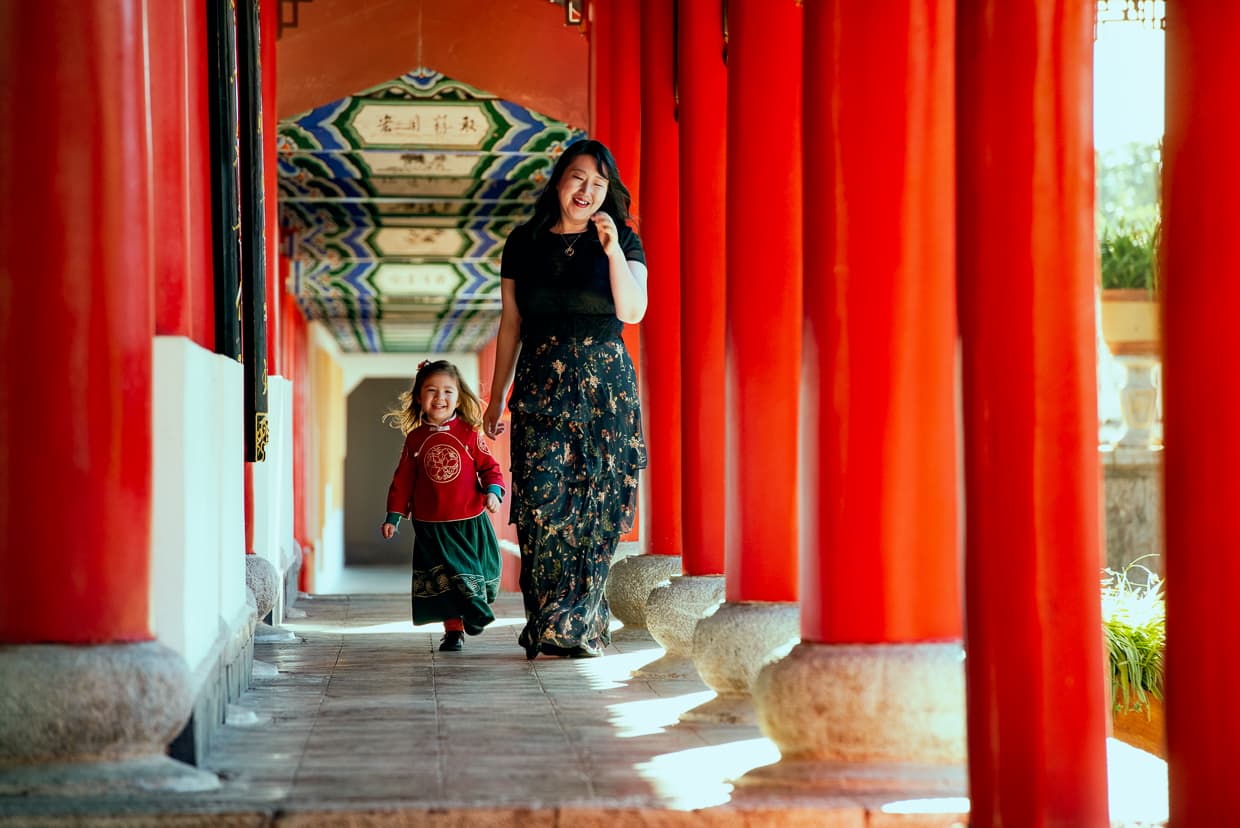 When Dannie and Lisa were walking along these corridors of red columns, I enjoyed using my 70-200mm lens to compress the distance and increase the density of the column pattern.
But when I wanted a shot of the two of them looking out over the town from above the temple, I used my 24-70mm to capture more of the scenery.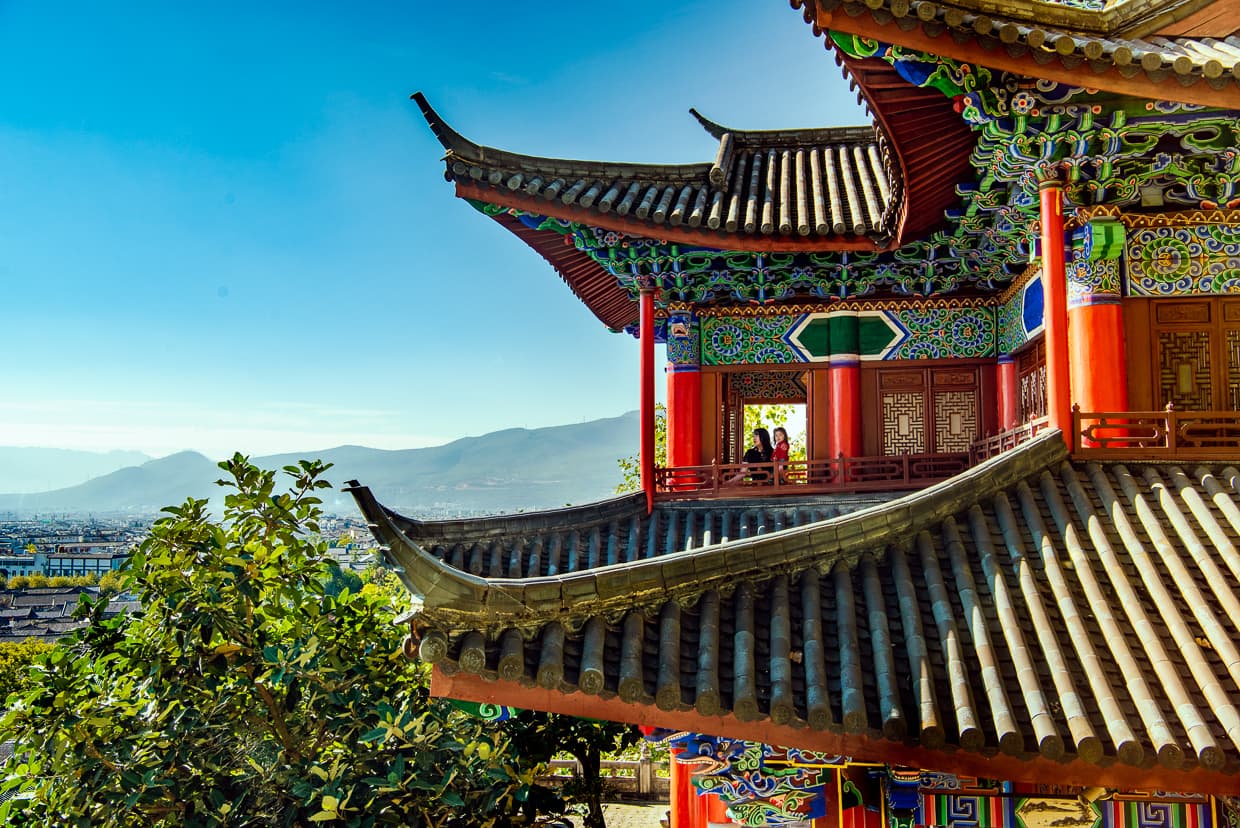 Take a Stroll in the Garden
The courtyards were made for relaxing, and that's what you should do too (as long as you get there before it's too crowded). This walkway on the northern side of the palace reminded Dannie of her visit to the Forbidden City. The crooked path crosses a piece full pond, where the branches of willow trees hang down all around you.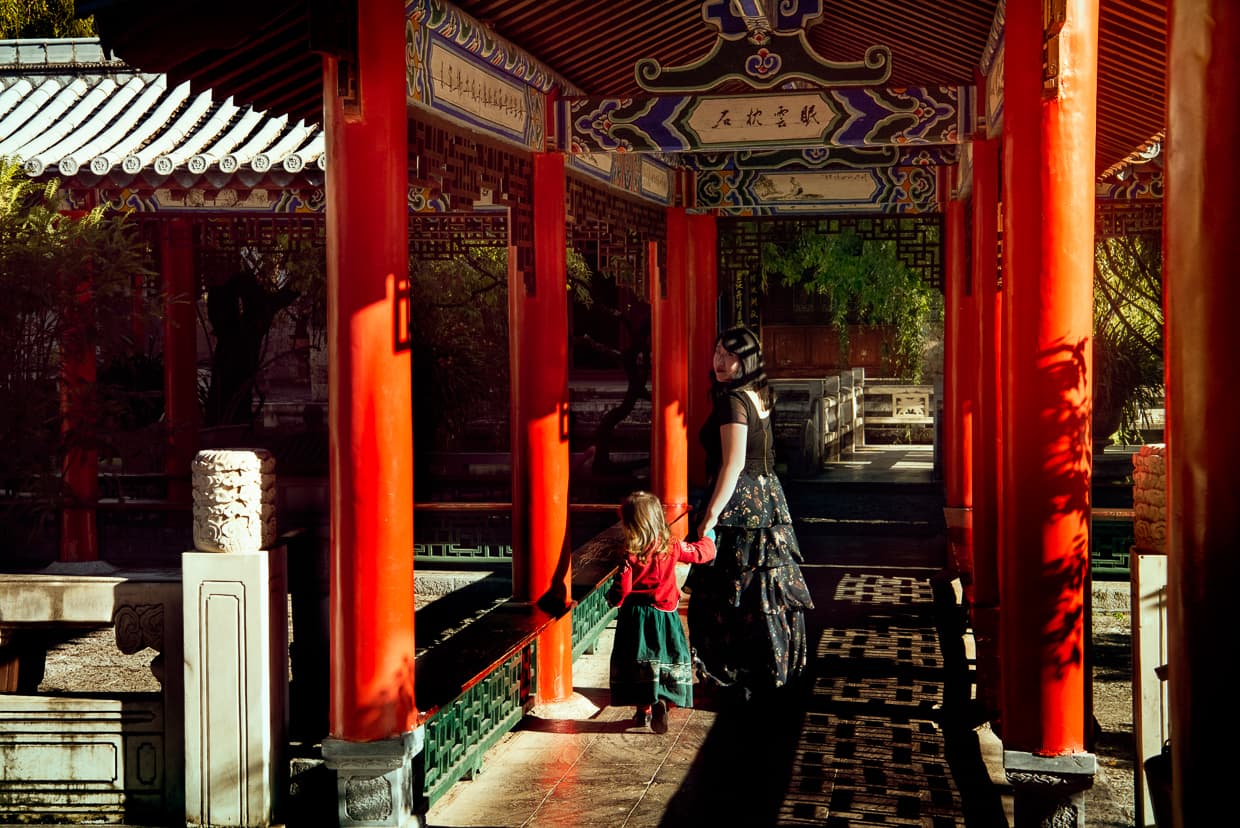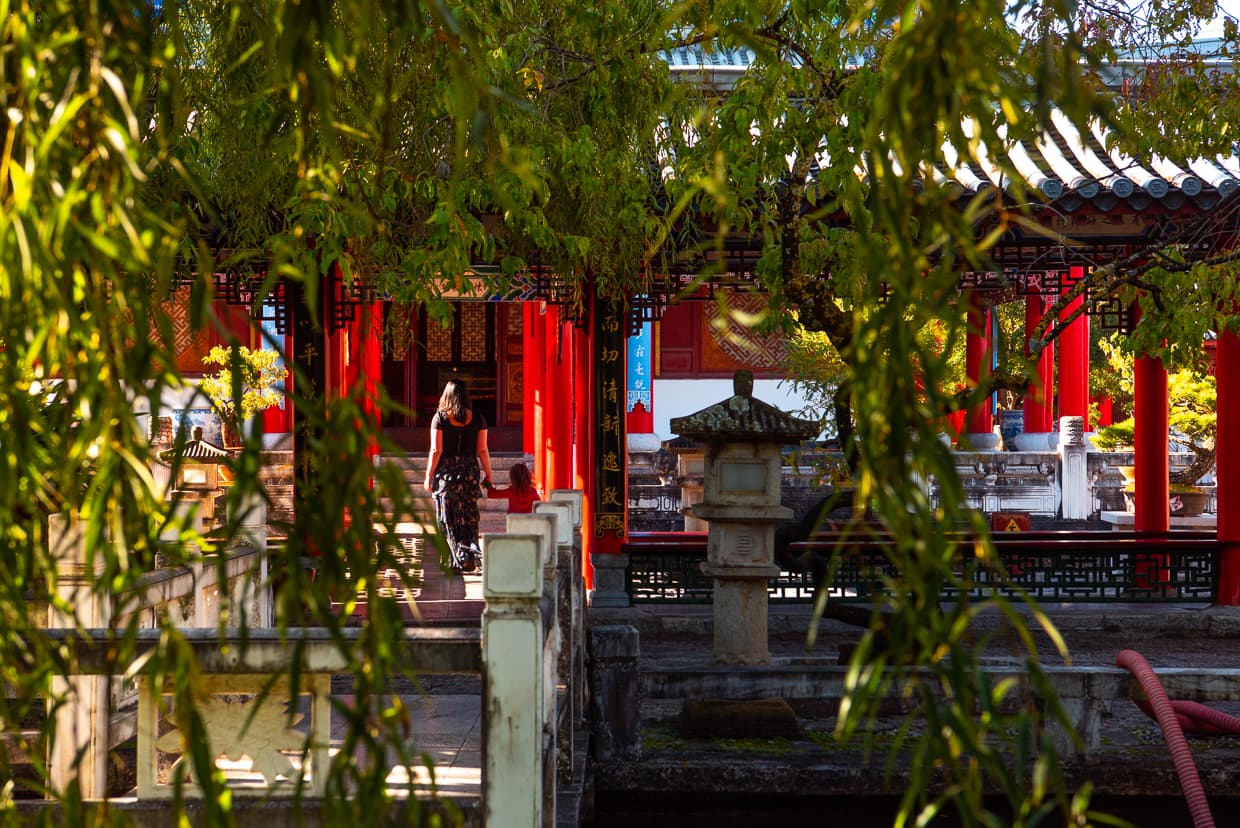 The willow branches make a good foreground or background (or both) if you are photographing your family, and the stone walkways and their railings make for some easy compositions.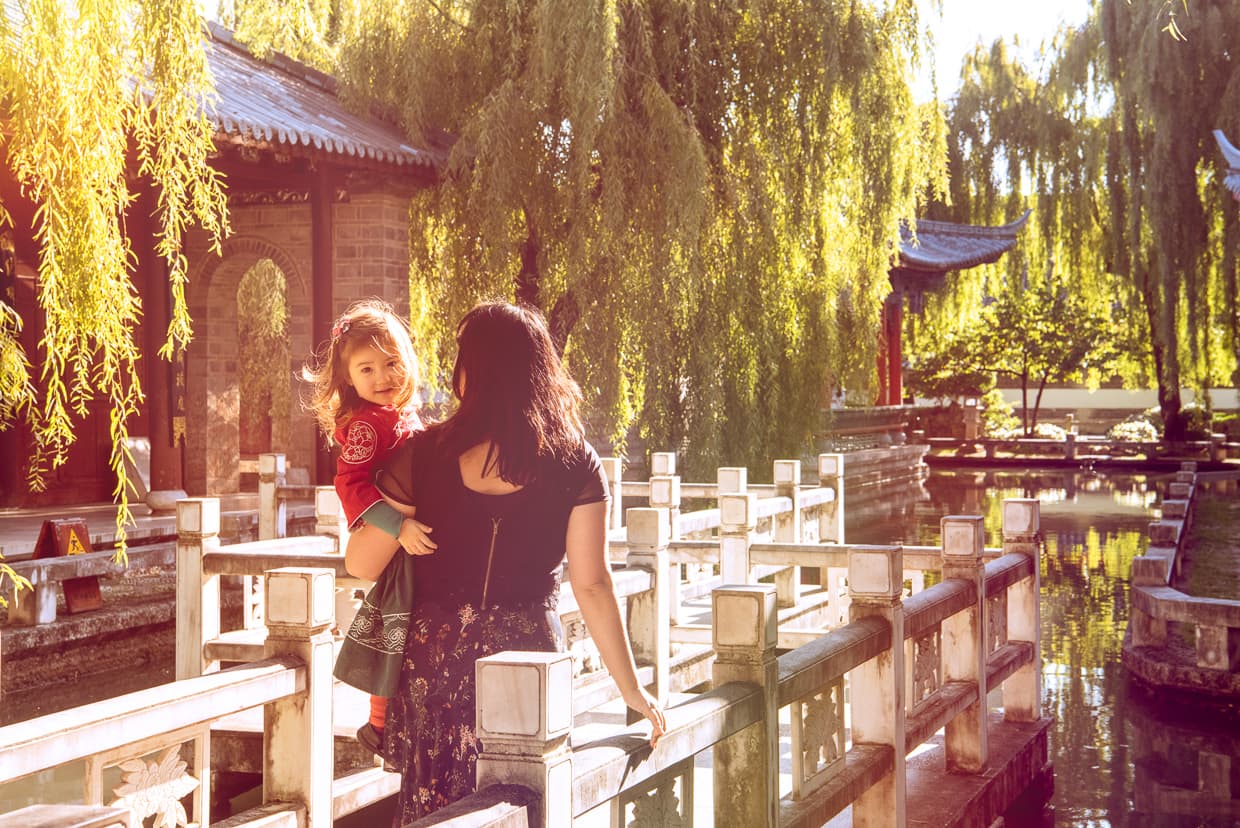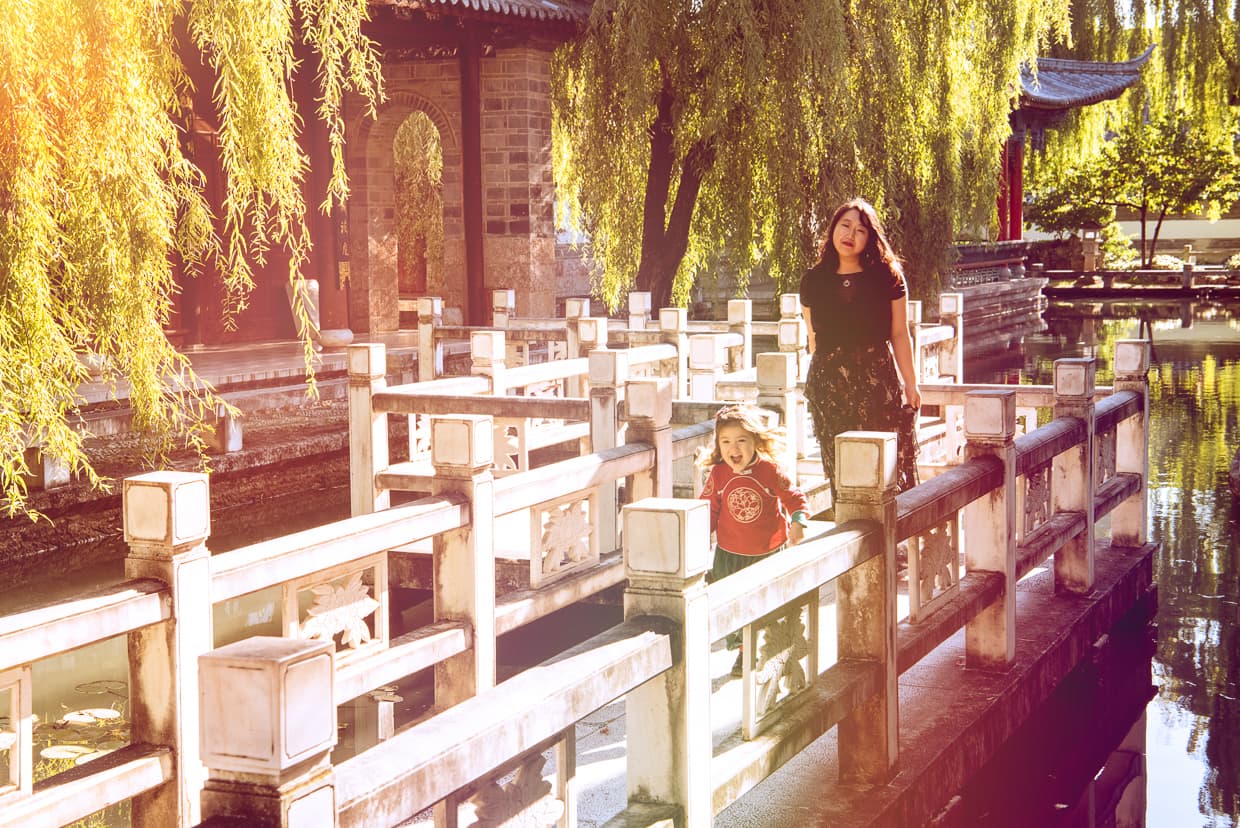 Unfortunately for us it was too windy to get a good reflection on the water during our visit, but maybe you will have better luck. Note that the light under trees can be a bit splotchy, so mind where your subjects are standing to avoid unflattering shadows.
Look Out For Foliage
It's not just willow trees either. Inside the giant Mufu Palace, you'll see a huge variety of flora, from little bonsais to tall trees and flowering plants. Because our visit was in the Autumn, some of the trees were starting to change colors and there were even some leaves on the ground.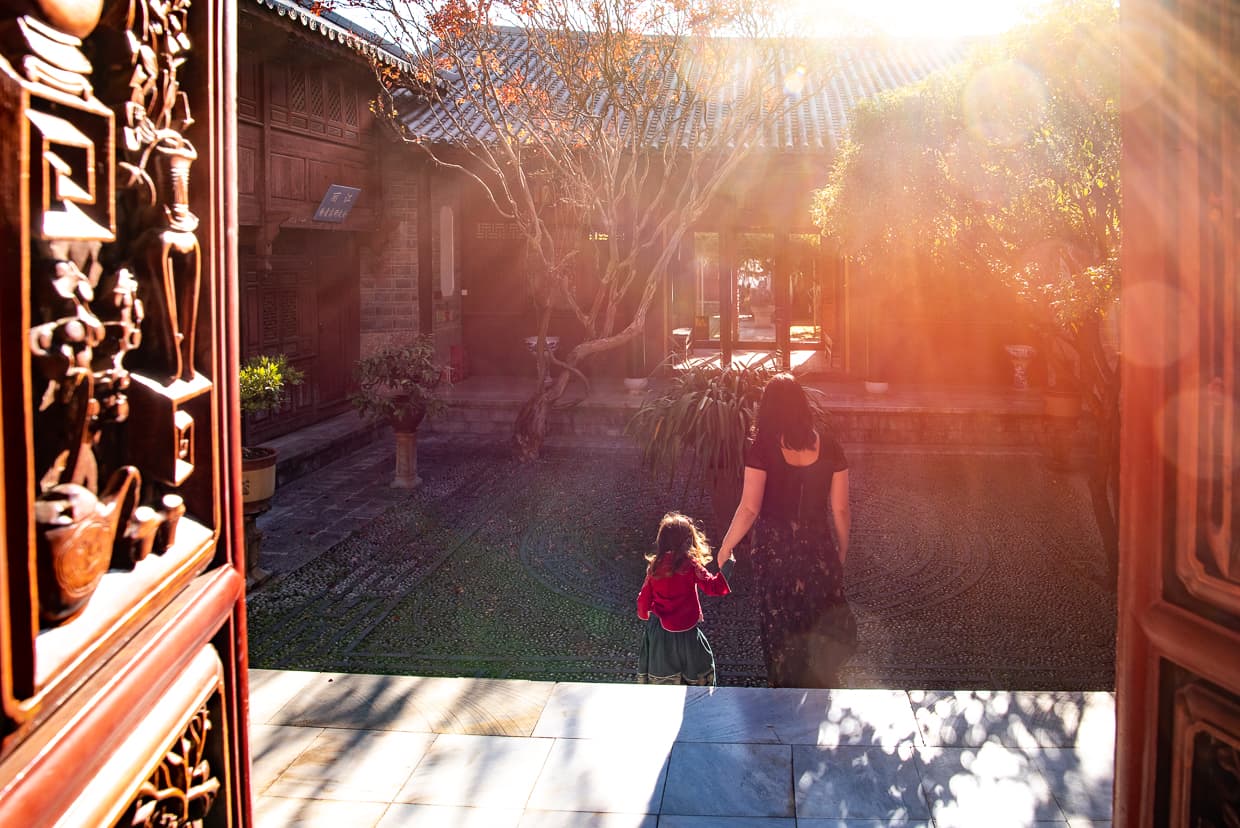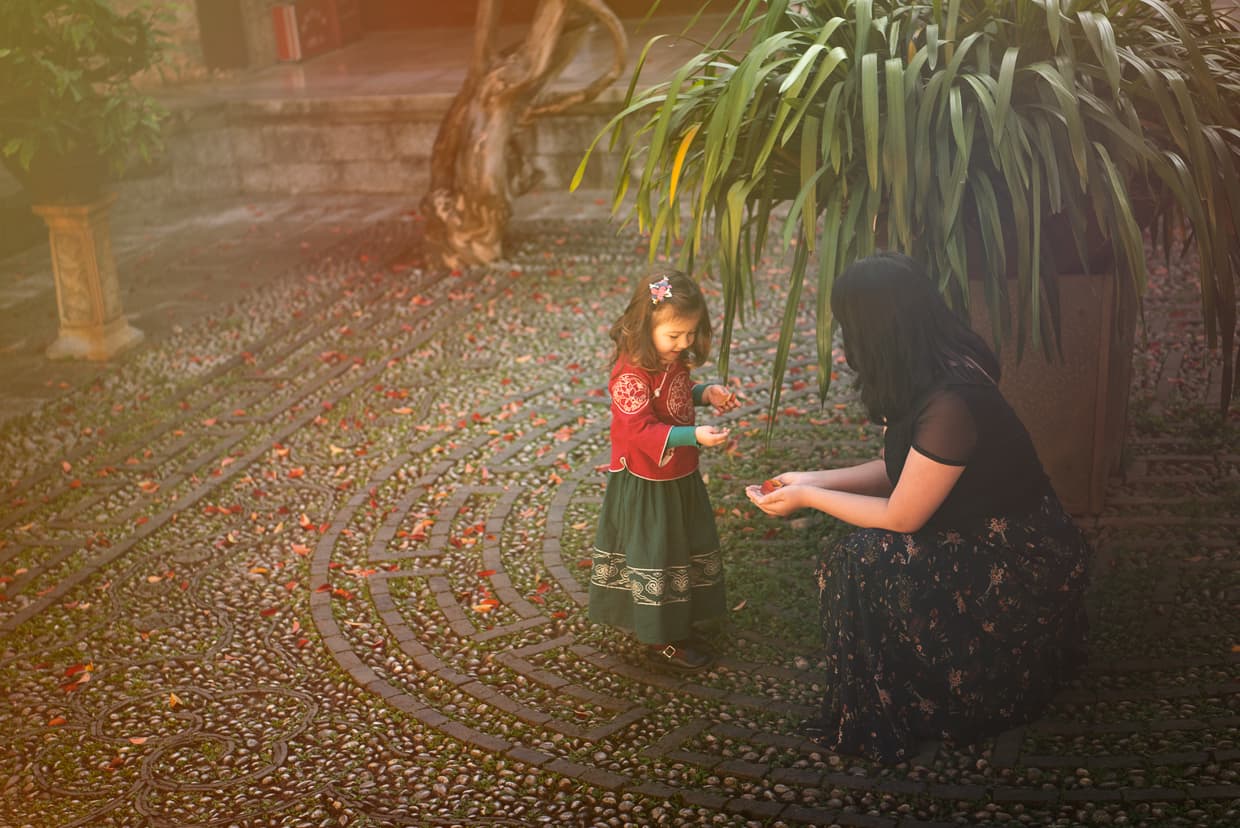 In one courtyard, Lisa spent about five minutes gathering leaves, and I took the opportunity to get some phots of them as well. In doing so, I also managed to capture a fun angle on the elaborate stone pattern on the ground and what it was made of, something I otherwise probably would have ignored.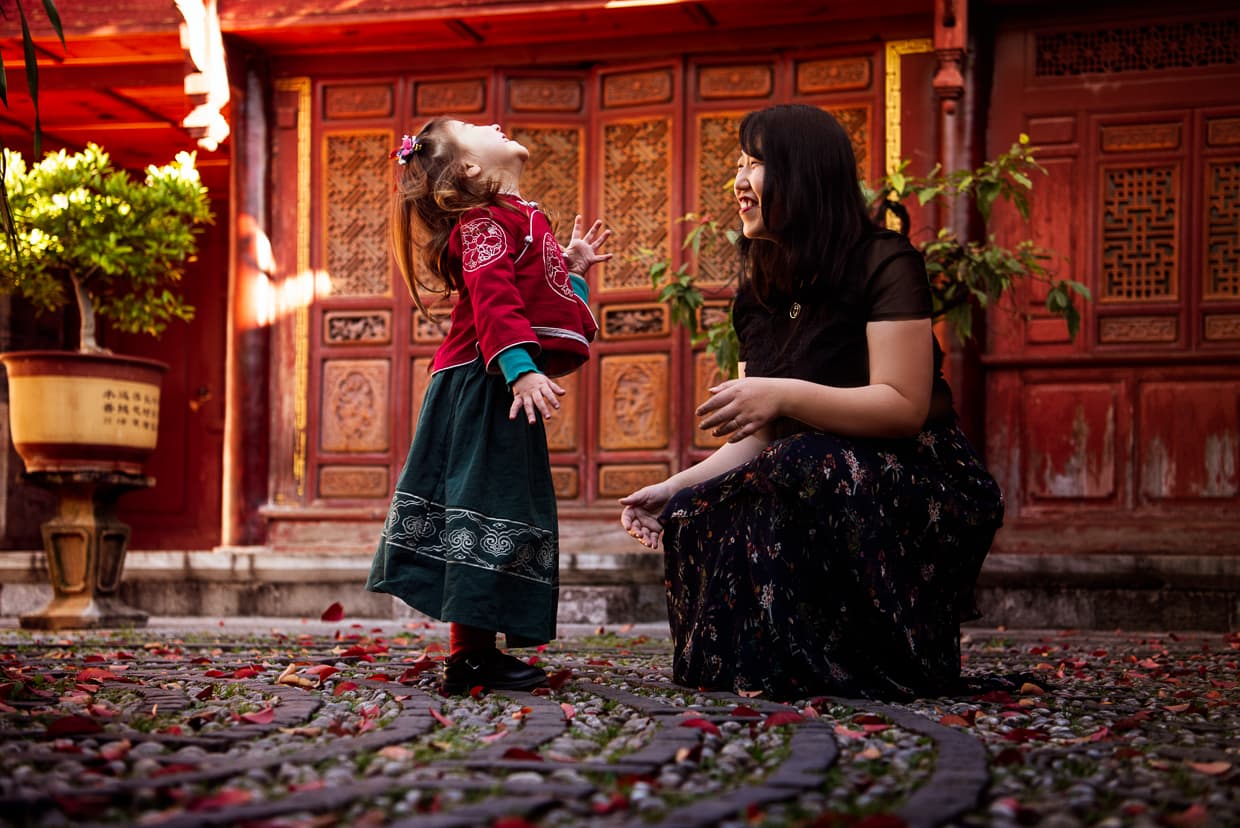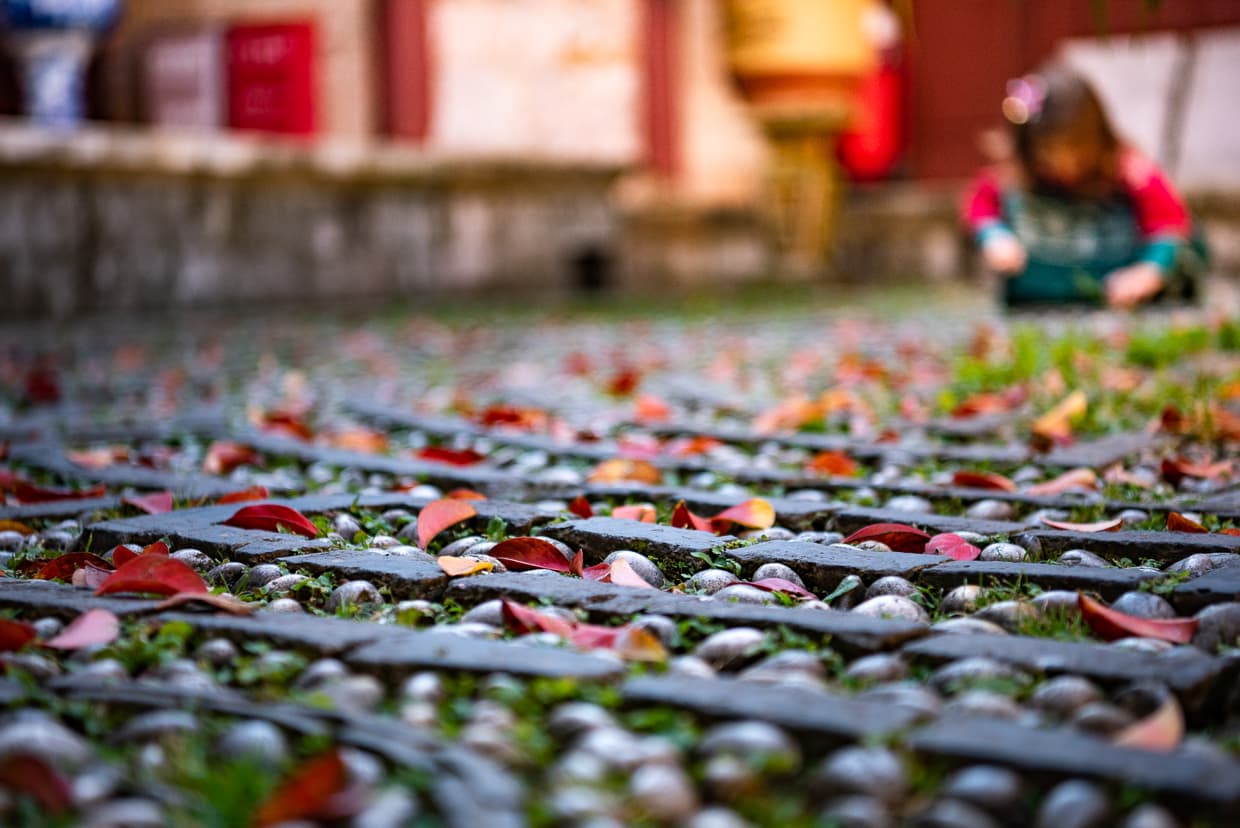 TIP: To capture the color of the leaves on branches, try to get a shot where the sun is shining through them, but where the background is dark. By doing this and exposing for the highlights, you will make them look much more dramatic.
Do you know how to expose for the highlights or shadows? If not, you could learn by reading my e-book, Easy Manual Mode Photography.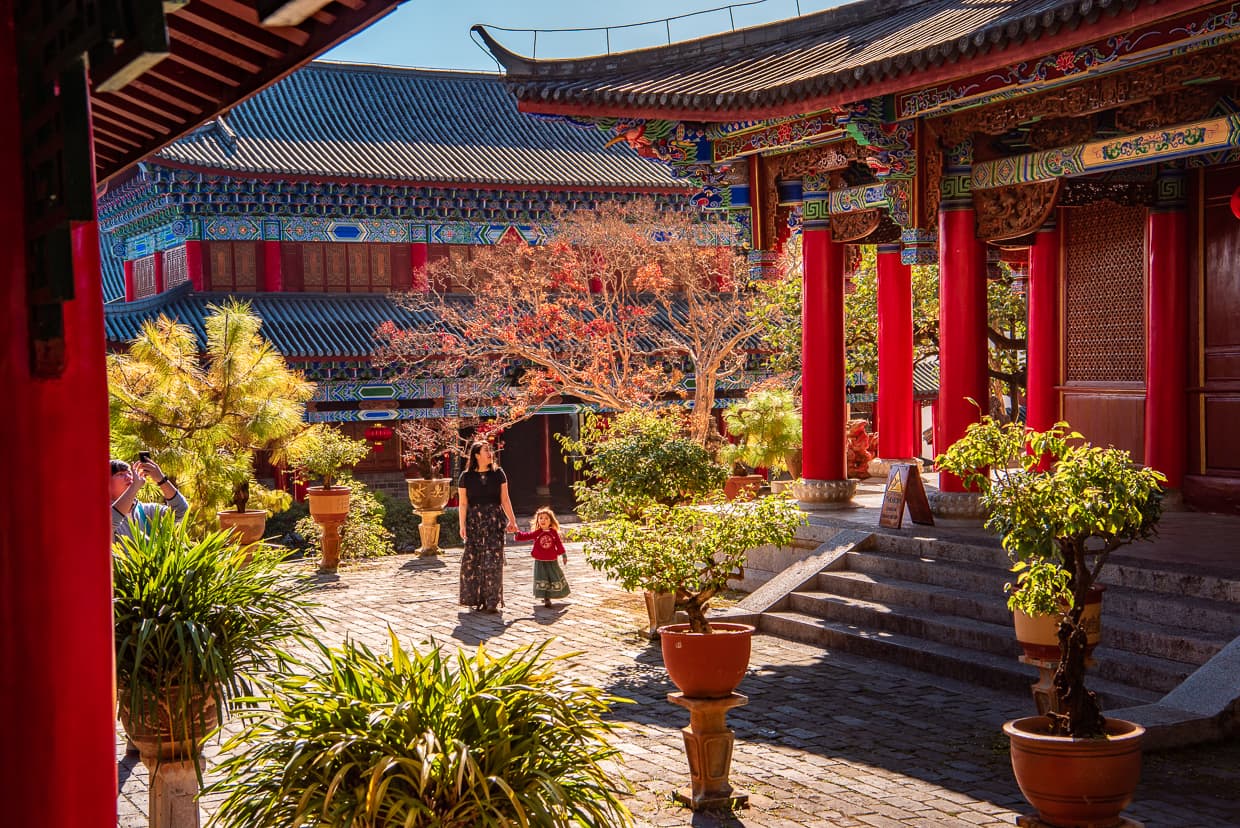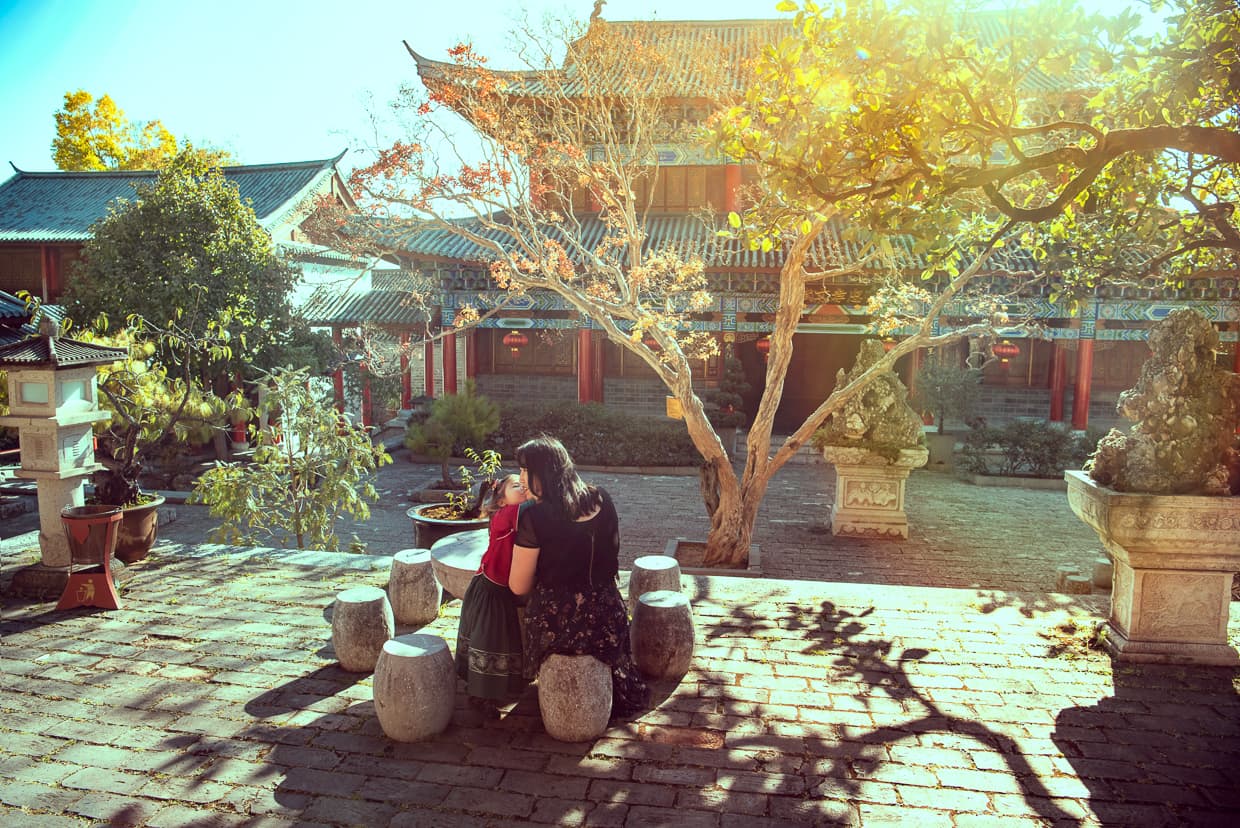 Climb High
Even though the Mufu Palace goes uphill, each individual building is tall enough to obstruct your view as you are ascending. For a good view of all of the buildings together, you will have to get high on the slope and look backward.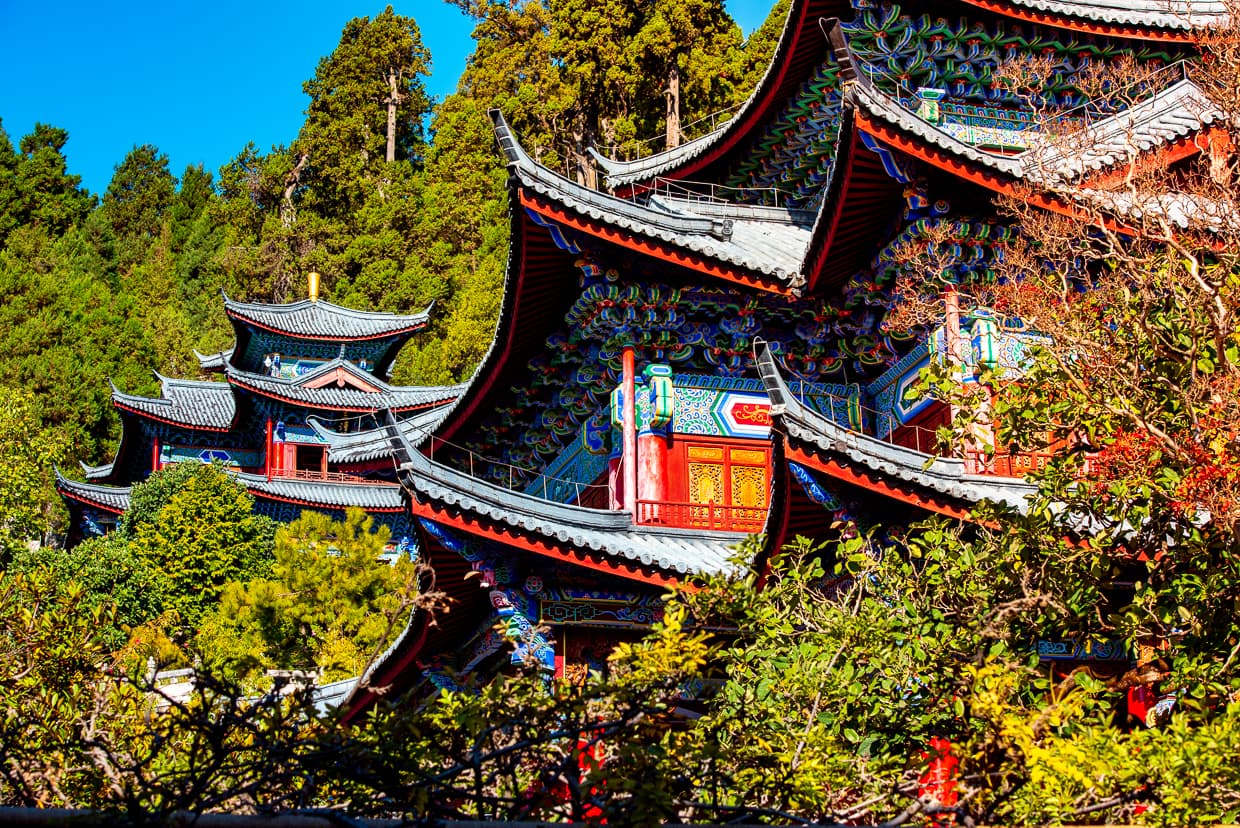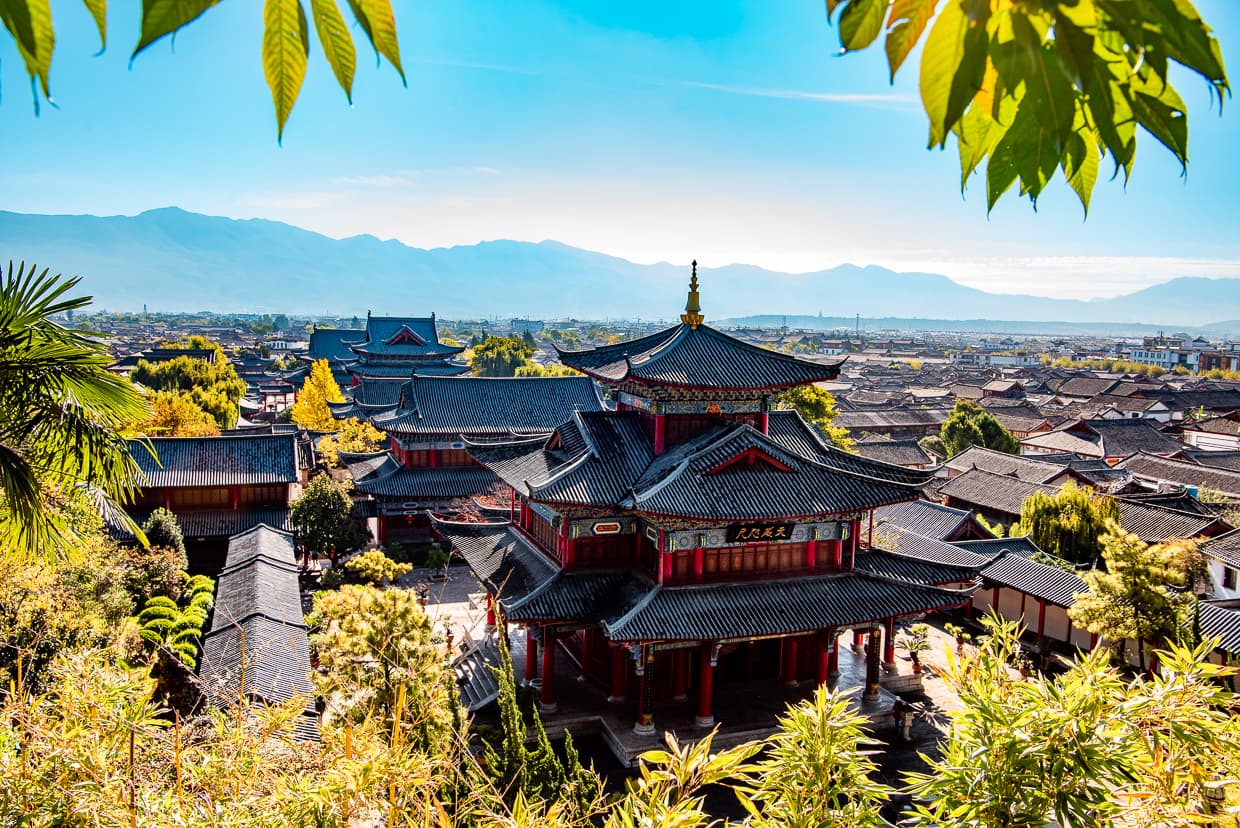 For an even better view of Mufu Palace, check out our guide to Lion Hill Park. The temple has a second floor with a window that looks out over everything. There is also a trail that continues a little higher. If you go all the way up, there is a back entrance to Lion Hill Park, but you will still have to pay the Park's entrance fee.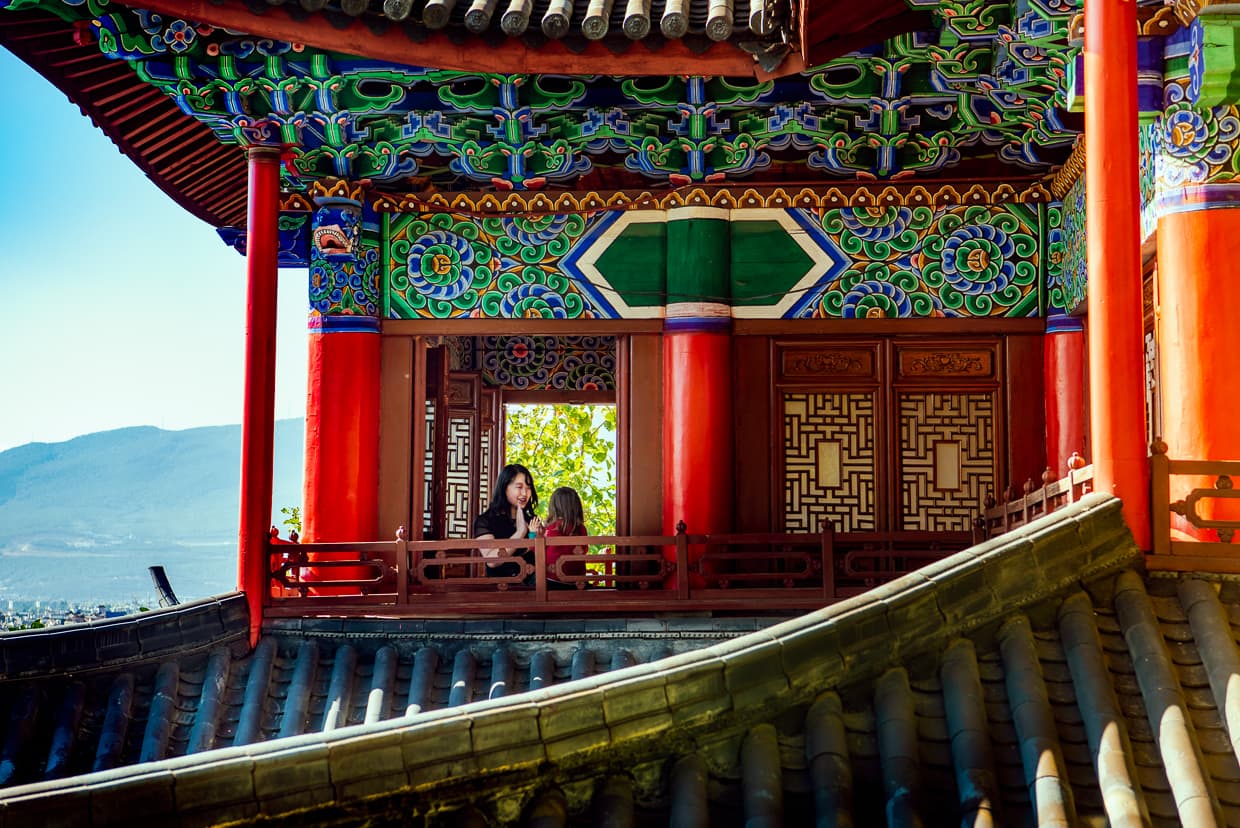 The trails themselves are quite photogenic as well, and I thought it was fun to photograph my family climbing up toward the temple, as though they were arriving at a secluded temple high on a forested mountain.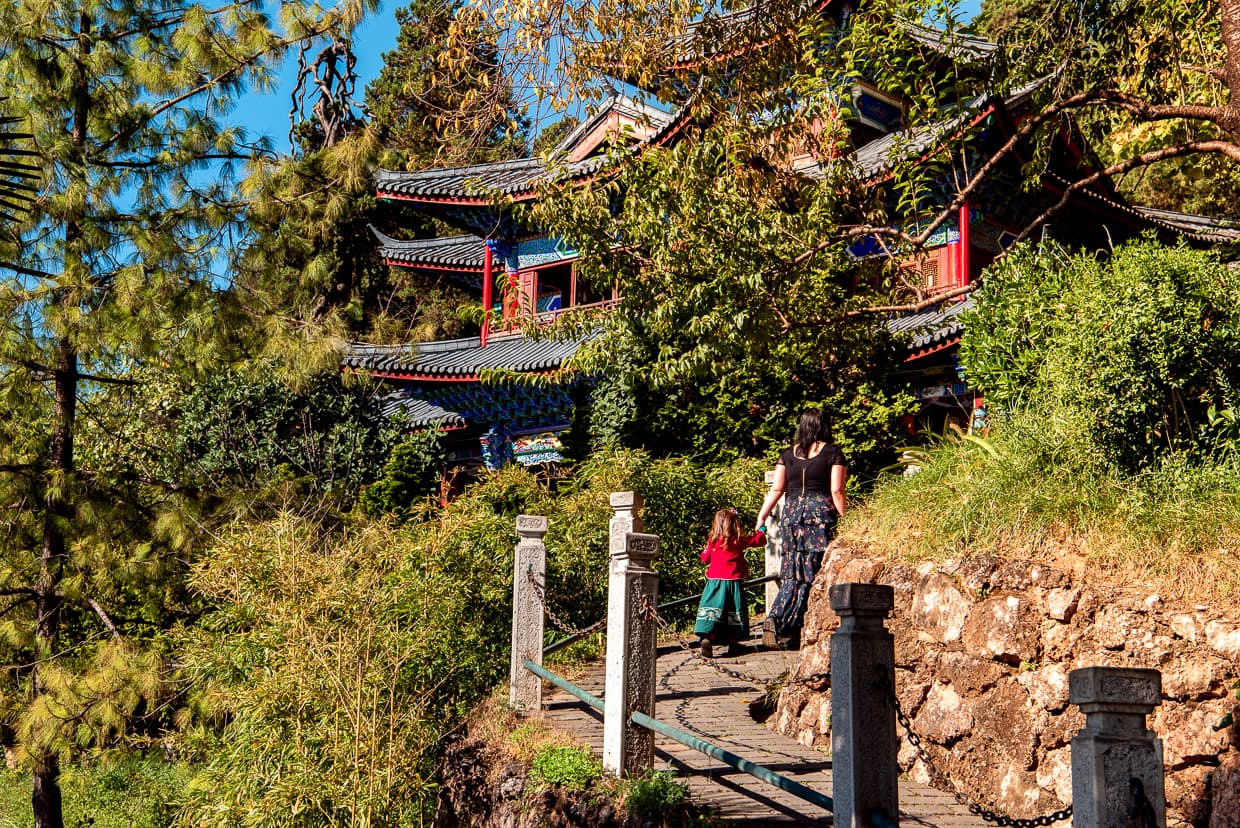 What to Bring
Camera - This one is obvious, though I suppose I'm biased because we're photographers. We brought our Nikon D810 camera with our 24-70mm and our 70-200mm lenses. We didn't pack our flash because we are so accustomed to not being allowed to use them in museums, but honestly, you could probably get away with it.
Comfortable Shoes - Like I said, exploring the palace feels more like hiking sometimes. This isn't a good place to wear high heels (and honestly, I don't know how one would even get to the palace in heels, given the cobblestone streets of Lijiang. Lion Hill Park is similar, for areal hike, try Elephant Hill next to the Black Dragon Pool.
Water - Even though it wasn't particularly hot there in October, the air was very dry. It's easy to get dehydrated, so bring a bottle with you.
Dress in Layers - Summer in the sun, winter in the shade. That's Yunnan in the fall.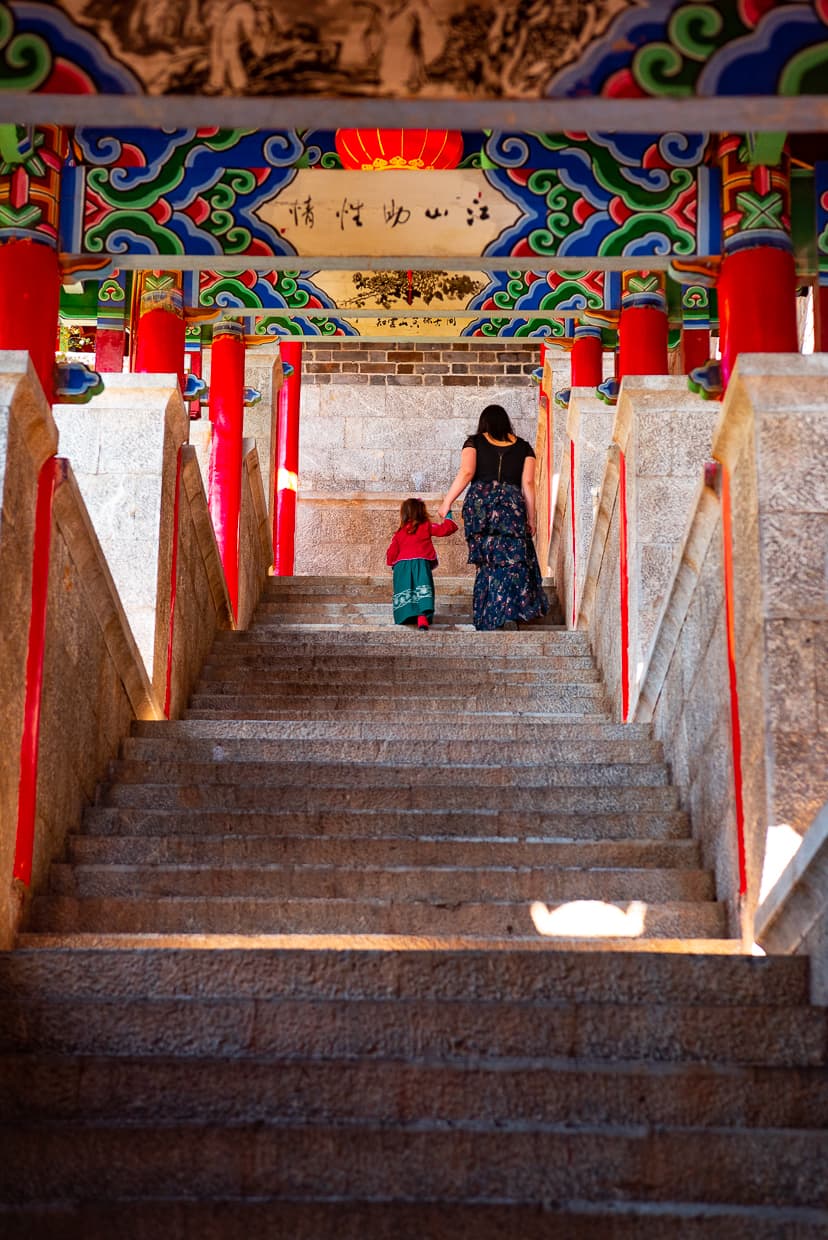 Conclusion
Before we visited Mufu Palace, we actually weren't all that excited about it. But after our visit we wished we'd gone sooner so that we could have done a more thorough job. If and when we return to Lijiang - which isn't that hard for us since we can travel there by train or bus from nearby Dali - we will probably go back and use our knowledge from this trip to take some even more exciting photos.
Mufu is family friendly, and you won't encounter anything that kids can't handle. They have room to run around, and the indoor/outdoor nature of the property creates an environment where the noise they make won't be embarrassing like it would in, say, an art museum or a church. The only part where we felt the need to keep Lisa quiet was the temple, but she already knew that because we've been to so many temples since arriving in Asia (see Fo Guang Shan in Taiwan, or Wat Pho in Bangkok).
If you found this article helpful, and I hope that you did, you can check out the other content we've written about our travels on our destinations page. And if you'd like to help support us, you could always check out our shop or our resources page while you are planning your next trip. Don't forget to sign up for our semi-weekly newsletter that I sometimes remember to write. And finally, if I left any questions unanswered, please ask below in the comments section, or share any tips that you think I left out once you've been to Mufu Palace yourself. Thanks for reading, and happy travels.