This article is our guide to finding and booking a hotel, guesthouse, or other lodging in Lijiang, China. We spent 10 days in Lijiang, dividing our time between the Lijiang Old Town and the nearby smaller Old Town of Shuhe. All told, we stayed in four different lodgings and we did a lot of exploring. We're going to go over some of your options for how and where to make your reservations (if you make reservations at all).
By the way, this article contains affiliate links. If you click on one and make a purchase, we will earn a small commission at no extra cost to you. These commissions help us fund our travels and this website. 
A good companion article to this one is our guide to navigating the Lijiang Old Town without getting lost, which you should bookmark because, in addition to general tips, it contains many valuable locations, translations, and helpful directions.
Where to Stay in Lijiang and Shuhe
How to Book a Hotel or Guesthouse in Lijiang or Shuhe
Like anywhere else you have some options available to you, and how you proceed will depend largely on how comfortable you are with uncertainty. Over recent years, and through some governmental intervention, Lijiang has become a much easier place for westerners to visit than it once was. During our trip in 2013, we stayed at a place that was definitely not up to code.
This time around, we couldn't even find a place that was dingy or dirty. Not that we were looking. One of our hosts informed us that every hotel inn and guesthouse in the old town was now legitimate to host foreigners. That might have been an exaggeration, but much had definitely improved.
Book a Hotel in Advance
If you want to have some level of certainty before your visit, or if you are heading to Lijiang as your first stop in China and you need an address for your arrival slip, you'll have to make a reservation online. Western online hotel sites like Booking.com are good for travel in China because their listings say right up front whether they are allowed to host foreigners (some hotels in China are not). We had a few issues in the past wherein we would show up to a place that Dannie booked for us on a Chinese site to save money, only to be turned away when we got there and handed them our passports.
Sites like Airbnb have given us mixed results in China (see our article, Every Airbnb we have ever stayed at), though the more recent experiences have been better. By the way, sign up for Airbnb through link to save $40 on your first booking. And don't forget to read our Airbnb Tips.
The advantage to booking online is that you know that there will be a room available for you, you know how much it will cost, and you can read reviews before you ever see it. The amenities will be spelled out in advance, and you can browse through hundreds of rooms and hotels in minutes instead of doing a lot of legwork.
The downside is that if you book a room in Lijiang online, you don't really know what you will be missing. A lot of hotels and guesthouses in Lijiang don't have online listings, or are on only one platform. In China, and in Lijiang in particular, haggling over a hotel room is not out of the question, but you can't do that with the computer on the other end. Also, seeing photos of a room online is not the same as seeing it in person.
Tips for Booking a Hotel online in Lijiang or Shuhe
Read the Reviews - Whether you are on Booking.com, Airbnb, or some other online reservation site, the reviews are your friend. If you don't speak Chinese, then make sure you find reviews in English rather than translating Chinese reviews. Also make sure that those reviewers mention that the hotel spoke your language. If you are using Airbnb, you might want to check out our Airbnb Tips for more on how to interpret the details on a listing.
Be in Touch With Your Host or Concierge - This is important because 1) it will help you make sure that you will be able to communicate, and 2) it will make sure that they understand what your needs will be so that they can accommodate you or let you know if they can't. You should download the WeChat app, because that will likely be their preferred means of communication once you are on the ground. For more information on WeChat - the most popular social network in China - see our list of Must Have Apps for China.
Opt for Pick-Up - Even if costs a little extra, arrange to have someone from the hotel or guesthouse pick you up at the airport, train or bus station. This is important because getting to your lodging will probably be the hardest part of your visit. We found that both Google Maps and Baidu Maps led us to the wrong locations for all of our online reservations, and it created a big problem since we arrived at night. The taxis can't go into the old town, and once you are on foot, you will get lost. It's much better to have someone pick you up and help you carry your bags right to your room. This holds true for Lijiang or Shuhe, but especially Lijiang.
Don't be Too Wowed by the Photos - In Lijiang, a lot of the local hotels invest a lot in their courtyards and decorations, but skimp on actual comforts and amenities. Rely more heavily on what you read in the reviews than what you see in the photos. Unless all you care about is getting some Instagram photos in a garden swing.
Book In Person
The opposite approach is to go to the Lijiang or Shuhe Old Town and hit the streets looking for a place to stay. Obviously this strategy doesn't offer quite the same sense of security as arriving in town with a reservation. You won't know for sure that you will have a roof over your head until you start unpacking your bags. On the other hand, there are a number of advantages.
For one thing, you will have more places available to you. There are hundreds of places to stay listed online, but there must be three or four times as many that aren't. Some of those are really nice, and way more affordable. You also get to see for yourself exactly which room you will be renting, so you know you won't show up and find out that it wasn't what you expected.
And finally, even if you wind up staying at a hotel that has an online listing, there's a good chance that it will be a fraction of the price if you just walk in and rent it in person. I don't know if that's because they are desperate to fill an empty room at the last minute, or if they just gouge unsavvy online travelers. Either way, you can get a lot of value if you have the guts to try.
Tips for Booking a Hotel in Person in Lijiang and Shuhe
Start During the Day - This option works best if it isn't already dark out. You might have to look around for a while, and everything is easier if you can see what you are doing. Also, the best rooms might be booked by nightfall. You are also likely to get better deals if you don't seem desperate.
Visit on a Weekday - You will have way more options available to you if you visit Lijiang while it isn't busy. By the same reasoning, you should also go during the slow season (Fall and Winter) if you have the option. If you read our experience below, you'll see how much this can matter.
Speak Chinese - Go ahead, just pick up a little Mandarin in your free time before your trip! No problem, right? Some, but not all of the hotels have staff members that speak at least some level of English. As it happens all the places we stayed at had someone even I could communicate with, but we looked at a lot of places where Dannie had to do all the talking. Clearly speaking the language will make things easier.
Don't Be Afraid to Say No - Sometimes, especially at a smaller guesthouse, it will feel hard to say no to an owner who is eager to host you. They will often go to great effort to make you feel at home. When we were touring one place, our three-year-old daughter, Lisa announced in Chinese that she was thirsty, and the owner of the guesthouse we were looking at ran to fetch her a drink and gave her a place to sit down and rest. We felt kind of bad walking out after that, but we just didn't like the rooms very much. We found a much better place and we were glad we didn't settle.
Keep Your Eyes Wide Open - I'm just going to point out one thing that made us a little nervous. A lot of hotel owners were happy to show us their rooms in the hopes that we would spend a few nights. In fact, they were so happy to do this that they would let us into occupied rooms to have a look around while the guests were out exploring. While we did want to see what the rooms looked like, this also made us nervous that the host would be showing people into our room while we weren't there. We tried to only stay at places where they treated their other guests the way we wanted to be treated.
Have a List - Even though not every place in town has an online listing, you can still read reviews and have a backup list. If worse comes to worse, you can always go to those places that you already think are acceptable and see if they have vacancies. In all likelihood, this will be less expensive than booking online anyway.
Our Lijiang and Shuhe Hotel Experiences
Because we were traveling with a three year old girl and because we were arriving at night, we had decided to eat up the cost and just make sure we had a place for every night of our planned three night stay.
We rented one hotel outside the Lijiang Old Town for the first night so we would have no trouble finding it in the dark, and then we rented another place in the heart of the old town for the remaining two nights, knowing we could easily find it after lunch the next day. It didnt' work out exactly as we'd planned.
Screwing Up
Our first reservation was at Miting Booutique (sic) Guesthouse, and we got into town at about 7:45pm. We got into a taxi and gave the driver the hotel's address. Because it was outside the Old Town, we knew he'd be able to drive right up to it. We followed along on both Baidu Maps and Google Maps to make sure we were going to the right general area. The ride ended at the end of a long alley where we saw lot's of hotels. We got out of the taxi to look for the right one, and the driver left.
But none of the hotels were ours. We contacted the hotel, and they shared their GPS coordinates with us through WeChat (another handy feature). It showed that the hotel was in fact inside the Old Town. Dannie and I immediately flipped out, not because we didn't want to go to the old town, but because we smelled some kind of scam, even though the concierge heard the address we had and confirmed that it was correct.
We logged onto booking.com and cancelled the booking. Then we called up the other hotel and called up our second hotel, Banxi Caotang Hotel, and asked them if we could check in one night early. They said that we could. The room that we had reserved was occupied, but they offered us a free upgrade for the night. That's a deal if I ever heard one.
This experience was what inspired me to research and write our guide to not getting lost in the Lijiang Old Town.
So we walked through the dark all the way down the alley back to the main road and hailed another taxi. We had them take us to the North gate of the old town and started walking. We navigated using Baidu Maps, we walked for about 15 minutes (Lisa was getting tired, since it was almost 9:00 at night), and then, just when we were about to arrive, the path on the cell phone screen jumped and said we were 15 minutes away again. It told us to start back tracking.
Eventually, we turned off the directions and just navigated by looking at the map. The hotel wasn't easy to spot, but there was a sign. The Banxi Caotang Hotel only had six rooms, but they were all very beautiful and comfortable. The rooms of the two story building surrounded a fully enclosed courtyard, which was decorated very simply with a tree, two rocking chairs, and a ring shaped koi pond that traced the inner edge of the building, with a number of foot bridges for crossing over it.
The manager woke up the cleaning woman and had her get our room ready for us, prepping an extra bed for Lisa and showing us where everything was. While we were chatting with the manager about how our evening was going, she told us that a lot of the addresses in the Old Town didn't show up right on digital maps or navigation apps.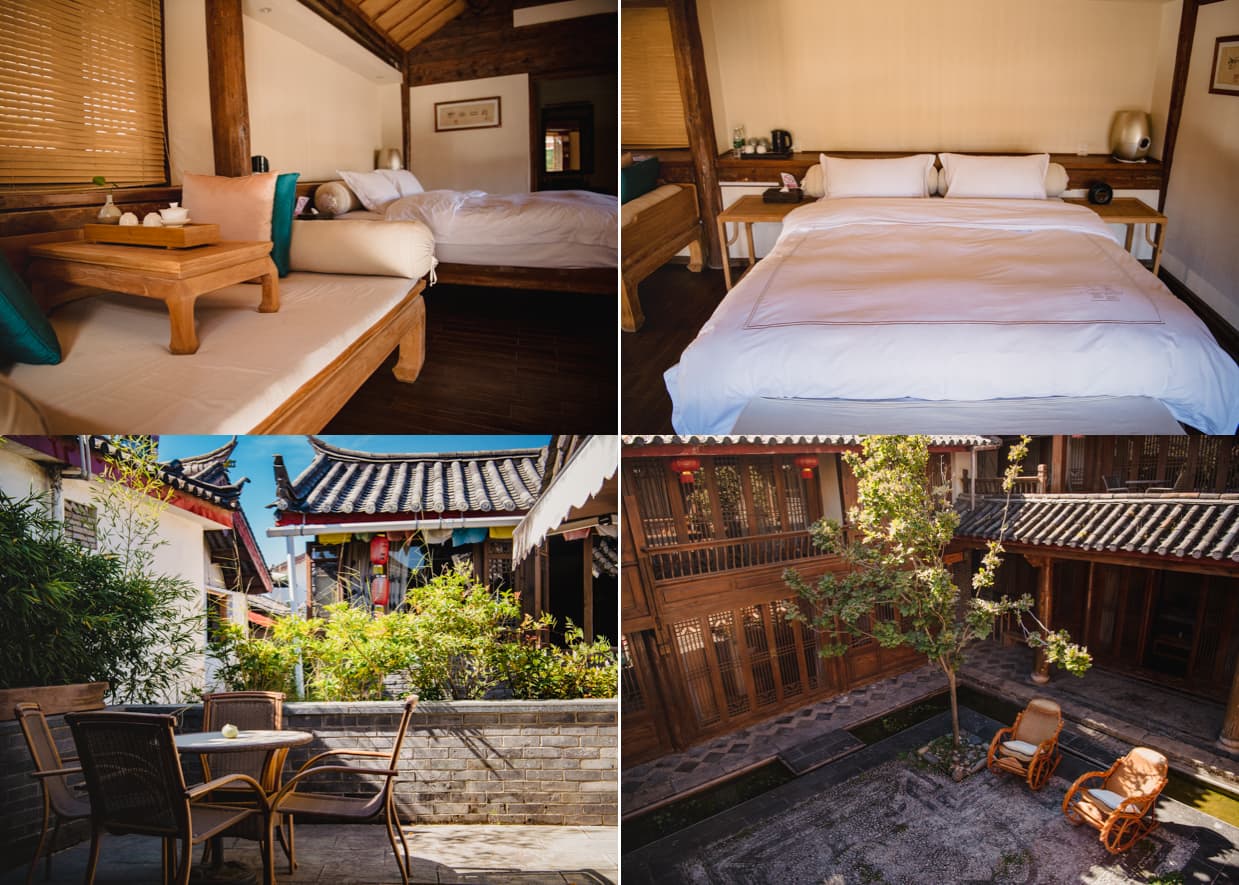 That probably explained why we had been under the impression that our previous hotel was outside the Old Town when it actually wasn't. Sorry, Miting Boutique Guesthouse! For the sake of fairness, they did have good reviews on their Booking.com listing, so even though we can't review them, we'll put up a link. The lesson we learned was to request pickup next time instead of trying to find our own way.
Everything was comfortable at Banxi Caotang. The beds were soft, there was plenty of hot water, and because the courtyard and the rooms were set so far back from the street, it was almost dead silent, even at the busiest times of day. This was easily the most relaxing hotel we've stayed at in China. We even felt safe letting Lisa go out into the courtyard alone to watch the fish while we were getting ready inside.
Though Dannie usually spoke Chinese to the staff, just for convenience, we saw that one of them did indeed speak English when they were checking another family in. The hotel wasn't in the center of the Old Town, but there were restaurants all over the place (including one place with good vegetarian dumplings), and it was an easy walk to wherever we felt like exploring. In the mornings, breakfast was made to order any time after 8:00.
Extending Our Stay
As our weekend was drawing to a close, we decided - for various reasons we might discuss in another article - to extend our stay in Lijiang for another week (10 days total), and divide the remaining time between a new area in the Lijiang Old Town and the nearby Shuhe Old Town. Rather than hop online and make another reservation right away, we decided to take advantage of our morning by walking around looking for open rooms.
It was a Saturday, and we were hoping to find a place for Sunday night. We had chosen an area where we wanted to stay (near Square Street, which branches out toward all the best areas), and we wandered around looking for vacancies. We weren't seeing a lot that impressed us, and wondered if we would have to look somewhere less popular.
Then one guesthouse owner gave us a hint. He told us that on Sunday morning the entire town would empty out and there would be plenty of good rooms available. He said his place was currently full, but that everyone would be checking out the next day. It turned out hat his rooms cost more than we wanted to pay, but we were happy to have his advice.
Just to be safe, we booked one more night at Banxi Caotang, and on Sunday morning we went out to look for a place for the two nights after that.
On that same street we were looking at before, we now found lots of places. The one we finally decided on was run by a man named who went by Harry with foreigners like us. He spoke great English (the best of any place we stayed at during our trip), and he had a little girl who was only a few days younger than Lisa. Once they started playing with each other, it was obvious that we were going to be staying there, especially since the price was less than half of what we'd been paying before.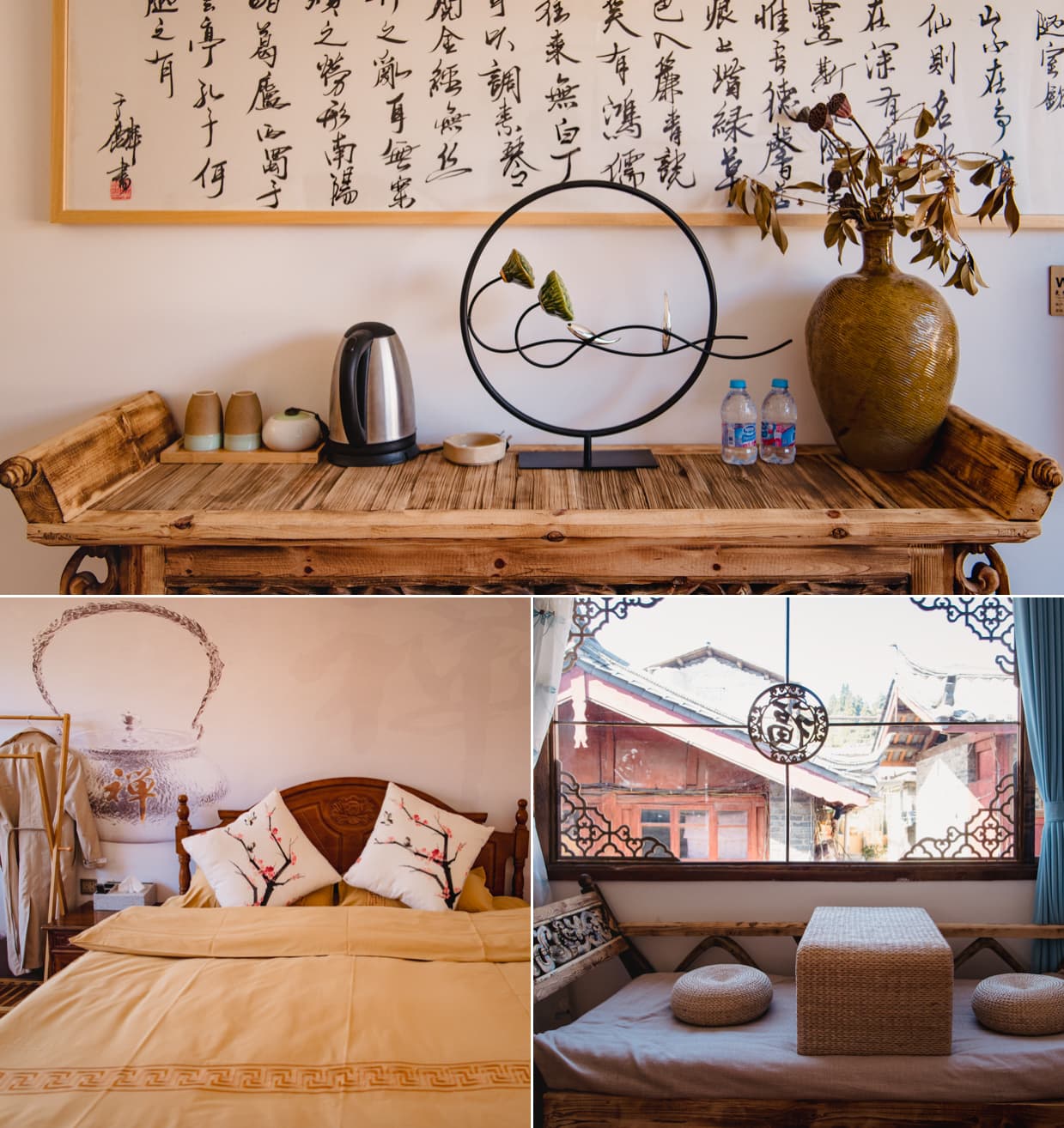 The courtyard was comfortable, as was the bedroom. And though everything in our room was clean, the guesthouse had a very lived in feeling - probably because it was lived in. Harry and his family lived downstairs. In fact, later when other guests booked the whole place, the family had to move out for a night to make room. Lisa was sad to see the little girl go.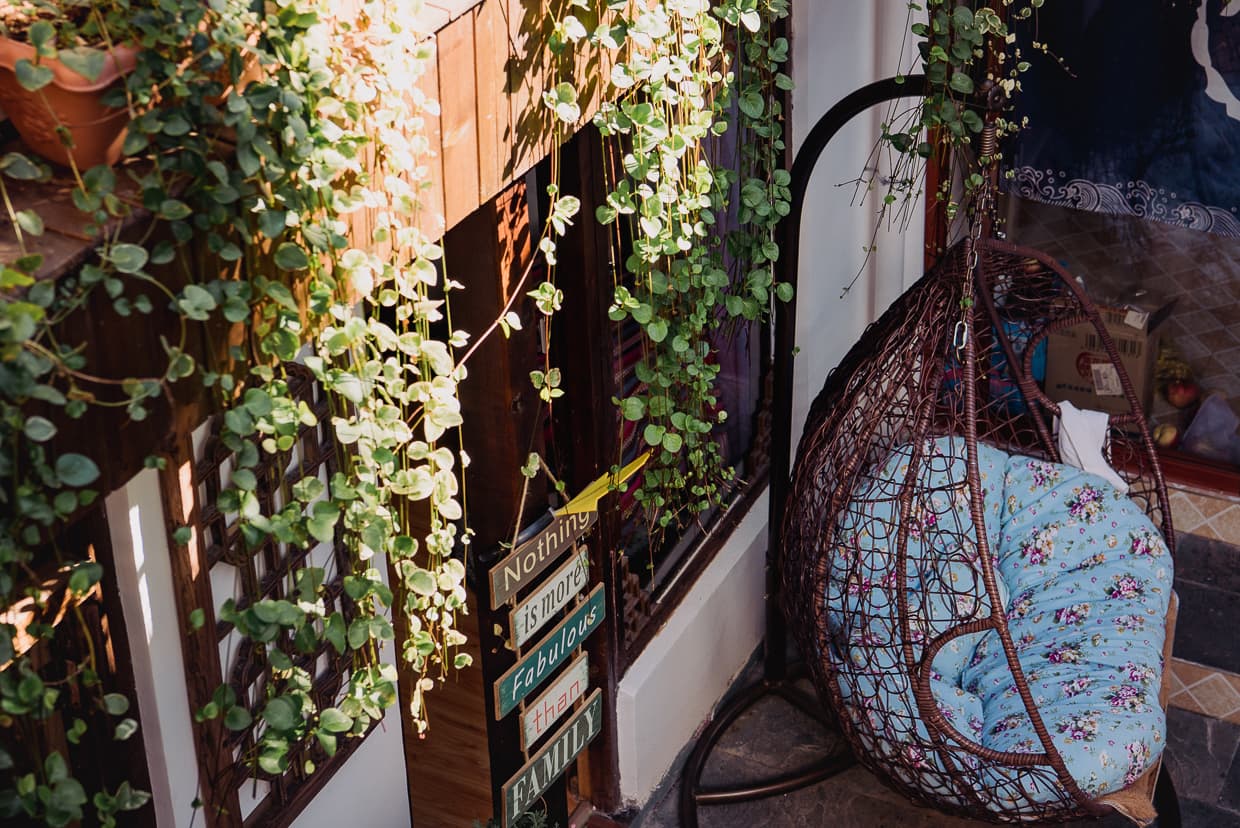 While Lisa was napping with Dannie, I enjoyed sitting in the courtyard chatting with Harry under the shade of an umbrella. He made a pretty good cup of coffee (in China!), and he told me what it was like running in a guesthouse in Lijiang. He told me that the reason he wasn't on Booking.com was that it gave customers the option of canceling their reservation at the last minute for free, and people had a tendency to get lost, give up and cancel (once again, sorry Miting Boutique Hotel!).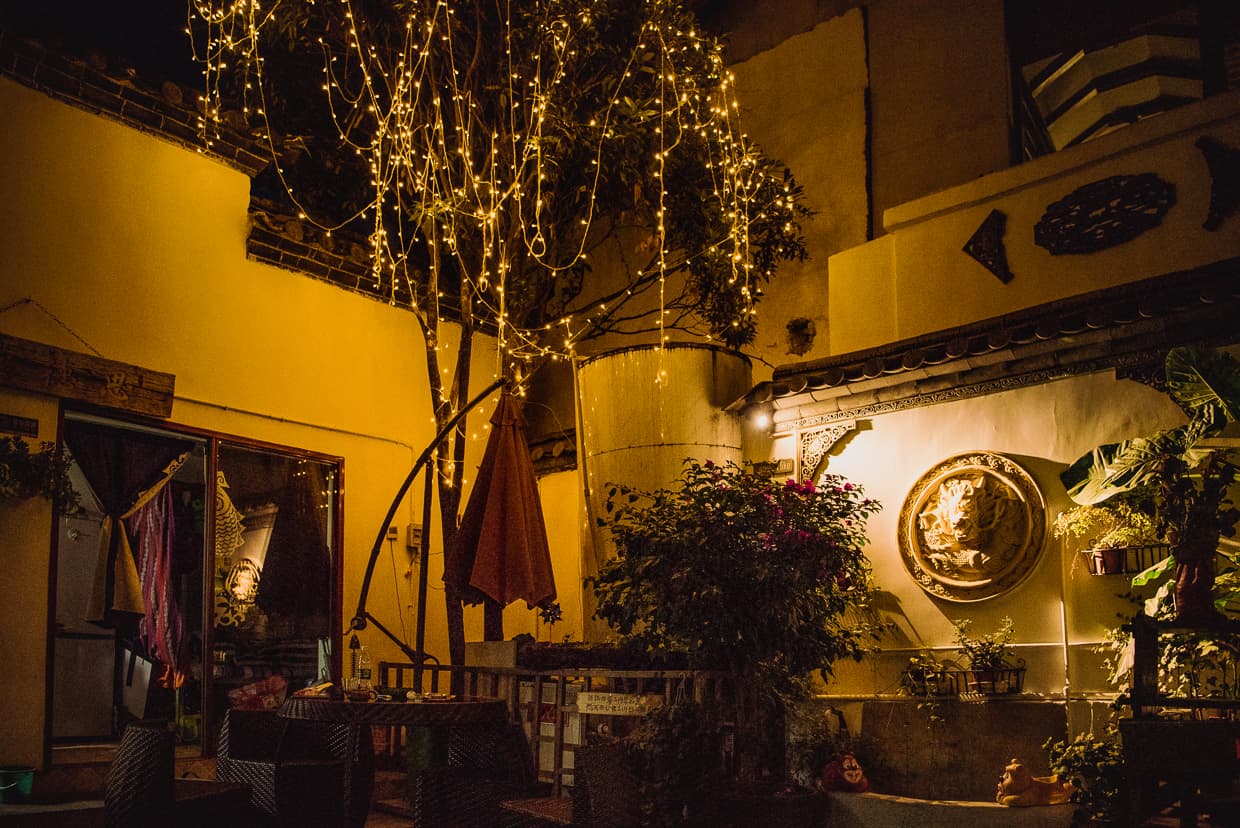 Luckily, his place is on Airbnb, and even though the listing is written in Chinese, I can confirm that English speakers will have no difficulty here. I couldn't write a review on the site because we paid cash on checkout.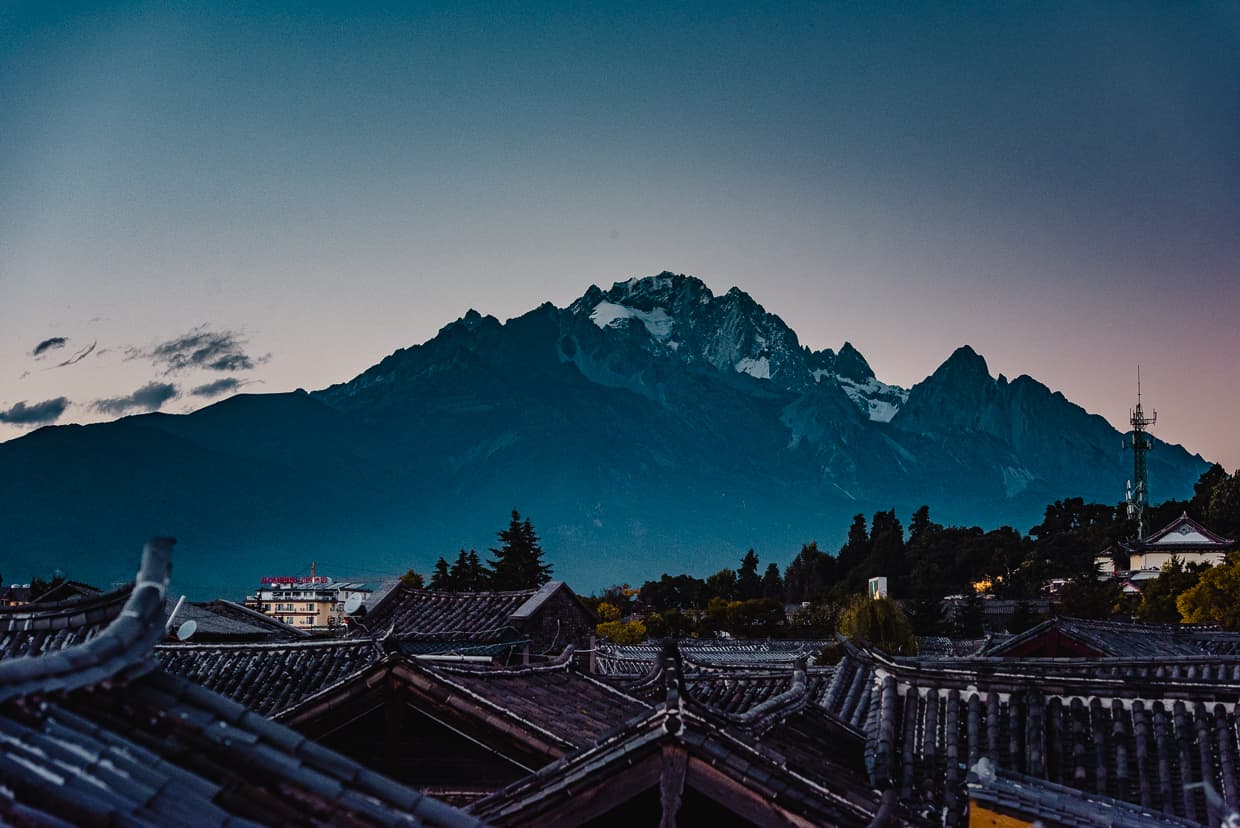 Oh, and Harry's place also had a great view of the Jade Dragon Snow Mountain, Lion Hill, and the rest of the Old Town. If photography's your thing, then in addition to book a place with a great view, you might want to read my e-book, Easy Manual Mode Photography, available in our shop now.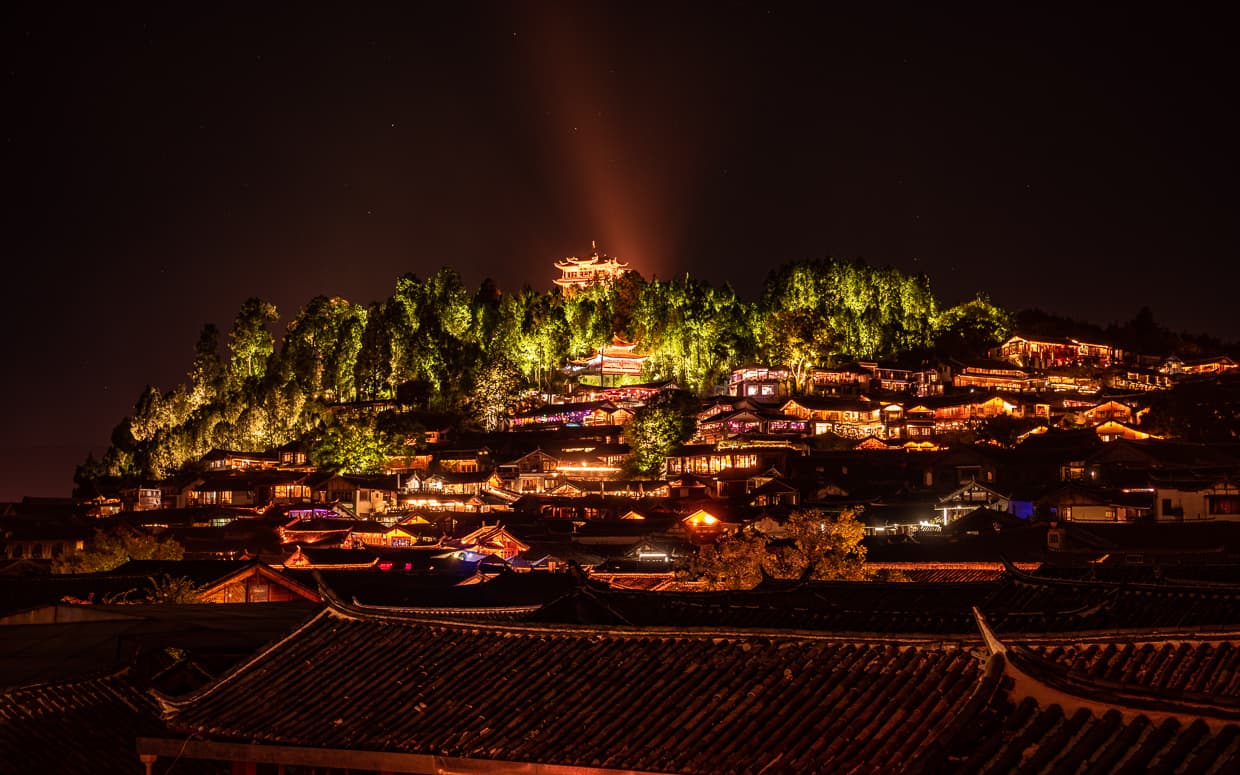 Before we left, Harry also showed us the place across the street from his hotel where traditional Naxi dancers practice. You'll see dancers like these all over the Lijiang Old Town, but when they are performing live they wear traditional clothing too. Lisa had a blast dancing along with them while they practiced.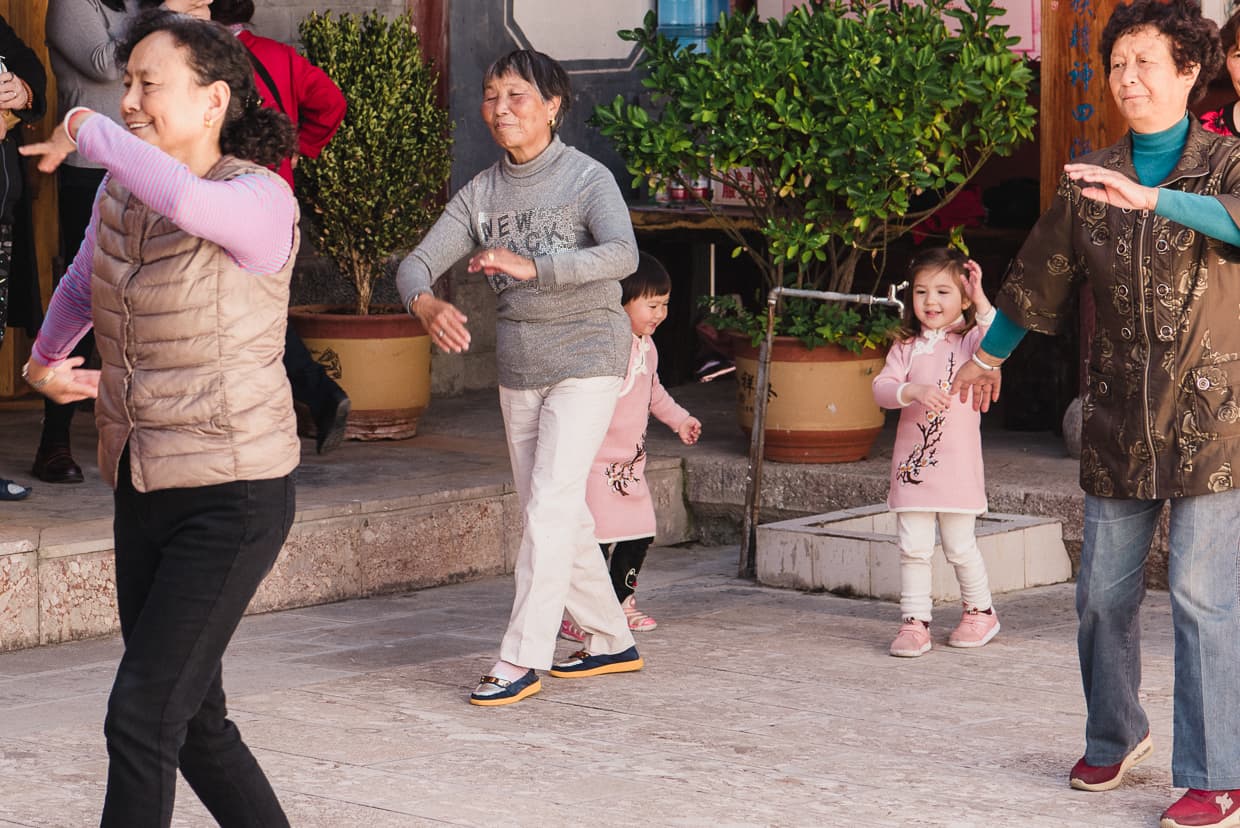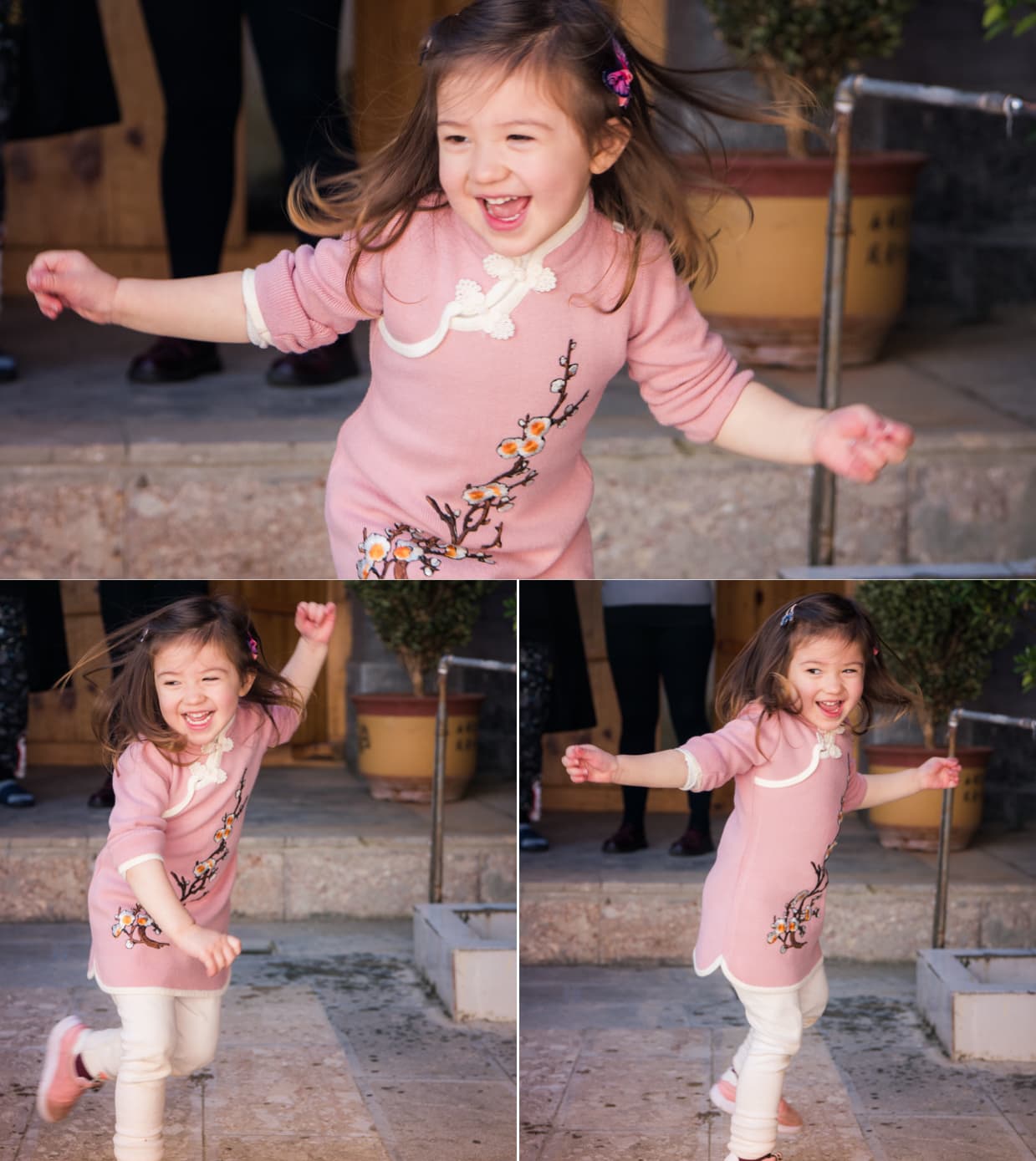 Moving on to Shuhe
Shuhe is a smaller Old Town about 10 minutes north by car, it is separate from the Lijiang Old Town, but still within the city of Lijiang. It's much quieter and much less aggressively touristy (but still pretty touristy). We were pretty pleased with how Lijiang had gone, so we decided that we would book one night online before we arrived, move in early, and keep an eye out for a new place in a new location while we were exploring.
The hotel we booked online was called Lijiang Xi Xing Xian Hostel (like I said, Shuhe is still in Lijiang). As I mentioned earlier, one of the best parts about booking online is that you can make sure you have a place that speaks English. Not everyone there did, but a couple of them spoke enough to handle check in, and give us some directions. In fact, while we were chatting with one of the staff members, she told us that she was taking English lessons and trying to become more fluent.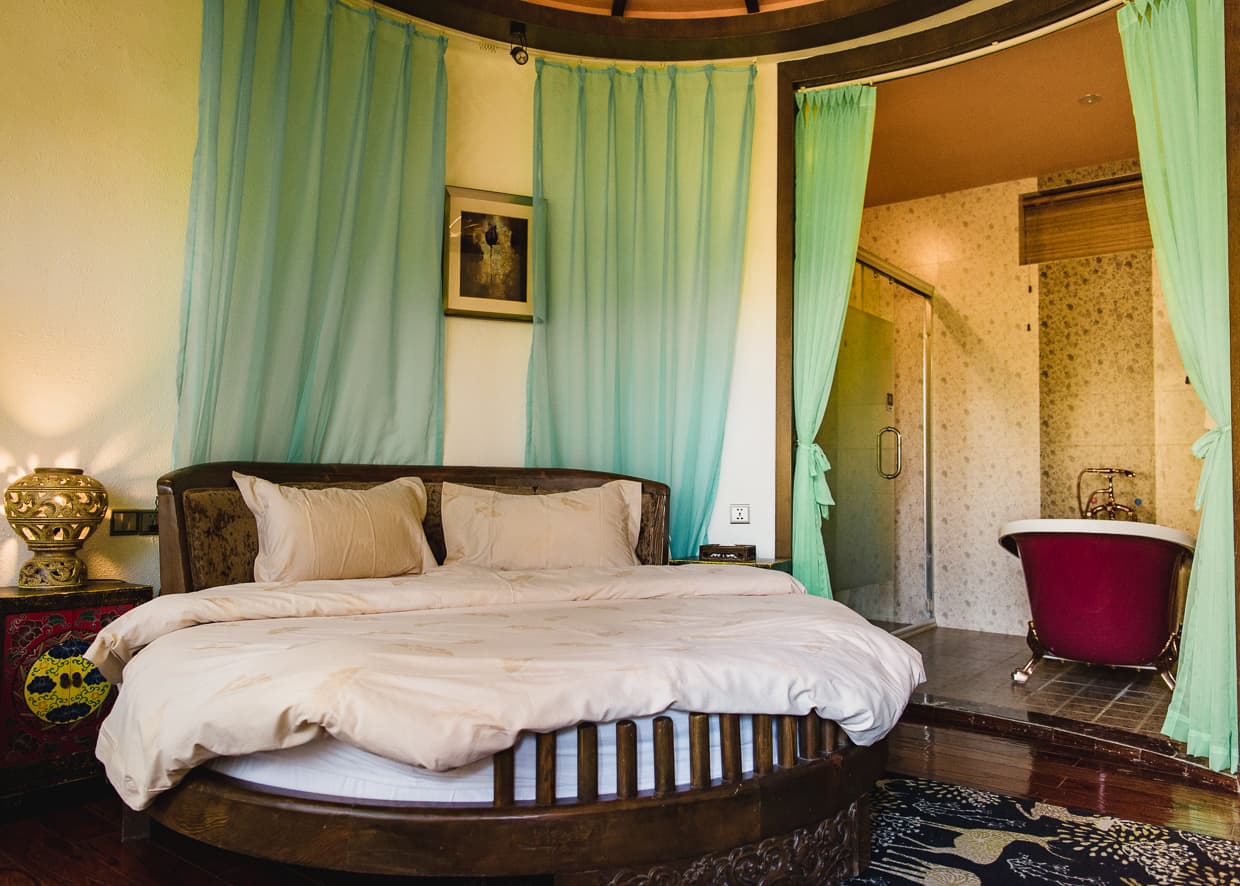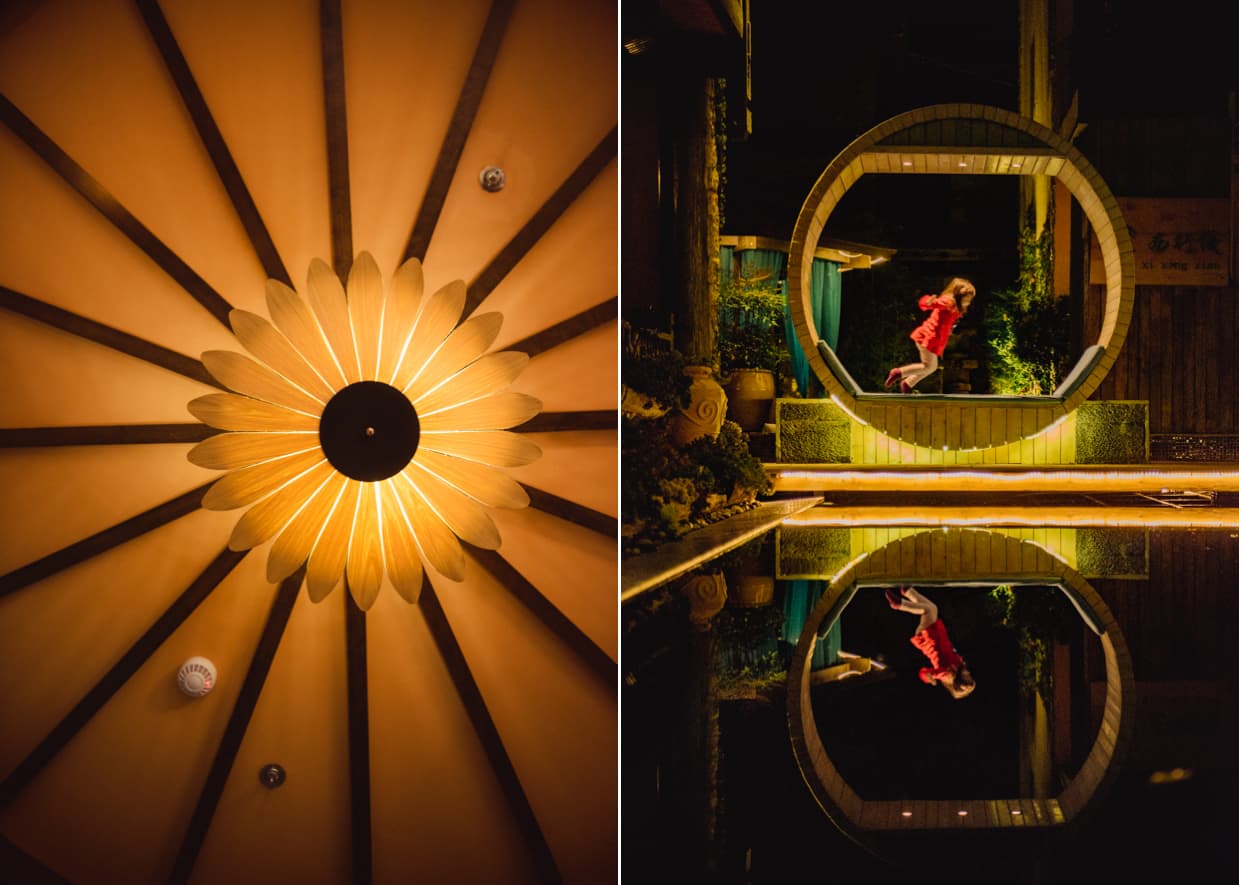 Lijiang Xi Xing Xian Hostel was just outside the Old Town of Shuhe, and we could get there by walking through a beautiful park full of peaceful canals, willow trees and stepping stones. The hotel was very beautiful, with a nice pool, an outdoor tea room, and well kept grounds. It was too cold to go swimming, but Lisa wanted to play next to the water anyway. (She's been nuts about swimming ever since her first pool experience in Bangkok.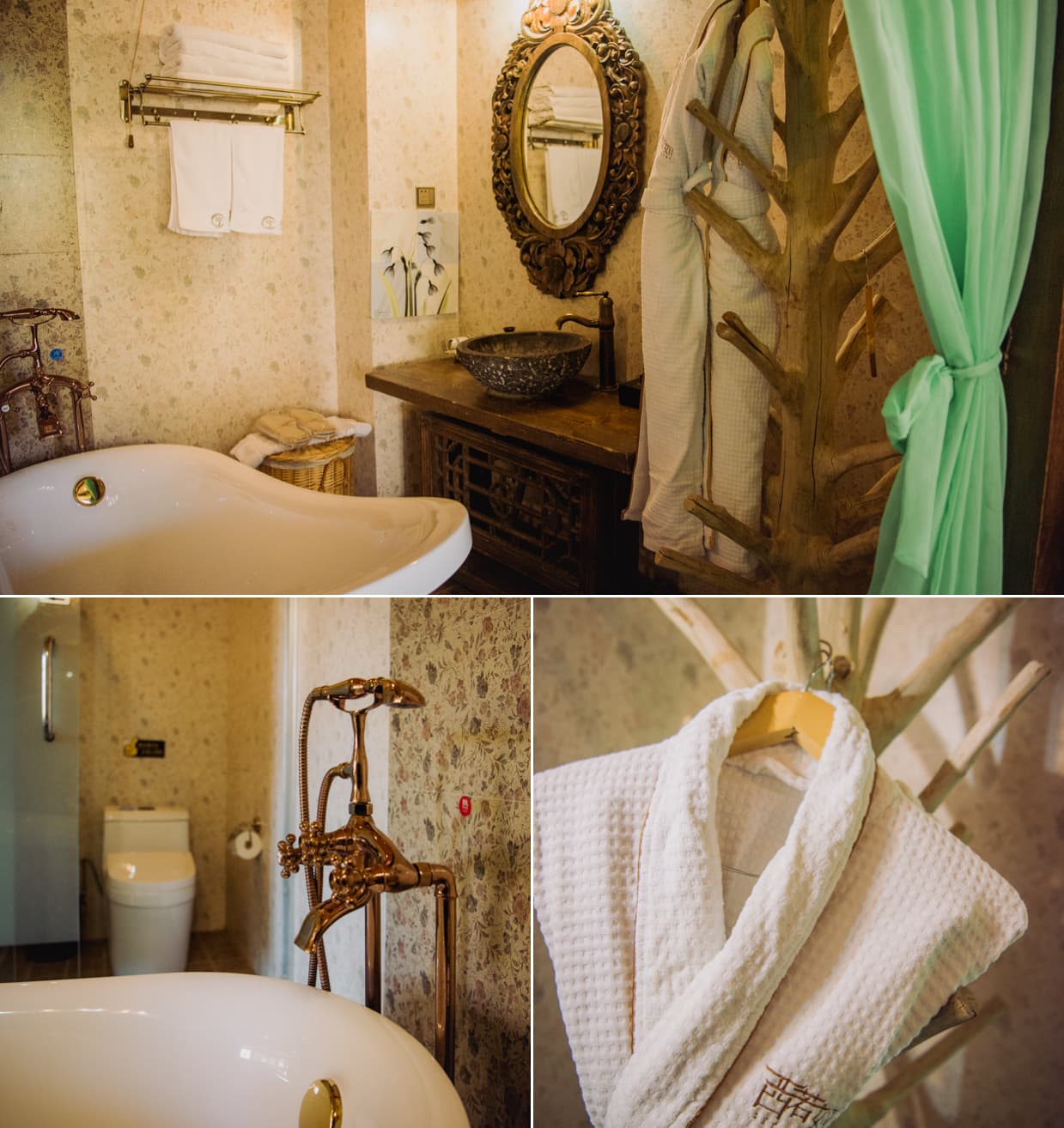 Our room was very pretty, and it had a lot of the things we were looking for, including a bathtub for Lisa. For the three of us, it was a little bit cramped, especially because we were sharing a round bed. We'd always wanted to try a round bed, but it turns out they aren't very practical - the blanket kept sliding off. Other than that, and the fact that the dining room was kind of cold, we didn't have any complaints. Everything was nice and clean.
左岸飘香 (Translates to "Left Bank Frangrance")
After exploring Shuhe for an afternoon, we had a pretty good idea where we wanted to stay. We liked the canal street that ran from that park, all the way to northernmost town square. We started looking around, just wandering into guest houses and asking if they had any rooms available. We found a few that were either too expensive, not nice enough, or all booked out, but eventually - at one of the last places on the street - we hit gold.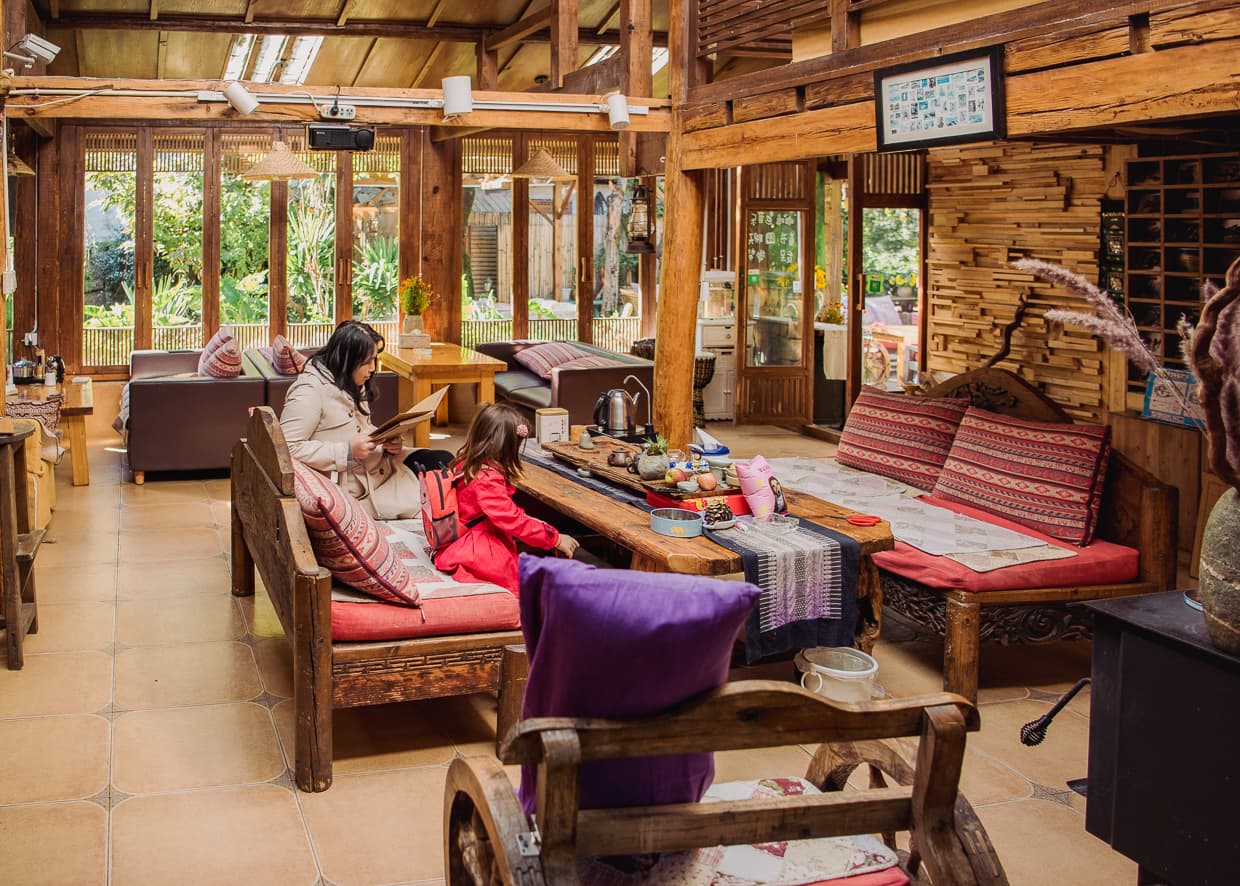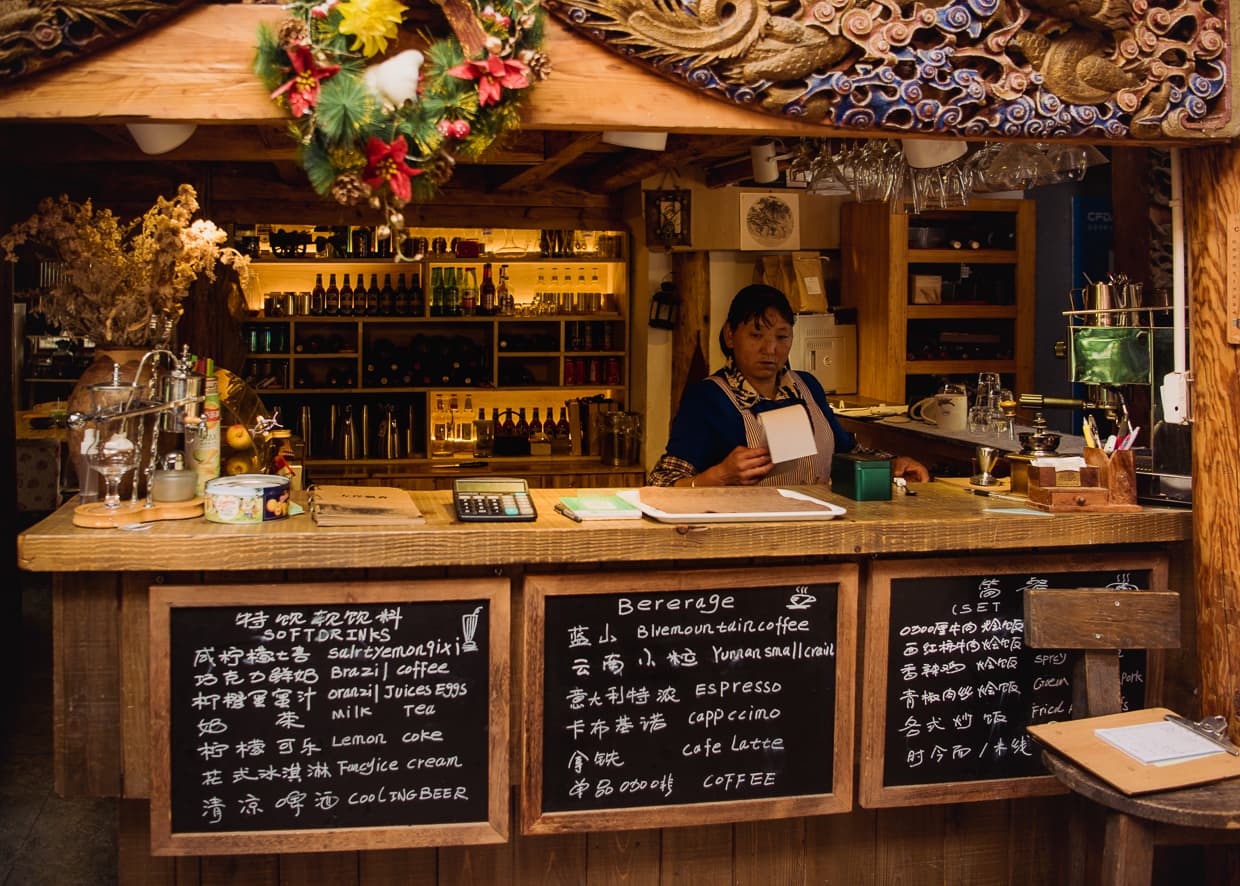 At first we thought that 左岸飘香 was just a restaurant or cafe. On the outside was a big patio area with tables, and inside we could see a small cafe. We walked in just to check (and also because I hadn't had any coffee yet and I was getting cranky). The place was run by a couple who lived in the building. Though Dannie asked all the questions in Chinese, I found out later when I ordered coffee that the man also spoke some English.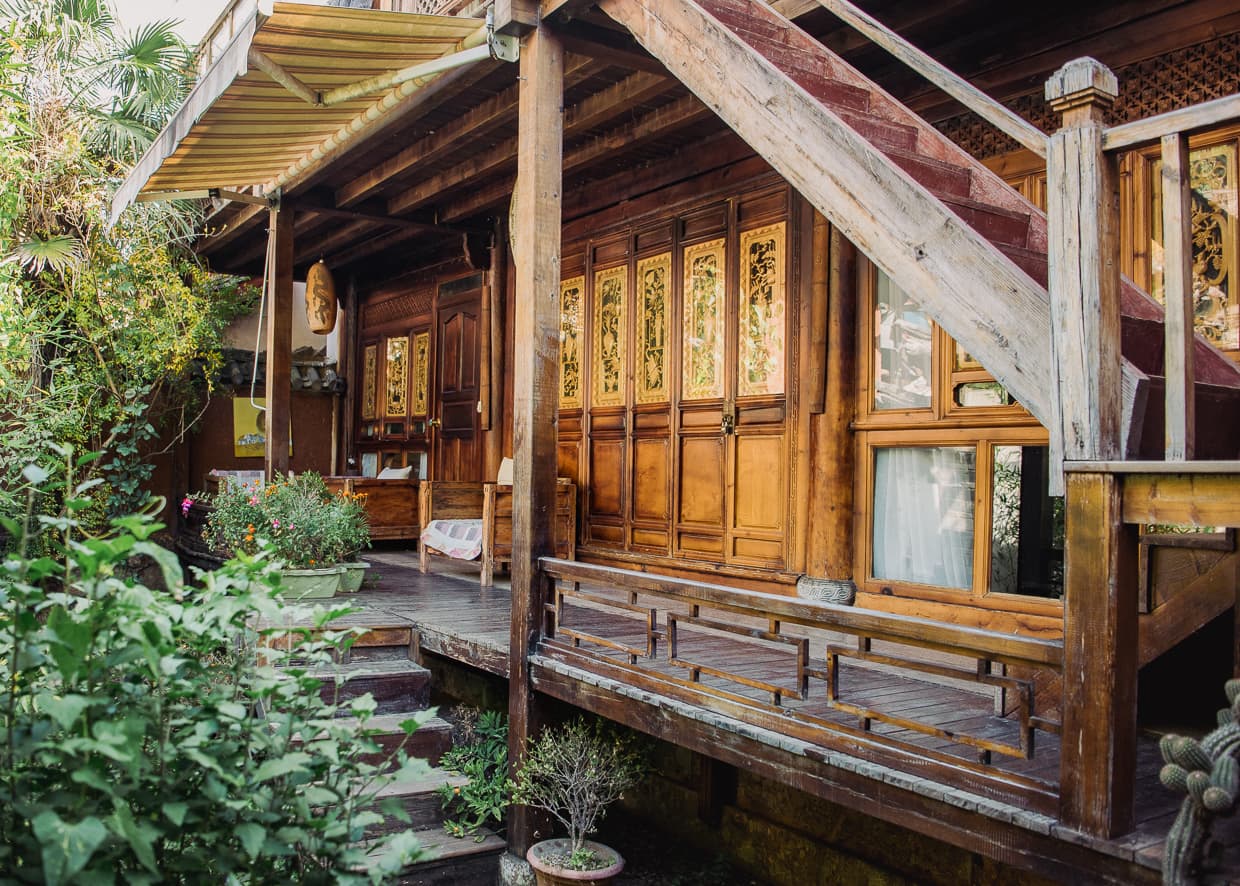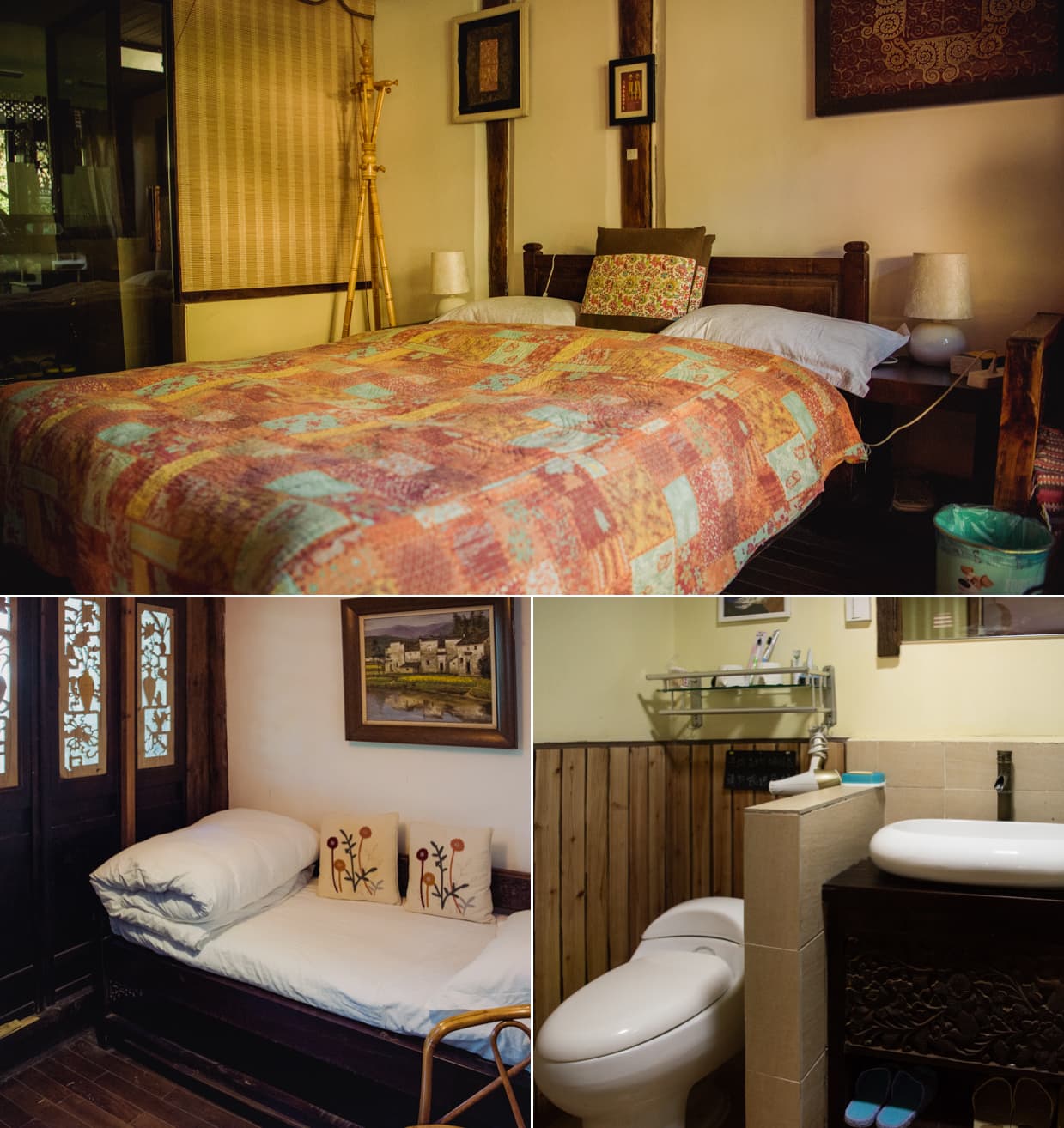 The room we wound up booking was behind the cafe, adjacent to a small garden. It had an extra bed for Lisa, a big closet for our clothes, and a good shower. It was comfortable, except that it got a little bit chilly at night. Fortunately, they provided us with a space heater, and the blankets were very thick. We slept just fine.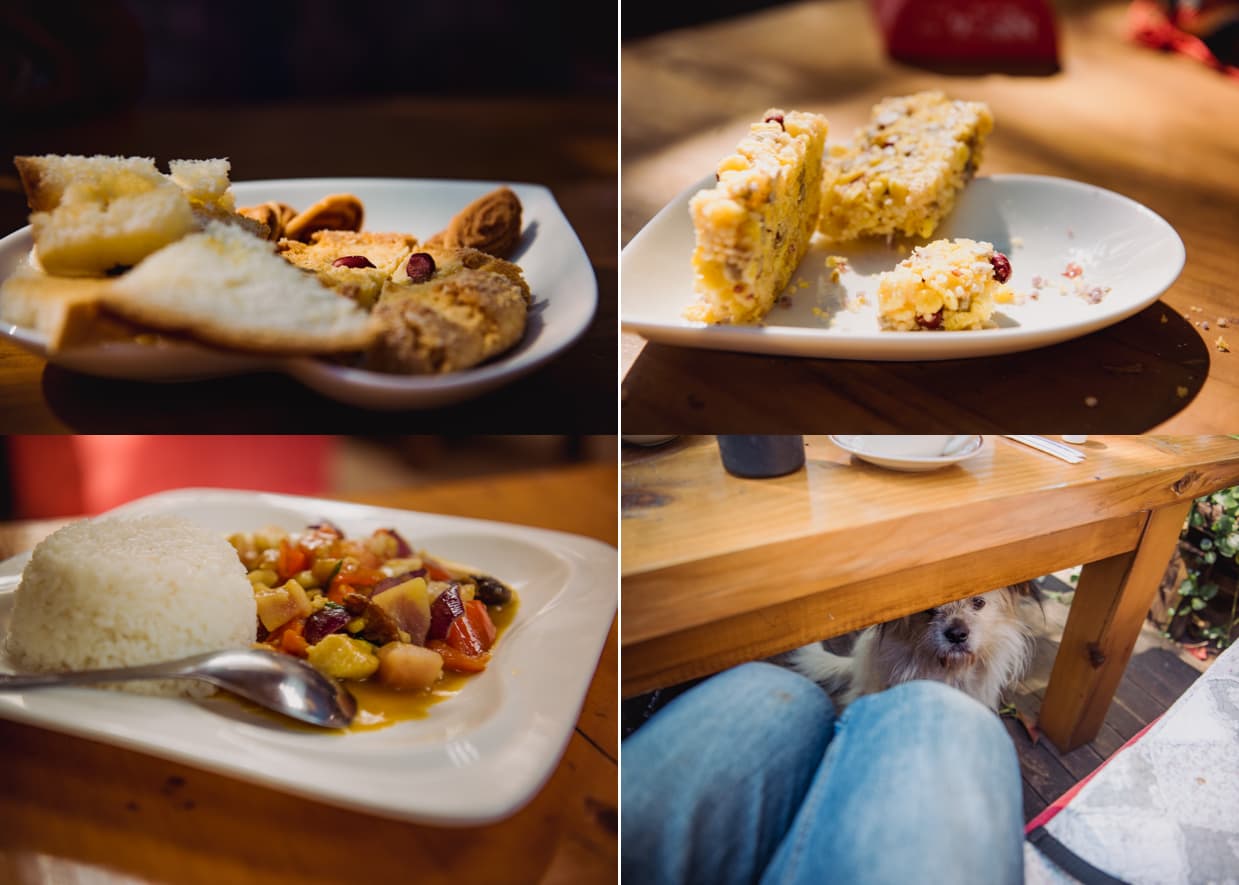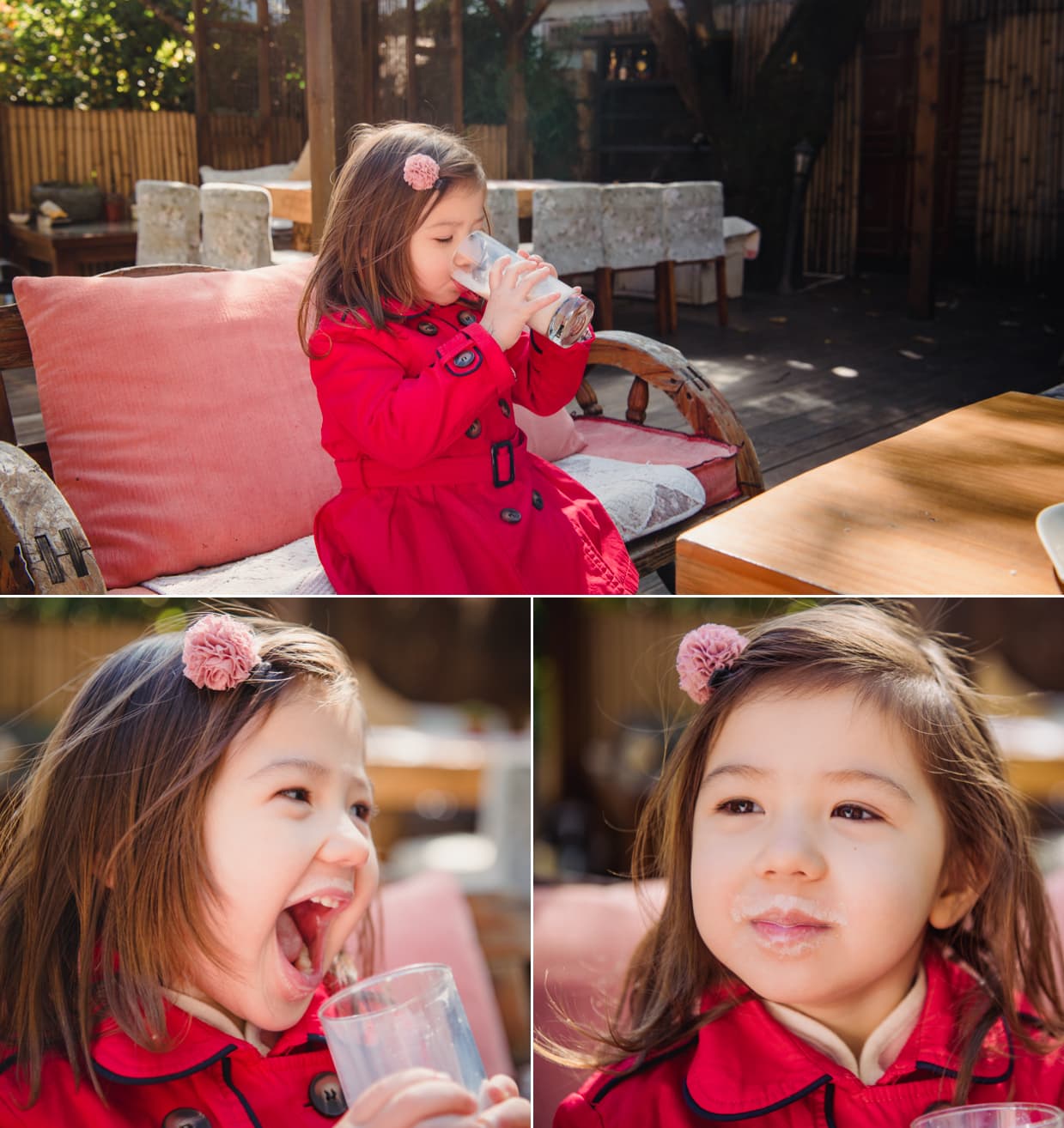 The nice thing about being attached to a restaurant and cafe was that we could eat there if we wanted to. Though we were more intent on seeking out strictly vegetarian restaurants, they did have a few things on the menu that we could eat. The food wasn't great value, but I enjoyed my coffee, and Lisa liked her white hot chocolate.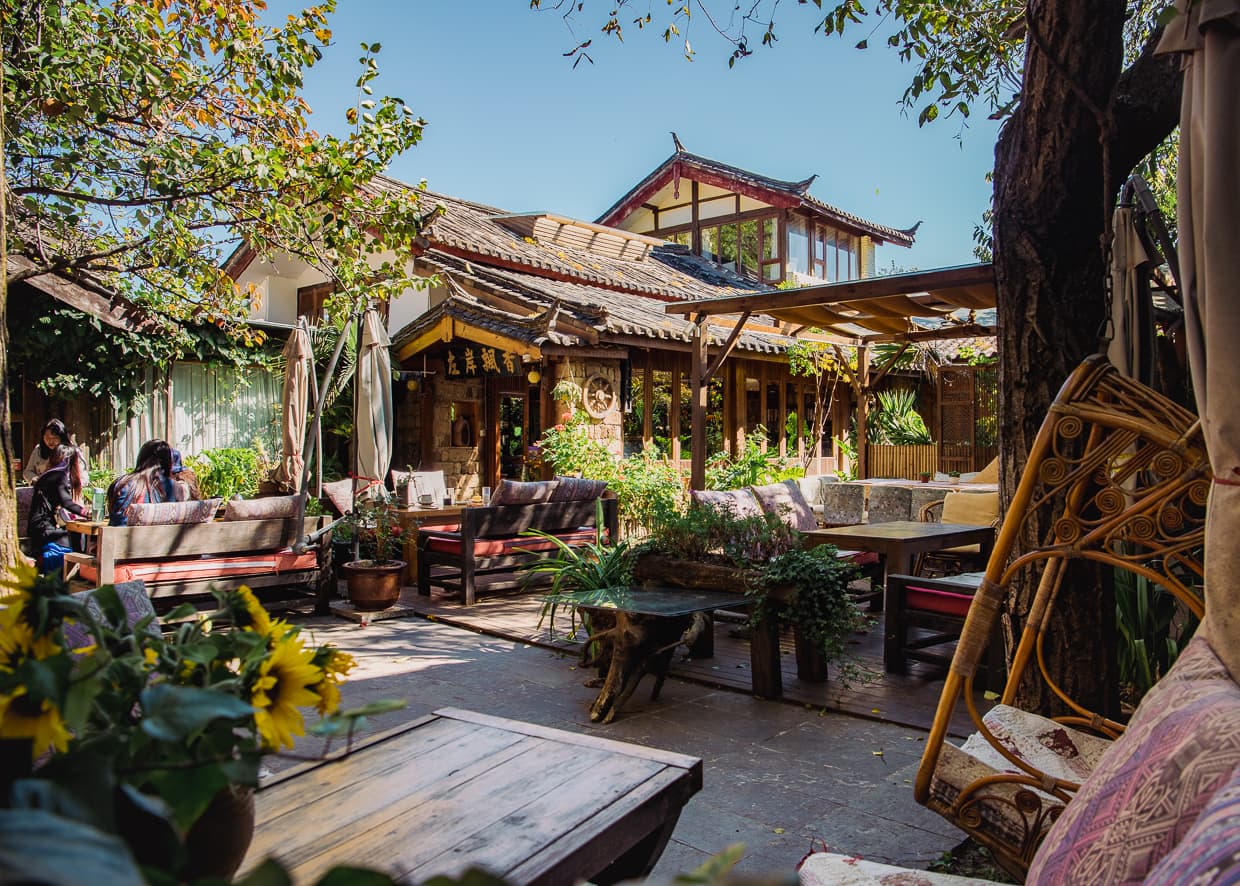 左岸飘香 doesn't have an online presence, but you can find them by going north from the east side of Quinglong bridge. It's on the right and you can see what the patio outside looks like in our pictures.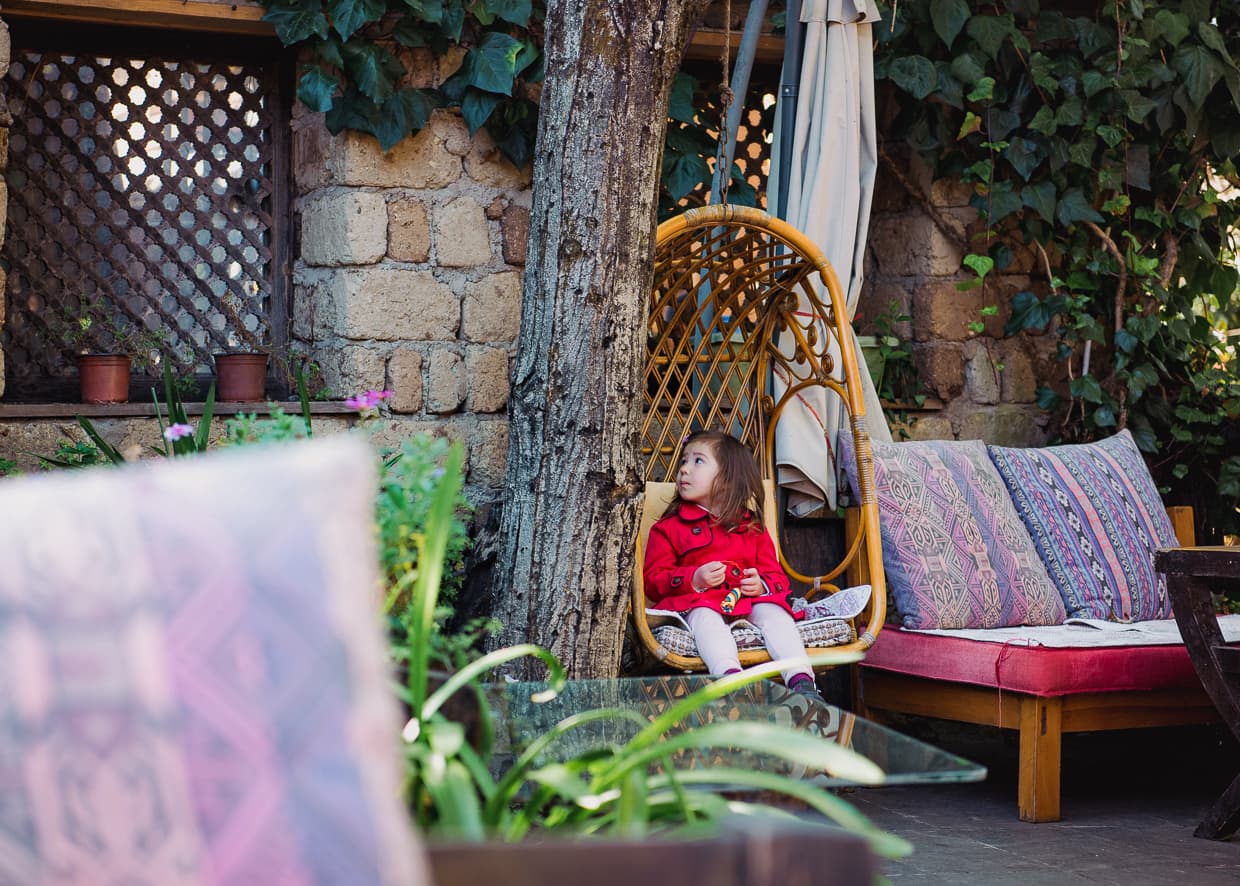 Which Part of Lijiang Old Town to Stay In
Our first hotel in Lijiang was sort of off on the Eastern side of the Old Town. It was geographically close to many of the things we wanted to do, but the routes to actually get there were a bit indirect. We either had to backtrack a bit to take one of the main roads, or we had to risk getting lost in a maze of back alleys. Still, a fifteen minute walk to the scenery wasn't terrible. I want to remind you one more time to read our guide to navigating the Lijiang Old Town so you'll have a better understanding of the layout.
Square Street
Our best advice is to find a place near Square Street, a town square in the middle of the Lijiang Old Town where four streets branch off in different directions and can take you pretty much anywhere you want to go (except for some reason no big roads lead to Mufu Palace, one of the towns most popular attractions).
We didn't choose a guesthouse right on Square Street because we were worried it would be too noisy, instead we picked Harry's place, a couple minutes down the road to the East. It's a beautiful road with a river flowing alongside it, with many restaurants, hotels and great scenery.
The North Gate
If you are using the Lijiang Old Town as a staging ground for exploring more of the region (like Shuhe, the Jade Dragon Snow Mountain, or the Tea Horse Road), then you might want to stay as close as possible to the North Gate. That's the easiest place to get a car, meet up with guides, or just generally get in and out of the Old Town. If you are traveling with kids, this will also put you within a ten minute walk of the Black Dragon Pool, a great park where you don't have to struggle with the crowds or worry about getting lost.
It's also a good place to be if you are nervous about culture shock. There are several western chain restaurants there (McDonalds, KFC, and Starbucks come to mind), as well as ATMs and some actual shopping streets and an underground mall right across the street.
The South of the Old Town
We didn't do much in the Southern half of the Old Town, but I did scout it out during one of Lisa's naps. It is a sprawling area that consists almost entirely of guest houses. It's not full of attractions, and it might be an inconvenient walk, but it really is a beautiful area. It was almost deserted while I was there, but it wasn't creepy deserted, it was peaceful deserted.
I don't know how much they cater to English speaking guests down there (probably not much), but if we'd been staying for another night we might have checked for inexpensive rooms. As I walked past doorways, hosts within would occasionally beckon for me to come in.
If you are not interested in the over-the-top-tourist-trap feel you get in the busy parts of the old town, this is probably the best place to go. It's where you're more likely to find that hidden gem you can brag about later.
The Western side of the old town consists mostly of Lion Park, and the Northeast looked boring when I walked through. That's all I've got for now.
Which Part of Shuhe Old Town to Stay In
Sifang Square
After having done a little exploring on our first afternoon and morning, we settled on the area just north of Sifang Square. That's where we found 左岸飘香. We liked this area because it was close to the action - Sifang Square and Quinglong bridge are popular attractions, and the Tea Road Museum is just around the corner - but north of the square there is nothing popular except that peaceful park.
This meant that we could have easy access to the attractions of Shuhe, but almost total peace and quiet. The main entrance to the Old Town on the Southeastern corner, so the only tourists who really went North of the square were other people returning to their hotel rooms, and a few wedding photographers with their clients, looking to escape the crowds.
The Craftsman Street
If and when we return to Shuhe, we will try to stay near the Craftsman Street. I don't think I saw any guest houses right on it, but somewhere nearby would be great. The Craftsman street is full of beautiful architecture and less-cheesy shops. It's also very close to the preserved portion of the old town, where there are no open businesses, no tourists, and photographic opportunities abound (I know that doesn't sound exciting, but we'll have a post about that soon, and you'll see what I mean).
Basically, we would try to stay in the Southwest portion of the Shuhe Old Town, but on the eastern side of the river. The biggest downfall of our two hotels in Shuhe was their distance from he main Old Town entrance. There was a gate on the north end, but getting cars in and out at the South Gate was just a lot easier.
Conclusion
Both Lijiang and Shuhe are loaded with lodging options, and how you find your room is really a matter of what makes you comfortable and how much you are looking to spend. Lodging in China is much cheaper that it is in the U.S. or Europe, so don't feel like you need to spend $100 a night to be comfortable. Of the places we stayed, the average cost was probably about $40 per night, and we never felt like we were slumming it at all.
I hope you found this article helpful, and if you did, you might be interested in some of our other material about Lijiang, China. We've been traveling full time for a long time now, so don't forget to check out our destinations page to see if we've been anywhere else you've been thinking of in Europe or Asia.
If you'd like to help support us, you can check out our shop, but you can help us (and yourself) for free just by asking us a question or leaving helpful hints down in the comments section. This helps us improve the experience for our future readers, and improves our visibility. Thanks so much, and happy travels.
Oh, and sign up for our free newsletter for stories, insights and tips!