Our trip to Lijiang, China revolved around photographing the Old Town. A lot of people leave Lijiang thinking that the scenery is kind of monotonous - to a certain extent, they are right - but detours like Lion Hill Park, and Wangu Tower within, break starkly from that similarity. It's not just a convenient and refreshing break from the Old Town, it might just be the most beautiful place in the city. Here's a guide to Lion Hill Park and Wangu Tower from a photographer's perspective.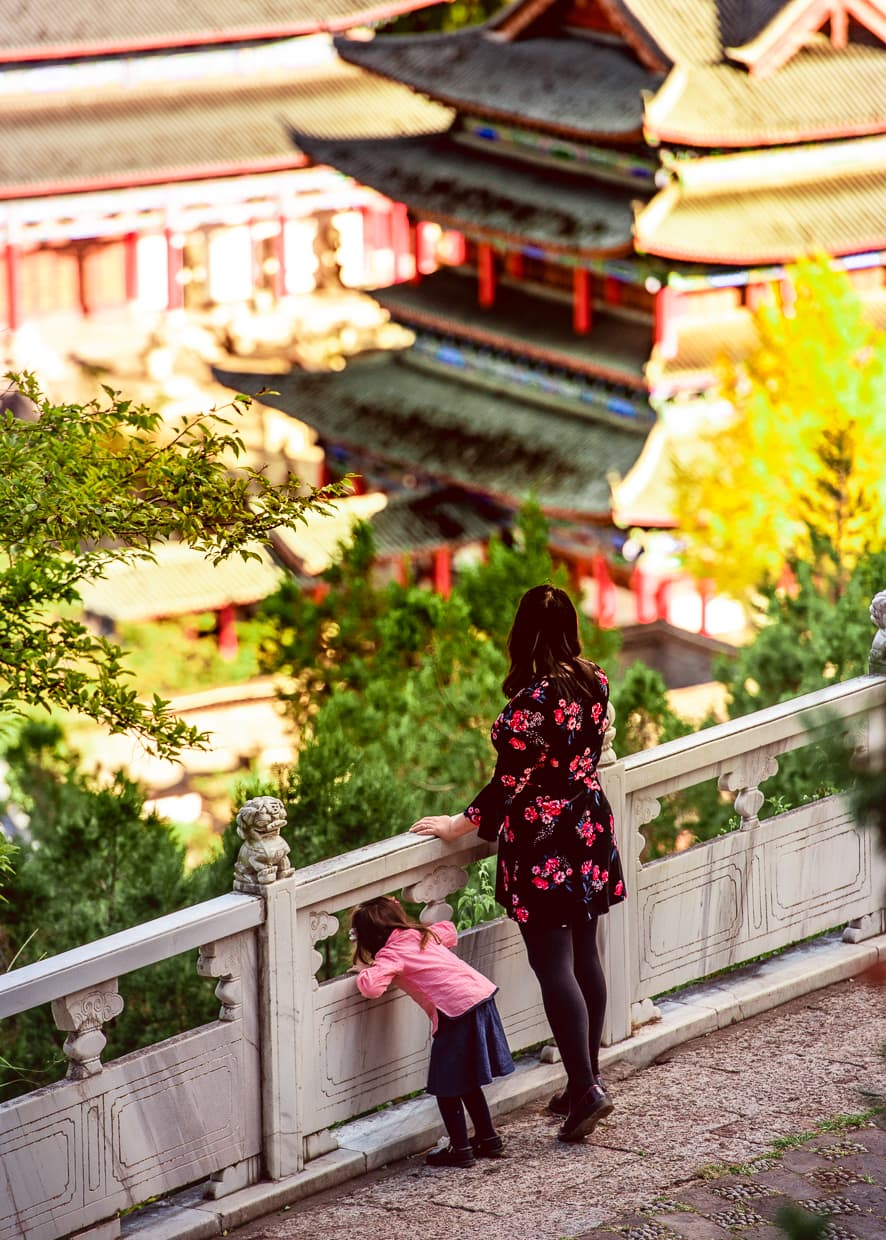 By the way, this article contains affiliate links. If you click on one and make a purchase, we will earn a small commission at no extra cost to you. These commissions help fund our travels and this website. 
Photographer's Guide to Lion Hill in Lijiang, China
What is Lion Hill Park in Lijiang, China
Lion Hill is the highest point contained within the Old Town (or Ancient City) of Lijiang, China. It is completely enclosed and can only be accessed by a central gate and ticket office. The small fee (see below) is well worth the price because it is the only place in the entire Lijiang Old Town to get some truly natural scenery and enjoy a little peace and quiet.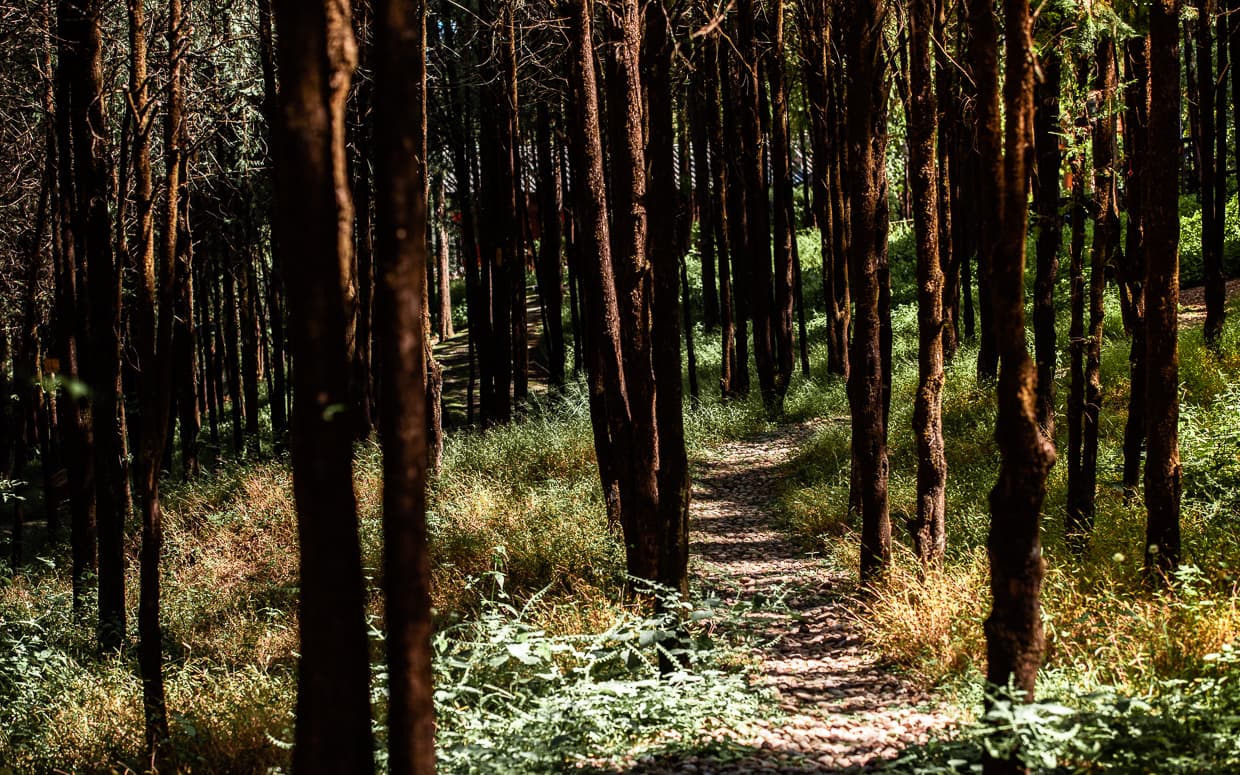 I think the park is so peaceful because a lot of Chinese tourists take a pass on it. Most of the Chinese visitors to Lijiang are there for only a very brief stay, and they are trying to cram too many activities into a short period of time. In the Old Town of Lijiang, they mostly visit the famous water wheel near the north gate, walk down a couple of the shopping streets and maybe visit Mufu Palace, before catching a tour bus to the Jade Dragon Snow Mountain. Or maybe they just think that natural scenery is free and they shouldn't have to pay for a ticket.
Whatever the case, their loss is your gain because one of the most beautiful places in Lijiang is also one of the least crowded and most relaxing. I swear, the air even smells cleaner.
Where is the Entrance to Lion Hill Park
Unfortunately, I won't be providing Google Maps links like I usually do because Google Maps has almost none of the roads in the Lijiang Old Town. Your best bet is to download Baidu Map. It's terrible at giving directions, but it can tell you where you are and which way you are headed. It also has every little street and alley, so you can use it in conjunction with these directions. Use 狮子山万古楼景区 as your destination in the search bar.
To get to the entrance of Lion Hill Park, first head to the Square Street, a central Square in the center of the Old Town where four streets branch off in different directions. To get to Square Street from the north gate of the Old Town, just follow the willow lined street south and continue along the most obvious path until you reach an opening with a small stone bridge over a river on the eastern edge. That's Square Street.
On the Southeastern corner of Square Street there is a path that goes uphill. Follow it. You will climb a winding set of stairs that makes its way uphill and southward, eventually curving to the East.
For more information on getting to this and many other attractions read our guide to navigating the Lijiang Old Town without getting lost.
This seems like a good time to mention that Lion Hill - much like the rest of Lijiang, is not stroller friendly.
As you climb the stairs, the path will start forking, but you don't have to worry too much about getting lost because the paths that are incorrect come quickly to dead ends. You do however have to watch out for the final fork that you need to take. It is marked by a gray stone slab about four feet tall, and it points to the left. Follow that path to the ticket booth.
Lion Hill, Lijiang: Hours and Prices
Hours:
According to the posted hours on the sign over the ticket booth, the park is open from 8:30 to 19:30. Take this with a grain of salt! I never tested the opening time, but when we visited in the late afternoon, the guards were aggressively shooing us out almost an hour before closing. Luckily, we had already done most of the photography we were looking forward to doing. A few others weren't so lucky though. A couple of young photographers were waiting at the top of Wangu tower with their tripods hoping to photography the Jade Dragon Snow Mountain at sunset, and the got the boot before they ever had a chance.
My advice is to leave yourself a little wiggle room.
Ticket Prices:
Tickets to the park are 35 RMB (about $5) per adult. Little Children are free. I have seen other prices listed on other websites, but those articles must be outdated.
Exploring Lion Hill Park
How Long Does it Take?
It took our family about two hours to explore Lion Hill Park and Wangu Tower. During our visit we walked all the paths, had a brief picnic, climbed the towers and took a lot of photos. If you don't have a three-year-old with you, you can probably do it faster. But why would you want to? As you'll see as you keep reading, there is plenty to do and see while you are there, and trust me, you'll be grateful for a little extra time to clear your head and breath some fresh air.
Lion Hill Photographic Opportunities
Here is a list of some of our favorite locations in the park for taking photos. No list like this is every really complete, but it should give you an idea of what you can expect. I'll also include some photography tips for many of the locations, including what kind of gear I used and how we went about composing some of the best angles.
For the sake of simplicity, I'll go through the locations in the order that we photographed them, following a loop that goes from the entrance, around the park clockwise, and back to the entrance. Wangu Tower is in the middle of this route, but I gave it it's own section at the end because it was interesting enough all on its own.
Southern Panoramic Promenade
Even though your goal is to make it to the top of Lion Hill and see Wangu Tower, the first thing you should do is go downhill to the left. There, you will find a promenade with a great view of the southern half of the Lijiang Old Town. Get out your wide angle lens and grab a shot of all those Asian style rooftops with mountains in the background.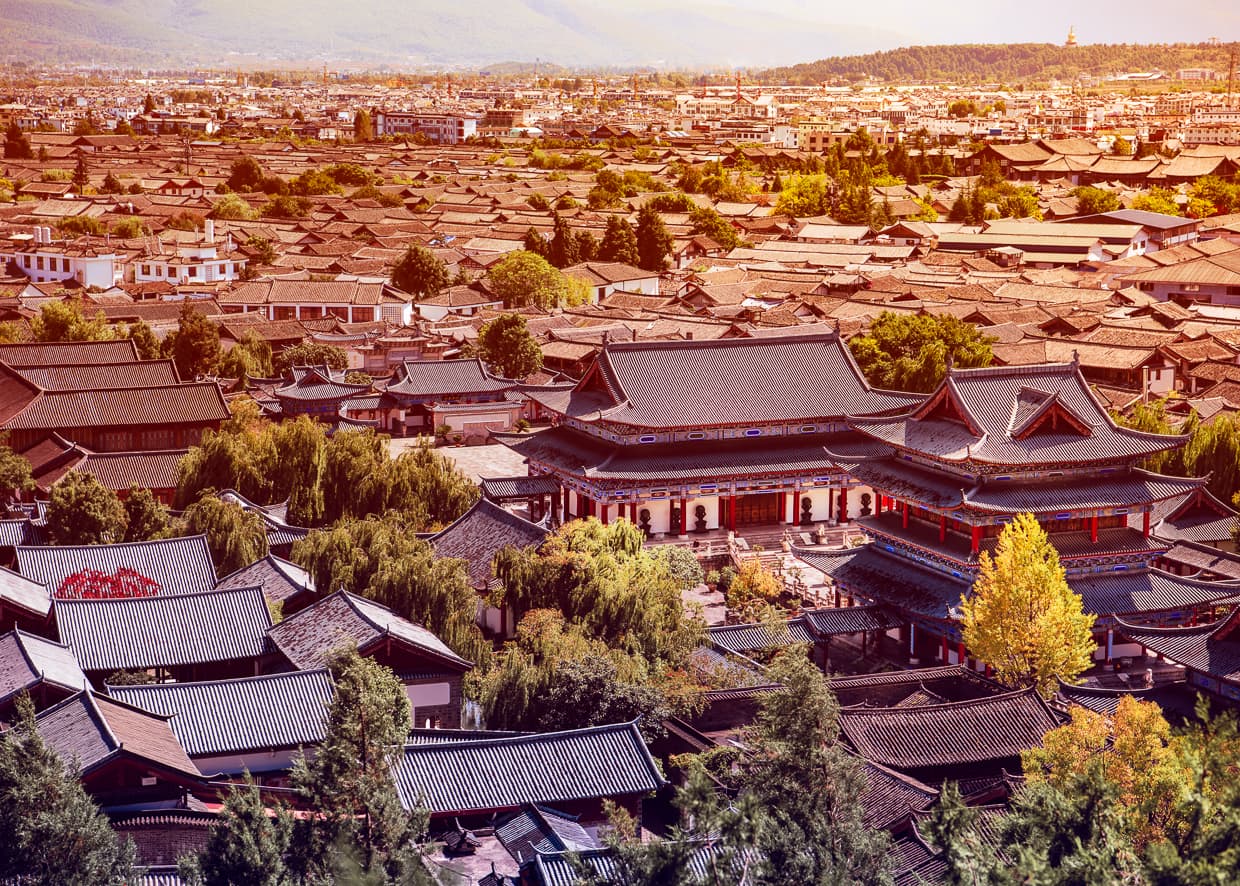 This promenade is also one of the best places in Lijiang to get a photo of the famous Mufu Palace. From high above, the tours within almost vanish, and it's just an expanse of stunning architecture spilling forth from the slopes of Lion Hill.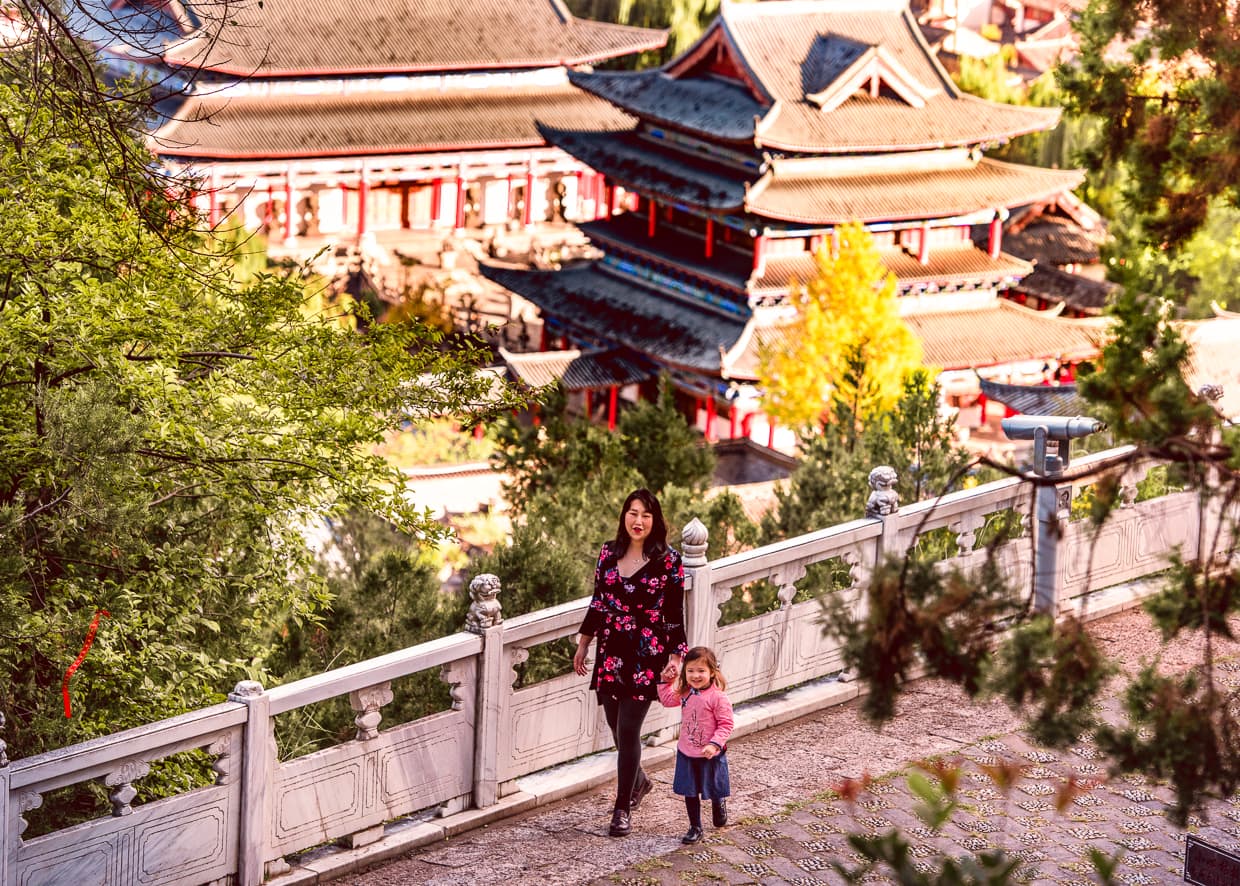 But if you've read my article on using a zoom lens for creative travel photography, you already know that I think its worth taking a closer look. By climbing up some stairs and using my 70-200mm lens to zoom in on Dannie and Lisa. I was able to compress the distance between them and the Mufu Palace in the background. I thought it looked incredible.
The Southern Path
If you climbed halfway up the stairs to get that photo of Mufu Palace, you are already on the southern path. You could follow those stairs straight up to the summit, but then you would miss out on some of the best scenery. Honestly, I'd just make the 60 second walk back to the park entrance and take the path from there.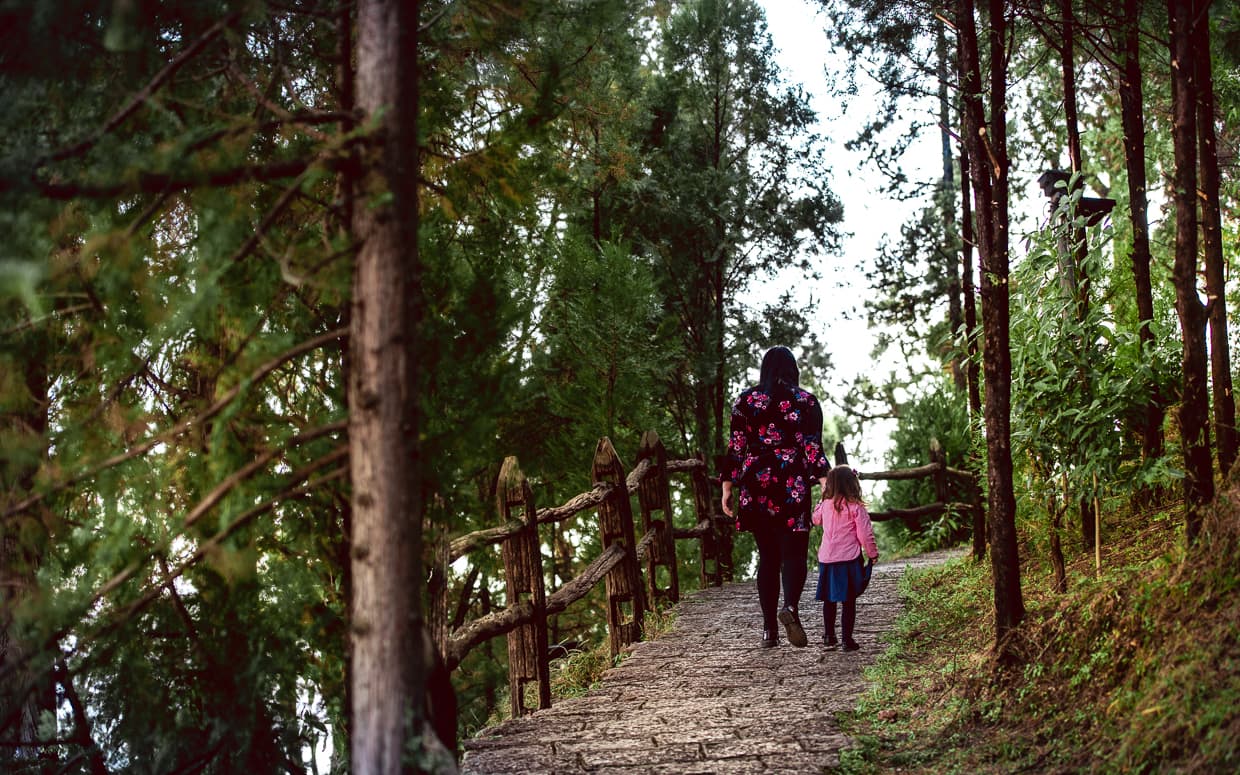 The path winds along the edge of the hillside trough a forest of pine trees. Though the trees are not planted in rows or anything, the trunks are bare of branches until well above eye level, so you can see through the woods. The canopy above dapples the grass on the ground with light and shadow. On the sunny side of Lion Hill, the bright Lijiang sunshine makes the forest look like a sylvan paradise. On the shady side, it looks almost creepy at times.
The air here is filled with the smell of pine wood, so much so that it almost reminded me of a picking out Christmas trees when I was young. If you have only explored big cities and old towns during your trip to China, the smell of the wood and the deep quiet (you can even hear birds!) will be a pleasant shock to your system. Actually, walking along the trail reminded us a lot of our time walking around Marjan Park during our month in Split, Croatia.
Don't be alarmed if the path goes downhill at times, it will eventually start ascending again.
Buddhist Shrine With Pools
Along the path, you will encounter a number of pools of water, but the most interesting one is surrounding a small shrine with a statue of the Buddha of Compassion. It's nothing particularly grand, but it is very pretty, and it's not a bad place to stop and have a rest if your legs are tired.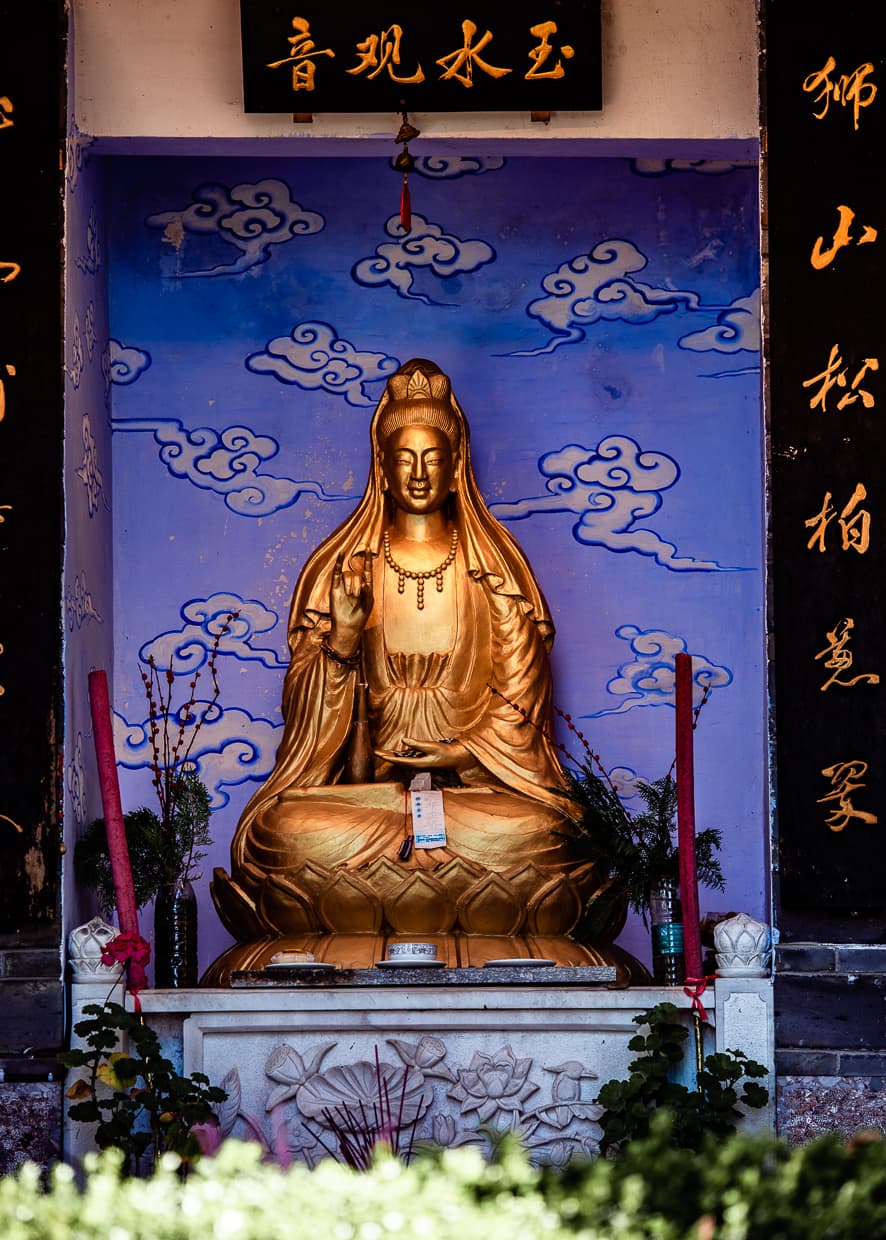 Peacocks
You will know you've come to the top of Lion Hill when you see a big green cage with a couple dozen peacocks inside. I don't know why they are there, but they are beautiful animals. The only downside is that they seem to have had their big tail feathers clipped. I don't know if they were clipped by caretakers, or if they break when males fight with one another, but we didn't see any of those famous plumes. Fortunately, peacocks are beautiful even without the tail feathers, and we enjoyed looking at their glossy blue feathers all the same.
We did feel a little bad for the peacocks being all cooped up in… well, in a coop. It didn't look like a particularly interesting environment for them, but at least they weren't being actively abused like the elephants we saw in Kunming.
The Northern Path
Once you have finished enjoying the summit of Lion Hill and explored Wangu Tower, it's time to head back down. On the backside of the tower you will see the flight of stairs that we skipped earlier. If you are in a hurry to get down and you don't get vertigo, then that's the route for you. But if you want a more relaxing walk with some more scenery, then I recommend the paved path that goes down the hill opposite the one you came on.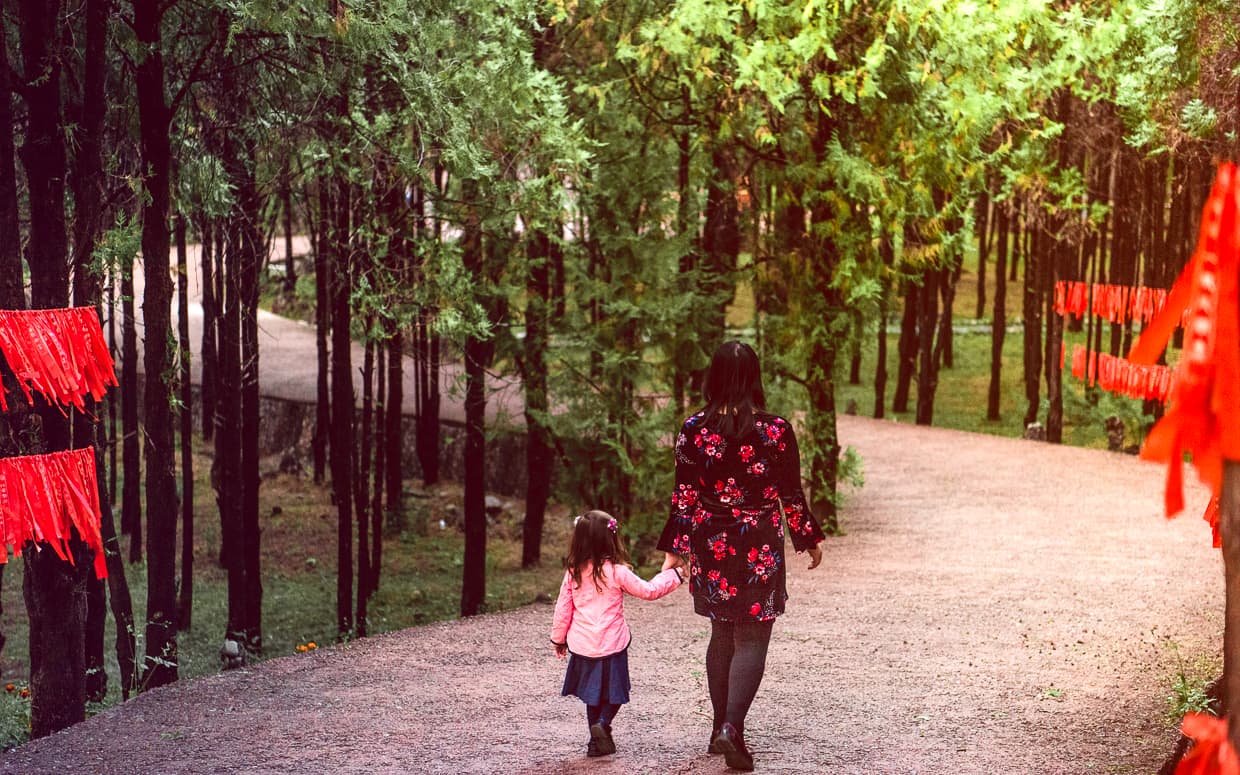 The path on the northern side of the mountain isn't quite as long or natural looking as on the southern side, and it doesn't have as many vistas. It is much more densely forested, and more directly downhill. There are, however still several good places to take photos.
Red Wishing Ribbons
Just as you are leaving the top of the hill you will see hundreds of red ribbons tied to a rope along the side of the road. The ribbons all have text on them, and each one represents a wish that someone has made. Sometimes in China, someone will see a rope or a branch and think "this looks like a good place to hang a wish ribbon." And I guess once one is there, other people follow suit.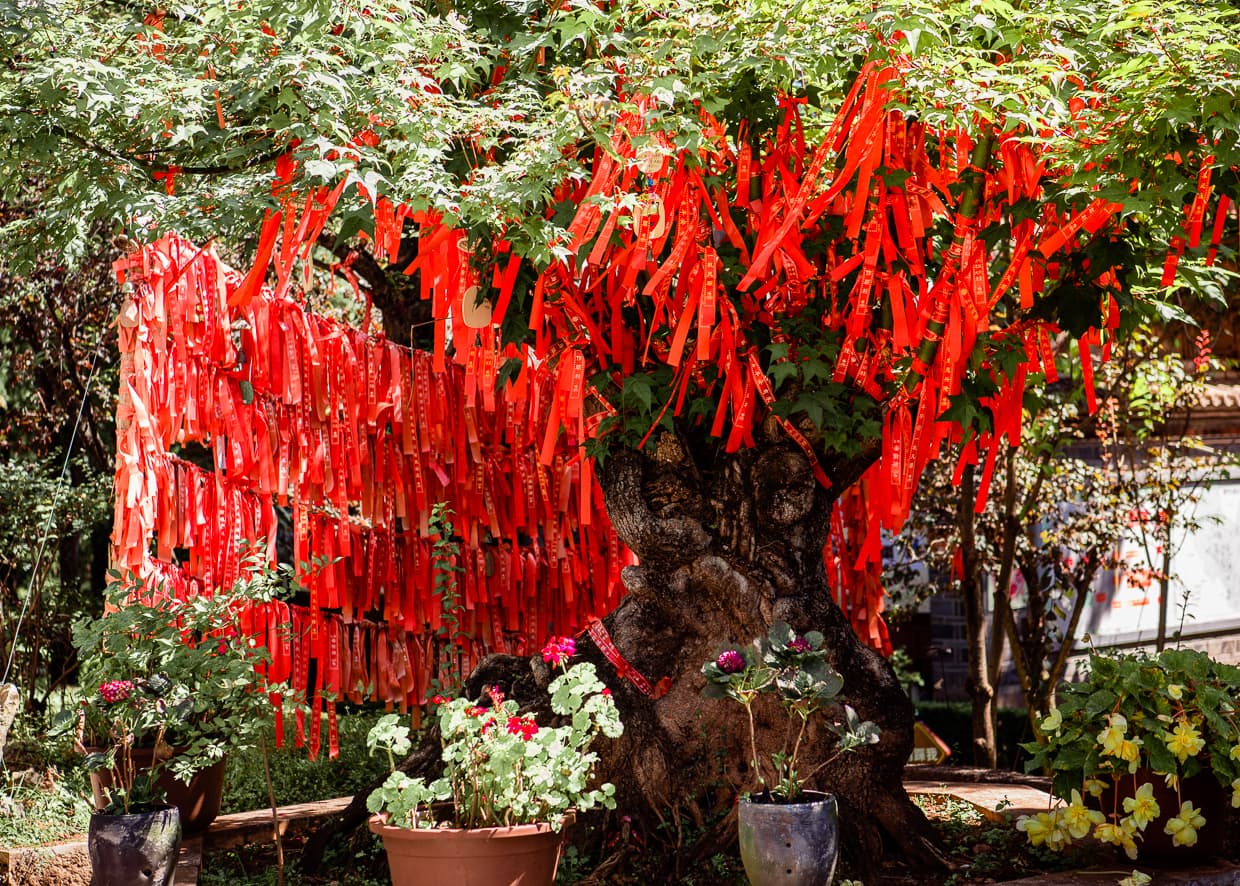 The result is that you will occasionally walk by a tree or a railing or some other convenient object that is completely covered in red ribbons that blow in the wind. It's actually very pretty. In fact, I sort of suspect that sometimes the designers of a park will hang a few ribbons, just to get things started, knowing that the public will fill things in.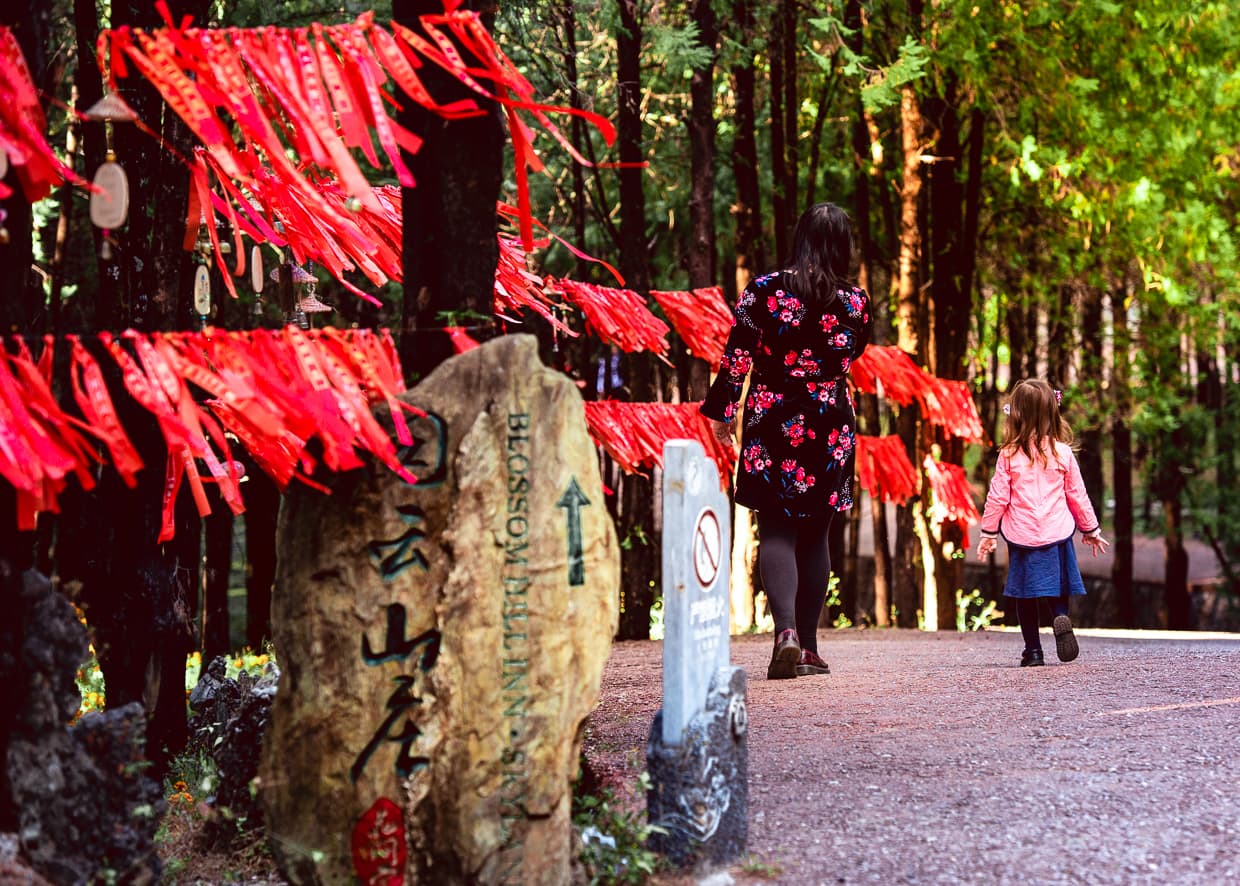 Beautiful Forests and Picnic Areas
I mentioned it before, but the forests are really pretty on Lion Hill. Apparently, we weren't the only ones to notice, because the government has inserted a number of picnic tables throughout the forest. Some of them are right next to the road, and others are deep amongst the trees. Some have paths, and some require you to walk through the grass.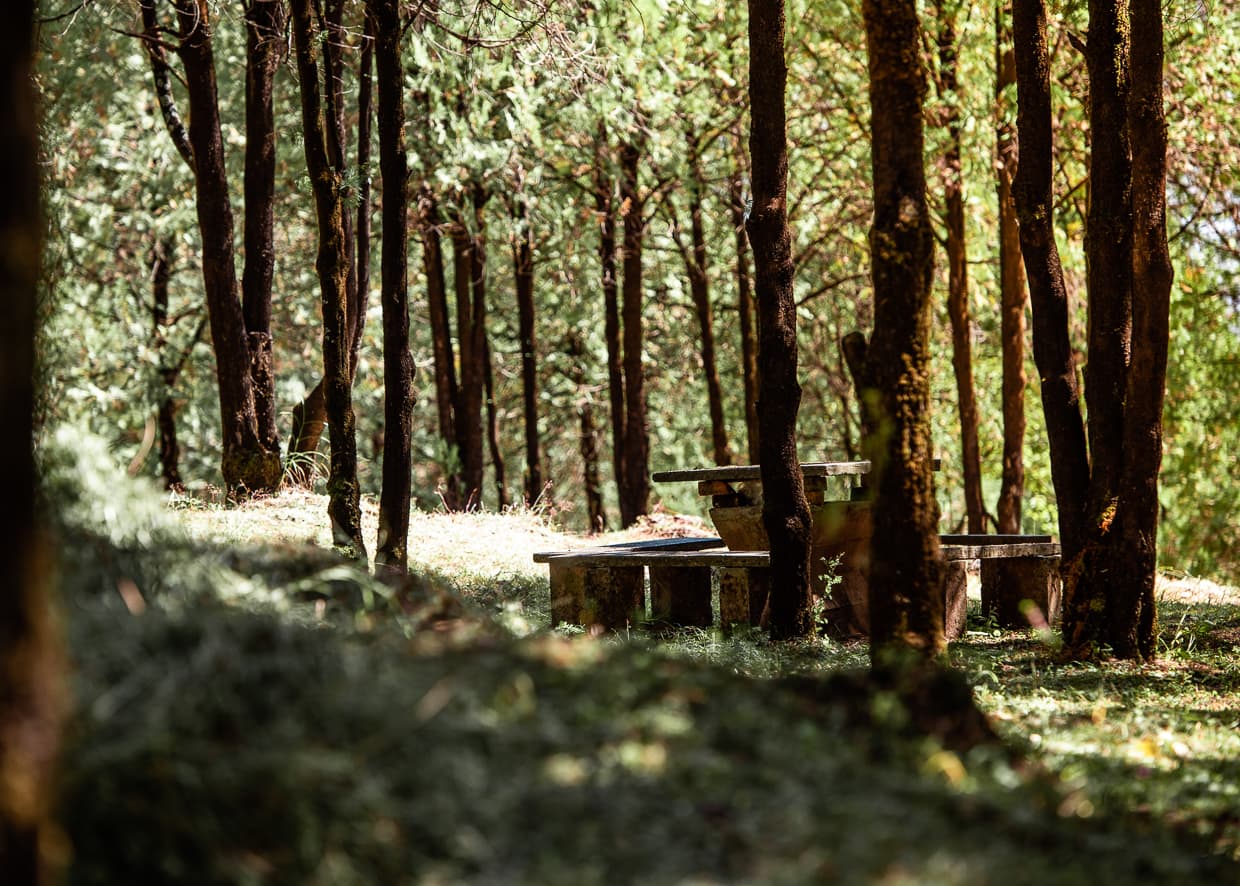 I actually scouted the park out the day before we went there to take photos, so we knew in advance that we should bring a picnic with us. We love doing picnics when we're going to a beautiful place outdoors (see our picnic at Pont du Gard, and our picnic at the Roman Aqueduct Park. Oh, and our picnic in front of the Eiffel Tower), so we figured this would be another good one. Picnics aren't really that much of a thing in China, though, so in lieu of sandwiches we bought some baba (Chinese pancakes popular in Yunnan), and in lieu of a picnic basket, we had to settle for plastic bags.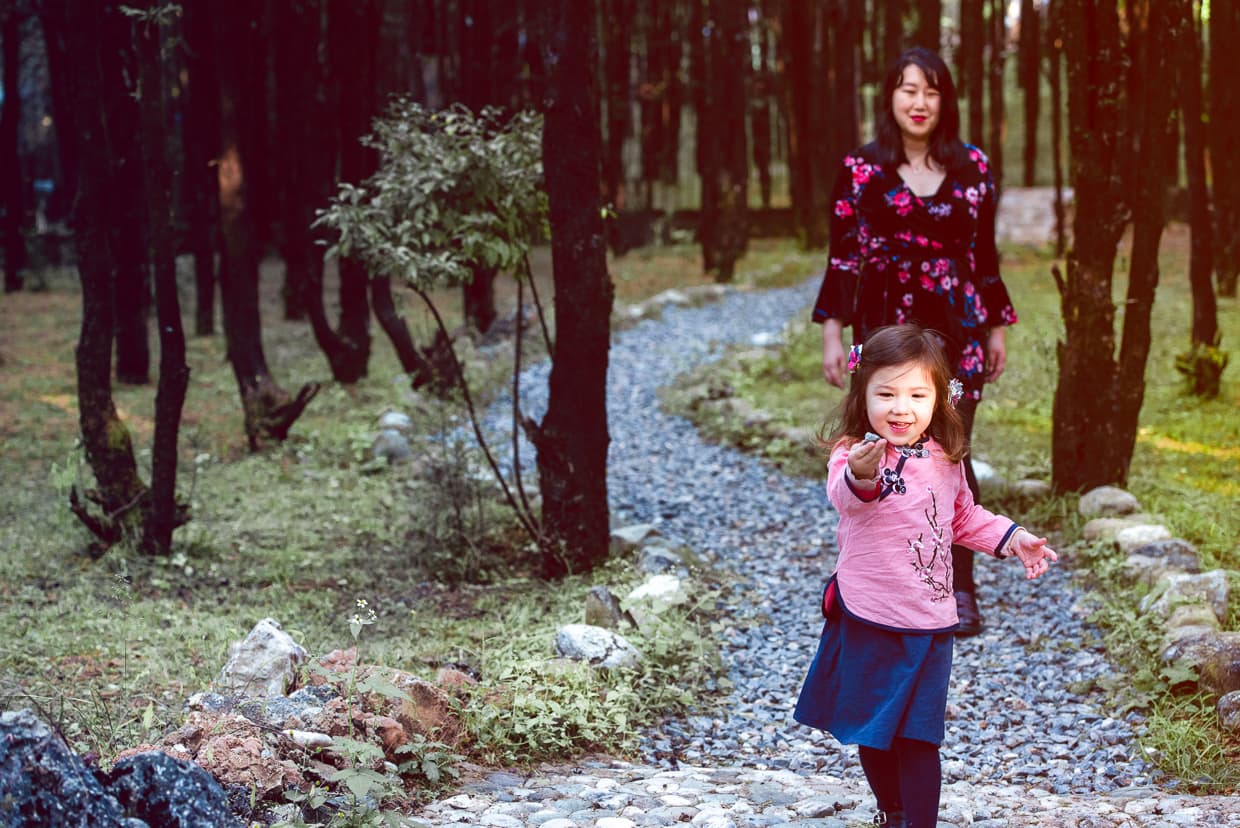 The important thing was that we were outside, enjoying some food, surrounded by amazing scenery. Wangu Tower made a great backdrop, just up the hill from us. To get to this particular picnic table you can either go straight down from the northern side of the garden, or you can take a side path from the path that goes down the northern side of the hill.
Wishing Bell Canopy
Wishing Bells are a lot like the red ribbons in purpose and use, except that they are usually hung from a designated spot, and they are usually sold by a vendor nearby. They have a wooden paddle attached to them which serves two functions - a place to write your wish in marker, and little sail to catch the wind and make the bell ring.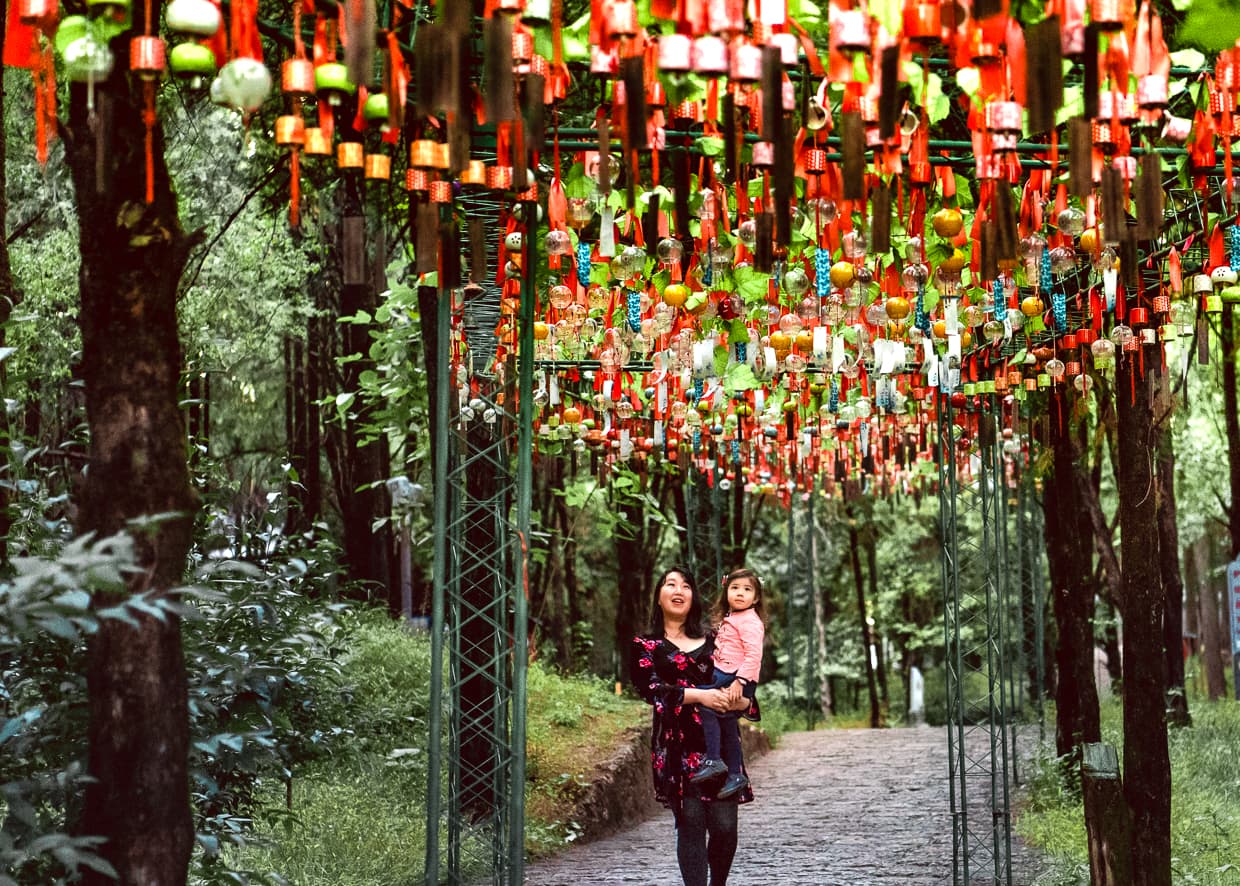 Just before you get to the bottom of the northern path, you'll go under a canopy where a few hundred of these bells have been hung. There was no wind at all during our visit, but we know from experience that when there's a good breeze these canopies can be pretty noisy. There are similar and much fuller ones located by the northern gate of the Lijiang Old Town and by the southern gate of the Shuhe Old Town.
If you are photographing yourself under one of these, it's best to be backlit so that you don't wind up with weird shadows all over yourself. If someone else is taking your picture, make sure they get low so that they can use the bells and paddles as a backdrop instead of just an awkwardly low ceiling.
Wangu Tower and Gardens
The Wangu Tower is one of the most iconic landmarks in the Old Town of Lijiang. Even though most people never make it up the hill to actually visit the tower, it is visible from most of the city, and it can be useful for finding your way. I remember navigating in a similar way using the Eiffel Tower in Paris and Our Lady of Redemption in Kotor, Montenegro. Even at night the Wangu Tower is visible high on Lion Hill, as you can see in this photo I took from the top of our guesthouse.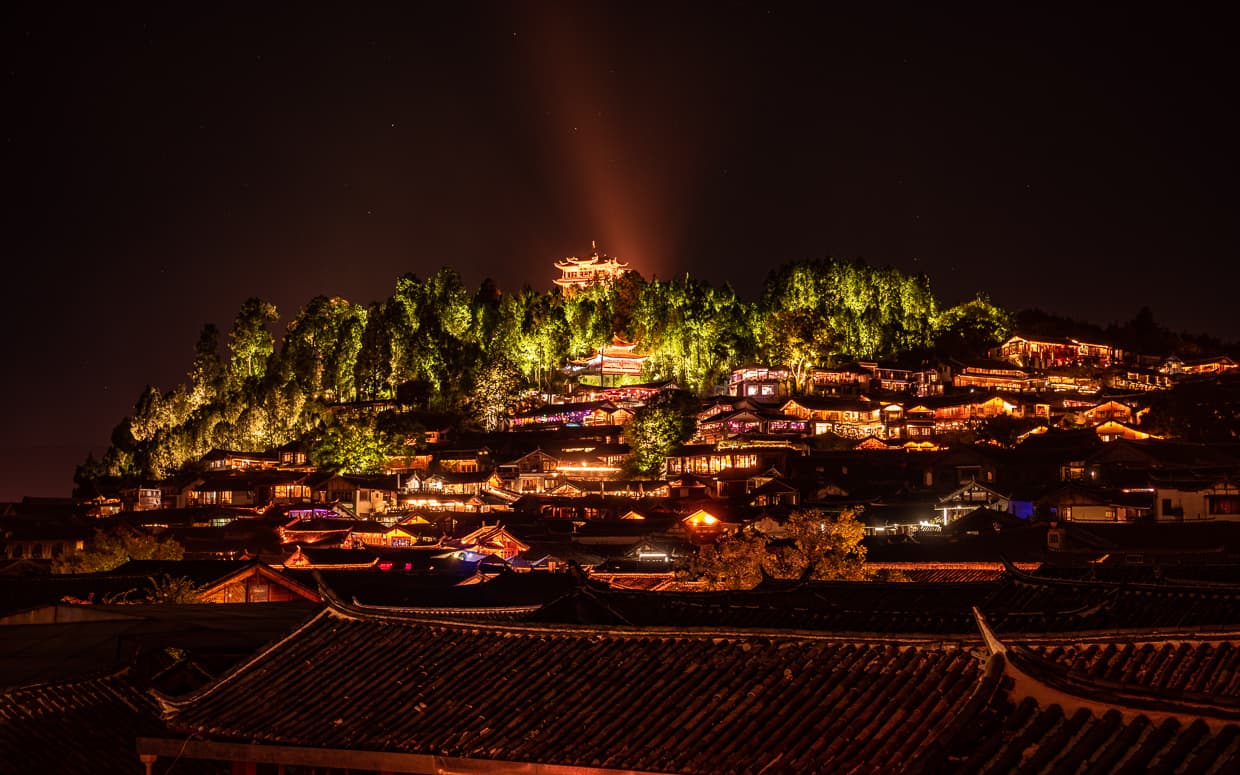 What is Wangu Tower
Wangu Tower is a huge pavilion on top of Lion Hill. It is surrounded by a beautiful garden and a few Buddhist shrines. The Tower itself is five stories high, which is especially impressive once you realize that it is made entirely out of wood. I think it must be approaching the limits of how tall a wooden building can be made structurally sound.
Inside and out the Wangu Tower is covered in artistic detail. It's an architectural masterpiece, and an homage to the culture of the region, decorated in the style of the Dongba culture of the Naxi Chinese ethnic minority who inhabit the region. (We remembered seeing Naxi culture before during our visit to the Yunnan Ethnic Village in Kunming, China.)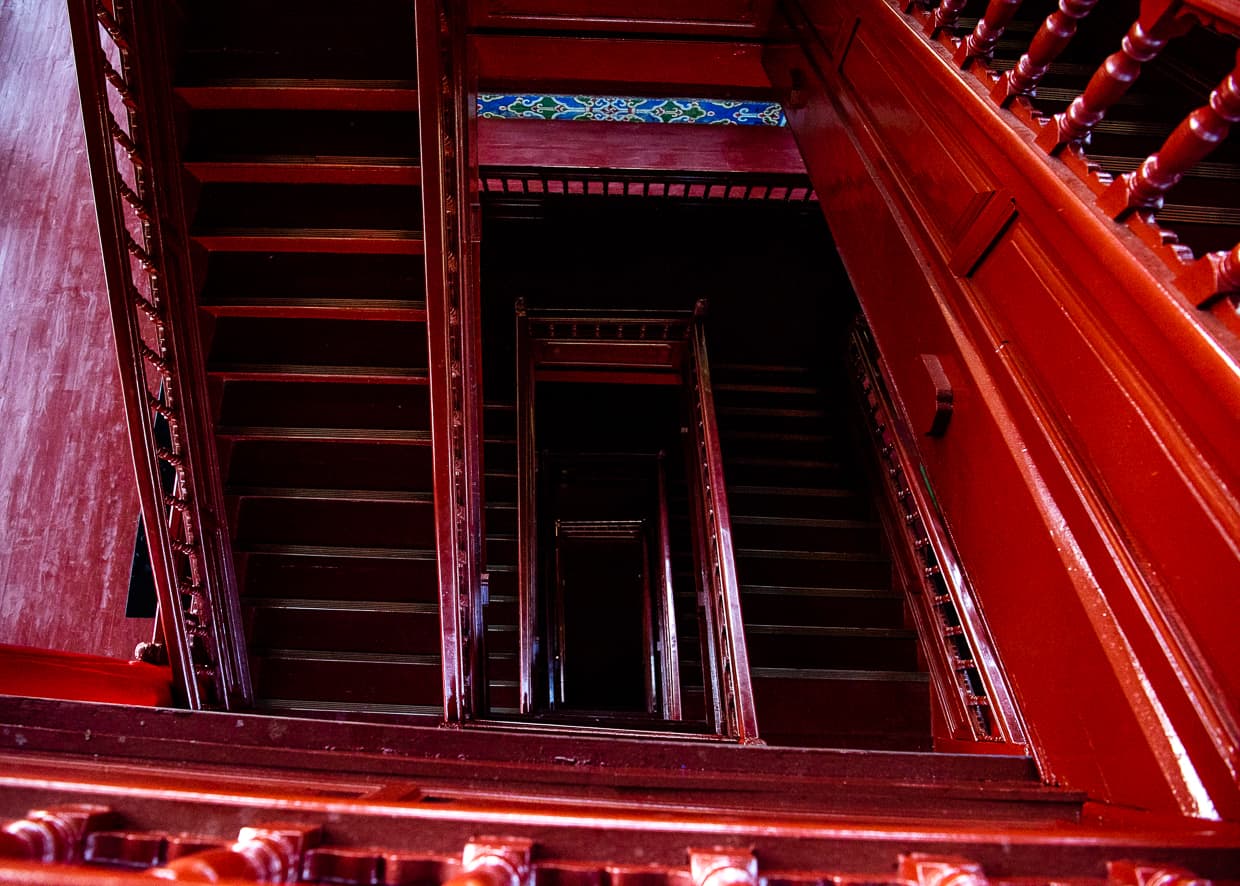 How to Get to Wangu Tower
When I found Lion Hill, I was actually looking for Wangu Tower, which I'd seen from the ground. Once you've found the entrance using the directions from earlier in this article, you can either take the path I recommended, or you can just dash right up the stairs to the left of the entrance.
Wangu Tower Photographic Opporunities
Here's a breakdown of our favorite sites in, on, and around the Wangu Tower.
The Gardens
In front of and behind Wangu tower you will find a nice zen garden. The floor is paved with bricks, tiles and pebbles arranged in beautiful patterns. There is a large koi pond with bright orange fish, and even a few bonsai trees along the paths.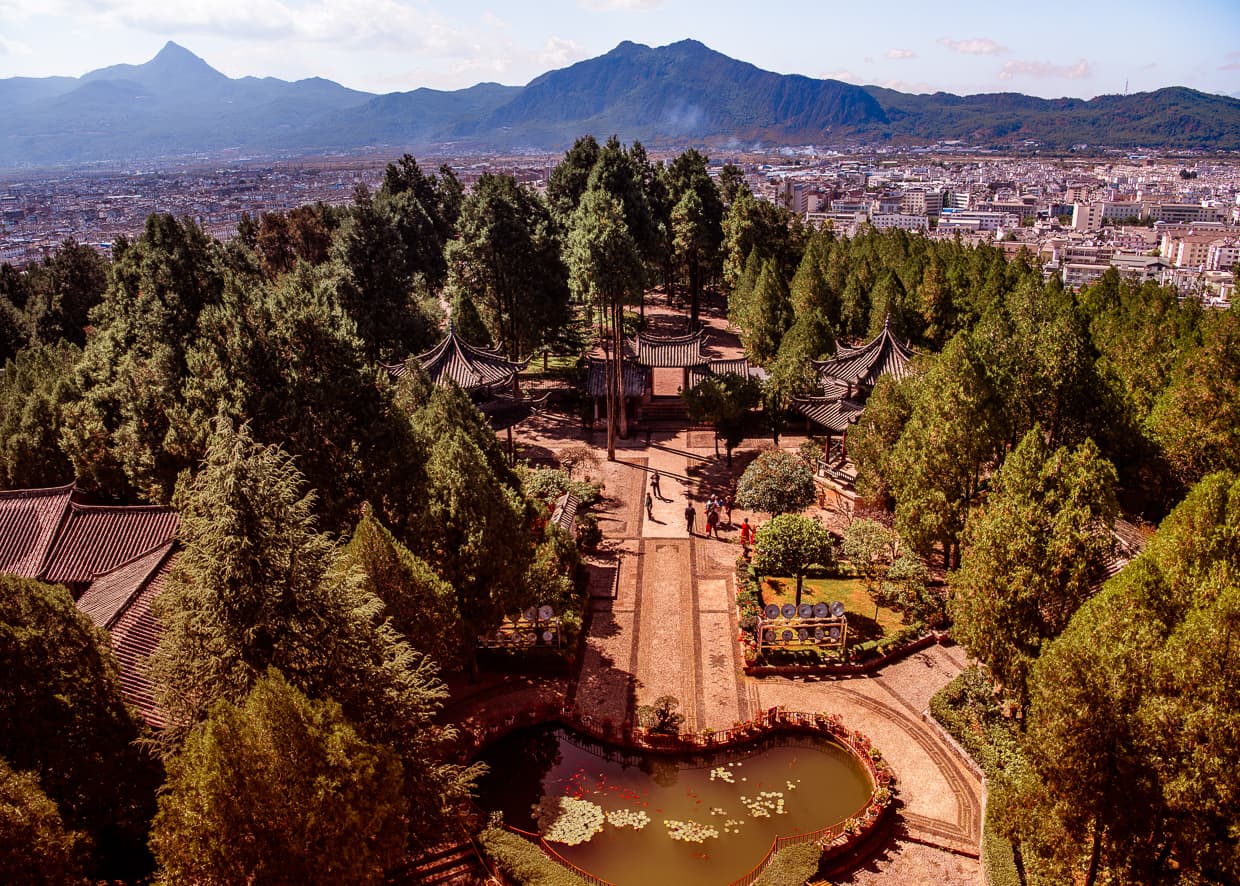 At the front of the garden there is a gate that you must walk through as you approach the tower, and we thought it was a great place to frame a photo of Dannie and Lisa playing with some details of Wangu Tower in the background. Once again I used our 70-200mm lens to crop in and compress the distance. I didn't mind that they were so deeply in the shade against the bright background. I was able to capture the mood even with the two of them in near silhouette.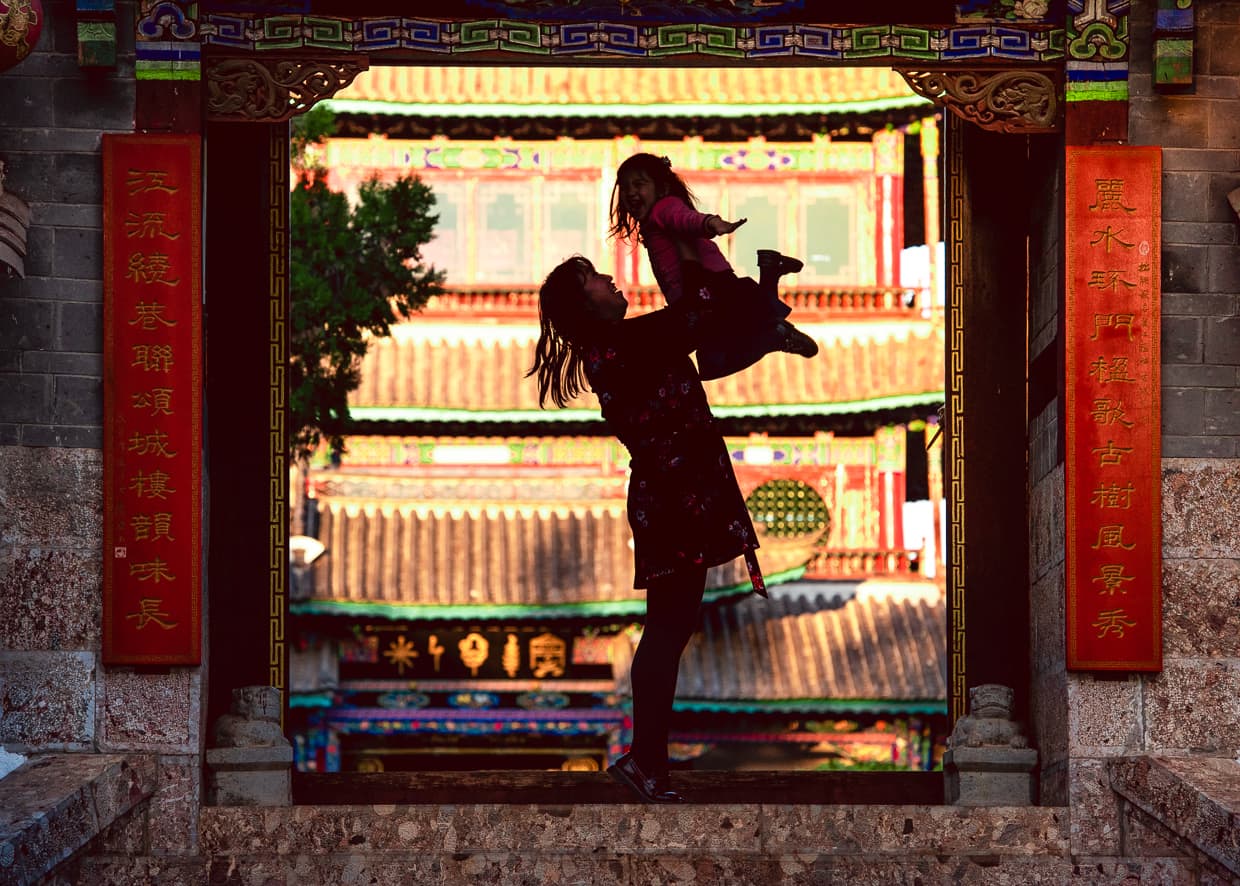 The Giant Bell and Drums
On the sides of the garden, just inside that gate you will find two small pavilions. One has a giant bell and one has a giant drum. For a donation of five RMB (less than one dollar - it's honor system with a donation box), you can ring the bell three times with a swinging hammer, and bang the drum three times with two big drumsticks.
Each sounding of each instrument is intended to grant a different benefit to the user. Lisa had really been enjoying the drum shops that are scattered throughout the old town, so we decided to let her make the "music." She loved using the huge hammer on the bell with a little help from Dannie. But when it was time to hit the drum, she refused to use the drumsticks. Instead she preferred to slap it with her hands like she had learned from the salespeople in the drum shops.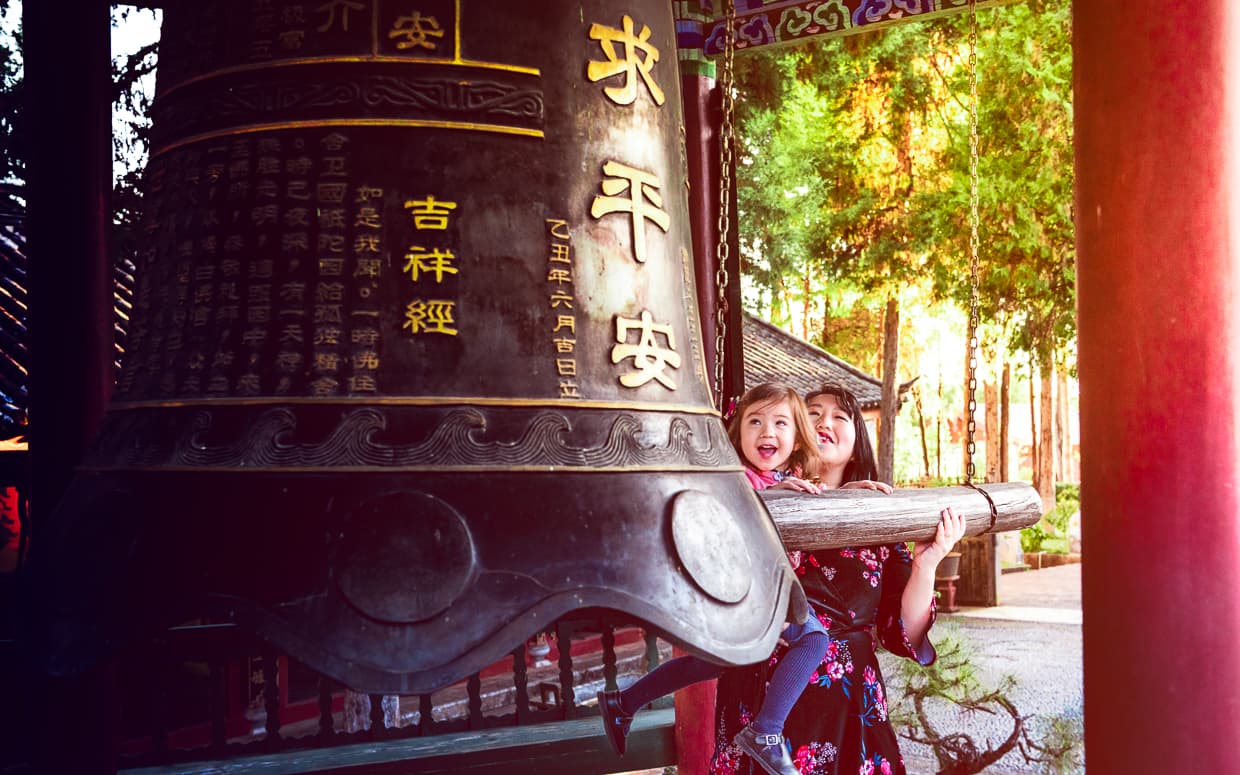 If you are taking photos of your kids playing the instruments, you might find that the layout of pavilions makes it hard to take a photo with Wangu Tower in the background. No problem. If you want some cool Chinese architecture as the background, just turn sideways and use the pavilion from the other instrument.
The Wangu Tower Exterior
Here's where you'll be glad you have that wide angle lens with you. The tower is huge and the summit is small, so zoom right out if you are trying to get the whole thing in the shot. Depending on the time of day, you might have to walk to one side or the other so that you can capture all the color of the tower without blowing out the blue sky behind it.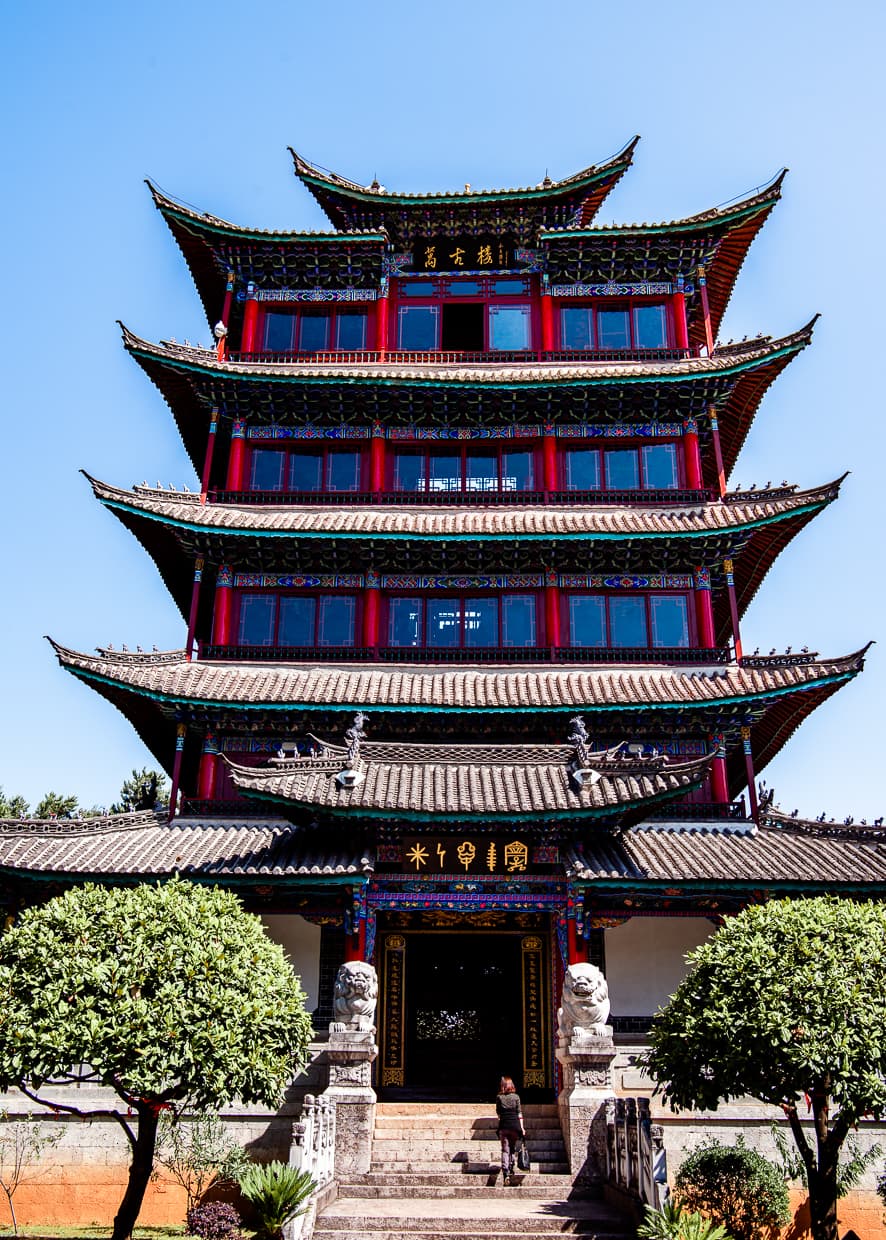 If you get closer or just zoom in, you'll see that the finer details are also very photogenic. In addition to those Asian style rooftops you've saw from afar, there are bright red columns, stone staircases, and big lion statues.
The Stairs
Nothing screams photographic opportunity like a spiral staircase. I remember when we were in Split, we spent an entire day looking for an obscure staircase we'd seen in a photo. The stairs in Wangu Tower are a bit blockier than that one, but they are just as ornate in their own way.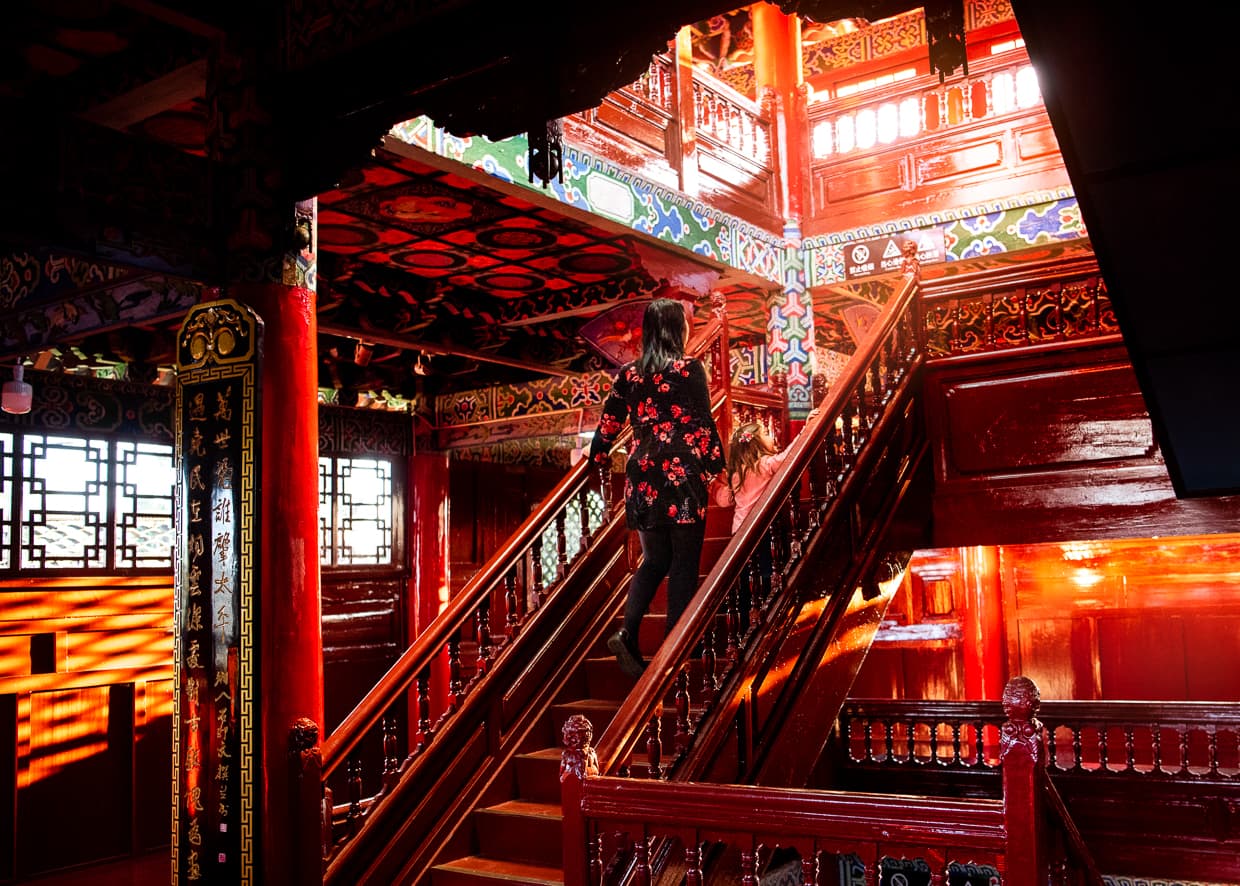 Looking up or down, you can see the vertigo inducing spiral, but I actually liked the view from the side where you could see both the red banisters and the blue underside of the stairs. Bring a wide angle for this.
Lighting Inside Wangu Tower
The lighting inside Wangu Tower is surprisingly even, which is good because we didn't bring our flash or anything with us. There are big windows along all sides of the upper floors so that no side is in deep shadow. It's still much darker on the inside than the outside, though, so be ready to expose for the highlights if you want a shot through the windows. (You can learn how to expose for highlights in my e-book, Easy Manual Mode Photography.)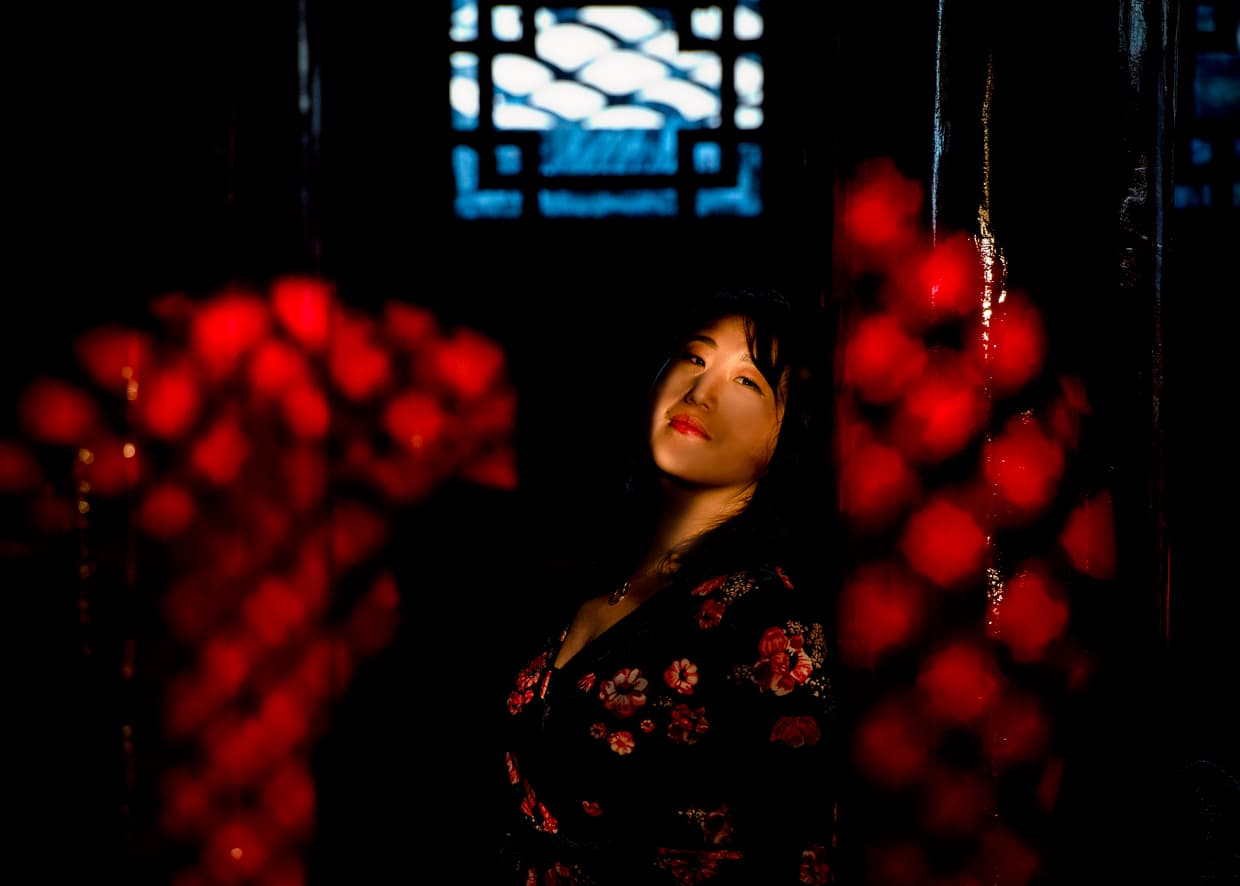 On a couple of the lower stories, it is a little darker since the light is filtering in through a few windows with elaborate wooden lattices. However, seeing the shadows cast by sun shining through, we decided to take advantage and get a photo of Dannie in the speckled spotlight. She leaned against a red column where half of the light from one window was landing, and the other half of the spotlight made a great background behind her. This only worked because it was nearly six pm, and the October sun was getting low, and casting shadows almost sideways against the eastern wall of the building.
View of the Jade Dragon Snow Mountain
The piece de resistance! Let's face it, one of the best reasons to climb a hill (or a tower) is to see what you can see. When you get to the top of Lion hill, you might be disappointed with the view. The summit is surrounded by pine trees, which smell lovely but are not at all transparent.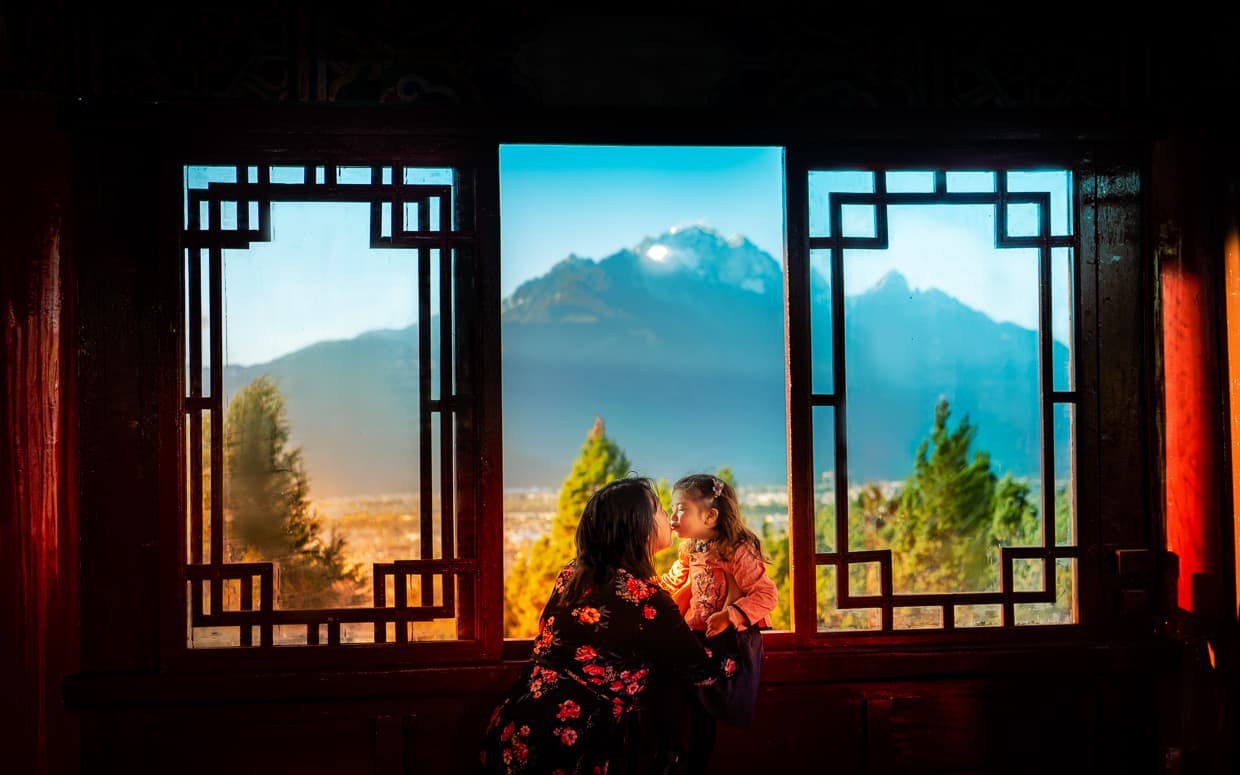 As you climb the Wangu Tower, however, you'll find that you can see farther and farther. The Jade Dragon Snow Mountain is almost directly to the North of Lijiang, and you can see it come slowly into view. By the time you get to the fourth floor, the ornate wooden lattices have been replaced by large viewing windows for taking in the vistas.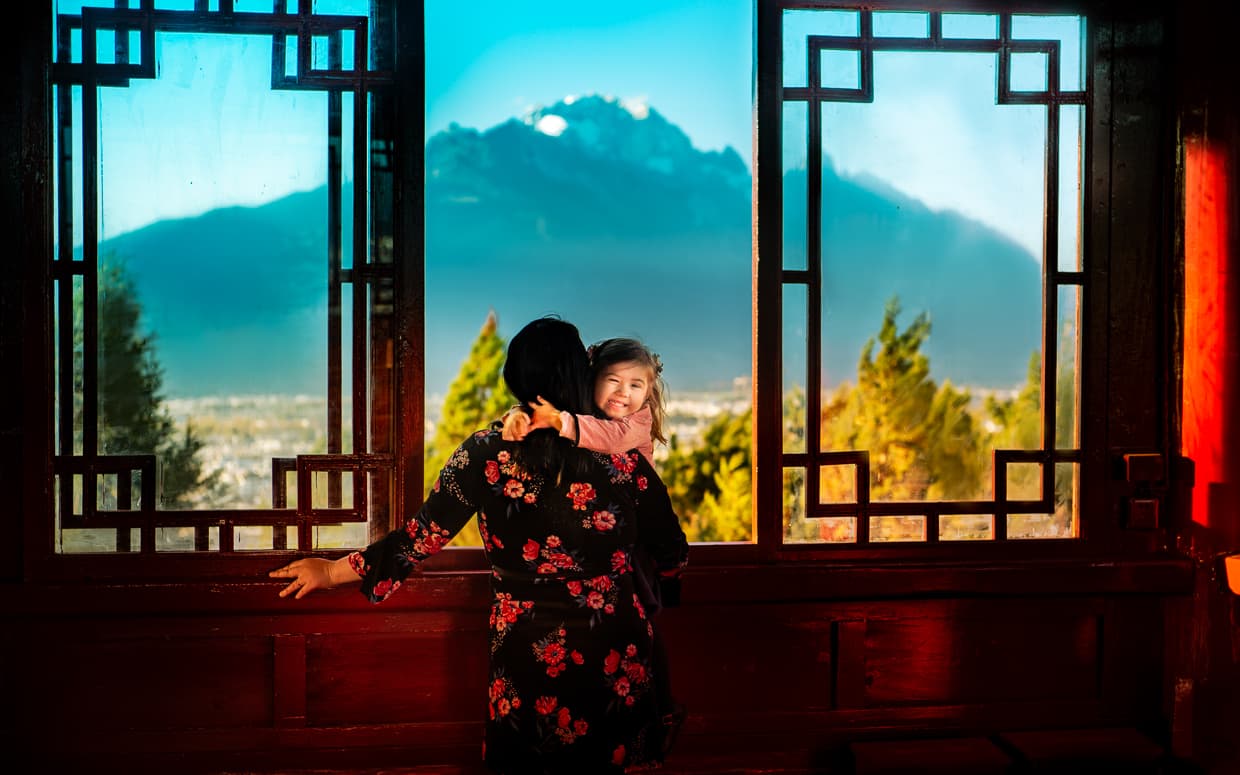 On the fourth floor, you will still have some tree tops in you shot - and that isn't necessarily a bad thing, depending on your preferences - but of course I always like to keep my backgrounds simple, especially when I'm photographing my family. Luckily, on the top floor you are well above the treetops, and the windows are even bigger.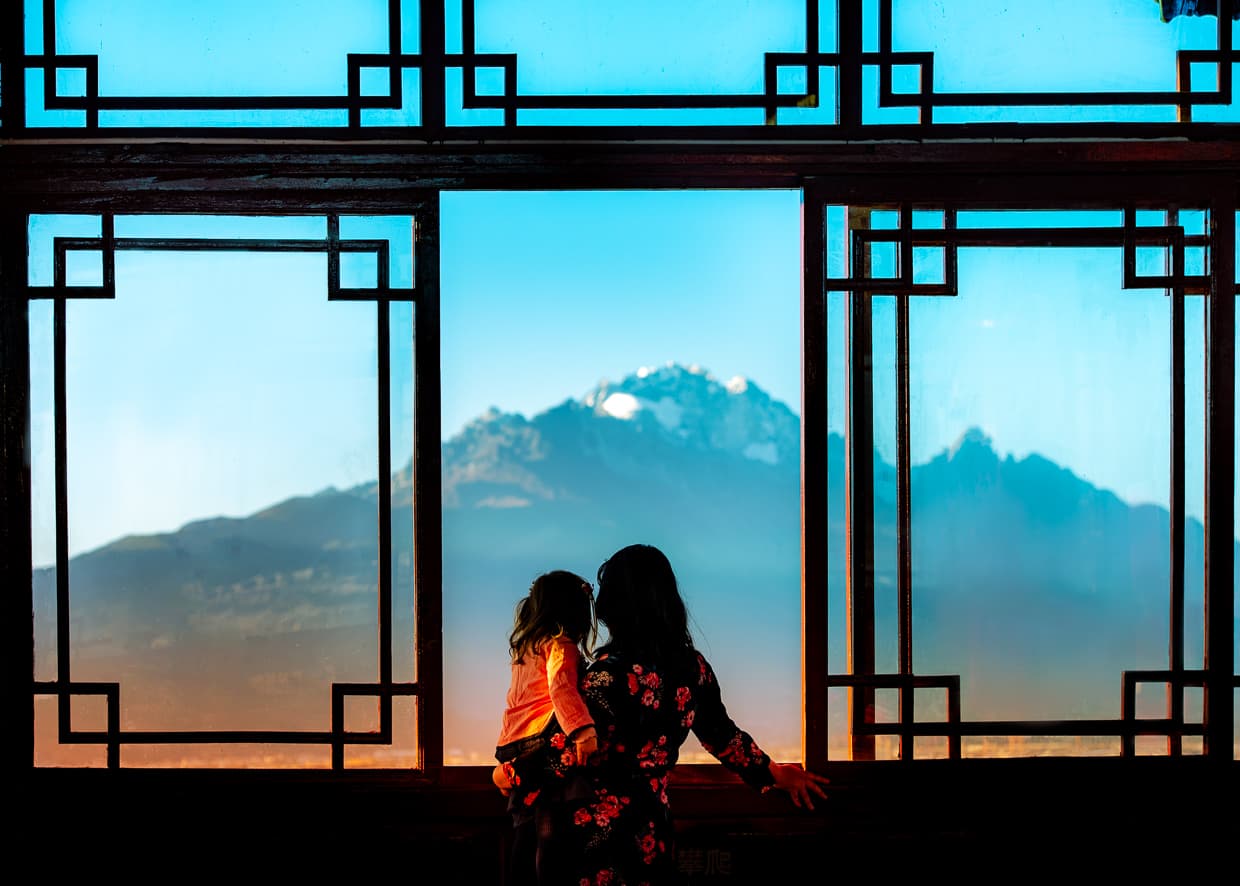 I had Dannie and Lisa look out the biggest window, which conveniently didn't have a pane of glass in the center to create annoying reflections. I crossed the room and zoomed in a little to frame the photo with the the window and make the mountain feel a little closer (this beats actually getting closer to the Jade Dragon Snow Mountain because it doesn't require oxygen masks. Even though it was a little dark inside, I didn't go to maximum aperture because I was focusing on my family and I didn't want the distant mountain to be too far out of focus.
This meant that Dannie and Lisa would be mostly silhouetted, but there was enough light in the room that important details were still visible.
Tips for Your Visit to Lion Hill Park and Wangu Tower
When to Go
I normally trumpet the value of visiting tourist attractions as early as possible, both for good lighting and to avoid crowds. However, if you are in Lijiang in late October like we were (after the Chinese Golden Week when everyone travels). I think the afternoon is great time to go. We went up at around 16:30, and the light was great and the crowds were thin.
Also, as we discovered, Lijiang gets quite chilly in the mornings in October, but it is comfortable in the afternoon. It tends to be colder and windier at higher altitudes, so we figured we'd all enjoy ourselves a lot more once it warmed up. If you are going in the Summer, on the other hand, that would change the equation and I'd say you're better off going in the morning again.
Just remember: As I mentioned above, the hours on the door aren't necessarily accurate, so give yourself a little wiggle room.
Sit Toilets!
Not that it matters to everyone, but the restroom just inside the entrance of the park has sit toilets. If you've been traveling in China and you are tired of squatting, it might be worth a hike up the hill just for this treat. Actually, the public bathrooms in the Lijiang Old Town are actually pretty clean and nice, but this was the only one I saw that wasn't squat toilets wall to wall.
What to Bring
Comfortable Shoes - The paths inside the Lion Hill park are paved and easy to walk on but the stairs you have to climb to get to the ticket office are surprisingly treacherous. They are rocky and uneven, and somehow they are slippery even when dry. Leave the heels in the hotel.
Dress in Layers - The temperature can change quickly and dramatically in Lijiang, so bring something you can put on and take off. Just the difference between shade and open sunlight can feel like Summer and Winter.
Camera and Lenses - Obviously, bring your favorite gear. If you want to know what we brought, we packed our Nikon D810 camera, and for lenses we used our 24-70mm and our 70-200mm.
Cell Phone With Navigation App - Normally I give Google Maps locations in these guides, but for whatever reason Google Maps is missing so many roads in the Lijiang Old Town that it is almost useless. Even though Baidu Maps is Chinese only, I was still able to make better use of it.
A Picnic Lunch (or Dinner) - You can't have a picnic without food. You'll also want a bottle or two of water because hiking is thirsty work.
Toddler Potty - Clearly this only applies if you also bring a toddler, but Lisa has been having fun carrying her portable potty around with her so she doesn't have to hold it for so long.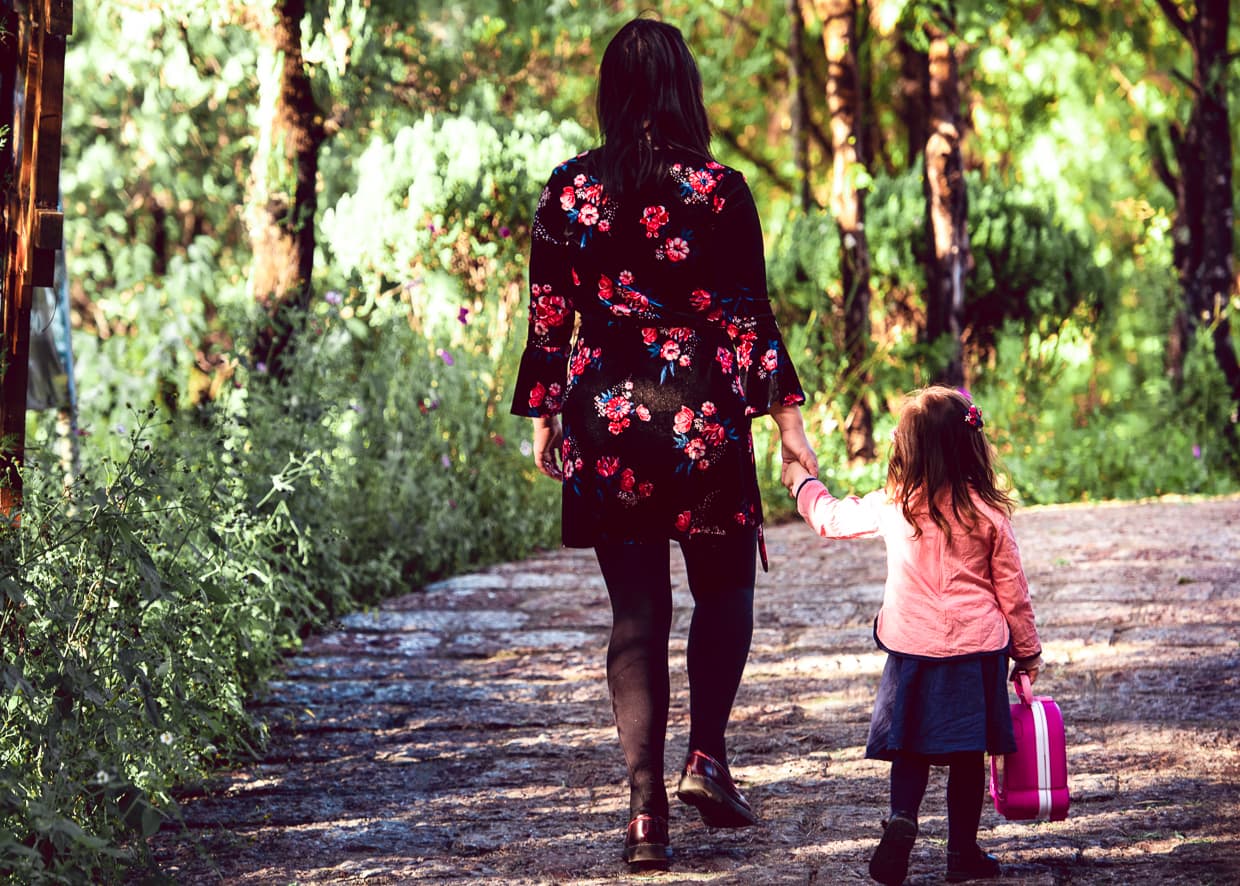 Conclusion
Lion Hill isn't the longest hike in the world, but it's easily the best park inside the Lijiang Old Town. There's basically nothing not to like. It's affordable, it's convenient and it's family friendly. Our three-year-old daughter climbed all the way to the top - including the stairs of Wangu Tower - and it was just easy enough that she could finish it, but hard enough that she was beaming with pride at the accomplishment.
Wangu Tower has the best views in Lijiang, China, and the only competition might be the Black Dragon Pool just north of the Old Town. I think Lion Hill was my favorite site in Lijiang, and that's saying something, given my soft spot for Old Towns. It's not to be missed.
I hope you found this guide helpful, and if you did, you might want to check out the other articles we've written about Lijiang, China, and other cities you can find by navigating our destinations page. If have any questions about Lion Hill, Wangu Tower, or Lijiang in general, please ask in the comments below.