Like many visitors to Venice, Italy, we decided to make three islands in the Venice Lagoon a part of our stay. We spent the month of May exploring the canal city, so we had plenty of time to find our way. Murano is the largest and probably most visited island in the lagoon, apart from Venice itself. Though it was our least favorite of the three islands we visited, it was easy to see why many tourists are drawn there by its history and attractions. Here's our account of getting to Murano, and exploring it with a young child.
By the way, this article contains affiliate links. If you click on one and wind up making a purchase, we will receive a small commission at no extra cots to you. These commissions help support our travels and this website. 
Many travelers choose to combine Murano with Burano (colorful) and Torcello (relaxing) as part of an island hopping Venice day trip. We chose to visit Murano individually since it is the largest and closest of the three, and because the other two are distant from Venice, but close to one another.
What's on Murano
Murano Glass Art
The main attractions on Murano are its many glass shops and factories. Murano glass has, throughout history, been some of the most famous in the world. The artisans there kept their techniques a closely guarded secret, and until the modern age arrived, their abilities were pretty much unique. Not all - a minority, in fact - of the glass sold on Murano today is actually what could be called artisan. Much of it is mass produced locally or overseas. Some of it is breathtaking, much of it is cheesy.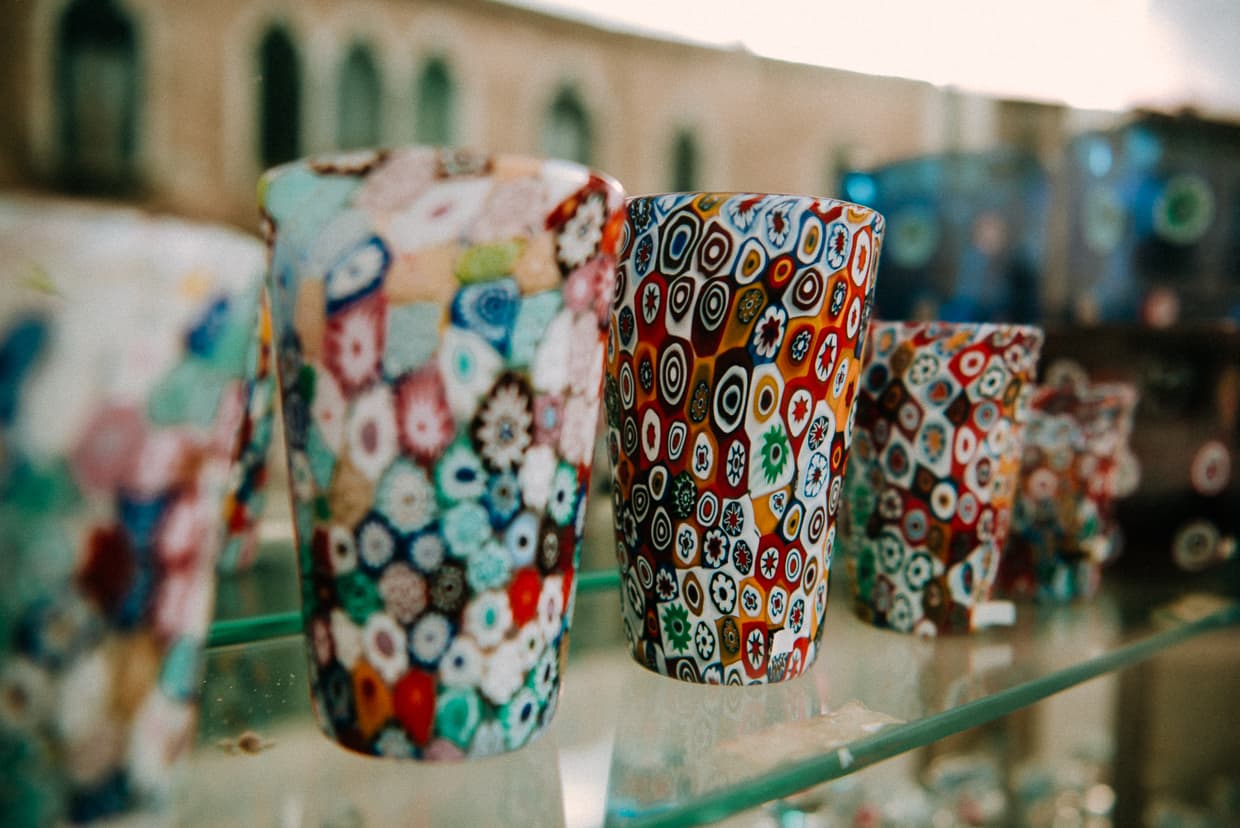 Canals, Bridges and Architecture on Murano
Murano was never a center of wealth and power like Venice, and it doesn't have the grandiose architecture or sprawling squares to match. But if you found that your photos of the canals and bridges of Venice were too clogged with tourists, you could certainly get some on Murano.
Our Day Trip to Murano from Venice, Italy
I actually visited Murano twice during our stay in Venice. I went there once on my own to take photos, and once with Dannie and Lisa to tour as a family.
Murano Solo
For my solo visit, I left our Airbnb before the sun rose over the islands. By the time I got on the waterbus from Venice to Murano, the sky was already changing colors, and by the time I disembarked, the lovely golden hour light had taken hold. The streets were all but empty, and the store fronts were closed. I made my way up and down the streets and over the bridges, looking for good scenery and snapping photos, unobstructed by tourists. The islands around Venice are already known as attractions that are far less crowded than the main island, but early in the morning I felt like I had the place to myself.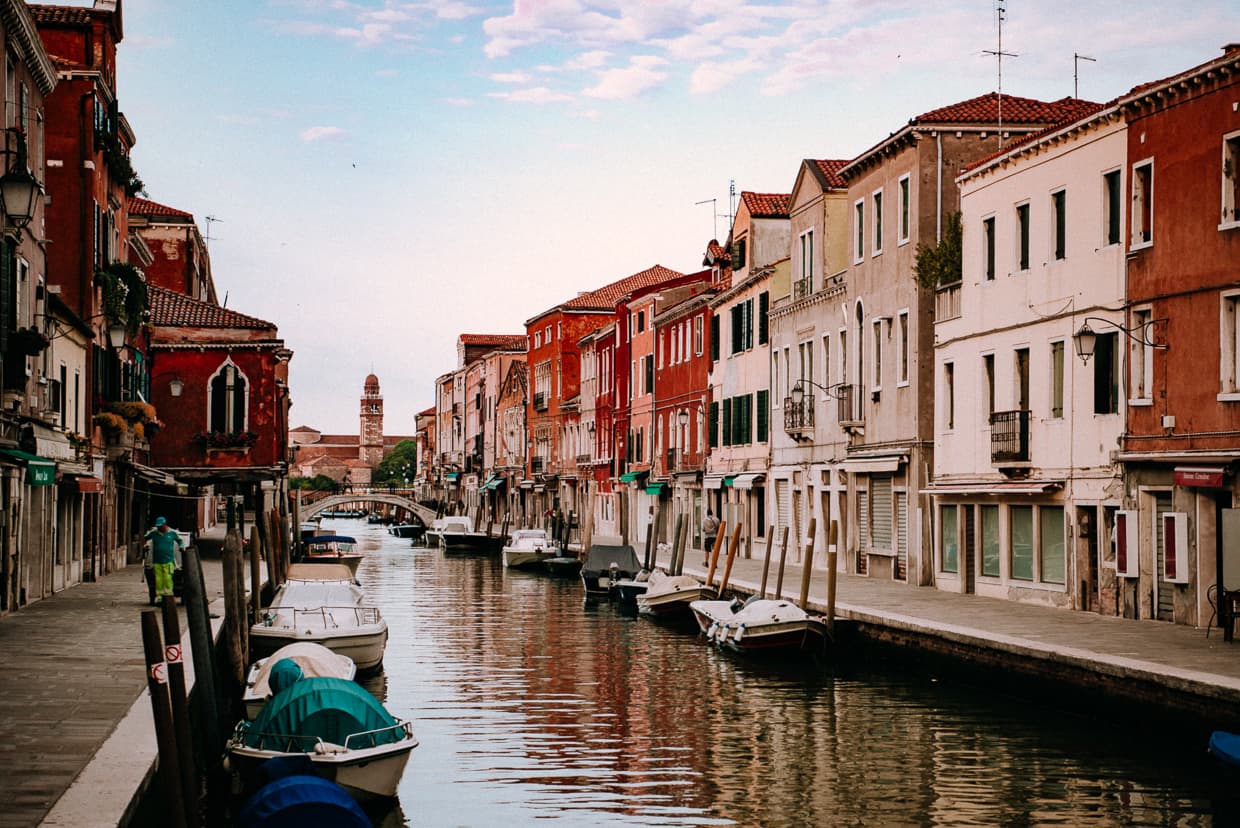 Even after the light started to change, I continued exploring, venturing into the more residential areas of Murano. I saw houses, schools, churches and athletic fields. I even saw a rabbit hopping along the edge of a park, and was surprised that the small, inhabited island could sustain a wildlife population.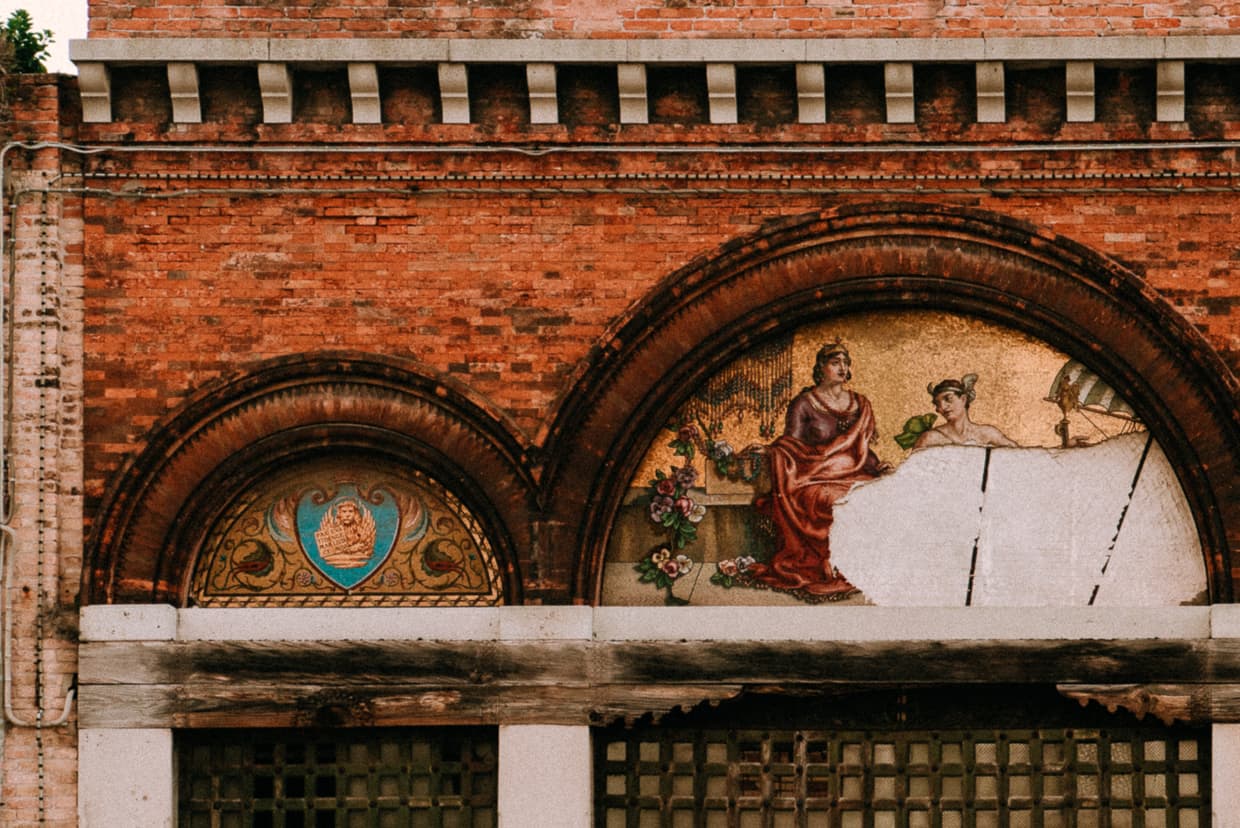 Murano With the Family
I told Dannie about the island and we decided to give it a go with Lisa. The scenery on Murano was similar to some of the less traveled streets of Venice, but it had some sights and shopping that I thought little Lisa might enjoy. That didn't actually wind up being the case, mostly because Lisa was at just the wrong age to enjoy Murano.
Lisa was almost two years old at the time, and I was convinced she would enjoy looking at all of the colorful Murano glass work. During my photography expedition, I'd seen a lot of it in the window displays, and even though most of what I saw was more kitsch than art, I imagined that Lisa would find it engaging. Dannie and I even considered taking her to a glassmaking demonstration, since many workshops offer free shows in the hopes that viewers will make purchases afterward as a souvenir.
I was right that Lisa would find the glass interesting. A little too right, it turns out. From the moment we entered our first shop it was obvious that it wasn't going to be much fun. The glass shops on Murano don't exactly keep their products on the top shelf. There were plenty of temptingly colorful baubles right at toddler level, so every moment was a battle to keep Lisa from grabbing and breaking merchandise while the shopkeeper looked on nervously. It didn't help that many of the items were animal shaped, adding to their allure.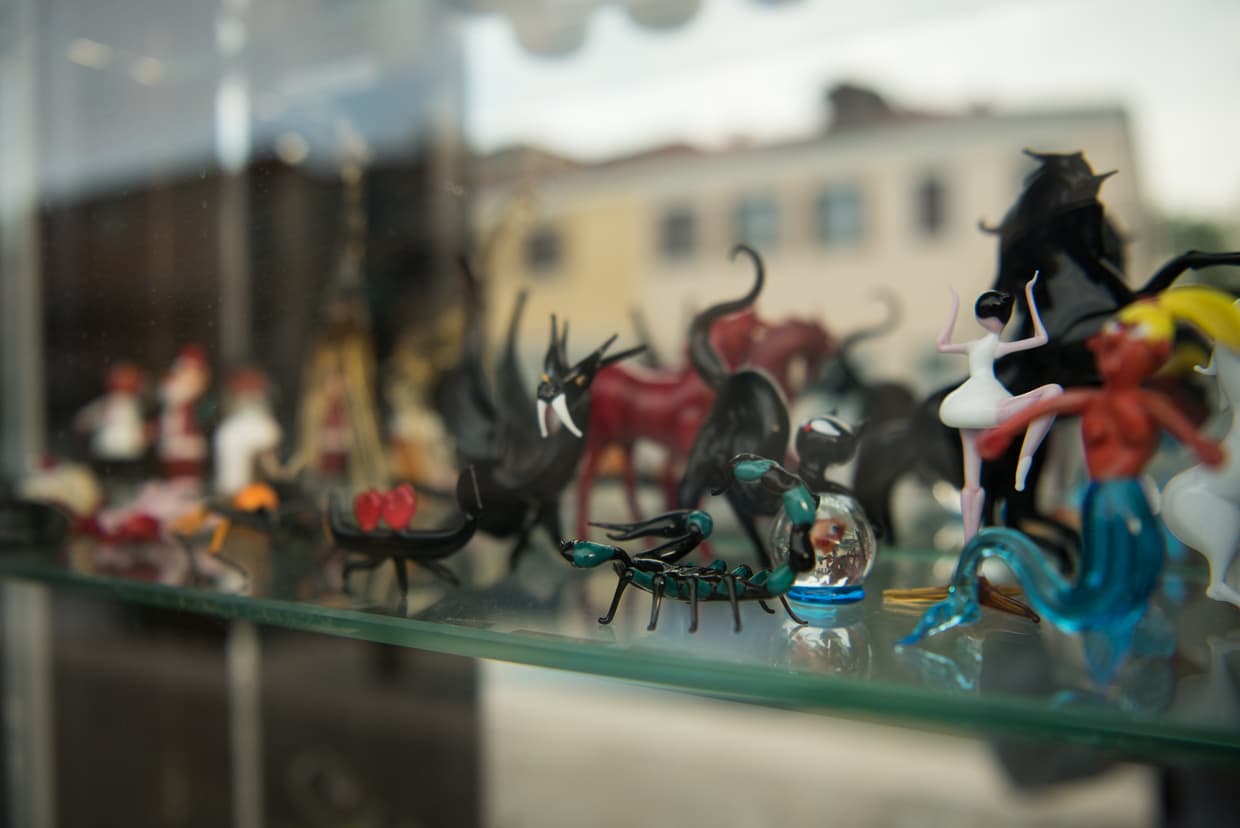 Of course, the glass was the main thing we had come to show Lisa.  Once we'd had enough of pointing things out to her while at the same time holding her back from touching it, we decided to call it quits. Having eliminated what we thought was going to be the best part of our day trip, we were left walking the canals, which were just a less grand version of what we were surrounded by on Venice. Rather than try to give Lisa her late morning nap in the chest carrier, we decided to just head back to the main island to make lunch.
If we come back to Venice in future years, we will definitely take Lisa to Murano again. We might not have enjoyed it with her as a one year old, but the thought of taking her to a glass making demonstration does have appeal. Lisa had a much better time on Burano and Torcello where there was more for her to safely interact with.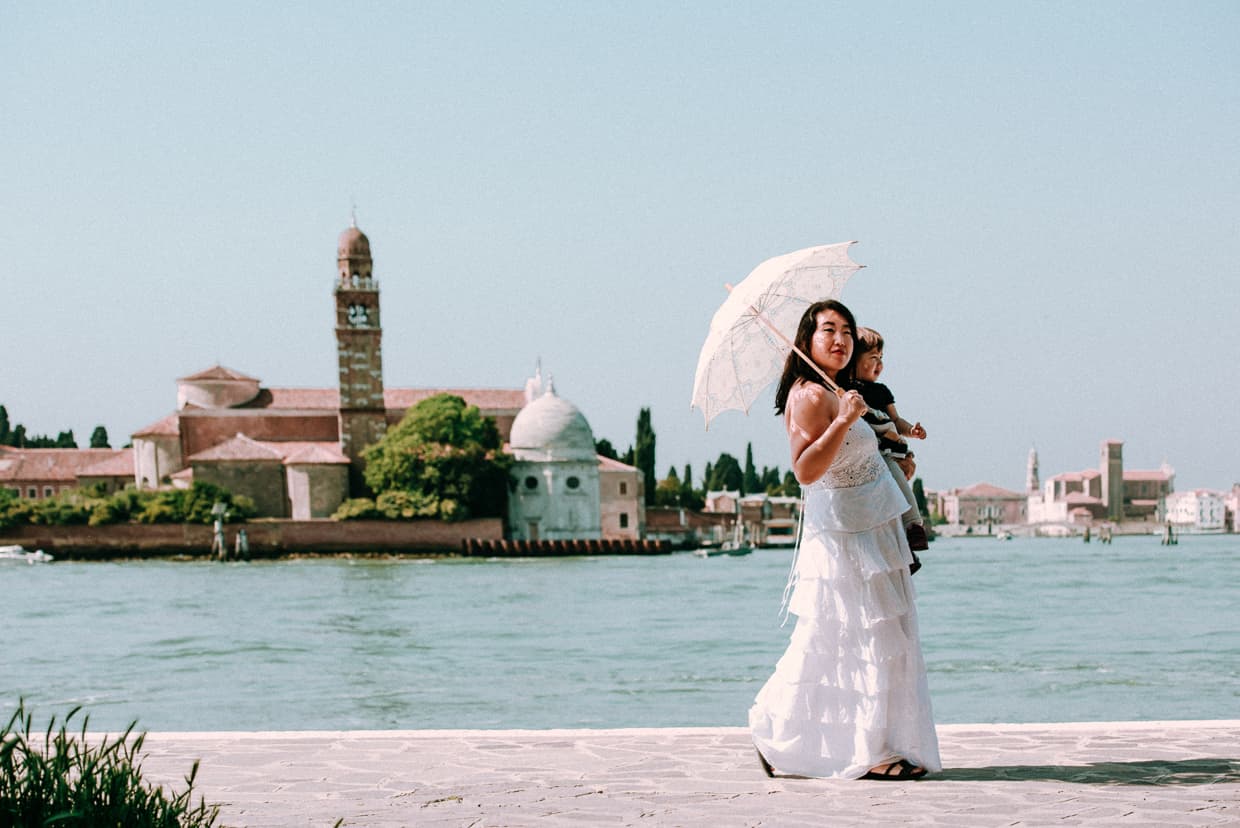 How to Get to Murano from Venice, Italy
This island of Murano (Google Maps) is in the closest inhabited island in Venetian Lagoon. It is not connected by bridge to either Venice or the mainland of Italy, so the only way to visit is by waterbus or water taxi. Unless you are in a really big hurry, you will want to take the waterbus instead of the much more expensive taxi.
You will almost certainly be departing Venice from Fondamente Nove A (Google Maps), taking line 12, which departs frequently during the day. Even though Google Maps can give you directions that include the next departure time that you are likely to catch, you should still go to the official ACTV website to download the timetable. The reason for this is that the frequency of the waterbuses changes in the evenings, and you need to plan your return trip.
We recommend getting around Venice on foot, even if you have kids with you, so you don't need to buy a weeklong waterbus pass or anything like that. A simple one or two day pass will do. Go to the official ACTV website for up to date ticket prices and purchase locations. Remember that if you buy a one or two day pass, your time period starts from the moment that it is validated, not from the moment of purchase, so it's ok to buy it in advance. To validate your ticket, you simply put it next to the little box at the ferry terminal before you board.
Don't get busted riding the waterbus without a validated ticket!
And whether you are inbound or outbound, remember to check which way the boat is headed before you get on. If you can't tell just by watching which way it came from, go ahead and say the name of the destination to the staff. They are used to tourists and will tell you if it's the right boat. Murano is very close to the main Island of Venice, but it is not the first stop. Don't get off at the cemetery.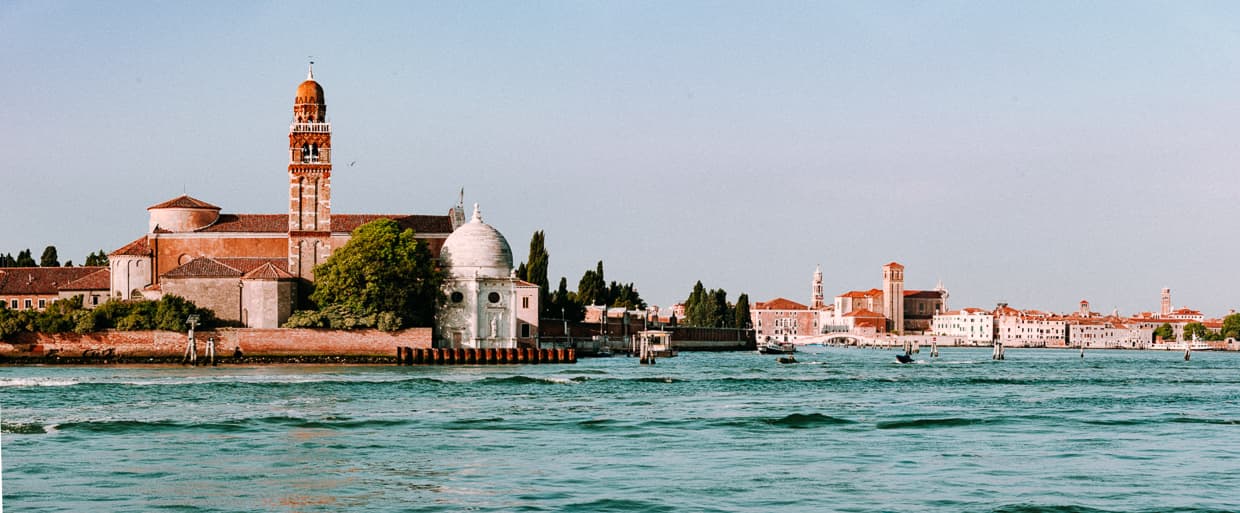 Tips for Enjoying Murano
If you decide to tour Murano, either alone or with family, here are some tips to help you enjoy your visit.
When to Go to Murano
As is almost always the case, we think the best time to go anywhere is in the morning. We tend to show up before shops open so that we can get some photos of a peaceful, empty city before the crowds show up. Venice and its surroundings get surprisingly hot, even in the Spring, so showing up early is also a good way to beat the heat. It's also a good idea to leave before the water buses start getting crowded.
What to Bring to Murano
Sunblock - The sun on Murano wasn't quite as inescapable as on Burano, at least in the morning, but there was still quite a bit of it, so protect yourself. Little ones are especially vulnerable to the sun because they aren't aware of how much exposure they are getting. We use this sunblock because it lacks certain scary chemicals for our daughter and because SPF 50 is basically 100% protection. Reapply!
Water Bottle - Yes you are surround by the stuff, but bring a couple of bottles in your backpack so you don't get dehydrated. You can buy water on Murano if you're in a pinch, but why not have some with you anyway.
Lunch - Same deal as the water. We didn't try any of the restaurants on Murano, though we saw several. If we were planning on spending an entire day there, we would probably pack a lunch with us. Especially if you are traveling with kids, and especially if you - like us - prefer to stay in an apartment with a kitchen when you travel, eating out isn't the best way to spend you money or your time.
Baby Carrier - Even though you could theoretically bring a stroller with you - you are allowed to bring one bag per person on the waterbus - you'll probably enjoy your trip more without one. If your child is old enough to walk, let them. If not, consider wearing a baby carrier. We like our Ergobaby Omni 360 a lot (read our full review), even though we were using an older version at the time of our trip to Italy.
Photography Gear - You can't take pictures if you don't bring a camera. Visit our shop page for a list of some of the gear we use while we are traveling.
Your Camera Skills - You'll have a great time taking photos on the Venetian islands, but they'll come out just the way you envisioned if you know how to control your camera. If you aren't confident yet, have a look at my e-book, Easy Manual Mode Photography. It costs less than gelato for the family, and photos in which you can actually see the gelato are priceless.
Waterbus Timetable - Once again, you can go to the official ACTV site to download up to date timetables and use them on your phone offline.
Dramamine - Do you get seasick? If so, maybe a trip to the pharmacy is in order before you go touring on the boats. Or if you are still home, you can probably get it cheaper on Amazon.
While You are on Murano
Activities and sites.
Apart from the glass, there really isn't a lot. Our favorite piece of glass (which Lisa also desperately wanted to play with) was an art display in a public square called the Cometa di Vetro (Google Maps). There was a clock tower next to it and it makes for some nice scenery.
There is also a very pretty church on Murano called the Church of Santa Maria e Donato (Google Maps). It stands tall and wide in an otherwise completely open space, and its rounded shapes and multiple levels of columns distinguish it from much of the other architecture in Venice. This site also has a tower nearby, and a giant abacus made of glass (note that the abacus does not show up on Google Street View because it is an old photo).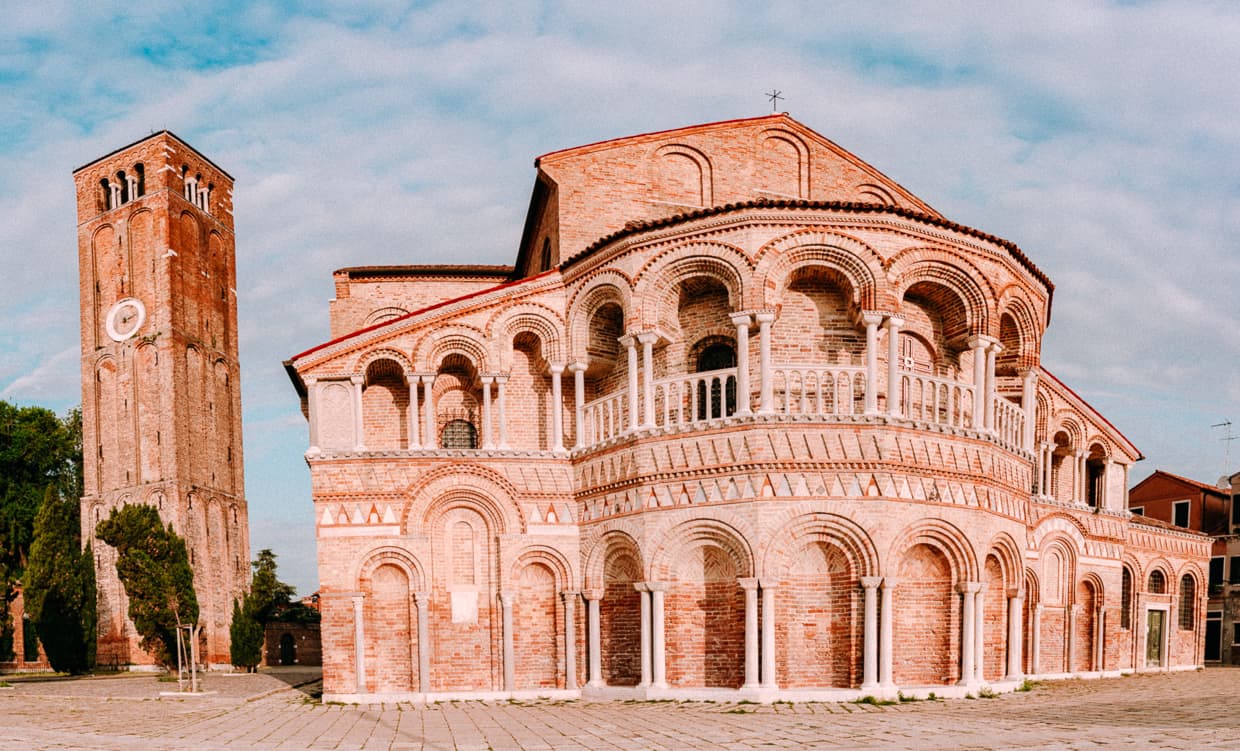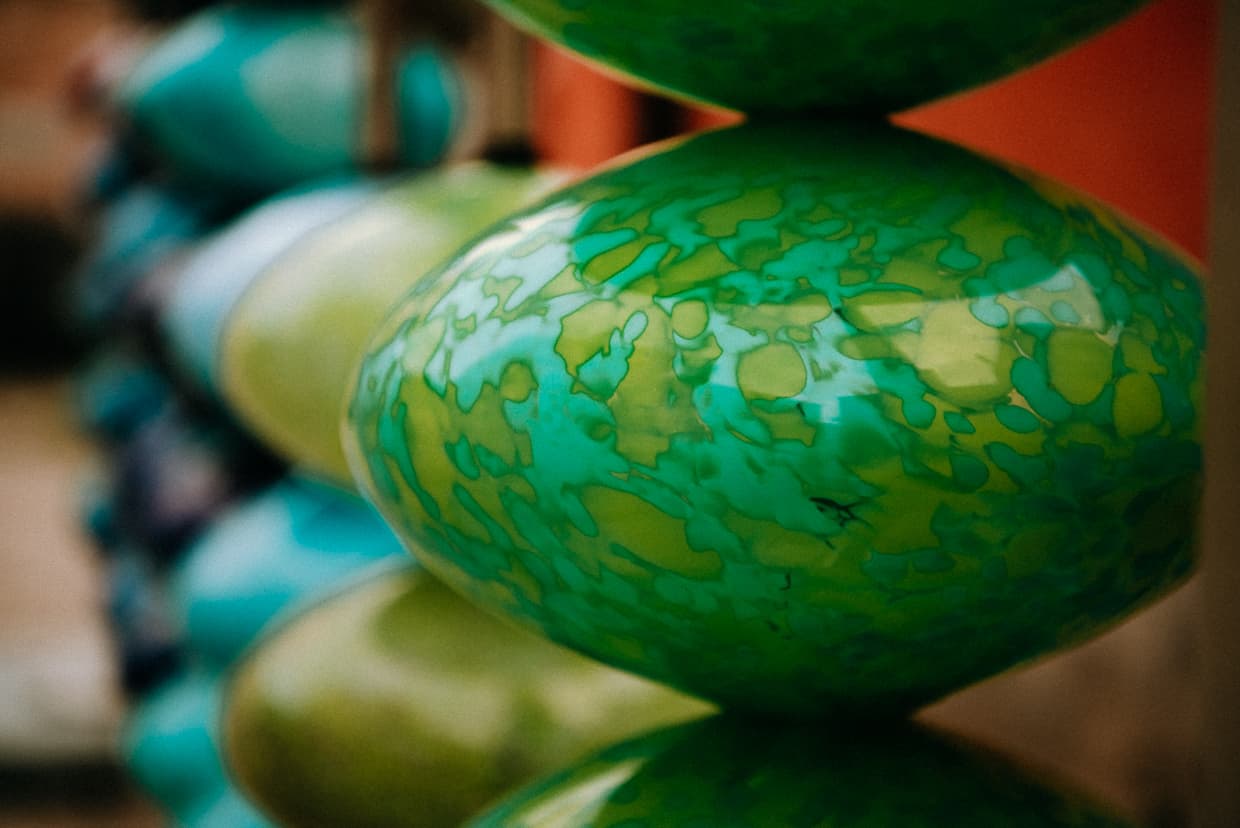 We really wanted to take in a glass making demonstration, but ultimately decided that if our daughter couldn't handle being around glass in a store, we didn't want to introduce fire into the equation. I've seen glass making demonstrations before in other cities however, and I know that they are a lot of fun to watch.
Photography
There is plenty to photograph on the island of Murano, Italy, and though much of it looks similar to nearby Venice, the glass does make it stand out. However, you should be discrete and courteous with your camera. Many of the shops have "No Photography" signs inside and out. Though it is tempting to feel resentful of shopkeepers who don't want their wares to be a part of your photo album, respecting their wishes while you are on their property is just the right thing to do. Plus, there are plenty of places where you can photograph the glass without making enemies.
Conclusion
So, Murano, Italy wasn't our cup of tea, and we didn't think it was particularly toddler friendly, but it was obvious while we were there why it's such a popular day trip from Venice. Even though not all of the glass was authentic, some of it was very impressive and clearly took a lot of time and practice to create. We would certainly recommend the island to adult travelers or families with children old enough to follow instructions (or too young to get grabby).
Read our article about the pros and cons of Venice with children.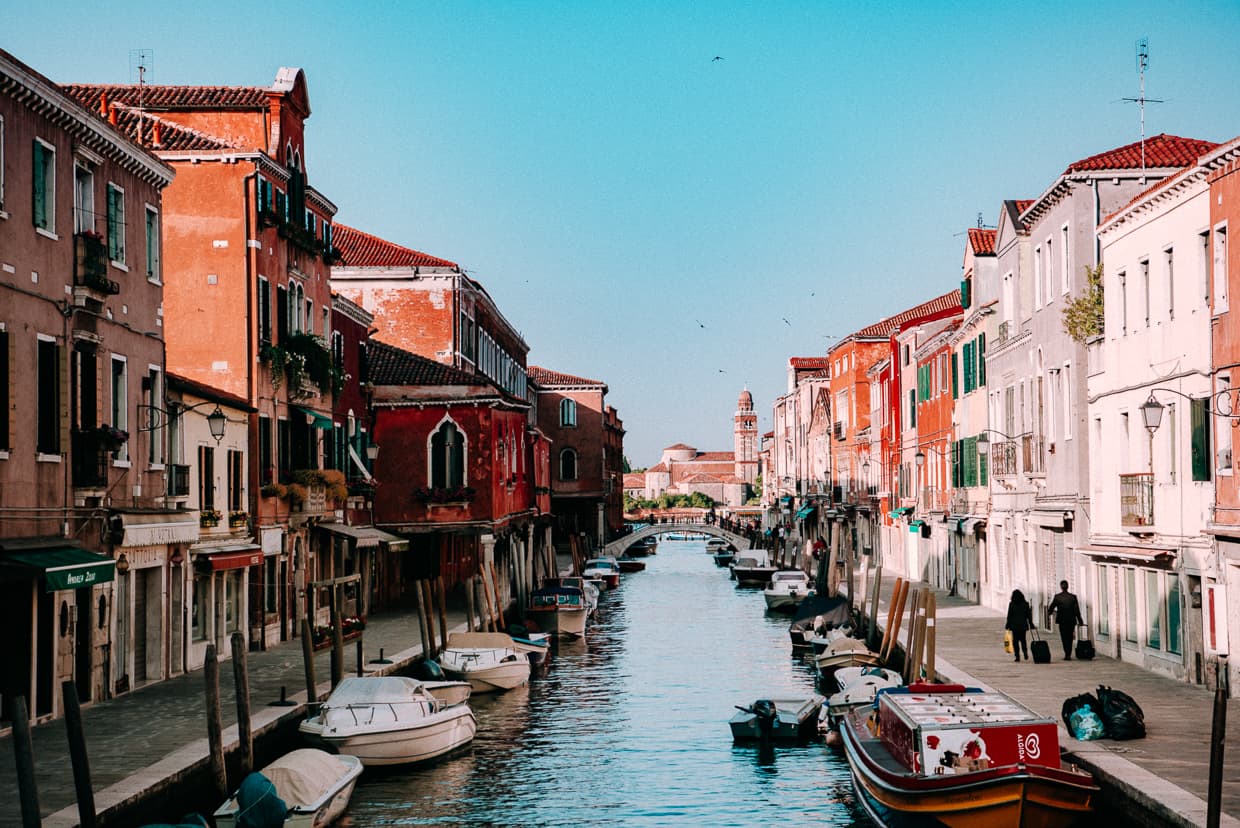 We hope you found this article helpful, and if you did, you'll probably enjoy looking at our other posts about Venice, and other cities all over the world. If you'd like to help support us in our travels and in creating content like this, consider visiting our shop or our resource page while you are planning your next adventure. Thanks for reading, and happy travels.