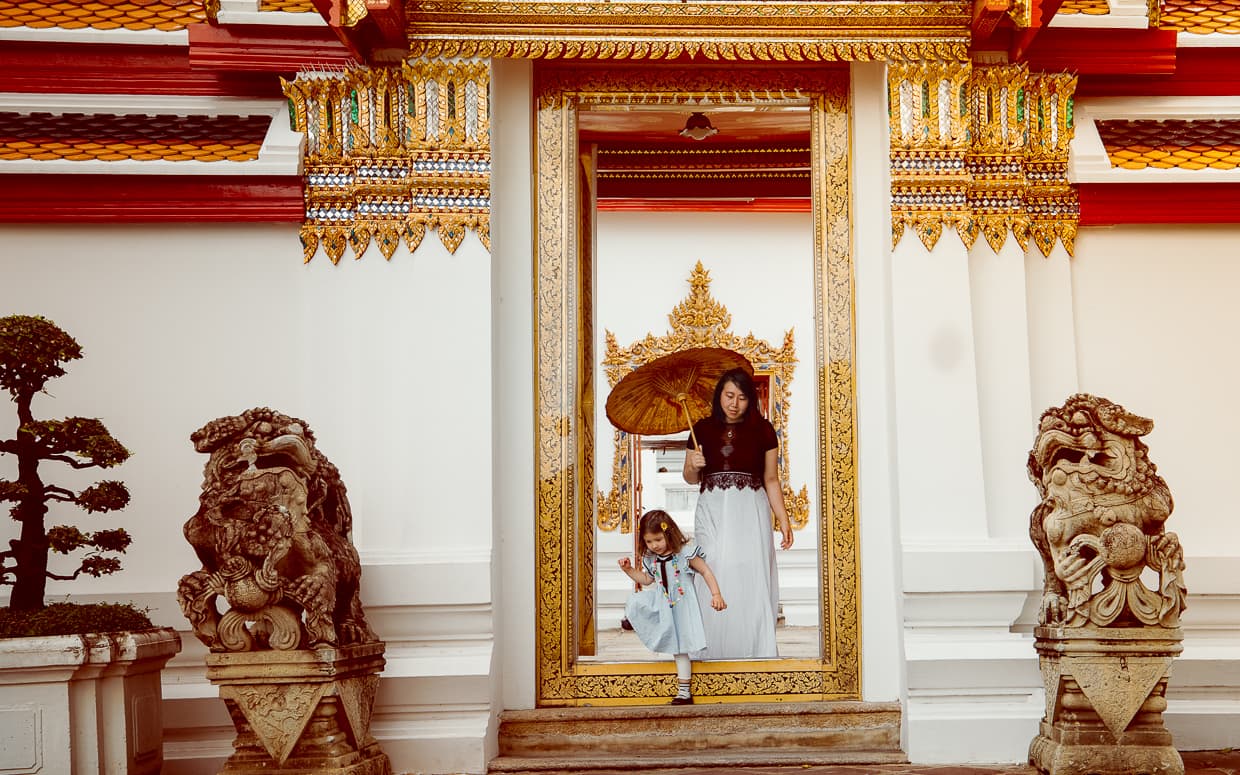 Bangkok is the capitol city of Thailand, and it's a wild place. Reading about Bangkok online might make you think that it's all nightlife and partying, but we were pleasantly surprised to learn that it's an amazing city to explore as a family, even with a two year old. Lisa loved the people we met in Bangkok, and they loved her.
We only had four full days there (though we're likely to return), but we decided to take it slow anyway. We've never been the whirlwind tour kind of family. Here's everything we've written so far about our time in Bangkok, Thailand.
If you've researched a trip to Bangkok, you've probably seen photos of Wat Arun. It's the Pyramid shaped temple on the shores of the Chao Phraya River. It's beautiful spires make it stand out amongst the other Buddhist Temples in the city, and as you'll learn in this article, the so-called Temple of Dawn is surprisingly easy to visit.

Just outside the city of Bangkok is the Erawan Museum. You know it's good because it was built by an eccentric millionaire. With it's giant three headed elephant statue and incredible snake stairways inside, this place is more than a museum. We visited with our daughter and she talked about it for days afterward.
Our visa run to Thailand in July was our first time in a long time that we had the opportunity to travel without carrying everything we owned on our backs. So what did we bring, what did we leave home, and what would we do differently next time? This is your chance to take a peak inside our (still fairly stuffed) suitcase. Enjoy.
Wat Pho was one of our favorite stops in Bangkok, and one of the most beautiful Asian temples we've ever visited. I guess that's why we decided to go there twice. In this article we talk about how to get there, how to behave yourself in a Thai temple, and how to put your camera to use while you are exploring one of Thailand's most popular attractions.
Even though our first stay in Bangkok wasn't very long, we split our nights between two hotels. In this article we review both the Eastin Grand Hotel Sathorn, which we stayed in to celebrate our 6th wedding anniversary, and the Feung Nakorn Balcony Hotel, which we chose for its affordability and proximity to Bangkok attractions. They were very different experiences, and very memorable in their own ways.