One of the benefits of spending a month living right next to the Roman Colosseum is that you have plenty of time to get all the photos you need. In addition to touring the inside of the colosseum (twice!), we walked by it every day and from every possible direction, so we saw plenty of great photographic opportunities. The angles in this post are designed to get photos that are free of tourists and full of Rome's most famous landmark. Of course, if you are willing to spend the time and money to go inside (and be first in line) you can get shots like this one.
By the way, if you are interested in where we stayed, it was Apartment Diocleziano at Colosseum, a really nice Airbnb. It wasn't cheap but the amenities, which included daily cleaning service, were amazing. Also, you could see the colosseum if you stuck your head out the window. We have really in depth article about how to use Airbnb for slow travel.
Ok, let's cut to the chase.
Our Favorite Photography Angles for the Roman Colosseum.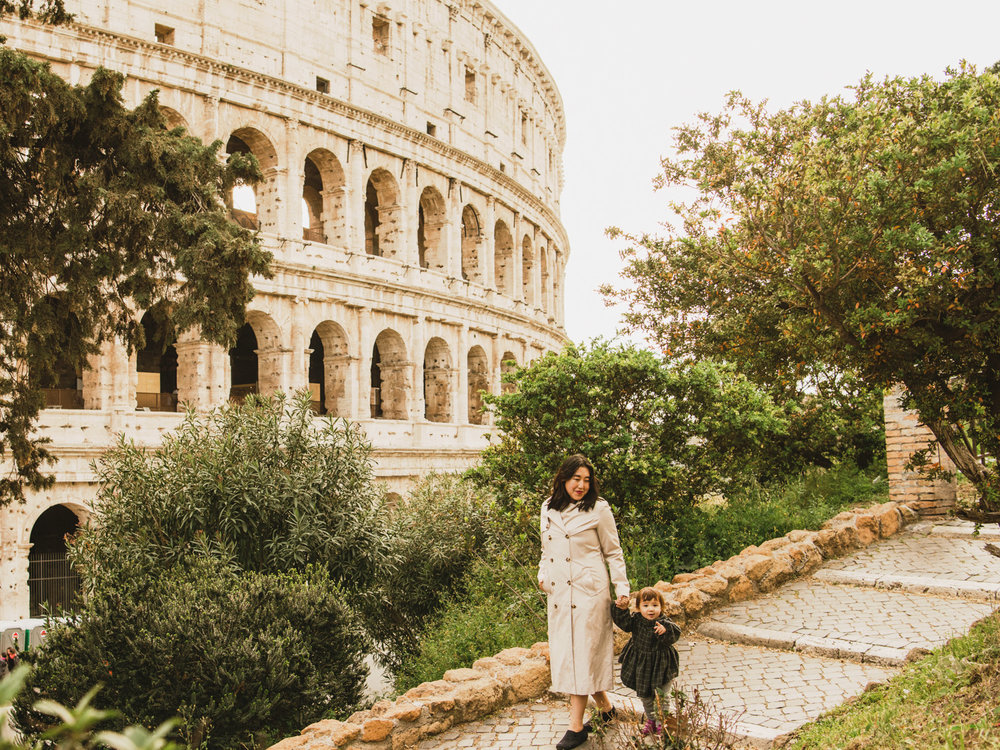 1: From the Stairs
We actually took our first Colosseum photo on the evening we arrived. After dropping off our bags we went for a walk and were somewhat taken aback by the number of people. We'd later get used to this, but it was kind of a shock after winter in the Balkans. Everywhere we looked there were crowds of families, tours and twenty-something year old backpackers taking selfies. We knew we'd have to look around to find a place that was isolated and original.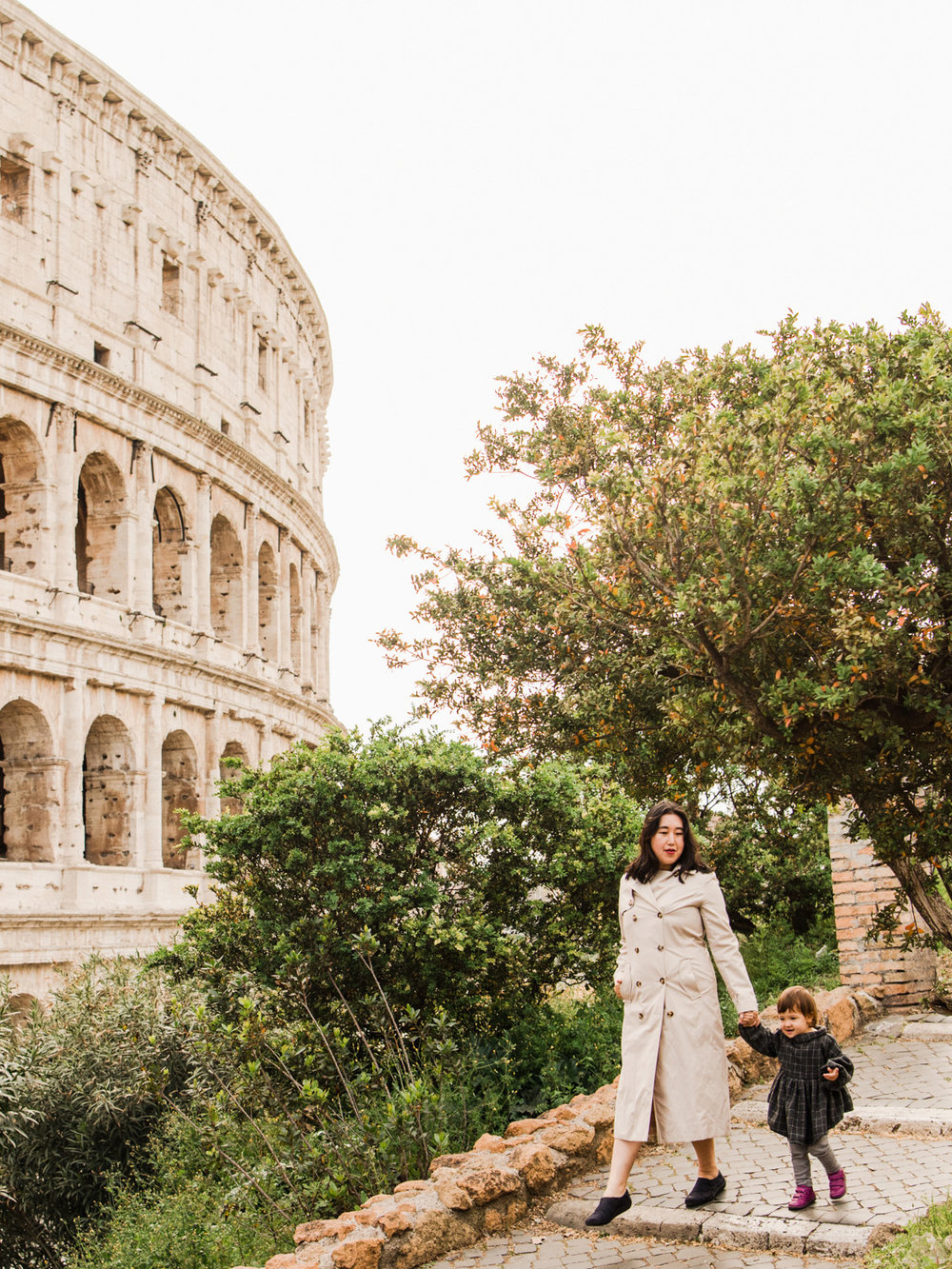 A short walk from the crowds, there were a couple of stairways (Google Maps) that snaked up the hill to allow pedestrians access from Via Nicola Salvi. While mom and baby safely strolled up and down the stairs, I took a Shot through the fence on the top of the hill. It was a nice composition with lush greenery in the foreground and the colosseum in the background. Honestly, If you can't get up early enough to beat the crowds, this is a good angle to keep in mind.
---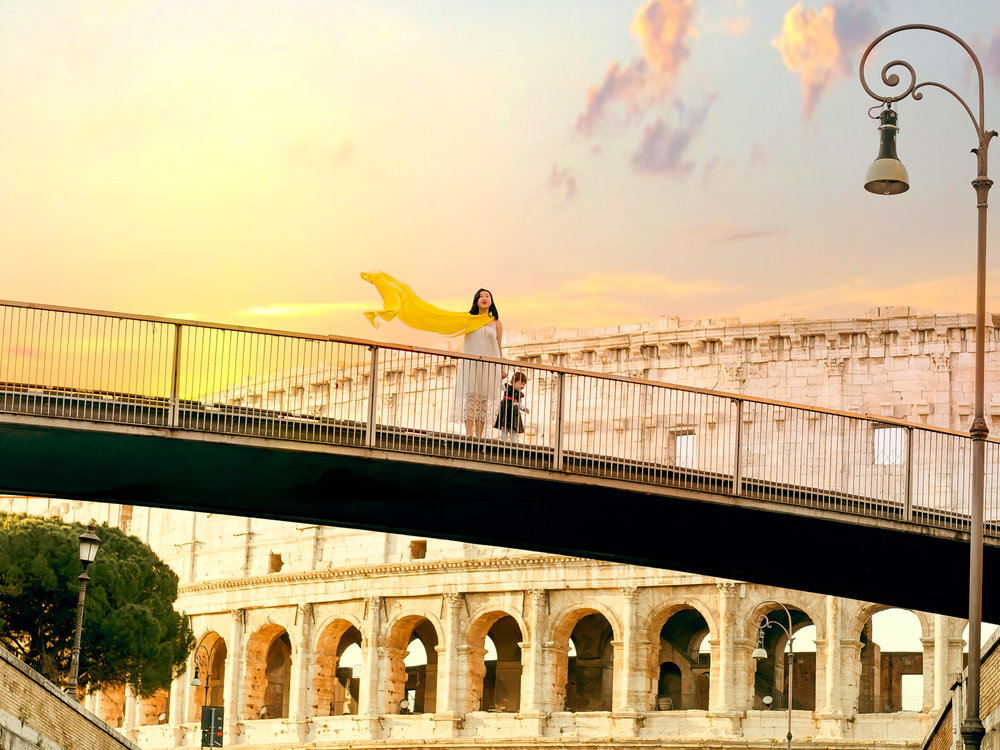 2: From the bridge over Via deli Annibaldi
Dannie does a lot of research before we get to a city, to compile a list of engaging angles and scenes to track down (finding this beautiful staircase in Split, Croatia was an ordeal). But we always try to put our own spin on it. In Rome, she found a great photo of a bridge with the colosseum in the background.
Dannie showed me a picture, then I went out to look for it one afternoon while Lisa was napping. When I found it, it was crowded with tourists, so we planned for a photoshoot early in the morning. To get to this location continue up Via Nicola Salvi from the stairs, and you will see the road go down a slope while two sidewalks that rise up on either side of it. There is a foot bridge (Google Maps) connecting the two sidewalks that is great for photography.
Most people capture a photo while standing on the bridge, but we thought it would be fun for Dannie and Lisa to walk across while I went all the way down to the road to get a shot of looking up at them with the colosseum rising up into the sky. Photographers, watch out for traffic!
---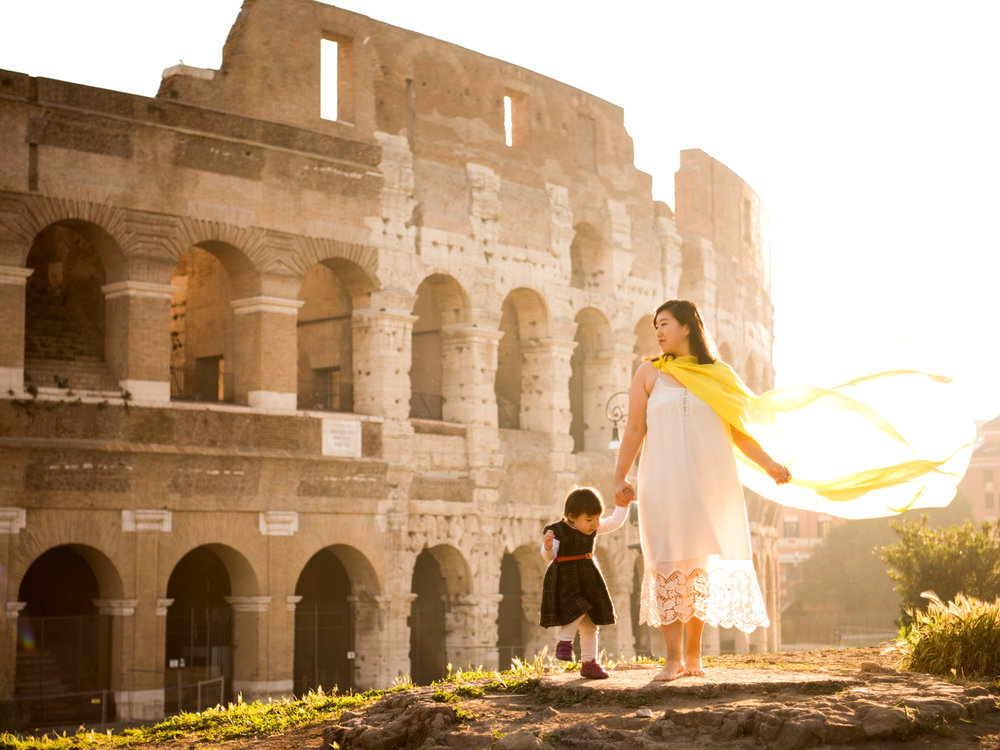 For a photo like this one, you're going to need to know how to expose for shadows, and to do that, you'll need to know how to use your camera's manual settings. Luckily, that's really simple to do, and I explain it in my e-book, Easy Manual Mode Photography. If you're reading this article, that means you're excited about photographing Rome, which means that a short read is probably worth it to seize control of your camera and leave nothing up to luck.
3: Behind the Colosseum
The morning we did our shoot on the bridge, we walked back to our apartment the long way, wrapping around the opposite side of the Colosseum. We'd gotten up so early that there was still no one about. The thought of breakfast was gnawing at us, but Dannie and Lisa were all dressed up, and when we saw the light hitting the arena wall we couldn't resist.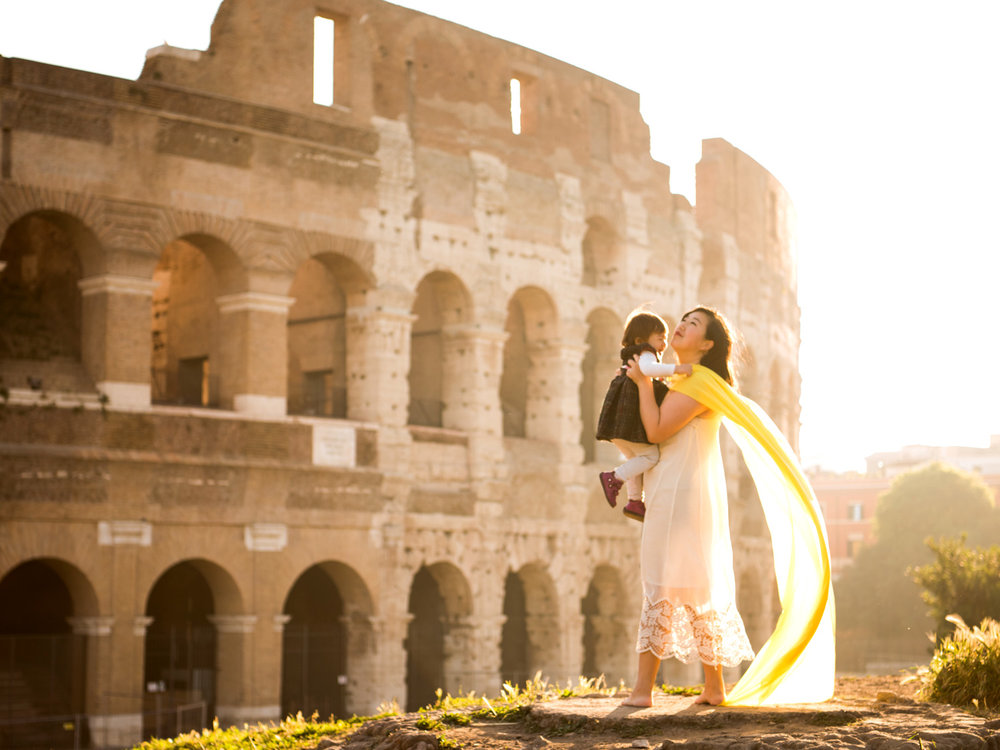 On the backside of the colosseum there is a hill next to Via Celio Vienna (on the colosseum side of the road). The hill is chained off (Google Maps), but during the day time you'll see it covered with tourists, so we didn't think twice about crossing the low linked chain. The walls of the colosseum are not as high on this side, but you can't tell in the photo, and it's a great way to get a less common angle. The light there is amazing in the morning, but if you are there during the day it should still be possible to get a shot without many tourists if you are patient and wait for your turn.
For a list of the family travel and photography gear we use, check out our resources page.
---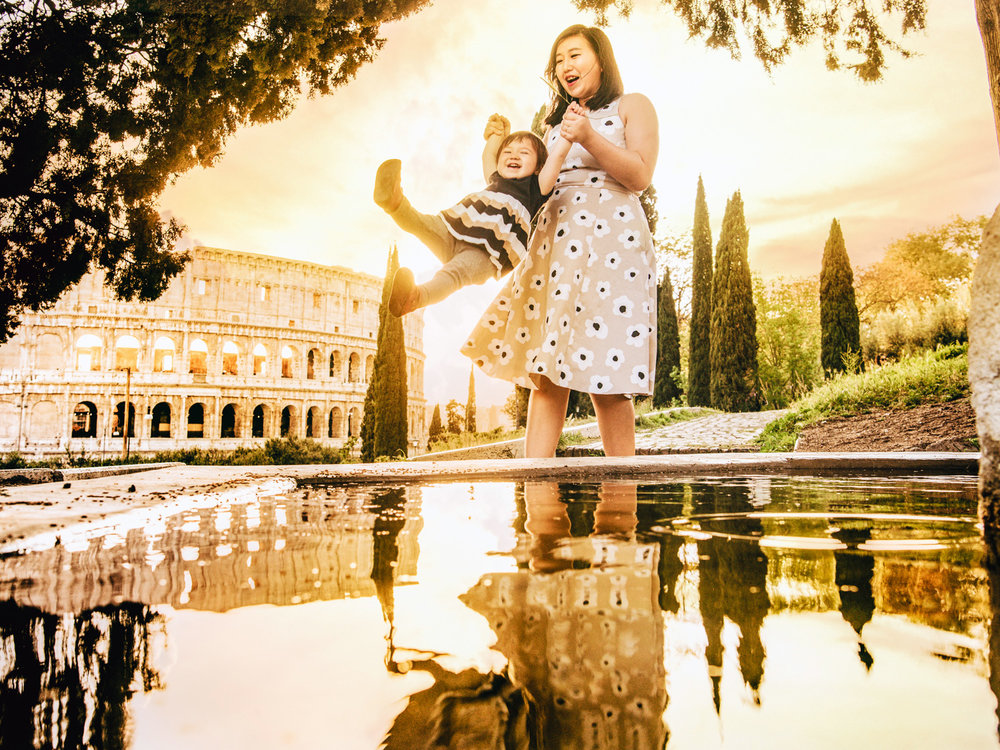 4: Parco Del Colle Opio
One of the biggest challenges of traveling with a toddler is finding a place for her to run around and just be a kid. In hotels and Airbnbs, there are always so many things she's not allowed to touch. On the streets of an unfamiliar city, we can't even put Lisa on the ground for fear that she will run into traffic. We don't want her to miss out on the joys of childhood, so we always look for parks and playgrounds where she can go wild. Parco Del Colle Opio (Google Maps) was right near our apartment, and since we went there every day, it wasn't long before we started to notice photographic opportunities.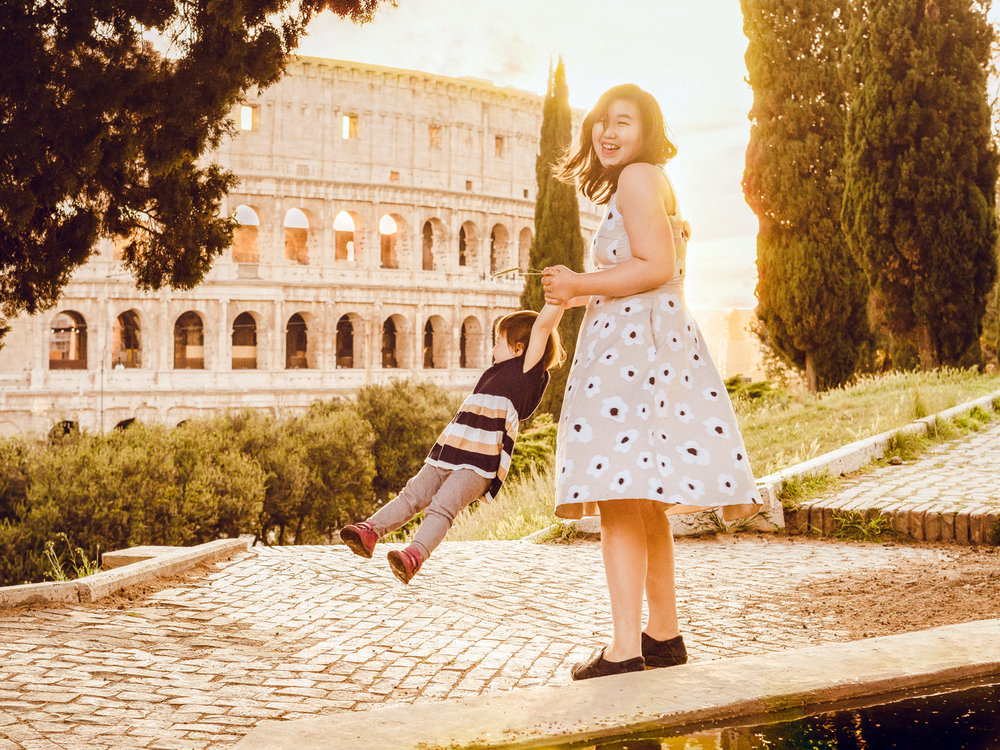 We noticed that the park is high enough to get us the lift we needed, but most of this park has no view, so we wandered around, and found a small fountain area by the entrance, covered by tress and shockingly hardly anyone hanging around. From here you can see the most intense sunset over the colosseum. Also, if you have kids the park is a pretty good place to take a break from all the pushing and pull of the crowd. There are rose gardens, several big fountains, and the playground is at the top of the hill.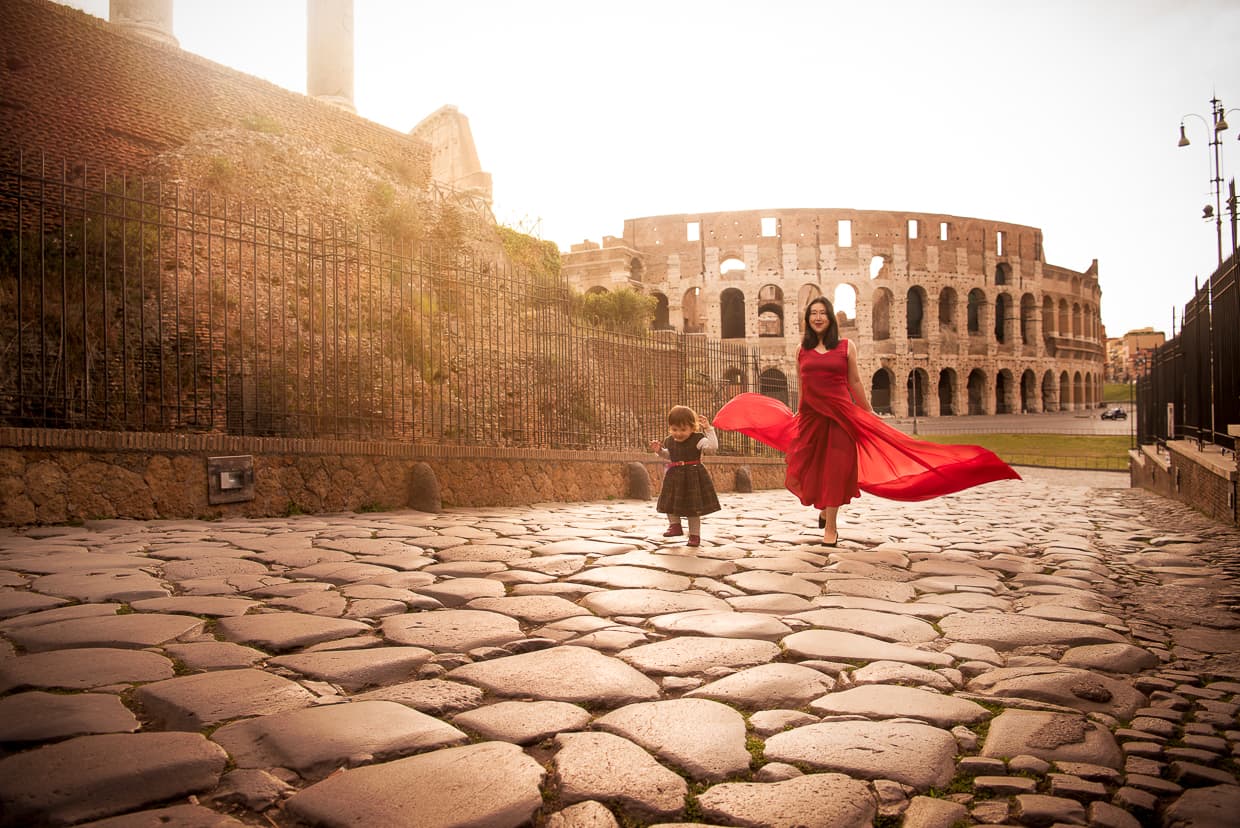 5: From Via Sacra
We discovered this angle while we were scouting out the best angles for photographing the Roman Forum, and while we were waiting in line at the ticket booth on Via Sacra, we couldn't help but notice the great view. Luckily we were already dressed up. This angle is definitely best early in the morning, since there will be some crowds around the base of the colosseum during the day.
If you enjoyed this post, you might also want to see our photo of the interior, which wound up being one of our favorite photos of the year. And if you are planning to see more of Europe when you are done in Rome, check out our destinations page to see what other tips and stories we have from our year of slow travel. And once again, don't forget to master your camera before you head overseas.
And finally, if you are interested in how we are monetizing this blog to continue our travels, check out our monthly series Operation Digital Nomad to monitor our progress. And if you'd really like to help us out, you can comment on this post below with questions or additional tips that you think might help other travelers and photographers. Thanks for reading!
SaveSave
SaveSave
SaveSave
SaveSave
SaveSave