Dubrovnik, Croatia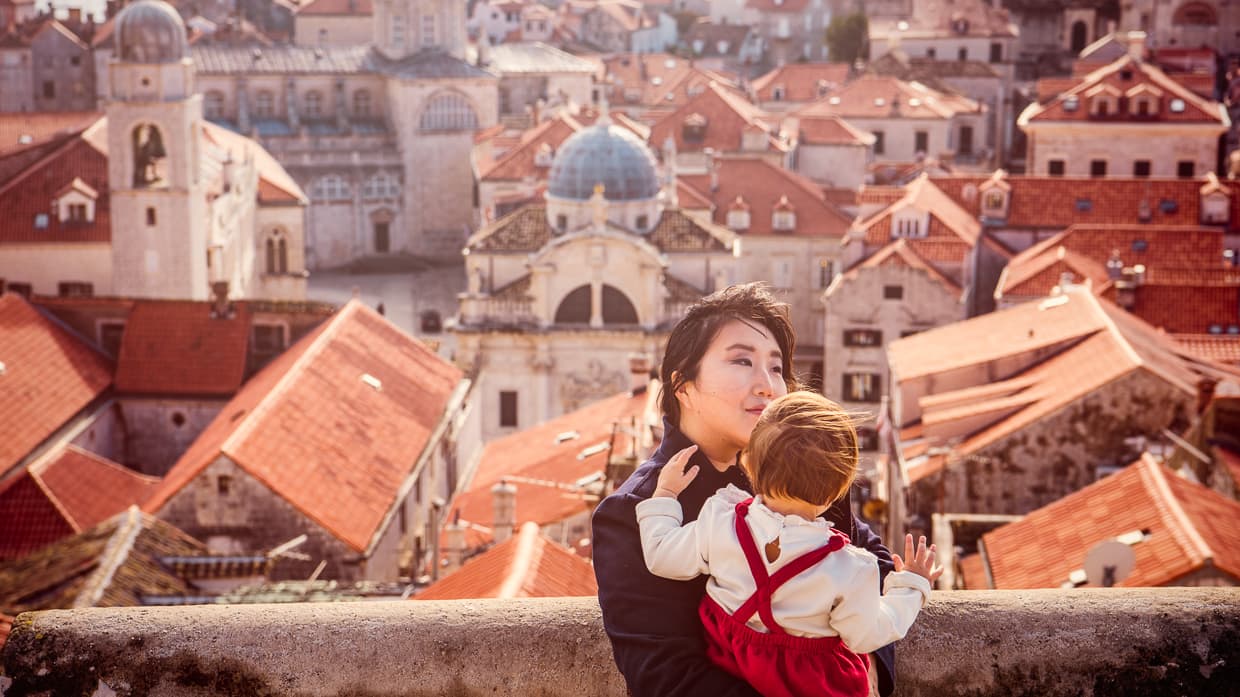 Often referred to as the Pearl of the Adriatic, Dubrovnik, Croatia is a magnificently preserved medieval city. The white stone streets shine like mirrors in the moonlight at night, and during the day the walls that surround it really do make the city look like a pearl agains the blue-green waves of the sea. We made this city our home for the month of January, the first month of our slow travel adventure in Europe. It was a rocky landing, but a beautiful way to begin our journey. We were even lucky enough to witness a rare Dubrovnik snow storm. Here's everything we've written so far about Dubrovnik, Croatia.
A quick guide to everything you will need to know if you want to get great photos while climbing on Dubrovnik, Croatia's most popular attraction. This post will tell you where to buy your ticket and climb up, what you should be prepared for, and where you can find other great angles that tourists might miss.
The harbor in the old town is beautiful all year round. Colorful boats bob up and down and the gigantic city wall looms overhead. It's where you need to go if you want a boat tour of the city and the islands, but it's also a great place for travel photography. In this post, we go over all the places we found to photograph the harbor.
Before you get lost in the old town, take a moment to explore right outside the main gate. You have to step off the road and climb a few stairs, but some of the best views in Dubrovnik are right there. This post is a walkthrough of what you can find there and has lots of tips for getting the most out of your photography experience.
Fort Lovrijenac is the monstrous stone structure that towers over even the city walls. It rests on a cliff just outside the city and it provides a great opportunity to get some exercise, take in amazing views, learn the history of the city and fantasize about the past. We had a field day there with our cameras, and our daughter loved the chance to run around in a big open space.
If you are in Dubrovnik in the Summertime, expect it to be very crowded. But if you visit in January like we did, the medieval city belongs to you. A few of the attractions were closed, but everything we were most excited about was still there to be enjoyed. In this post, we talk about the weather you can expect, what you should be prepared for, and why the winter is the best time to visit Dubrovnik.
Cavtat was our favorite day trip from Dubrovnik. We took the bus there twice and let Lisa walk around for hours in this quiet village. In this post we discuss what's available there in the winter, and how we made the most of our time there.
Yes, yes it does. But not very often. This post is all about how excited we were to catch a rare Dubrovnik snowstorm, and how a beautiful winter wonderland was the most special treat we could have hoped for after leaving Florida for a year of travel in Europe.
This post isn't directly about Dubrovnik, but in addition to some family travel photography tips, it contains some photos from our Dubrovnik day trip to Cavtat that didn't appear in the original article.
We didn't want to waste the only snowy weather we were likely to have in a long time, so we spent a lot of time out in the white stuff, snapping pictures. Dubrovnik is the perfect backdrop for snowy weather photography. It's also the perfect backdrop for some tips on making sure photos of snow come out looking good. If you just want to scroll through and look at the photos, we don't blame you.