What is Wat Arun
Beautiful Wat Arun is one of the most interesting and most popular attractions in Bangkok, Thailand. I visited this amazing Buddhist temple twice during our second visa run to Bangkok - once to scout it out, and once to take photos with Dannie and Lisa. This article is our guide to visiting Wat Arun, getting great photos, and enjoying yourself in the process.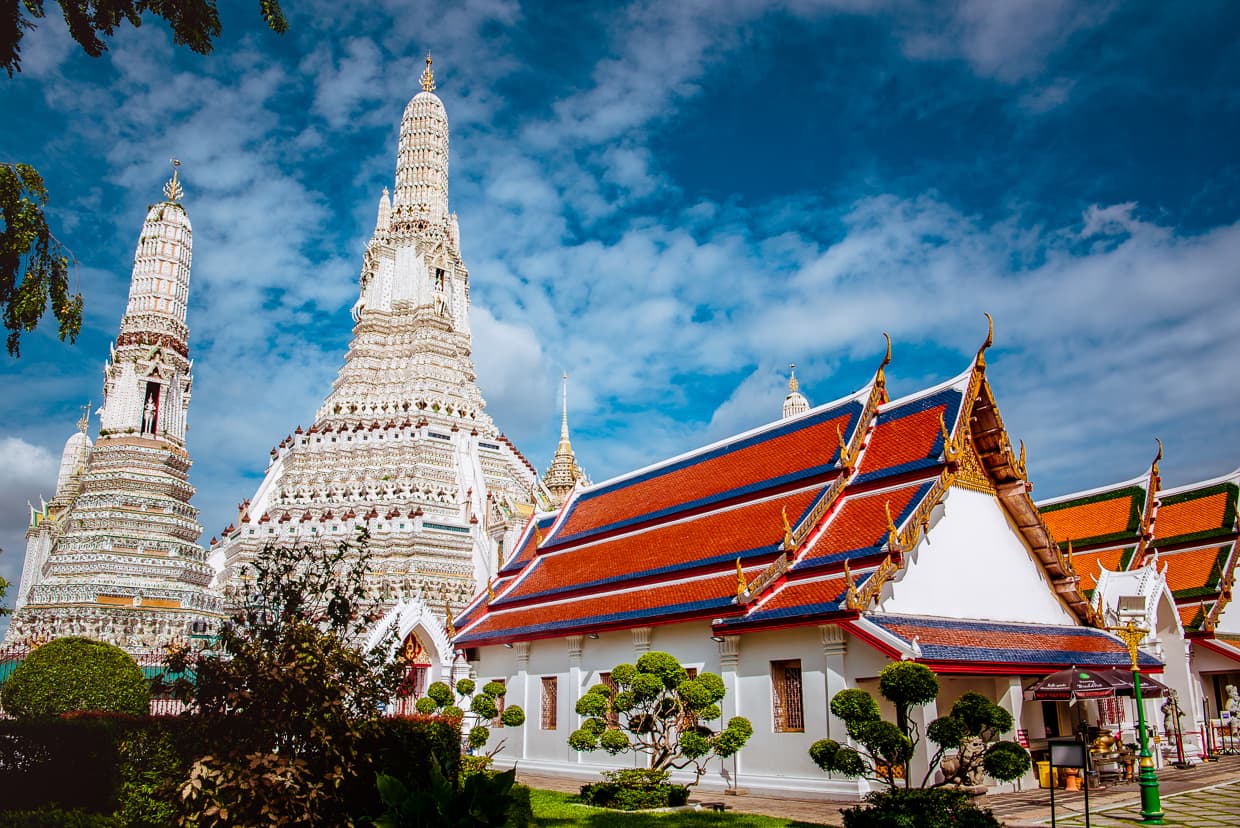 By the way, this article contains affiliate links. If you click on one and make a purchase, we will earn a small commission at no extra cost to you. These commissions help support our travels and this website.
Wat Arun is also referred to as the Temple of Dawn, which seems like it is a bit of a misnomer, since it is on the West side of the Chao Phraya River, and is best viewed at sunset. The Buddhist temple is a bonanza for photography, it's child friendly (though not stroller friendly), and it differentiates itself from many other temples in Bangkok (and Thailand in general) through it's architecture; a huge pyramid-like structure with stairs and walkways that allow visitors to explore.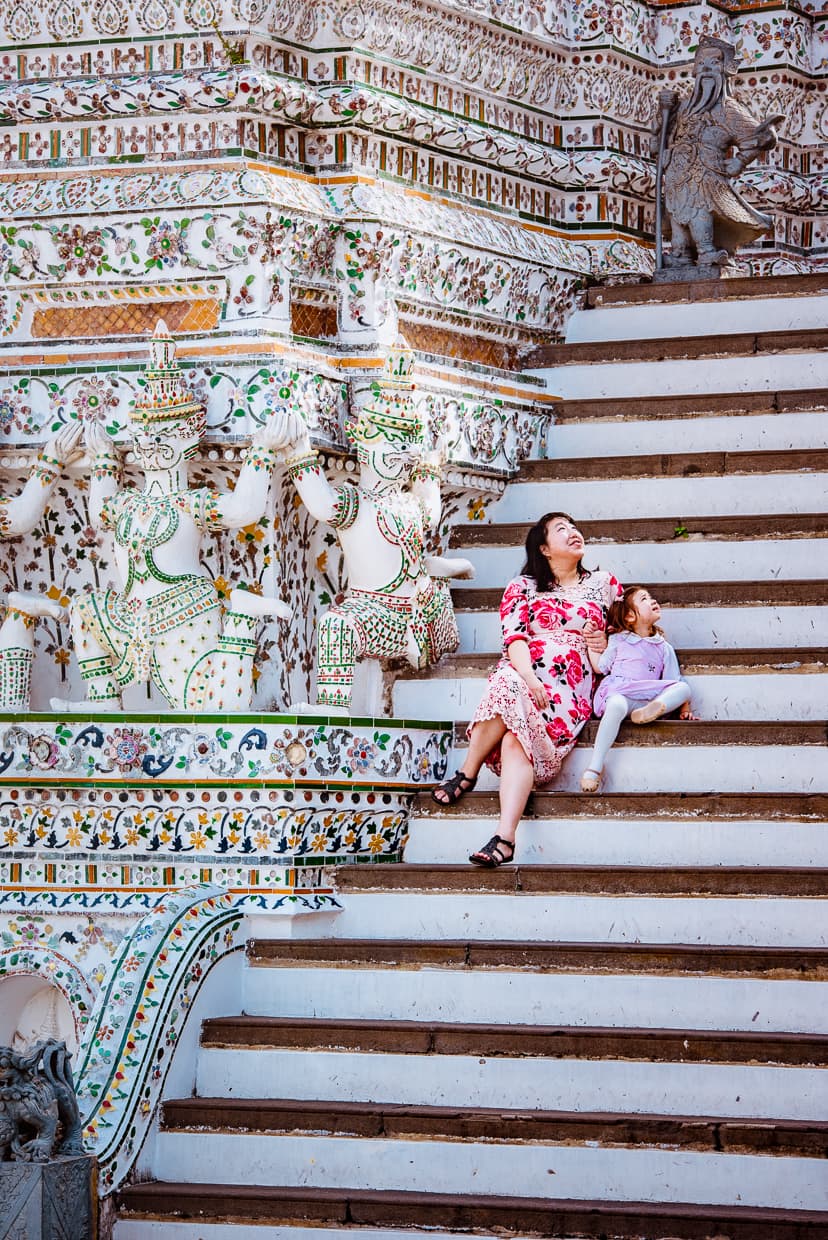 In addition to the pyramid, there are other temple buildings and shrines in the Wat Arun temple complex
Visiting Wat Arun in Bangkok, Thailand
Even though Wat Arun is very popular, I never saw it as crowded as Wat Pho or the Grand Palace complex. I think a lot of people are intimidated when they notice on the map that it is on the opposite side of the River and far from any bridges. Getting there seems like it would be an expensive and time consuming expedition.
In reality, a visit to Wat Arun is easy, quick and affordable.
How to Get to Wat Arun
It's probably possible to get to Wat Arun by bus, taxi, Grab, or even tuk tuk, but unless you are one of the few people who are staying on the west side of the river, there is only one form of transportation you need to consider.
The Wat Arun Ferry
There is a ferry on the east side of the Chao Phraya River, almost opposite Wat Arun. The ferry runs almost all day, starting well before Wat Arun is open to public, and continuing well after it closes. The ferry ride takes about five minutes, and the boats leave very frequently.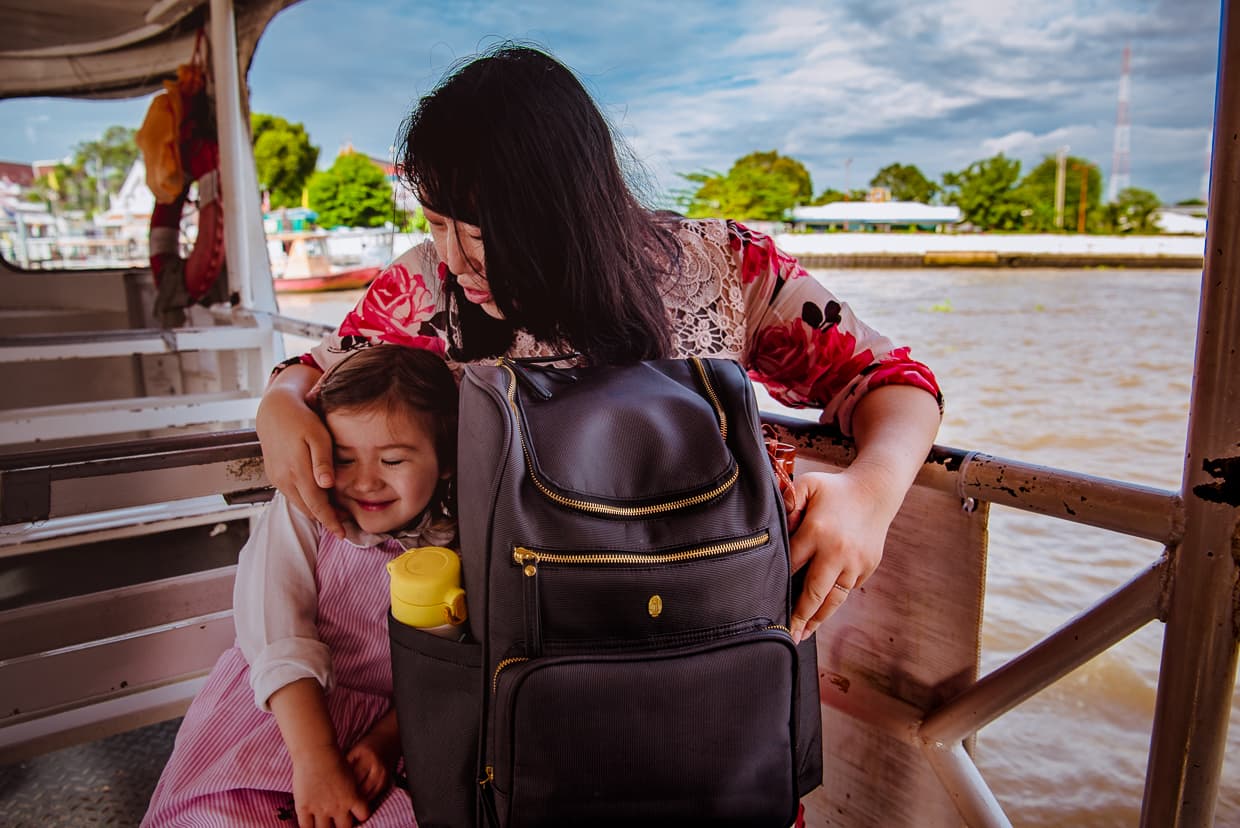 The ferries have canopies for shade, but be aware that some parts - especially in the back - will still be exposed to the sun. There are lots of seats, but they tend to let a lot of people on, so there's a chance that some people will have to stand. Also be aware that the river is busy, and other boats create a lot of wake, resulting in a just a little rocking motion (nothing scary, but it might upset sensitive stomachs).
Where is the Wat Arun Ferry?
The Wat Arun ferry (Google Maps) is located to the west of Wat Pho. To find it, go to the northern side of the wall that surrounds Wat Pho and make your way east. Eventually, you will see the ferry terminal. It doesn't look like a ferry terminal, though. it looks like this: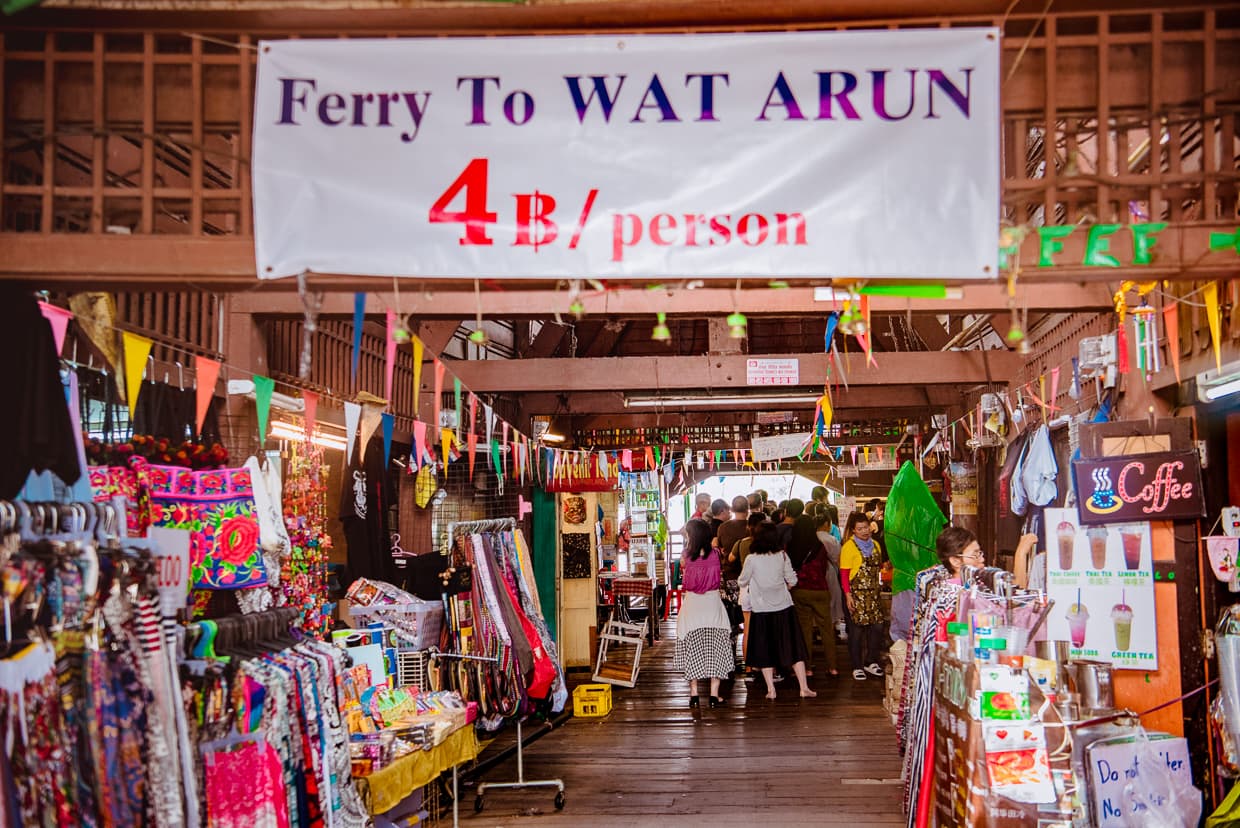 Once inside, walk past a bunch of souvenir shops and wait in line. You pay for your ticket at the end of the line, right before you walk onto the boat.
How Much Does the Wat Arun Ferry Cost?
The Ferry costs 4 tbt ($0.12), which hardly seems like it would cover the fuel it uses. Maybe souvenir sales inside the terminal make up the difference. Try your best to have some small change with you so you don't wind up with a pocketful of coins.
Wat Arun Hours and Ticket Price
Once you get to the other side of the river, you just have to walk south for a while to get to the ticket booth. On the way there you will pass several buildings that are part of the temple complex, but do not require a ticket.
Hours:
Wat Arun is open from 8:00 17:30.
Ticket Price:
Tickets are purchased right outside the entrance to the Temple (the part with the pyramid). A ticket costs 50 tbt ($1.56). Bring small bills though - on my first visit, I only had a thousand baht note, and the ticket counter wouldn't make change. I had to buy a bottle of water from a stand nearby in order to get my ticket.
Only the pyramid portion of the temple complex requires a ticket. The rest is free to visit.
When to Visit Wat Arun and How Long Does it Take?
Whether you want good lighting or personal comfort, the best time to visit is as early in the day as you can manage. There really isn't a whole lot of shade, and as the day goes on, people who started their touring at attractions on the eastern side of the river start making their way over.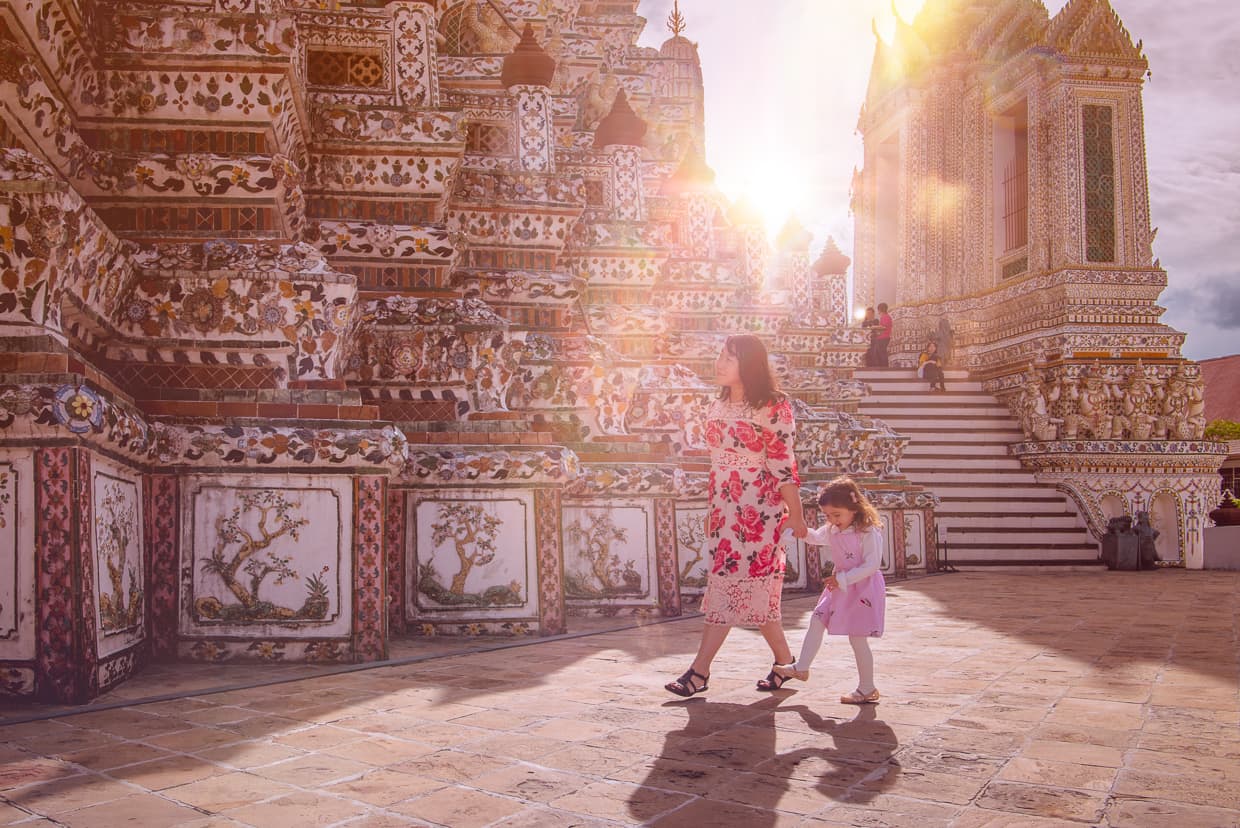 Visiting Wat Arun could probably be completed in an hour if you hurry, but I'd leave two hours so that you can relax and enjoy yourself, especially if you want to explore the whole complex. That time frame includes the short ferry ride.
What to Photograph at Wat Arun
This is one of the most photogenic spots in Bangkok, so bring your camera along.
The Ferry Ride
No need to wait until you get inside to start taking photos. Your first view of Wat Arun will be as you are getting onto the ferry. You'll see the pyramid and temple rooftops rising above some trees on the opposite side of the River. The view doesn't change much on the way over, but it's pretty nice, nonetheless. For the best view of the temple, sit on the right side of the boat on the way there, and the back of the boat on the return trip.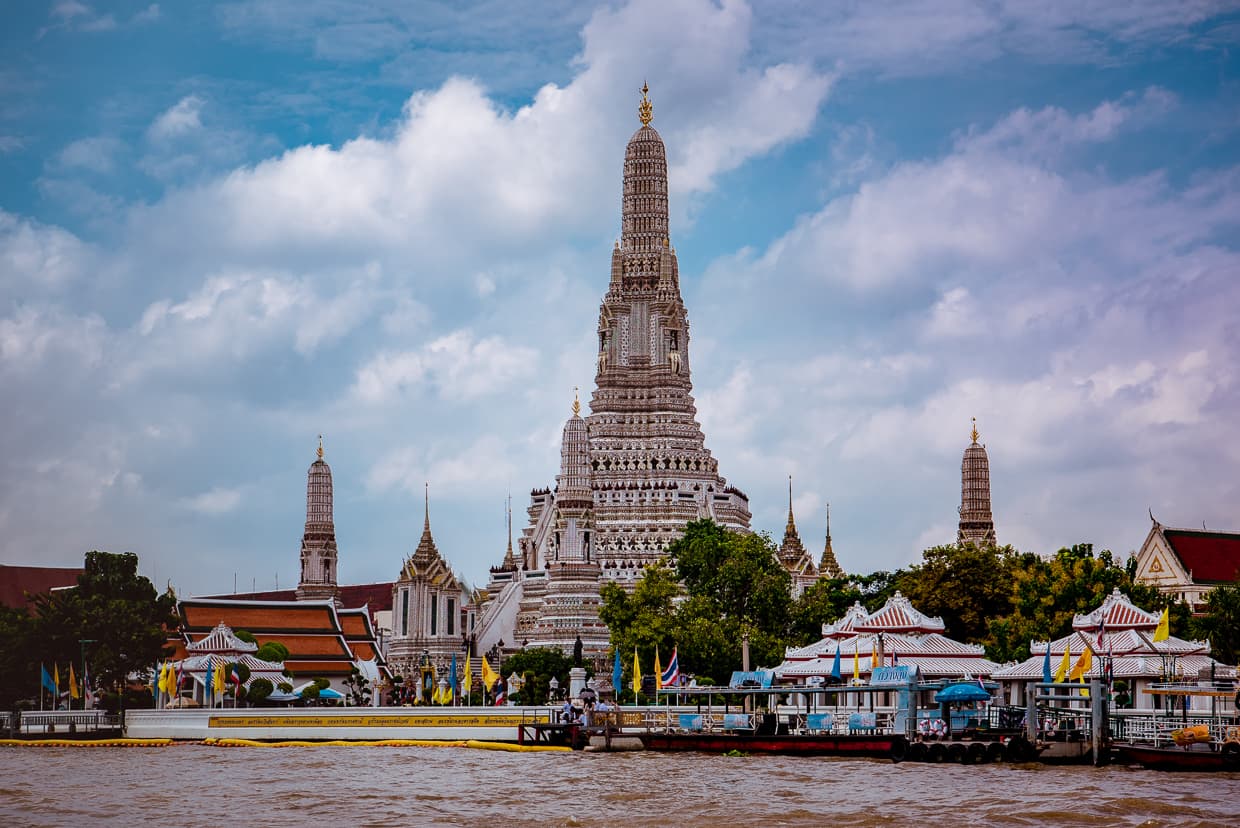 Don't forget to take some photos of your family enjoying the experience. This will be easier if you're sitting in the sun, since it's much brighter outside the boat than it is inside.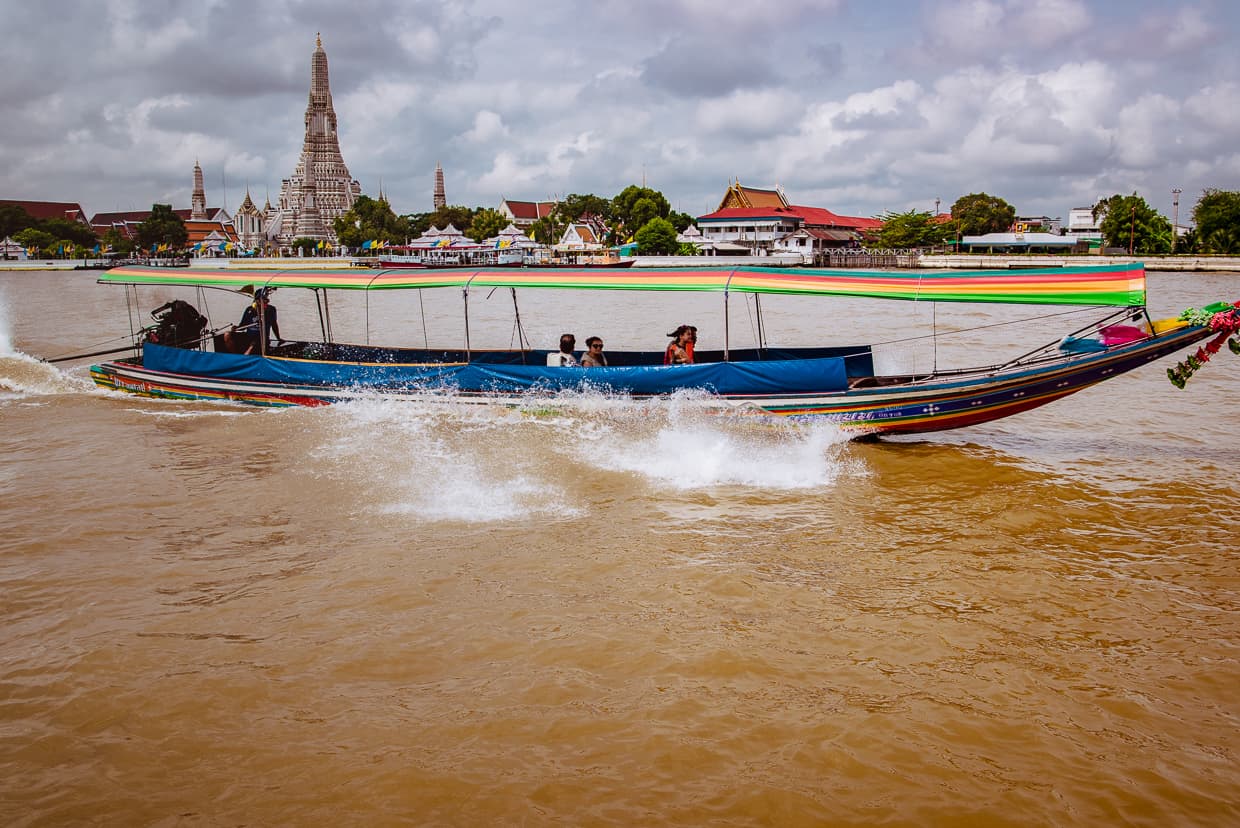 The Pyramid
That great big pyramid should fill up your frame quite nicely. You're probably going to have to point your camera upward in order to capture it from the ground. If it's cloudy out, it won't be hard to capture all the details, but if it's a sunny day (most likely!), head to the bright side of the structure so that you can expose properly for both the temple and the sky.
On the way in, there is a nice view of the temple with symmetrical rooftops on both sides, though it is difficult to get a shot here that isn't filled with tourists, since it's a bit of a bottleneck.
The Stairs
I was a little bit surprised that tourists are allowed to climb on the temple itself, but it was definitely a pleasant surprise. You can go up to the first level and walk all the way around the pyramid. There is a second flight of stairs that goes up higher, but it is gated off and you aren't permitted to climb higher.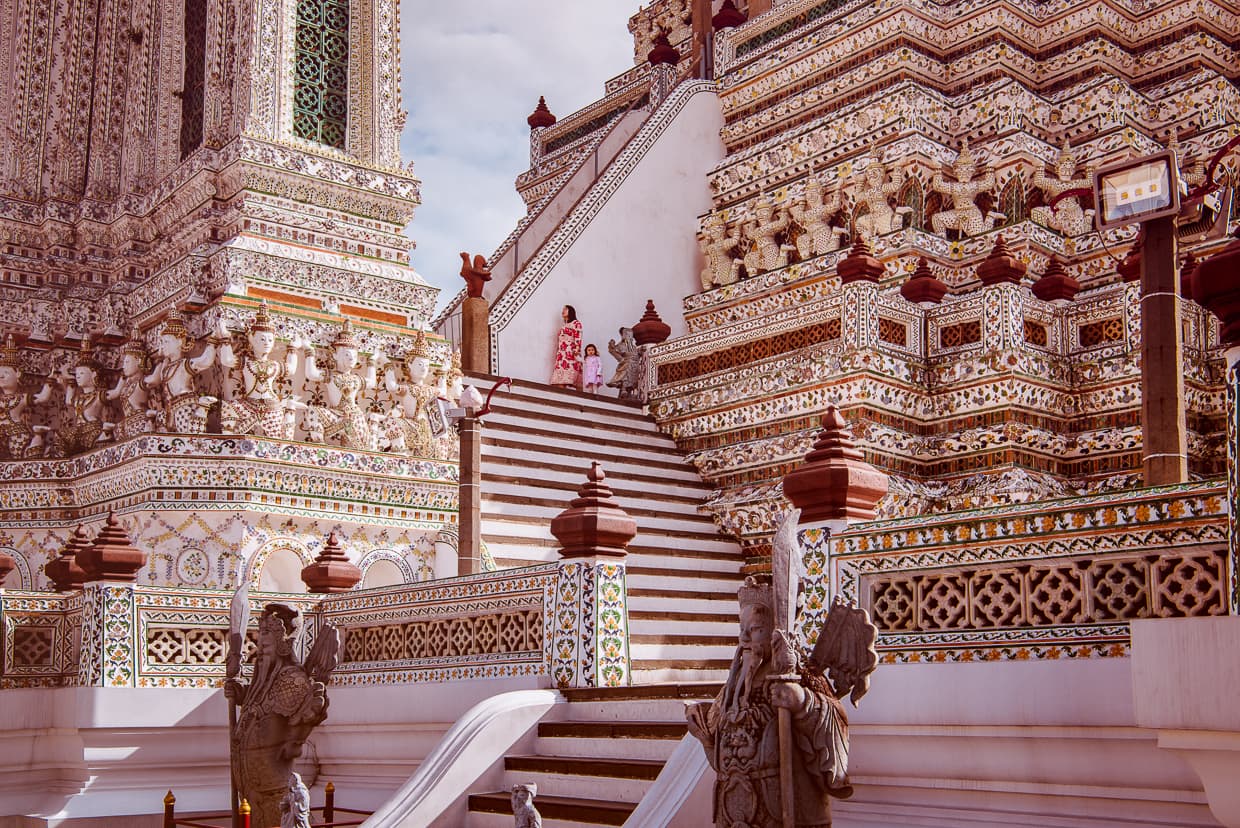 I have seen photos of people up there, so maybe this is a recent or even temporary change. If you have been up there recently, please share your experience in the comments.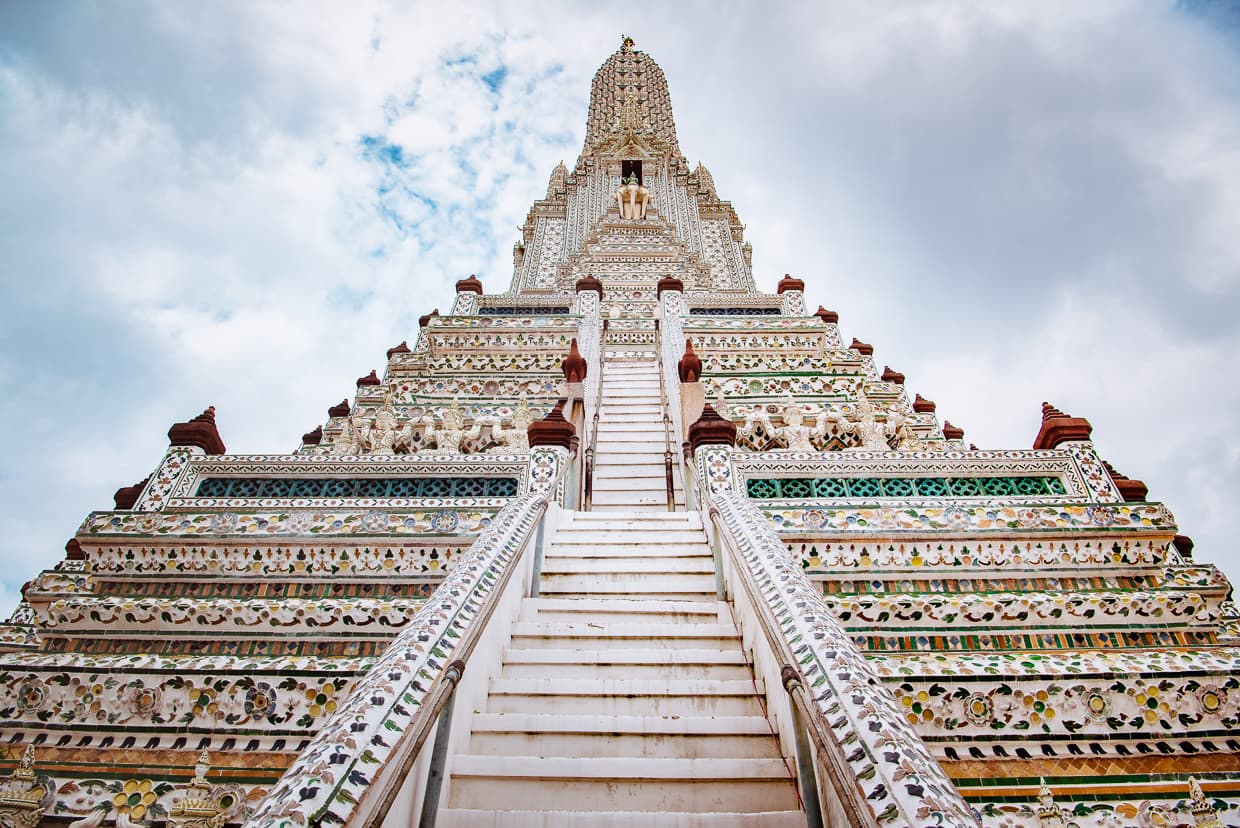 Anyway, the stairs are a cool place to take photos. I got a lot of great shots of Dannie and Lisa climbing up and down the stairs as they explored together, and even though I couldn't climb to the top level, it's easy to get a good shot of the higher stairs rising up above you from the first level.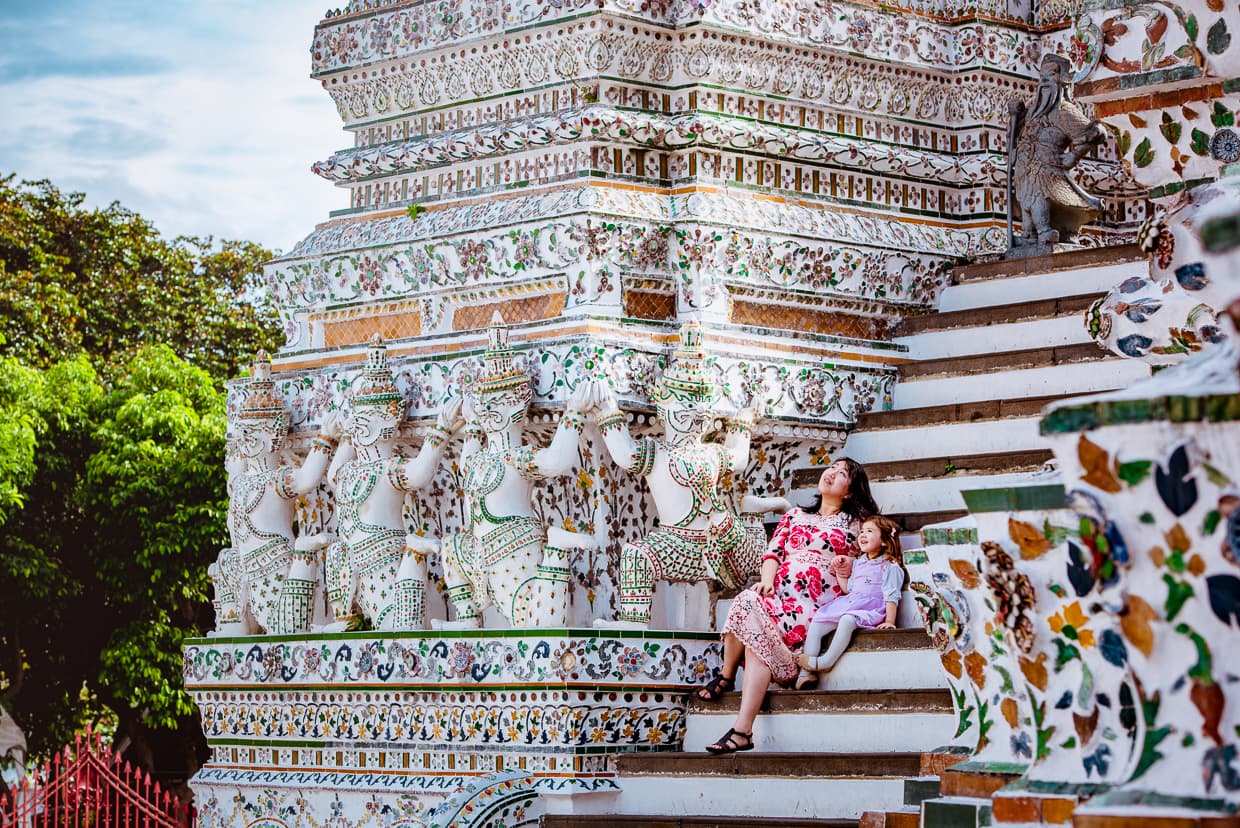 Try experimenting with the pyramid walls as a foreground to add context. Wat Arun has lots of colorful and intricate designs on the walls that add visual detail to your photos.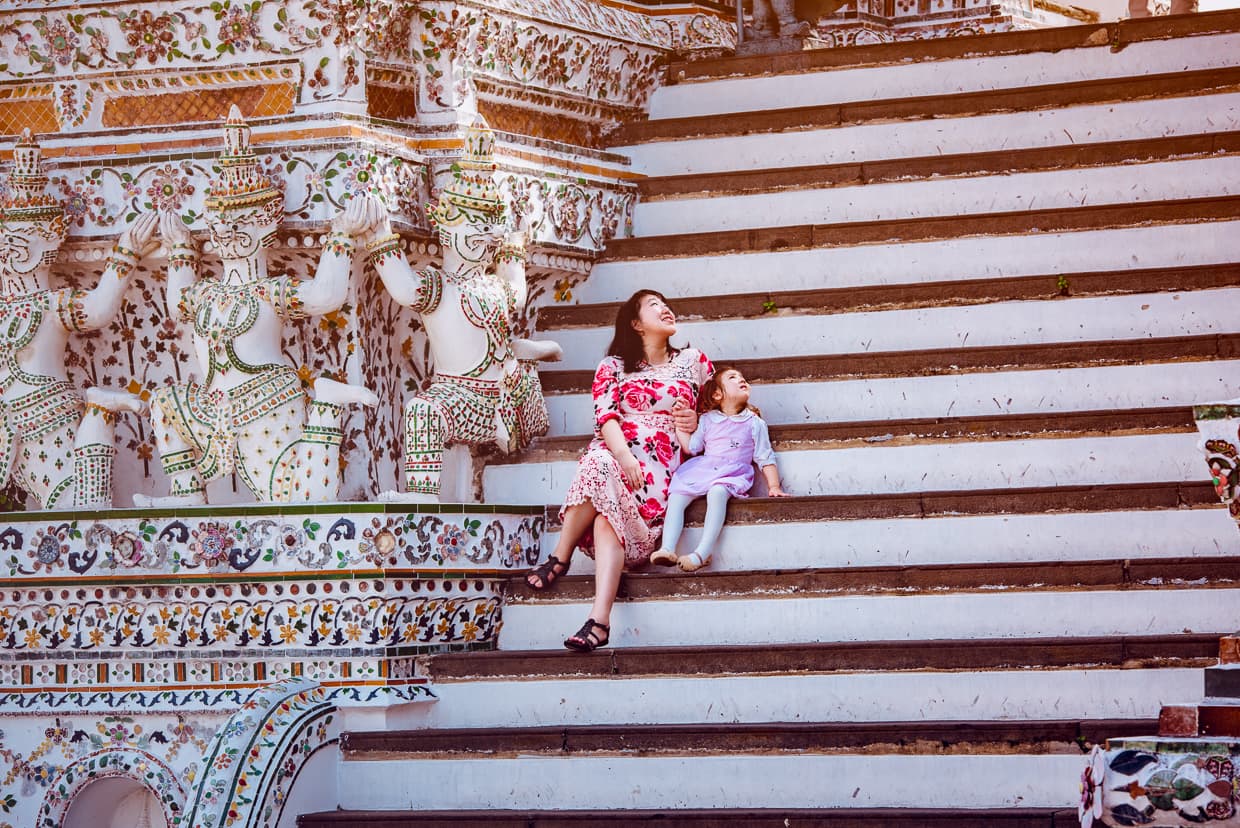 The Gardens
All throughout the Wat Arun temple complex there are lawns and gardens for you to explore and photograph. We actually got a little lost in them when we accidentally came out of the back gate instead of the front gate where we entered.
The Ordination Hall
Before you get to the entrance to the pyramid portion of Wat Arun, you will pass by a path on the right that takes you to the Ordination Hall, a beautiful building with glittering white columns and a classic Thai temple roof.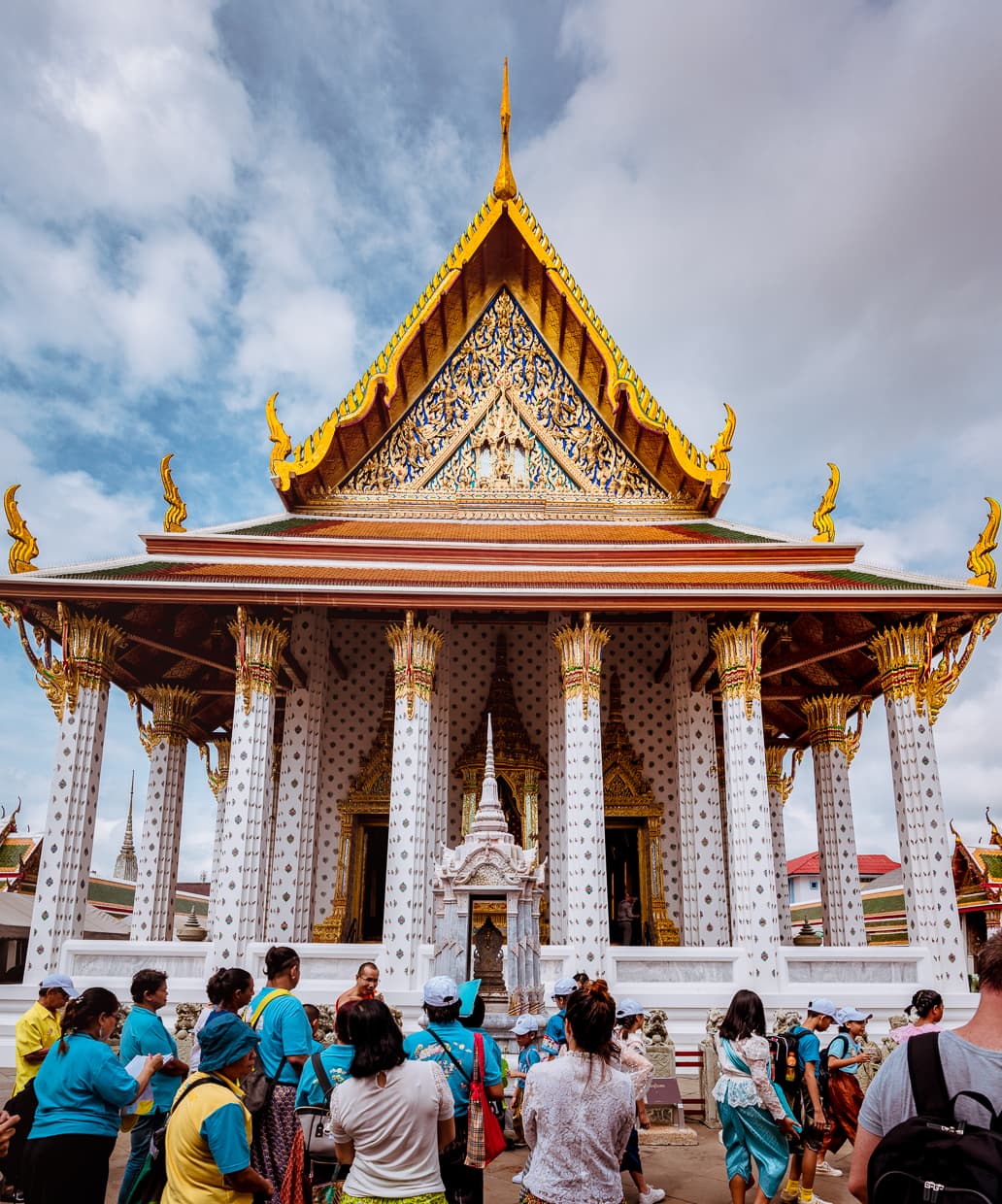 Inside the Ordination hall is a beautiful shine where Buddhists and other visitors stop to worship in front of a golden Buddha statue.
Outside the Ordination Hall is a courtyard full of sculptures and surrounded by a shaded walkway with beautiful artwork.
Statues
As in most Thai temples, Wat Arun is littered with statues, murals and other works of art. Some of the first statues you will see are big colorful guards near the front of the ordination hall.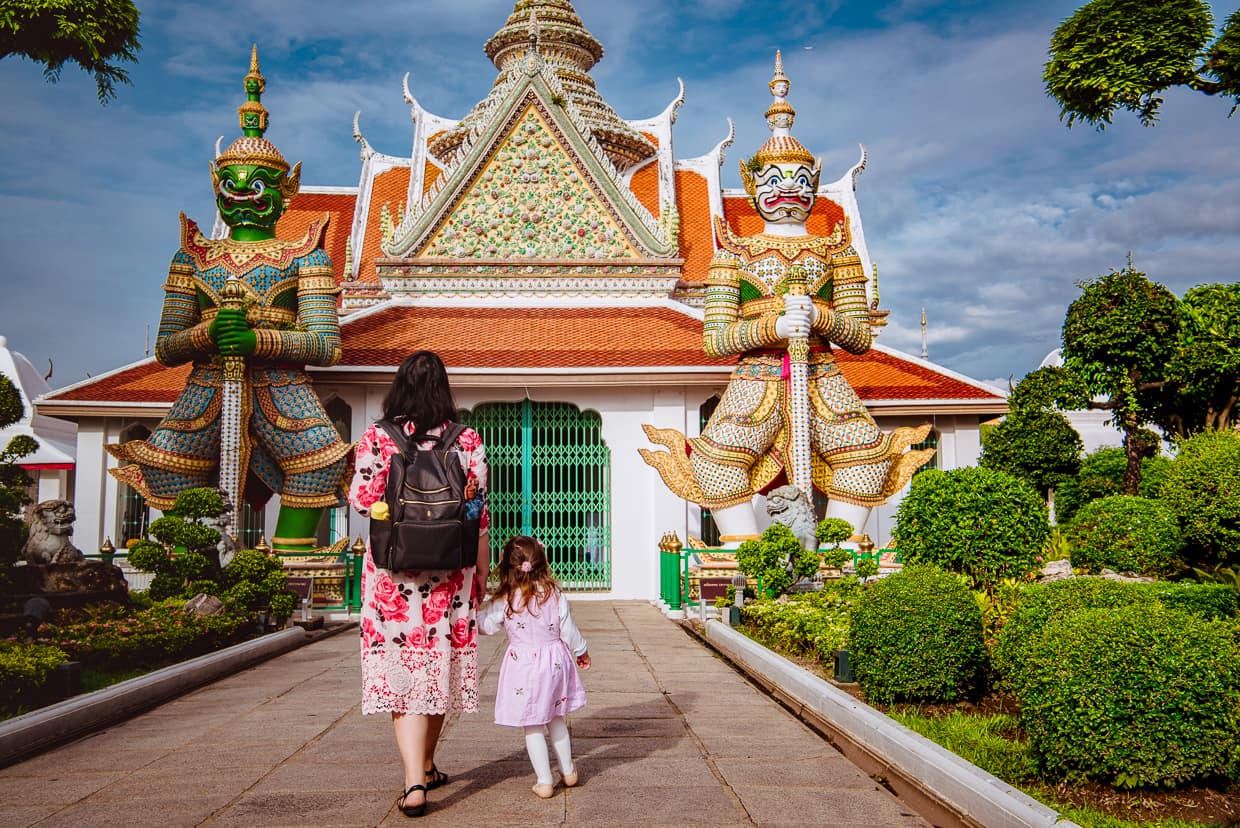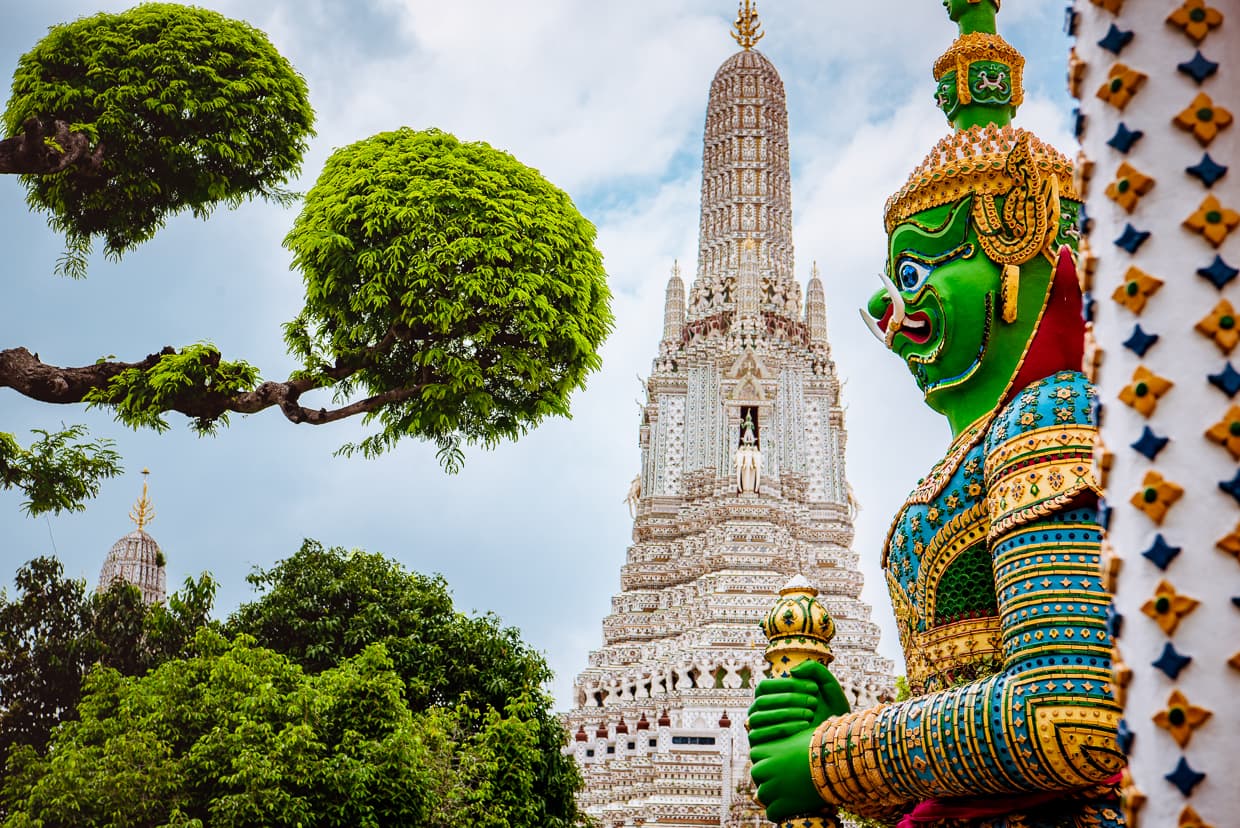 If you visit the ordination hall, you'll see that the courtyard is absolutely packed with stone sculptures, and of course the Buddha within is quite a sight.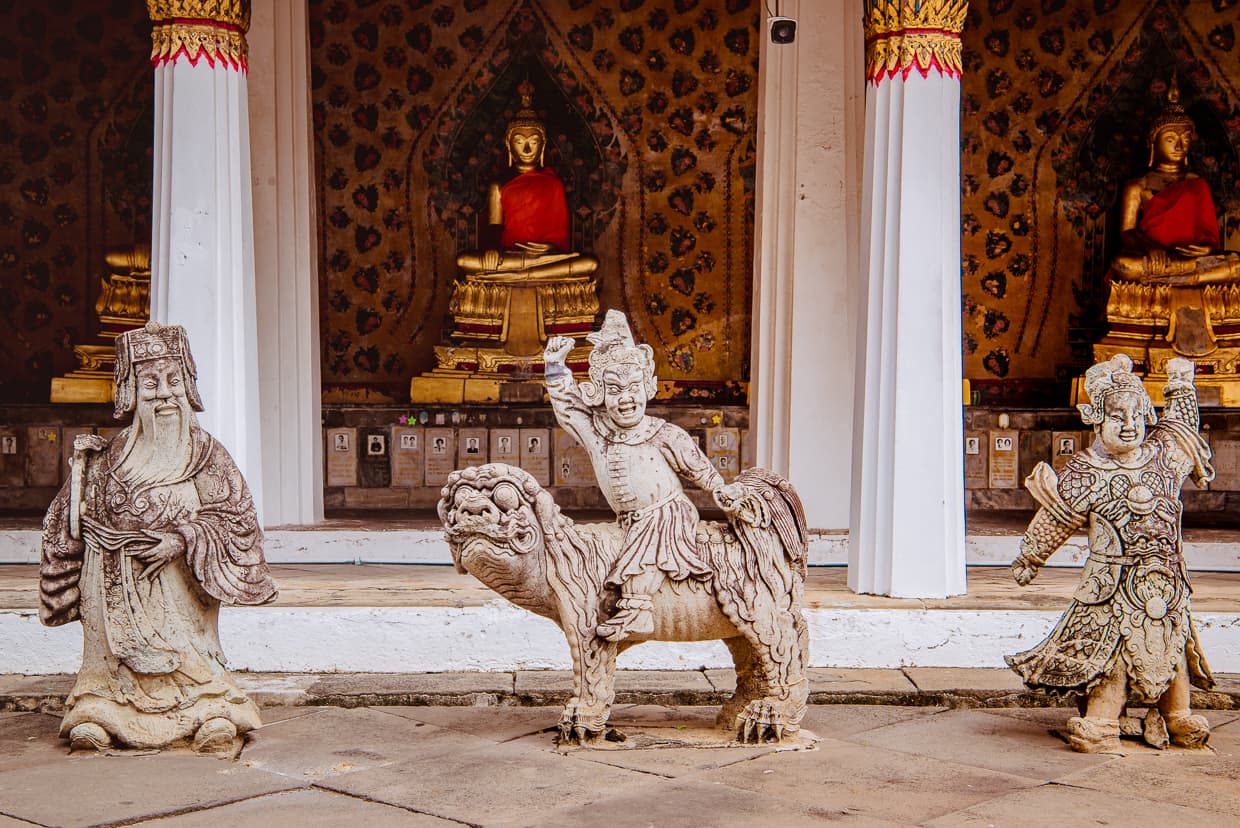 Throughout the gardens you will spot other statues of various material, either standing alone, carved into walls, or looking down from rooftops.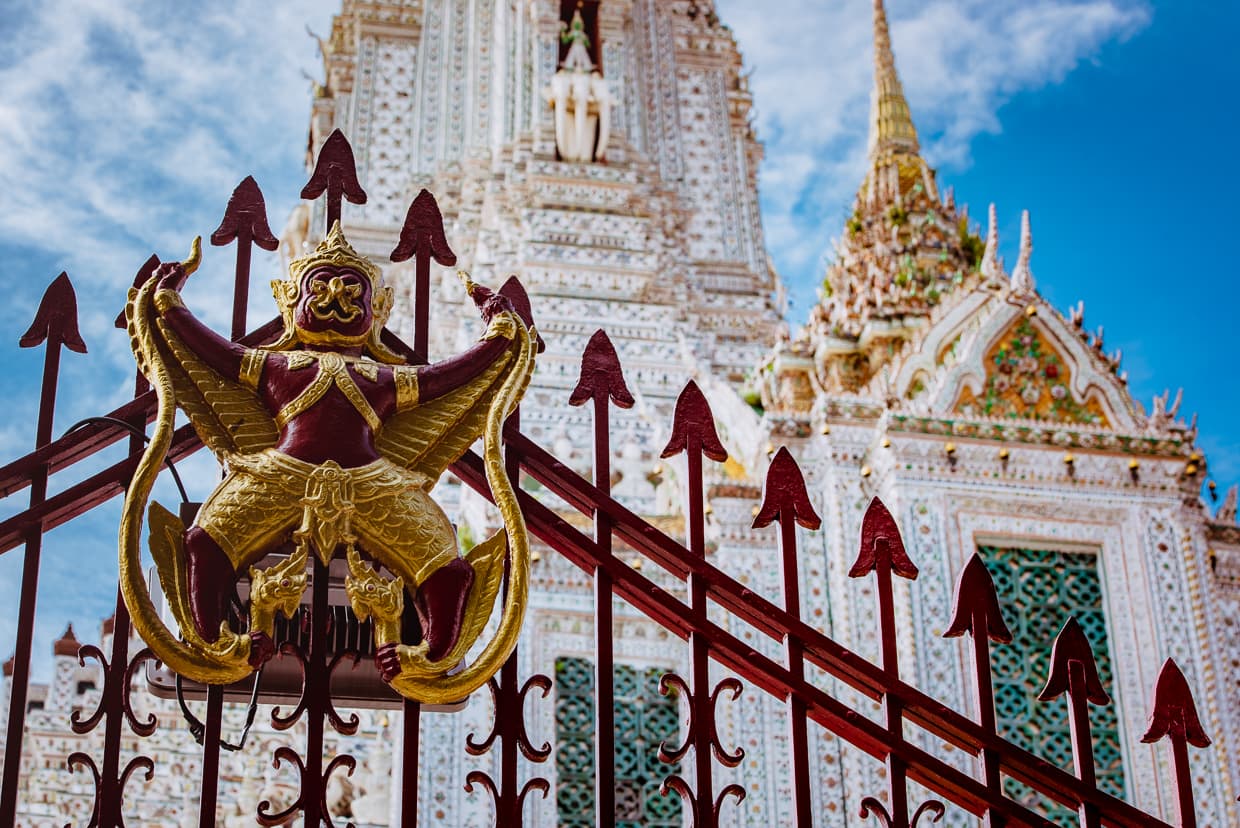 Once you've bought your ticket and entered the area with the pyramid, the statue density will skyrocket. If you look closely enough, you'll see that the pyramid itself is decked out in intricate sculptures. There are small alcoves all throughout that house beautiful shrines and images of the Buddha.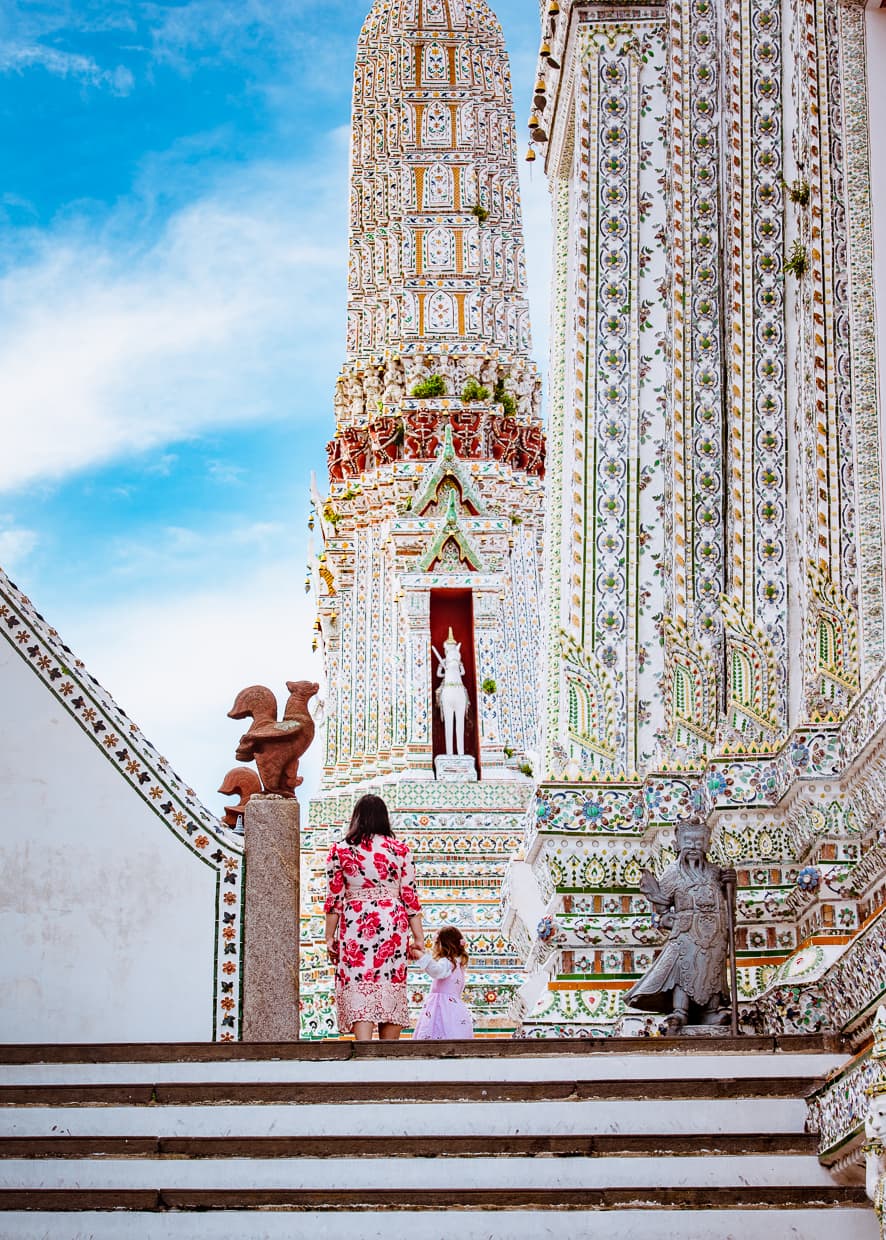 Yourselves
There are plenty of places in Wat Arun to grab a selfie or a family photo. A lot of people like taking photos on the walkways that surround the first level of the pyramid, since there are lots of little nooks where you can stand between decorative stone posts. I also liked getting a shot of Dannie and Lisa on that walkway, peeking down at me while they waited for me to climb up and join them.
If you're struggling with the lighting because the midday sun is too harsh, look for open shade under a tree (you can learn how to use "open shade" and many other techniques in my e-book, Easy Manual Mode Photography) or in the sheltered walkways that surround the Ordination Hall.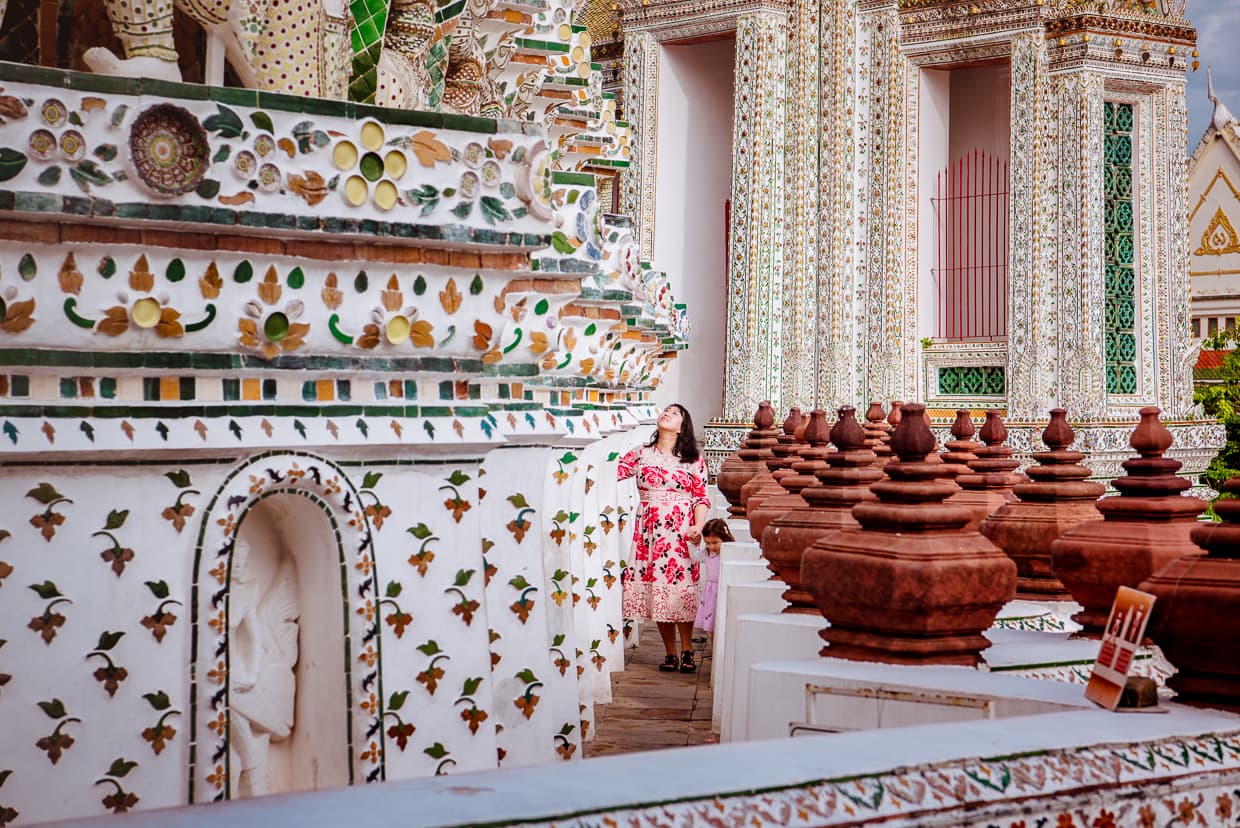 If you really want to, you can also rent traditional clothing for a more costumed photo shoot. We opted not to, but I could see how some people would enjoy it.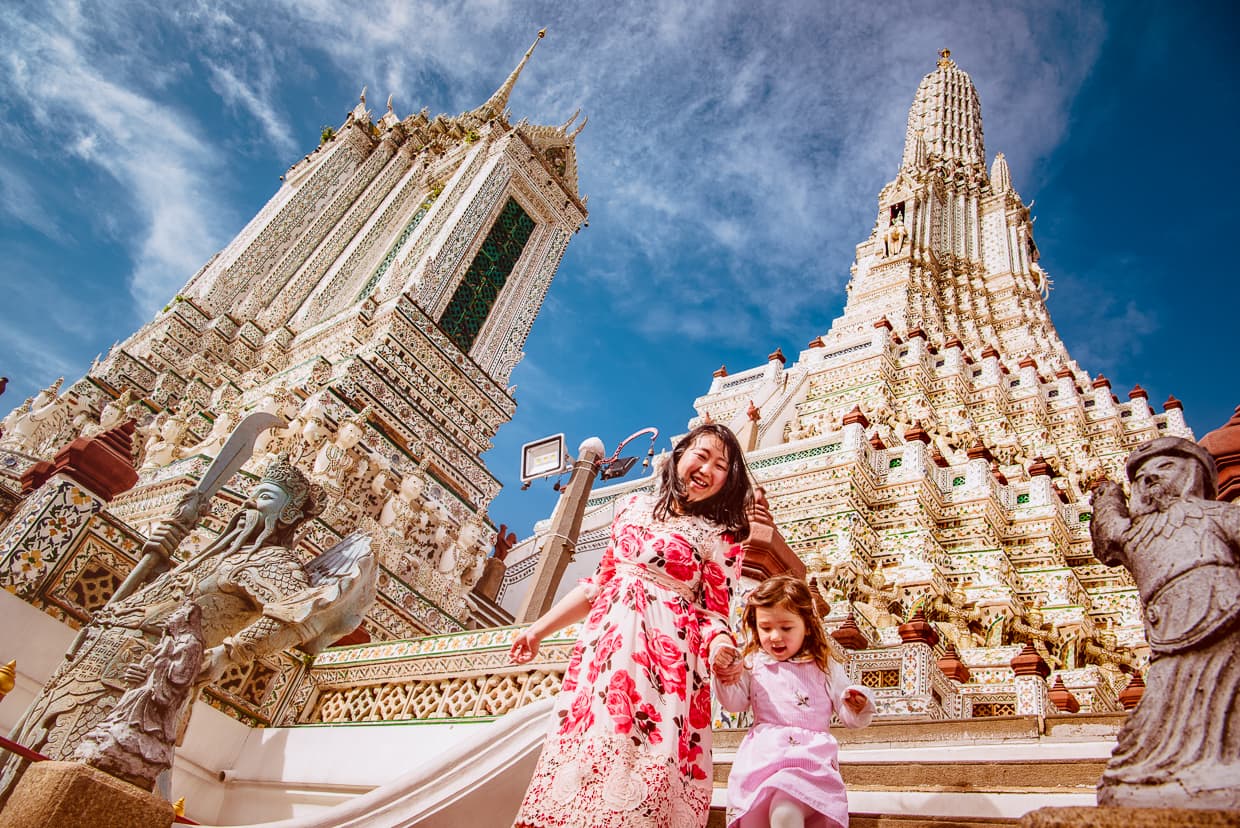 How to Enjoy Your Visit to Wat Arun
Be Respectful!
The first step to enjoying yourself is to avoid getting kicked out, blocked from entry, or just glared at. Wat Arun, like pretty much all of the temples in Bangkok, is an active place of worship, so you have to follow the rules.
Wear appropriate clothing that won't violate the rules. For ladies, shoulders and legs should be covered, and there shouldn't be any cleavage. For men, wear long pants and at least a tee-shirt. Avoid clothing with disrespectful images or slogans. You'll see lots of signs pointing out that "Buddha is not a decoration," so don't use him as one. Also, no swears, or suggestive words, and no pictures of sexy stuff or drugs.
Be quiet and peaceful. No shouting or running and jumping, especially in places where people pray, like in the Ordination Hall.
Make way for monks. You're in their space, so let them pass (maybe with a little bow), and if they enter a building to pray, make a discrete exit.
Don't step on doorsteps. Step over them.
Take your shoes off when you enter the temple. You can keep them on in the pyramid area.
Don't point the bottoms of your feet at people or at images of the Buddha. If you kneel inside the Ordination hall, try your best to sit on your own feet, or just watch to see how locals are doing it.
Take photos with courtesy. Don't shove your camera into a monk's face, no matter how good he'd look in your photo album. If a monk winds up in your image incidentally, that's probably fine as long as you aren't disturbing them or following them around. Also, no pictures of them while they are praying.
Don't point. Pointing is considered rude in Thailand (even outside of temples). It's better to gesture with your head, or with an open hand if absolutely necessary.
Use common sense. If something feels rude, don't do it.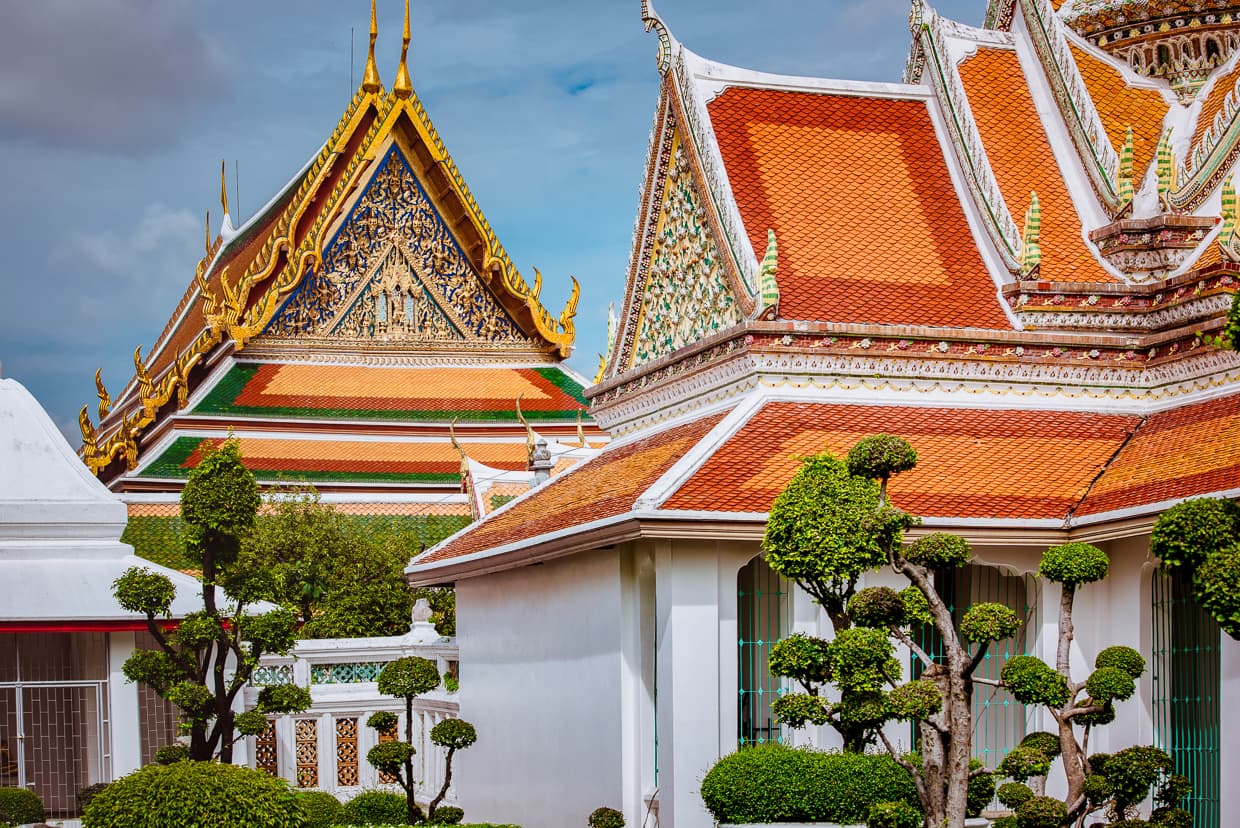 Pack Your Bag
Here are some things you can bring with you that will either enhance your experience or save you time, energy or money. By the way, that attractive backpack Dannie is carrying in some of the photos is actually our diaper bag, you can read or review of the Idaho Jones Gallivant Baby Changing Diaper Backpack, or just go buy one.
Water - Bangkok. Sunshine. Hot. Water good. Yes, you can buy one there, but carrying a water bottle around with you in Bangkok is just best practice.
Snacks - You can either carry a snack with you or buy one from one of the stands outside the temple. When I was scouting, I forgot to pack both water and food, and I wound up buying an entire pineapple and eating the whole thing in about five minutes.
Sunblock - Sunburns hurt and they look bad in photos. Plus, cancer's no good. Apply (and reapply) a good sunblock that's at least SPF 50 to protect yourself and your family. We use this baby friendly option, even though none of us is technically a baby anymore.
Camera Gear - You're readings "photographer's guide," so you were already probably planning on bringing some kind of camera. We brought our Nikon D810 and our two favorite lenses, a 24-70mm and a 70-200mm. If you have a wider angle option, that might come in handy when you are up close and personal with these beautiful buildings, but don't underestimate the value of a nice long zoom lens. I even wrote another post about how to get creative travel photos with a zoom lens.
Small Bills - Like I mentioned earlier, those thousand baht notes are a bit of a burden.
Respectful Clothing - Cover up your naughty bits. If you skipped the part above about being respectful, go read it now.
Easily Removable Shoes (With Socks) - You are expected to remove your shoes when entering some places (there will be a sign). If you wear shoes that are easy to get on and off, and wear socks underneath, you will save time and avoid walking around barefoot.
A Baby Carrier - Does this place look stroller friendly to you? Bangkok isn't bad for strollers overall, and we got good use out of our BabyZen Yoyo (read our review) while we were there, but when it's time to get on the boat, go over those high doorsteps, and climb the stone stairs, your going to have to wake your little one up. If Wat Arun is just part of your day of exploration, then you can probably just step away from the stroller once in a while when you need to, but consider a chest carrier like our ErgoBaby Omni 360 (read our review).
Dramamine - Do you get seasick? You might want to bring along a dramamine tablet or two for the ferry ride. It's not a long ride, but if you have a weak stomach and there is a lot of boat traffic on the river… well, you know.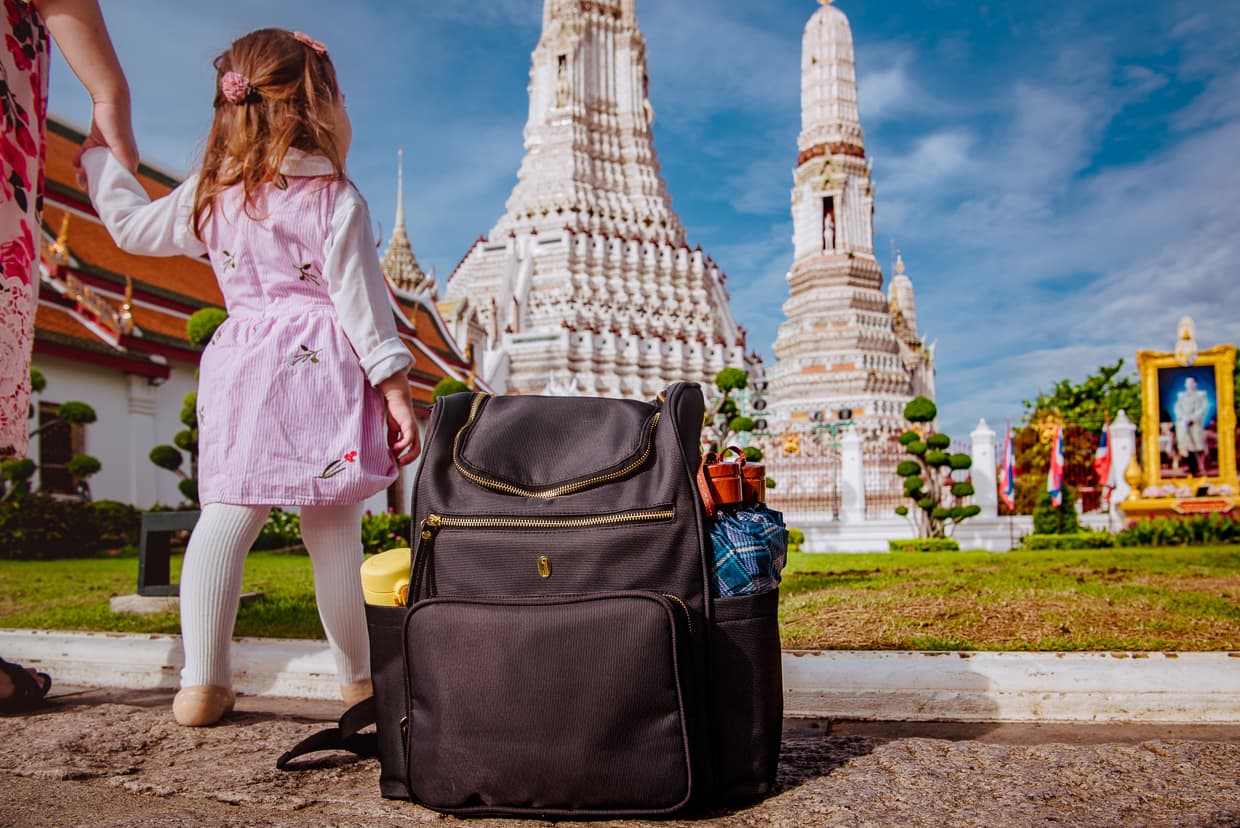 Buy a Souvenir
Or don't. It's all the same stuff you'll find elsewhere in Bangkok.
Know Where the Toilet Is
If you go to the far south end of the Wat Arun Complex, there's a bathroom behind the pyramid area (but outside the wall, so you don't need a ticket). There is no mandatory fee to use the toilet, but there is a donation box for anyone who wants to help them maintain it. The toilets in Thailand aren't beautiful, but they're better than what you'll find in China.
Know Thyself
Are you afraid of heights? Then climbing up those very steep stairs might be a bad idea. Do you hate boats? You might want to pay a little extra and take a Grab or a Taxi. Is this even the kind of thing you and your family enjoy?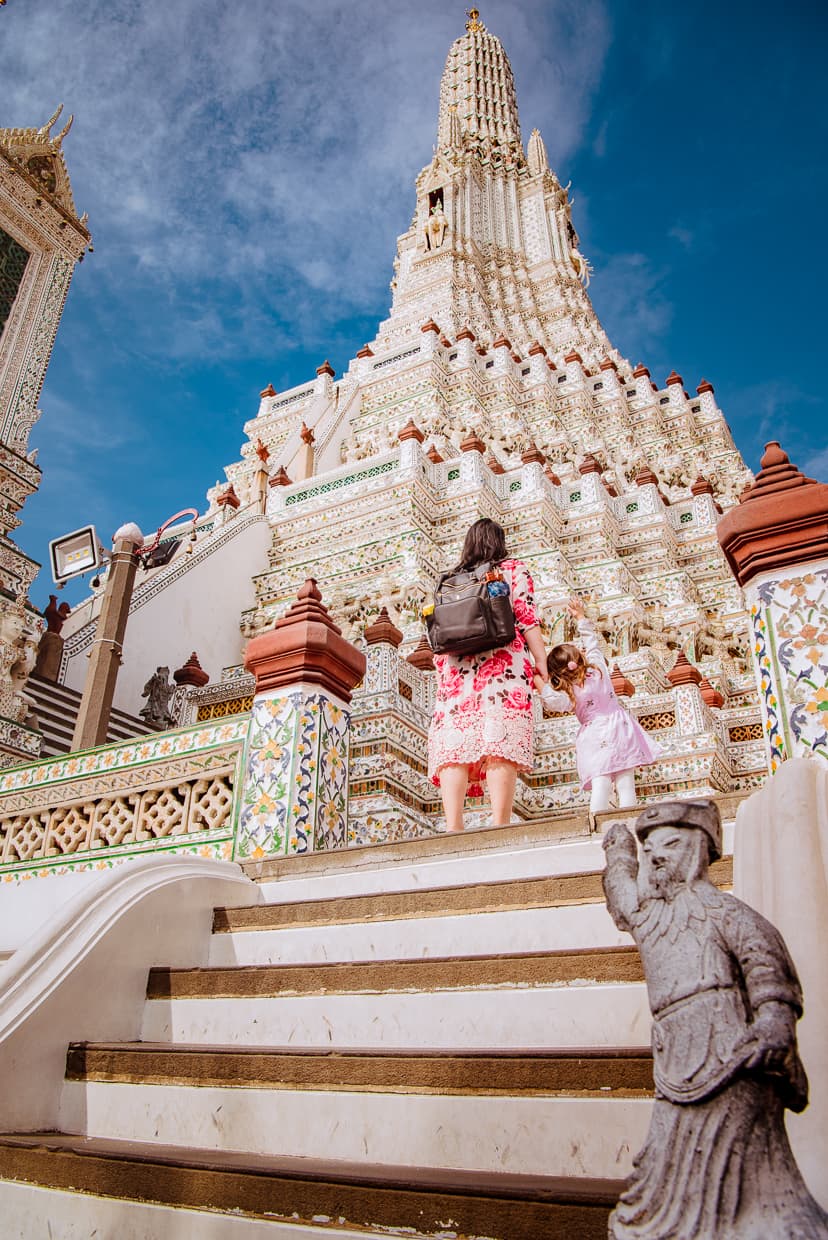 We loved our visit to Wat Arun, but not everyone travels like we do. Plan your trip accordingly.
Achieve Enlightenment
What better place than a Buddhist temple to spend some time reflecting, clearing your mind, and working toward a more peaceful state. Obviously the eternal bliss of enlightenment will take more than a couple of hours of mindfulness practice (probably!), but your visit doesn't have to be totally superficial. Temples have a purpose, and there's nothing - outside your own mind - stopping you from putting them to good use.
When we were in Taiwan, we spent four nights at a Buddhist monastery, and though it was definitely calming and enjoyable, we still didn't achieve enlightenment. Maybe it takes five nights.
Conclusion
Wat Arun is a beautiful site in a city full of beautiful sites. Yes, it's a little out of the way, but Bangkok's tourism industry has made it incredibly easy to get there and back without wasting much time or money. There are lot's of other amazing temples, but this one is special, and none of the usual excuses or challenges should keep you from visiting.
If you found this article helpful, we have many other pieces about Bangkok, Thailand you might enjoy. You can also check our destination page to see if we've been to any of the other cities you plan on visiting during your future adventures. And finally, if you like reading all this free content, you can help support us by visiting our shop or our resource page before your next trip, by commenting and asking questions below, or by signing up for our newsletter. Thanks for reading, and happy travels.