What is Fo Guang Shan Monastery in Kaohsiung, Taiwan?
Fo Guang Shan Monastery is the headquarters of a Chinese Buddhism movement of the same name. Unlike most other branches of Chinese Buddhism, the Fo Guang Shan movement has fully embraced modernism, and this difference has made their monastery (if you can even call it that) a truly unique place. Just outside Kaohsiung, it is the largest Buddhist complex in Taiwan, and Fo Guang Shan is by far the most open and welcoming religious facility that Dannie and I have ever visited.
We spent four nights at the Fo Guang Shan monastery, and it was one of the most interesting experiences we've had in our travels. Whether you are traveling alone or with family, it is the perfect place for a day (or days) of sightseeing, peace and cultural exploration. It's also an amazing place to catch some fireworks during Chinese New Year.
By the way, this article contains affiliate links. If you click on one and make a purchase, we will earn a small commission at no extra cost to you. These commissions help fund our travels and this website. 
Why We Visited Fo Guang Shan Monastery
Once we had decided to spend the month of February in Taiwan, we just had to decide where exactly we wanted to go, and what exactly we wanted to do. In northern Taiwan, February is the rainy season - as confirmed by out stay in Jiufen - so we knew we wanted to make our way south. As photographers, we were a little torn between the east coast (nature and landscapes) and the west coast (cities and architecture). But eventually, Fo Guang Shan and the city of Kaohsiung won us over.
First, we didn't want to rent a car, so we had to stay somewhere with good public transportation. Second, as we were looking through online photos of Kaohsiung, we noticed that a lot of the really cool looking stuff was concentrated in a small area. We love it when that happens, and when we are choosing our destinations, we try to find a place where we can do a very thorough job of photographing a particular site.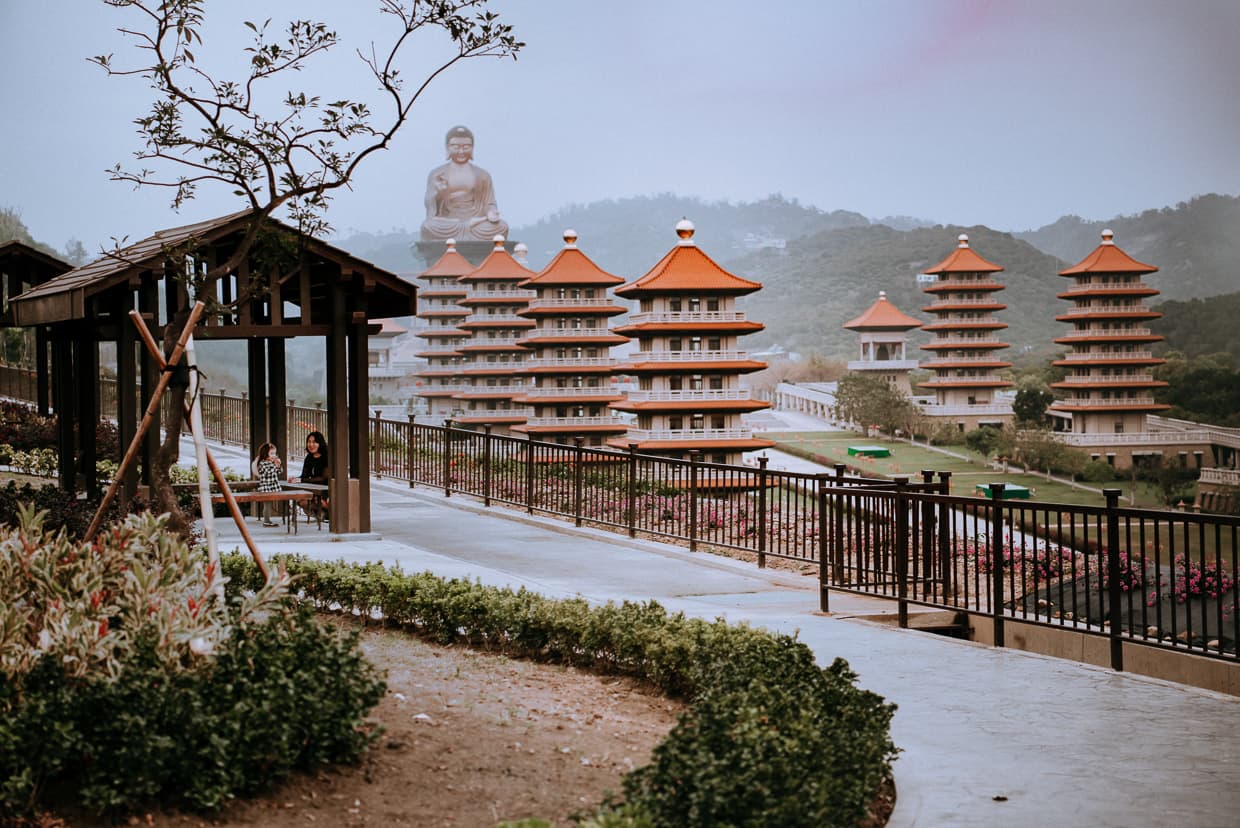 And finally, the Fo Guang Shan branch of Buddhism has strong ties to the branch that my mother-in-law practices. Dannie's mother was traveling with us to Taiwan, and we knew she'd be excited to visit the headquarters. Indeed she was. In reality, we were all kind of looking forward to it. Bhuddism has had a strong influence on Dannie's life as well, I'm not a Buddhist, but Buddhist philosophy jives well with my own. Photography aside, we were all looking forward to spending a few days working on our peace of mind.
Long story short; we spent two weeks in Kaohsiung, and went so far as to spend four nights at the Buddhist monastery at Fo Guang Shan.
Booking Our Visit to Fo Guang Shan Monastery
Gathering Information
Before we booked our stay, we wanted to make sure that we knew what we were getting into. We first traveled to Kaohsiung from Taipei, having already booked an Airbnb for the entirety of our stay (For the specific listing, read Every Airbnb We've Ever Stayed At. Also read Airbnb Tips for Slow Travel). There was plenty of other stuff for us to enjoy in Kaohsiung, but a few days into our stay we made trip to Fo Guang Shan, just to check it out.
In addition to scouting for our photography, we also made sure that the place was child friendly (was it ever), and that it would be easy enough for us to find food, lodging and perhaps most importantly, internet access. Everything checked out just fine. We also made sure we had the right phone number, so that we could call and reserve a room once we knew exactly what days we wanted for our visit.
Making Reservations at Fo Guang Shan Monastery
Here's the phone number to make reservations at Fo Guang Shan in Kaohsiung, Taiwan:
+886 7 656 1921
Update: November, 2017 - The best way time to call for an English speaker is after 14:00 Taiwan time. When you hear the recorded message, dial extension 8100 and you will be connected.
Happily for western travelers, the receptionist (extension 8100 during the Chinese recorded message) speaks English. Communicating in Mandarin would have been easy enough for Dannie, but she chose to make our reservations in English because 1) we wanted to know if we could recommend the place to English speaking travelers, and 2) we wanted them to know that we weren't locals so they would give us any extra information foreigners might need.
Even though we were traveling during the Chinese New Year - it's kind of a big deal in Asia - they had room for us. Most of the rooms at Fo Guang Shan are dormitory style, which means you'll be sharing a room with strangers, but we were able to book a family room. The family room had four beds, just enough for Dannie, Lisa, my my mother-in-law and me.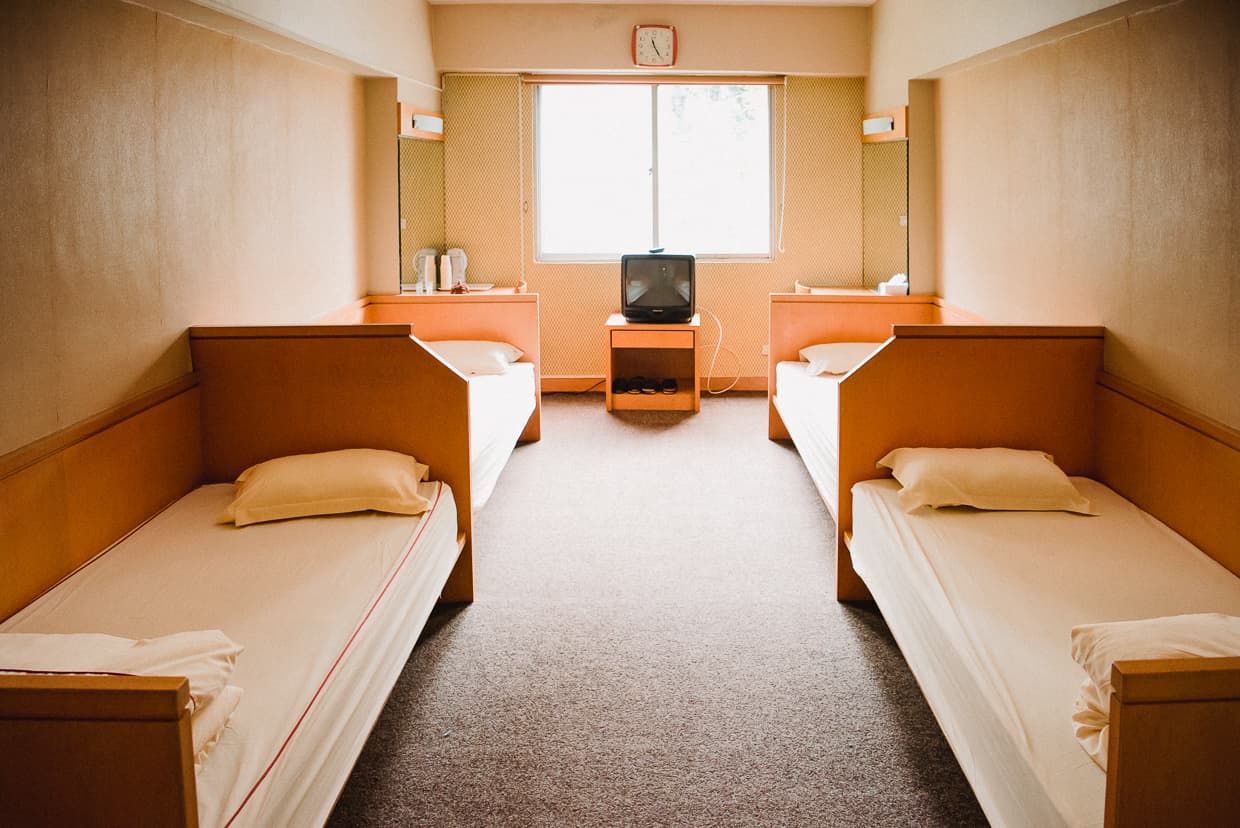 Getting to Fo Guang Shan From Kaohsiung, Taiwan
Fo Guang Shan is quite a distance from the city center of Kaohsiung. It's too far to walk, too expensive to take a taxi, and there is no train station there. That leaves buses. Luckily, getting to Fo Guang Shan by bus is pretty easy. We decided to hop on the MRT to Xin Zuoying Station (the Taiwan High Speed Rail Station) to catch the Harvard Express Bus (see below).
Note that Xin Zuoying Station is listed as Zuoying on the MRT maps, but if you just type Zuoying into Google Maps, it will take you to the wrong place, so use the link above or type in Xin Zuoying Station. From there we took the Harvard Express Bus to Fo Guang Shan. It's a direct route with no other stops to confuse tourists. Here is the timetable for the Harvard Express, and here is the timetable for the   8501, another bus that leaves from Xin Zuoying.
For more routes and up to date information, head to the Fo Guang Shan Buddha Museum's website.
When the bus arrives at Fo Guang Shan, there are two stops. Most people get off at the first stop, right in front of the main entrance. That's what we did the first day. But when we went there with our luggage for our little retreat, we went to the second stop which is actually closer to the dormitory. Unfortunately, the bus doesn't go to the top of the hill where the dormitories are.
Buddhism at Fo Guang Shan
From 1997 to 2000, Fo Guang Shan was closed to the general public in order to create a more cloistered atmosphere for the practicing monks. But these days the mountain is beyond welcoming. Fo Guang Shan is still a place where many monks and volunteers work toward enlightenment, but it also serves as a place of public education. Great efforts are made to create an environment that will give the layperson an introduction (but not indoctrination) to the world of Buddhism. Head over to wikipedia to read more about the history of Fo Guang Shan.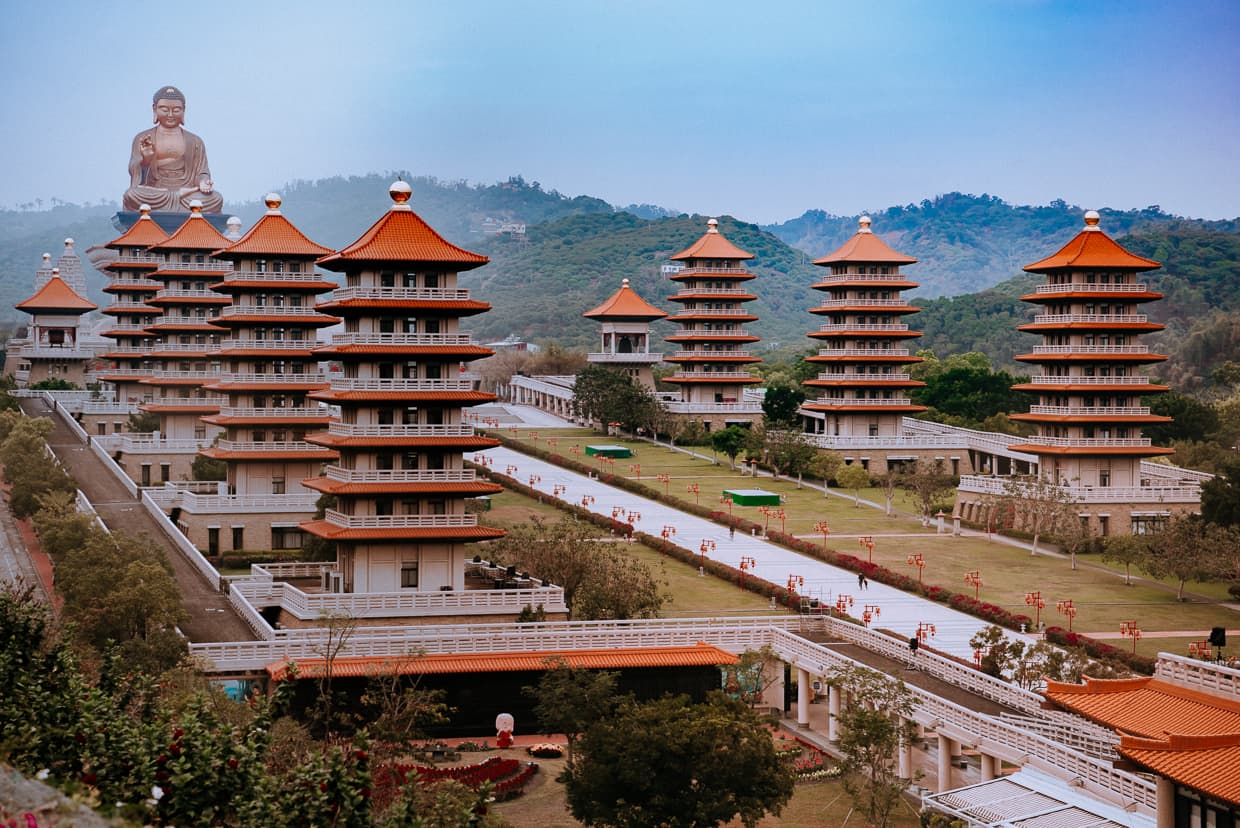 As we explored Fo Guang Shan, alongside many Taiwanese and Chinese visitors, we were struck by how different the experience was from Buddhist temples in China. Outwardly, there were both similarities (an abundance of Buddha statues, monks walking the streets, the smell of incense) and dissimilarities (the absence of vendors, more modern architecture, high-tech media displays). The overall feel was distinctly Buddhist, yet refreshingly timely.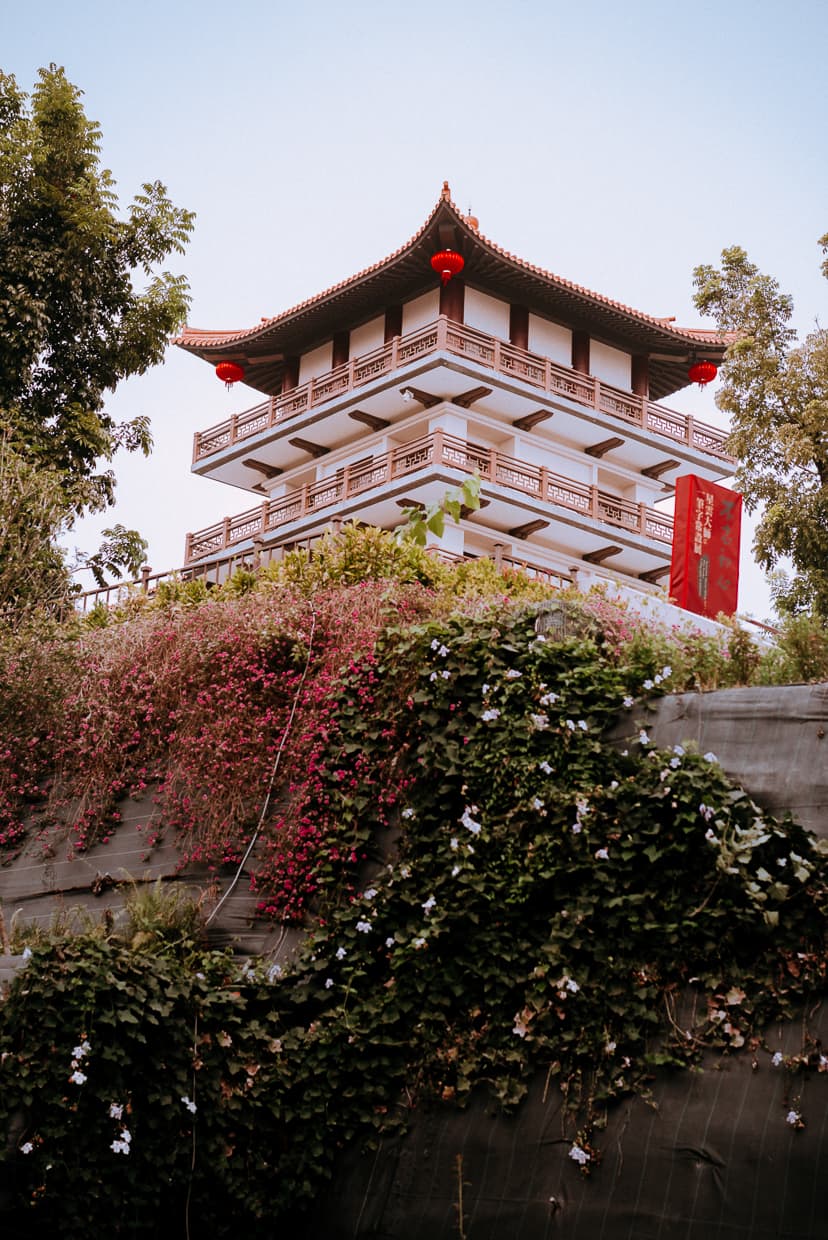 Humanistic Buddhism
The Fo Guang Shan movement practices what is known as Humanistic Buddhism. It differentiates itself from more traditional buddhism in a few ways. For one thing, it prioritizes spirituality in everyday life, as opposed to ritual. It also makes a point of focusing on the living over the dead, even at funerals. The result is that many find it to be more accessible than some other forms of Chinese Buddhism.
In their efforts to reach out to a modern world, Fo Guang Shan has really embraced modern technology and culture in a way that many Buddhist organizations aren't comfortable with. This has big upsides and a few downsides. On the one hand, we learned a lot more while we were there than we would have otherwise. Multimedia displays, holographic exhibits, and even a special app make learning a lot more accessible than shelves full of dusty books. On the other hand, it was a little weird seeing popular cartoon characters in the parade just a few floats away from the Buddha float. Whatever works I guess.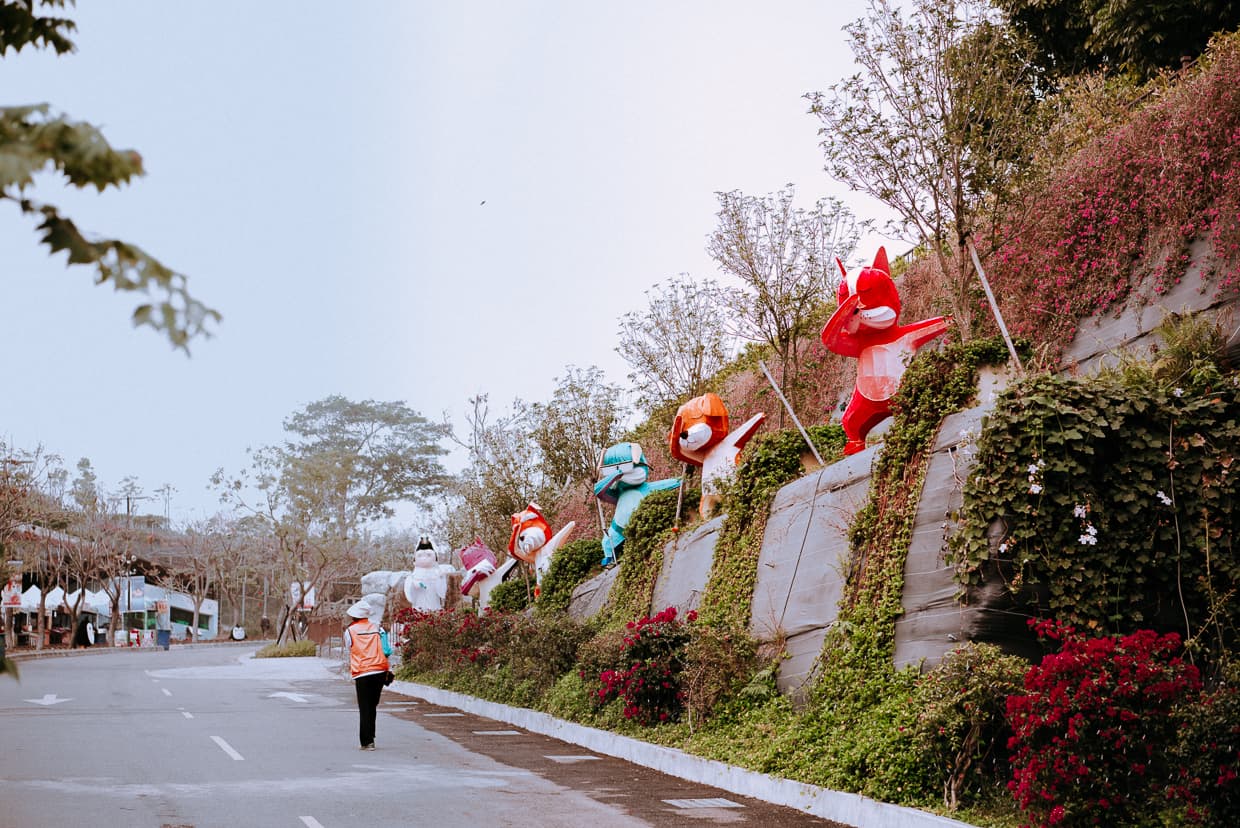 Etiquette for Guests
The monks, volunteers and staff at Fo Guang Shan are quite used to visitors and they are polite and tolerant of indiscretions. That being said, you can still do your best to be respectful and kind.
Photography - Photography for personal use is most definitely allowed at Fo Guang Shan. However, as always there are caveats. Some areas, inside temples and other places of worship, there are signs indicating that photography is not permitted. You wouldn't want someone taking your photo while you were praying either. Even in areas where photography is allowed, use common sense. Monks may look cool in their colorful robes, but it's unlikely they want cameras shoved in their faces while they are trying to go about their business. If they happen to be walking by while you photograph the architecture, they will understand.
Quiet - If you happen to be in an area where people are praying or chanting, be as quiet as possible. Lisa made some loud noises at a few inopportune moments, and everyone was very understanding, but that didn't make it much less embarrassing.
Bow - If you pass monks at Fo Guang Shan - or any Buddhist temple for that matter - it is polite to bow. Just a little dip of the head and shoulders in acknowledgment is fine.
Dress Code - The dress code there seems to be pretty liberal. We saw a lot of teeshirts. We were there during the lunar new year, so the place was crowded and maybe a little less controlled than usual. We even saw a couple short skirts. That being said, I'm sure that they would prefer it if you dressed a little more conservatively. You should cover your shoulders and as much leg as is convenient, even if you could probably get away with less.
Donations - Entrance to Fo Guang Shan is free, but you will have many opportunities to drop some change in a donation box. Do so liberally. No one will ever pressure you to make a donation - they probably won't even mention out loud that you have the option - but those boxes help support the facility you are enjoying, along with a lot of good work in Taiwan, China and around the world.
Listen - We were asked politely to get Lisa off the grass once. Pay attention to signs and the words of those who live and work at Fo Guang Shan. Remember, you're in their house and you should follow their rules.
What to Do at Fo Guang Shan
The Buddha Museum
The Buddha Museum is really beautiful and it's one of the most child friendly museums we've visited (various children's museums excluded, of course). After passing through the front hall, you will find a long walkway lined with tall pagodas, with the Big Buddha Statue (that's its official name), omnipresent in the background. Step inside the pagodas, as some of them contain interesting exhibits or functions. One had children's activities that Lisa really enjoyed.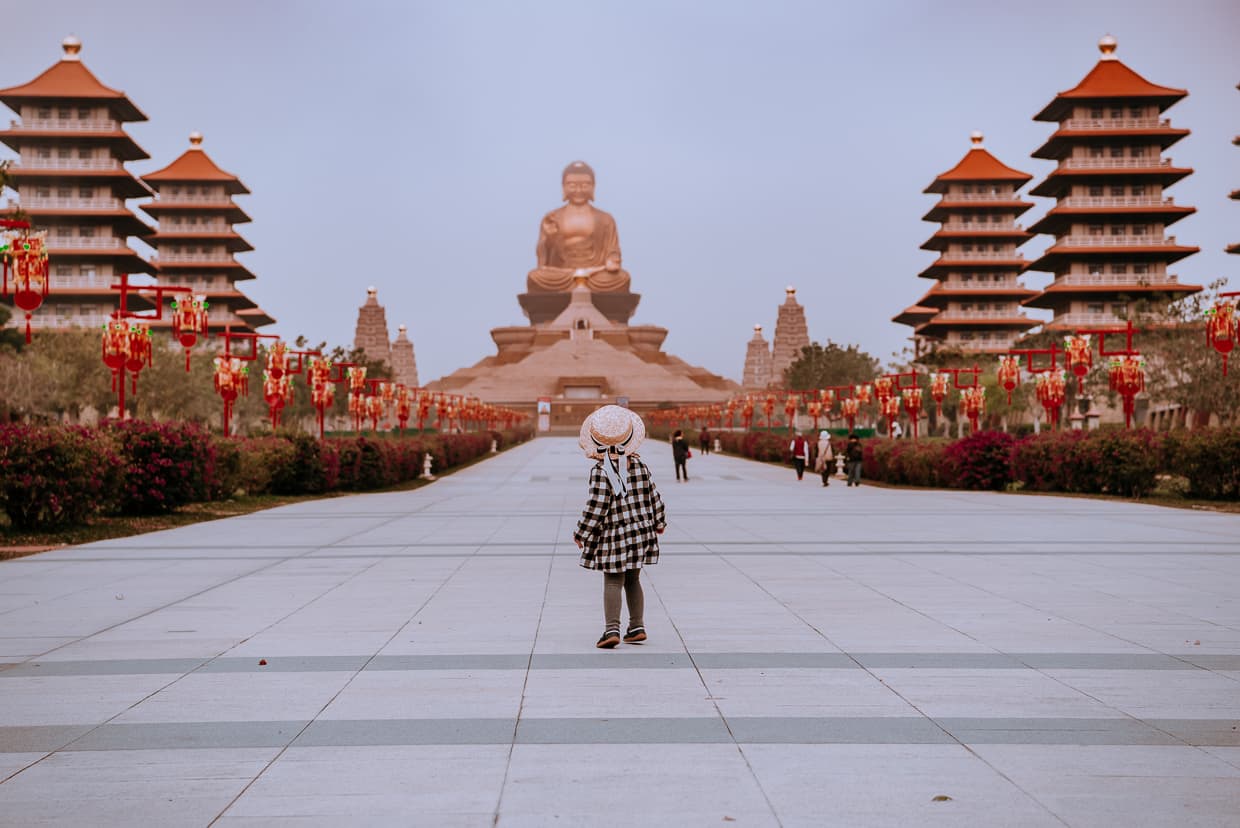 The walls of this walkway are lined in one part with the names of everyone who's donations made the facility possible. In another part, the walls are decorated with beautiful murals of Buddhist fables. As you come to the end of this area, you will find the entrance to the main pyramid of the Buddhist museum. One of the criticisms of Fo Guang Shan by other Buddhist sects is that they spend to much on spectacle and architecture. They may have a point.
As you enter, the first thing you will see an amazing wood carving with what must be hundreds of figurines on a landscape carved from a single piece of wood. Inside are several beautiful shrines, educational experiences (think movies, hands on activities and more), and a food court.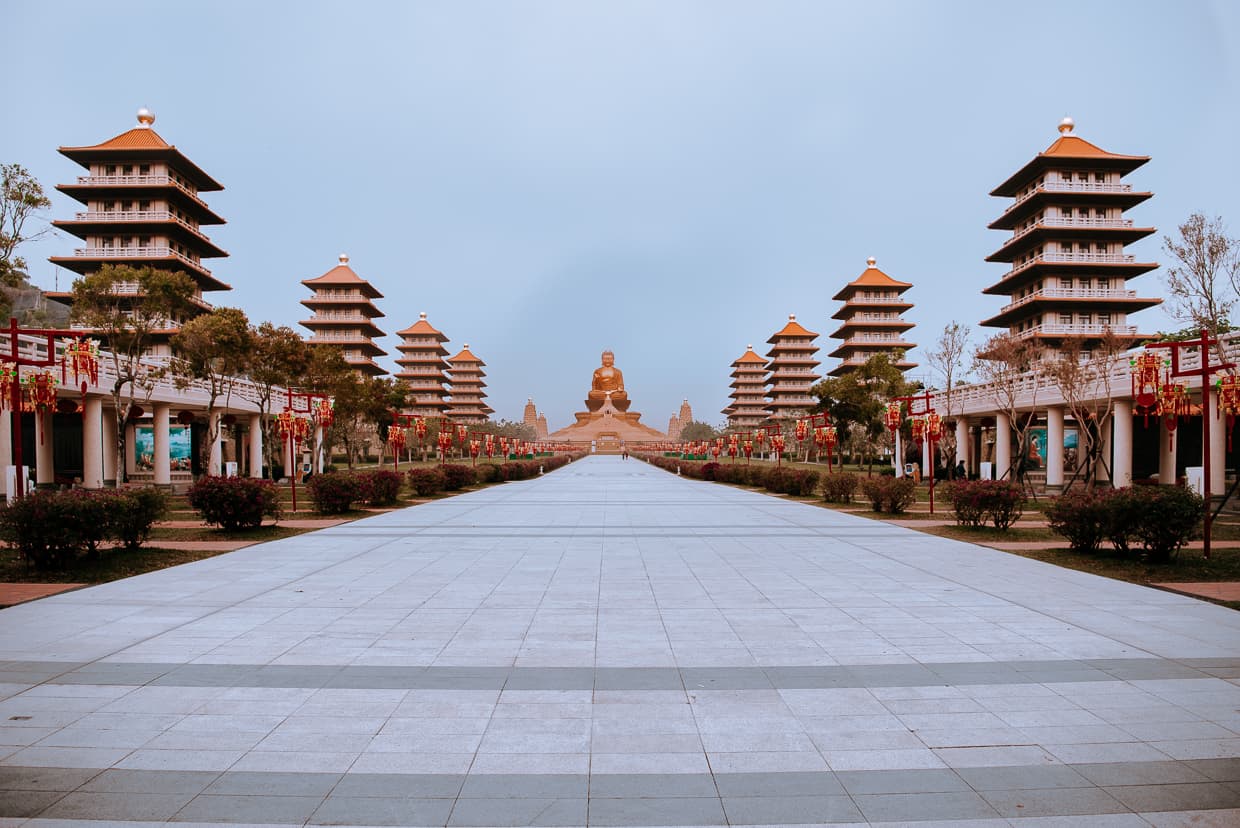 There is also an exhibit featuring ancient Buddhist relics, and of course, you can climb to the roof to get a close up view of the Big Buddha Statue. This view right here:
If your timing is right, you can also catch a show at the Great Enlightenment Auditorium. During our new year visit, there was an absolutely incredible acrobatics performance. There was no photography allowed, but… wow. Go to the website for a list of annual events.
Vegetarian Dining
Taiwan is famous for it's vegetarian food, and Fo Guang Shan is a great place to get acquainted with it. There are two great restaurants in the front hall of the Buddha Museum. One of them is creatively named "Vegetarian Buffet," (Google Maps) and it is on the second floor. The food there was really good, especially for a buffet during such a busy season. On the first floor, there is another restaurant, this one called "Vegetarian Restaurant" (Google Maps) that provides a more elegant sit-down option. Both restaurants were very affordable and either is an excellent option.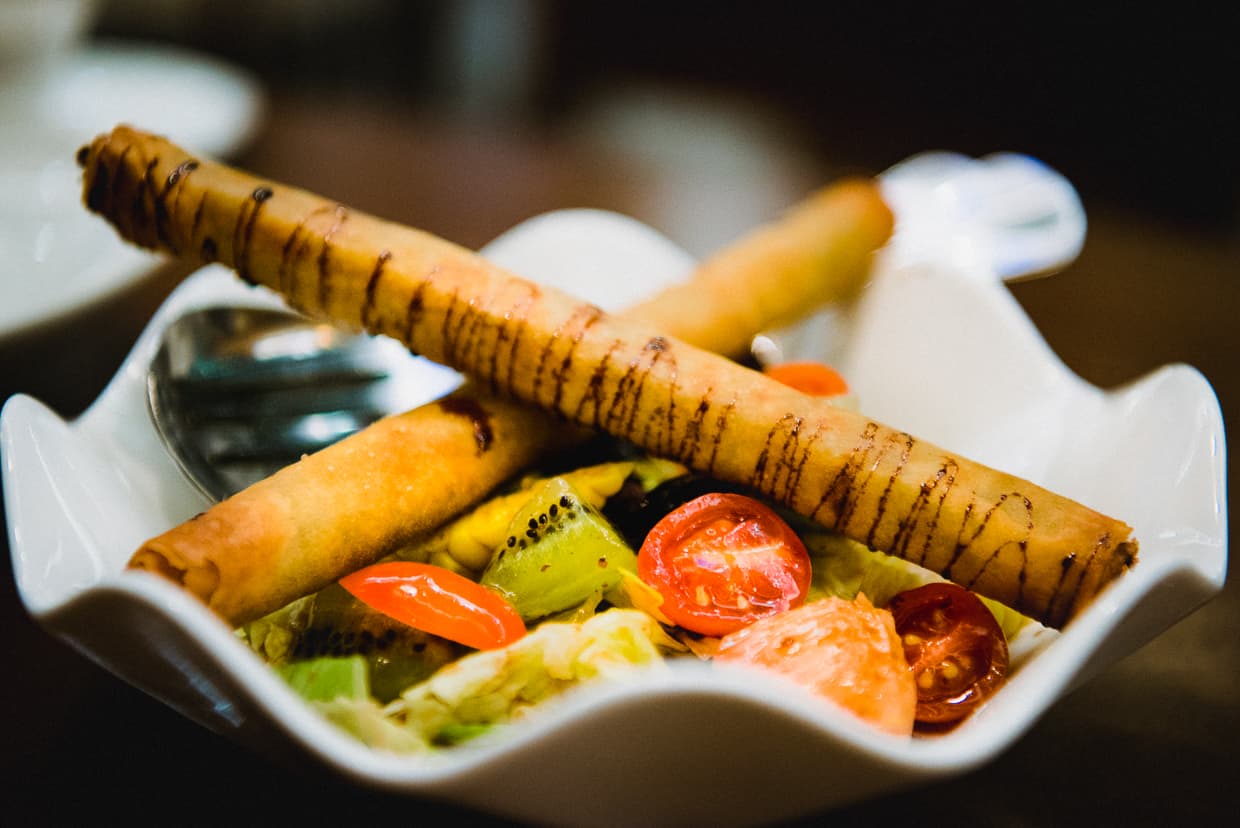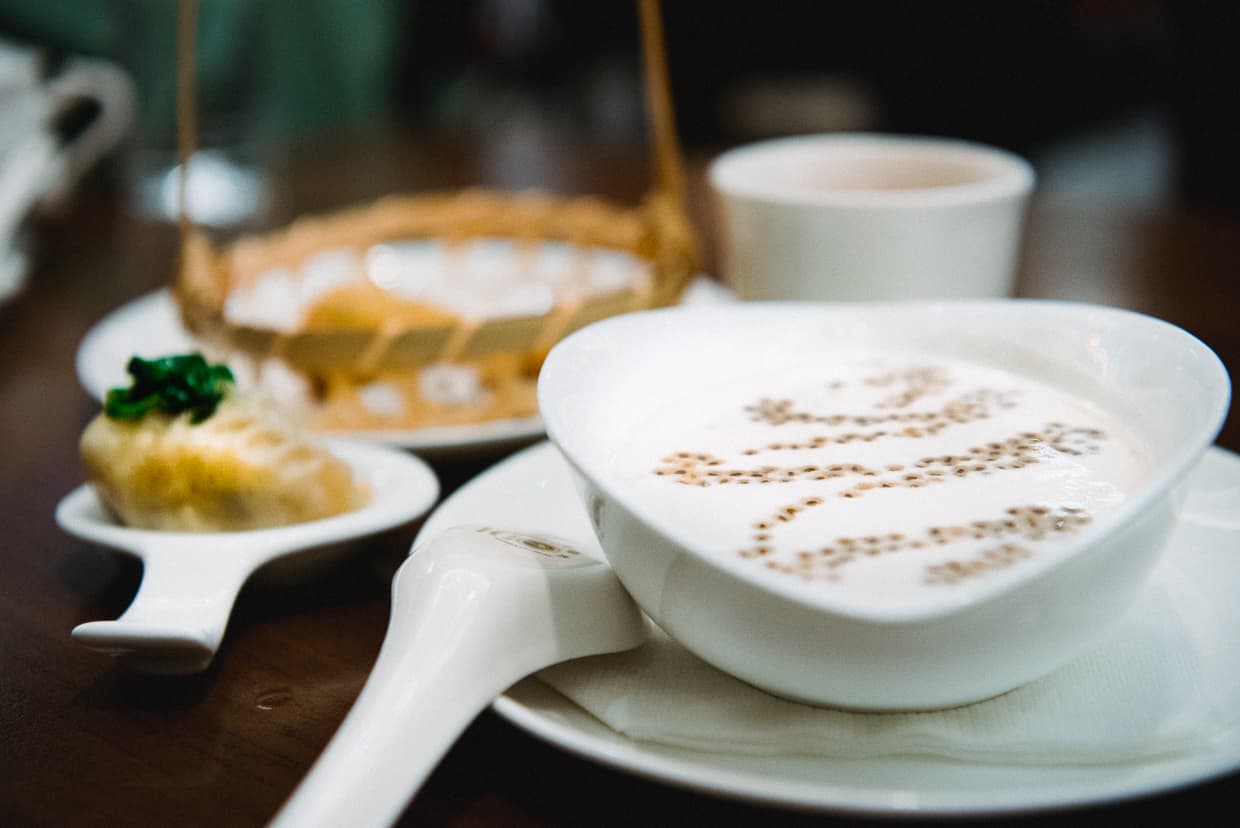 We also ate one meal at the dining hall for volunteers. The food there was free for the volunteers, but we made a donation similar to the price of a meal at the front hall. All throughout the dormitories, temples and museum grounds, there were also food stalls and teahouses selling food of various qualities and prices. This photo is from the outside of a little restaurant where we ate noodles and soup on our first night - it's right across the street from the religious book store (Google Maps).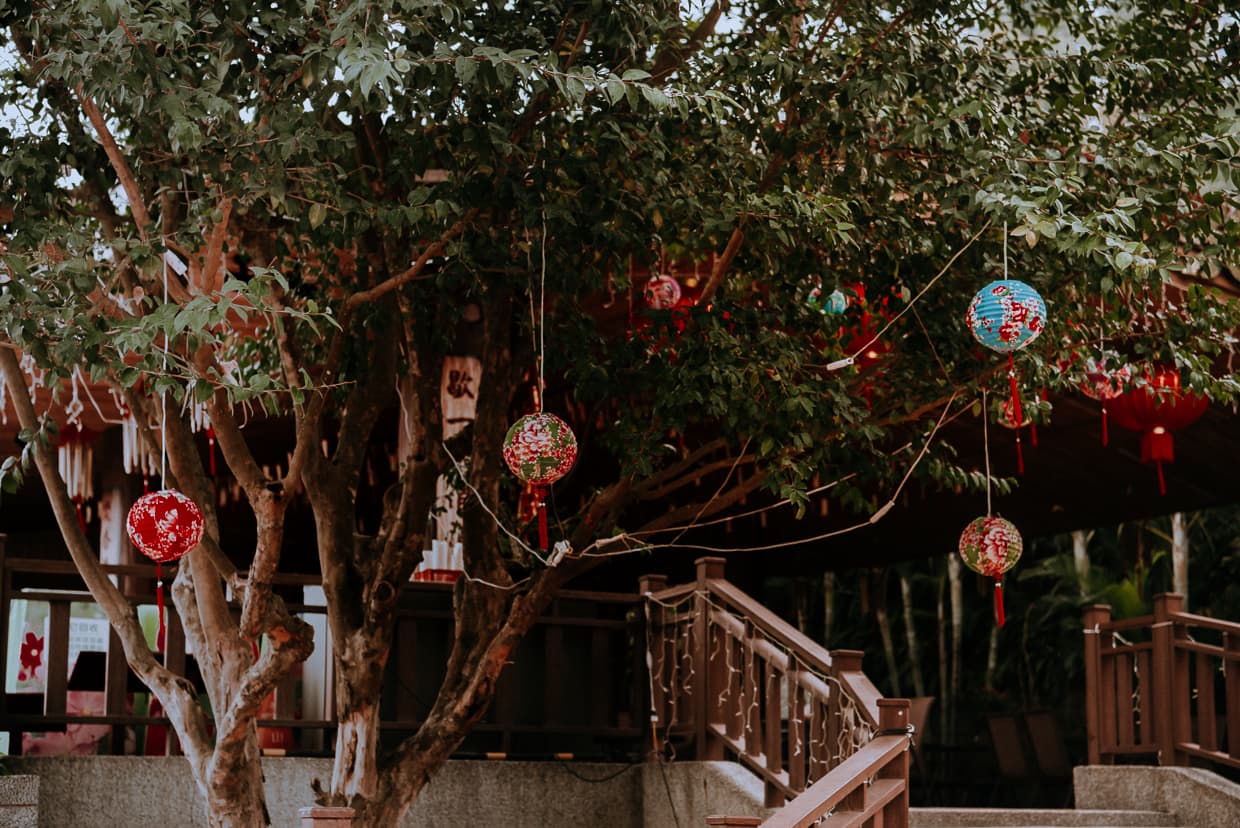 One of the best things about staying at Fo Guang Shan is that you never have to ask if the food is vegetarian - no meat is permitted anywhere in the complex.
Oh, there is also a Starbucks - because of course there is.
Fo Guang Shan With Children
Our visit to Fo Guang Shan was a really great experience for Lisa, who was two and a half years old at the time. We had just come off of a month in the city of Xiamen where she was a little bit isolated, and the chance to walk around in a safe environment and meet friendly people was a delight (read about our efforts to provide socialization for Lisa while traveling full time). The volunteers and the monks all gave her lots of attention, pulling out little gifts and candies for her whenever we they passed.
Child Safety at Fo Guang Shan
Though some of the roads in the Fo Guang Shan complex do allow cars, they are few and far between. It was one of the safest places we've visited since we started traveling. That being said, if you have small children there's never a good time to take your eyes off of them. There are a lot of corners to wander around and get lost, and at times it can get very busy and crowded.
Children's Activities at Fo Guang Shan
Because of the outreach program at Fo Guang Shan, they also have lots of children's activities and educational displays. At first I was a little worried that it would feel like religious recruitment, but it wasn't at all like that. For example, in one of the pagodas in the museum there was an interactive movie where the kids learned about being nice to animals. The displays geared toward children never seemed to have any ulterior motive behind them, they were just informative and fun.
Kids do like to imitate though, and after four days of going through shrines and seeing people kneel or go through other rituals, Lisa did start to copy them. It was actually very cute. She also spent about a month pointing to every statue we saw and asking if it was Buddha.
What to Bring
Baby Carrier or Travel Stroller: Fo Guang Shan is fairly stroller friendly, but we had a our ErgoBaby Carrier with us as well. You can read our full reviews of the ErgoBaby Omni 360 and the Babyzen Yoyo Travel Stroller, both of which we've been using happily for some time now.
Sunblock: There are a lot of wide open spaces at Fo Guang Shan, and though there are also plenty of buildings to duck into for shade, you'll feel a lot better if you and your little ones are protected while you are outside.
Water: You can buy water there, but if you bring your own, it will probably be cheaper and you won't have to stand in line to get it.
Camera: We knew we'd be busy taking photos, so we packed our favorite camera, our favorite walk around lens, and our trusty zoom lens. If you have a great camera but don't think you're getting the most out of it, consider having a look at my new e-book, Easy Manual Mode Photography, to take creative control over your photos.
Conclusion
Fo Guang Shan was one of our favorite sites since we've started traveling in Asia. If you are in Kaohsiung, Taiwan, and you don't pay a visit, then you will be missing out. Lisa had a blast, Dannie and I spent some time relaxing, and we left with a lot of great photos. Make sure you set aside at least half a day for your visit, but if you are thinking about spending the night, we can confirm that it's a great way to see everything without feeling rushed. It's not really in the spirit of the place to hurry from spot to spot snapping photos.
Staying at a Buddhist monastery probably doesn't sound like a family vacation activity, but if you are going to try it, this is the place. Fo Guang Shan has done a great job of maintaining a place that is spiritual for it's monks and volunteers, but also friendly and welcoming to outsiders.
If you enjoyed this article, you might want to read about some of the other places we've traveled to in Asia and Europe. And if you want to show us a little support, consider checking out our shop our our resources page while you are planning your next trip. We really appreciate it. And if you have ever stayed at Fo Guang Shan, or if you are thinking about doing so, please comment below with suggestions, corrections or questions so that other readers can benefit.