Lijiang, China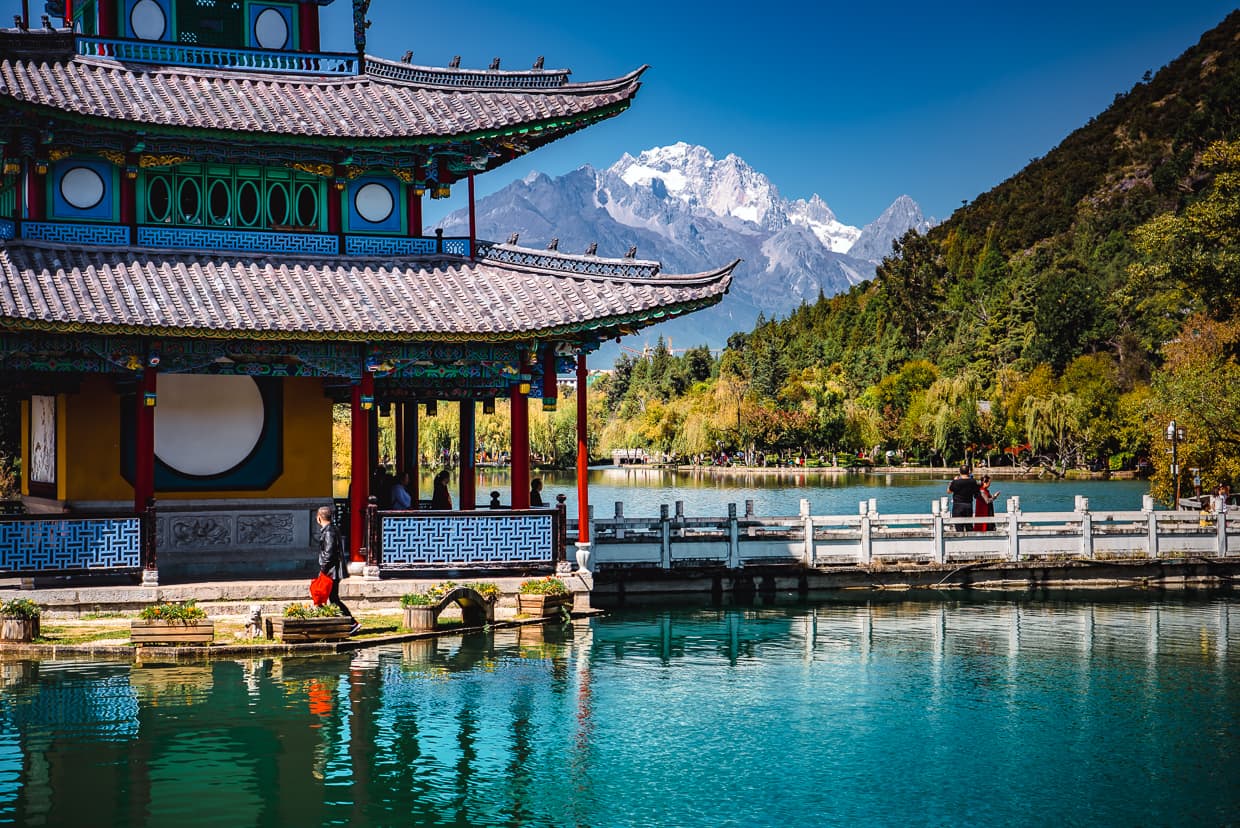 If you are thinking about visiting Lijiang, China, then you probably have your sights set on it's famous Old Town. We certainly did. We've been there a couple of times, once in 2013, and now more recently in October 2018. The Old Town is a colorful maze of shops, food stalls and throngs of Chinese tourists. People tend to either love it or hate it. Nearby are the equally beautiful Shuhe Old Town, the majestic Jade Dragon Snow Mountain, and other popular attractions. Here's everything we've written about Lijiang so far.
This is just what it sounds like, an in depth guide to getting around the maze-like Old Town of Lijiang, China. Difficulty finding ones way around is the number one complaint about Lijiang, but I spent a lot of time exploring there and I got pretty good at it by the end of our ten day visit. Here's everything I figured out that made it easier to get from point A to point B in Lijiang, even if you don't speak Chinese.
We tried twice, once in 2013 and once in 2108 to tour the Jade Dragon Snow Mountain. The first attempt was disappointing, and the second attempt was a laughable failure. Anyway, if you want to learn how not to explore the Jade Dragon Snow Mountain, or if you just want to laugh at us, this is the article for you.
This is a really cool park, and one of our favorite places to unwind in Lijiang. Not only is it much quieter than the bustling Old Town, it's also very scenic, featuring a view of the Jade Dragon Snow Mountain reflecting off the water. Little Lisa had a blast there, and the best part is that it's within walking distance of the Old Town, and the path that takes you there is very beautiful too. We went there twice, during our visit, and we wrote this guide to enjoying your walk in the park.
This article has four hotel reviews, and a helpful guide if you want to find your own place to stay. Whether you want to book online or wing it and look around when you get there, this post will help you pick the right part of town give you some tips on what to look for and what to avoid. If you've never stayed in Yunnan, the pictures will also give you an idea about what you can expect in a Lijiang hotel or guesthouse.
Mufu Palace is one of the most popular attractions in the Lijiang Old Town, and there's a good reason for that. It's packed with amazing, colorful architecture, peaceful gardens and courtyards, great views of the Old Town, and educational displays. This article is our guide to getting there, exploring the palace grounds, taking great photos, and avoiding the crowds. It also has cute photos of little Lisa enjoying herself in the gardens.
Lion Hill is the highest point in the Lijiang Old Town, and Wangu Tower is beautiful structure built on top of it. A single visit will get you two of the best things in Lijiang, China - the best park for an escape from the crowds, and the best view of the Old Town and the mountains. In this article, we cover how to find the place, hours and prices, and a guide to all the cool stuff there and how to get good photos of it.
If you aren't traveling to get off the grid, you will find that a cell phone is a very useful thing to have in China. But not only won't some of your favorite apps not work while you are in China (unless you have a VPN - see below), you also have the chance to try some really useful ones that you've never heard of before, but which are being used by over a billion Chinese people. After months in China, here's our list of apps that we really couldn't get by without.
If you are in China, much of the internet will be unavailable to you unless you have a VPN. Google Maps, Gmail, Facebook, Instagram and much more are all blocked by "The Great Firewall of China." In this post, we go over what a VPN is, and review ExpressVPN, the service we have been using ever since we started traveling. Even if you aren't in China, a VPN also provides security and anonymity as you browse the web.