A lot of visitors to Lijiang, China might miss the Black Dragon Pool, if only because they never make it out of the Old Town. It's easy to get lost in there after all. But there are a number of reasons you shouldn't make that mistake. The Black Dragon Pool is one of the few attractions outside the Lijiang Old Town that doesn't require a bus ride to visit, and it is a refreshingly natural break from the noise and crowds. Oh, and it's beautiful.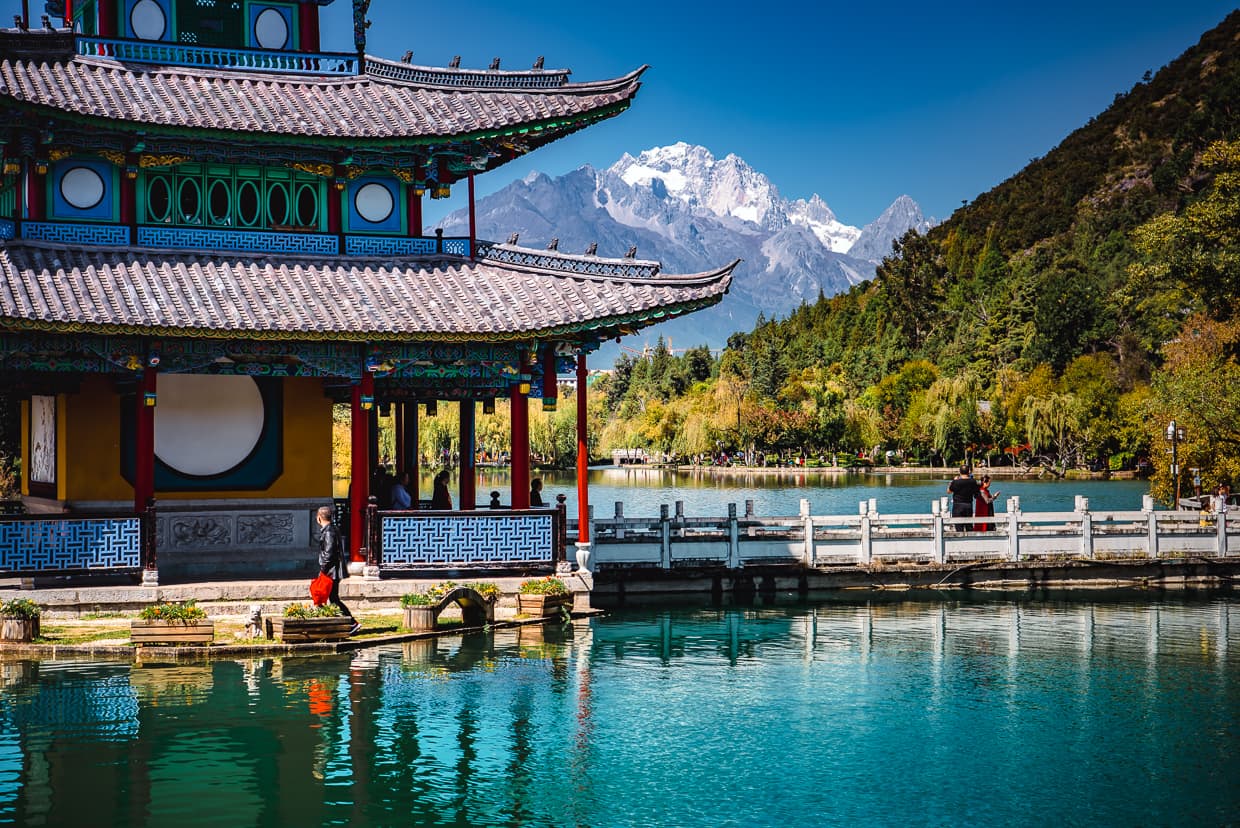 In this article we're going to go over how to find Lijiang's Black Dragon Pool, what there is to do, and how you can make sure you enjoy your visit.
By the way, this article contains affiliate links. If you click on one and make a purchase, we will earn a small commission at no extra cost to you. These commissions help us fund our travels and this website. 
The Black Dragon Pool in Lijiang, China
So What is the Black Dragon Pool, and how do you go see it?
What is the Black Dragon Pool?
The Black Dragon Pool is the centerpiece in Black Dragon Park, a recreational area about one kilometer north of the Lijiang Old Town. It is one of the few locations in Lijiang that I am pretty sure is actually designed with locals in mind rather than tourists. The admission system seems to me to be designed specifically for deterring hurried tourists from crowding the place up. If you are in Lijiang for more than a day or two, this can work to your benefit.
The Black Dragon Pool is a big pond nestled between some hills. The crystal clear water is fed by a natural spring and by a river flowing down from the mountains. You can watch fish swimming under the surface from the stone walkways that surround the pond.
But it's not what's under the surface that makes the Black Dragon Pool one of Lijiang's most beautiful attractions, it's what's bouncing off the surface. The reflection on the Black Dragon Pool is legendary, and it is one of the most famous photography locations in the city. Behind the pool, the hills part to reveal the Jade Dragon Snow Mountain towering over the landscape. In the mid ground, a beautiful stone bridge and a wooden pavilion have been constructed, and a small pagoda rests on a little island in the middle of the water.
How to Get to the Black Dragon Pool From the Lijiang Old Town
To get to the Black Dragon Pool, start from the North Gate of the Old Town (if you can't even find that, read our guide to navigating the Lijiang Old Town without getting lost), and head north, crossing the road where the river flows under it. Don't worry, the road is closed to traffic and there won't be any cars. All you really have to do is follow that river to the Gate of Black Dragon Park.
But along the way…
Surprise Bonus Park!
The walk from the Lijiang Old Town to the Black Dragon Pool is actually one of our favorite experiences from both of our trips to Lijiang. A stone path follows the edge of the river, occasionally connecting the two sides with beautiful foot bridges. The path is a total of about one kilometer in length, and though it goes up-river, the slope is so gradual that you will never notice.
The first part of the walk, near the Old Town entrance will still have a few shops hoping to capitalize on their proximity to the crowded square, but they will gradually give way to guest houses, and eventually to more natural scenery. You will see a few pedestrians along the way, and probably some locals who, if they are old enough, will be dressed in traditional Naxi clothing (the Naxi are the Chinese ethnic minority that is predominant in the region - if you are interested in Yunnan Culture, you might enjoy the Yunnan Ethnic Village in Kunming).
Finally, you will get to the park gate, where you can buy a ticket and go inside to see the Black Dragon Pool and the rest of the attractions. If you want to use Baidu Map, enter 黑龙潭公园 into the search bar as the destination.
Hours and Prices
Hours
The Gates to the Black Dragon Pool open at 7:00 in the morning and close at 19:30 in the evening. You may notice that depending on the time of year, this will make it possible to see the sunrise or sunset there! We wound up being too busy to make it back for those photos, but that just motivates us to return again this year, since we are staying in nearby Dali, China.
Prices
The tickets cost 80 RMB (about $11.50) for adults, and children are free. You might think that for a Chinese nature park, this is surprisingly expensive. I would be inclined to agree, but luckily, so would most Chinese tourists. But, here's the kicker: the ticket is good for a whole month. It's not meant to be used by tourists who are just rolling through town on a day trip. The park is free for locals, and the one month tickets are clearly meant to reduce crowds as much as they are meant to generate revenue.
If you are in Lijiang, China for a week or more, I can guarantee that you will get fed up with the Old Town frequently enough that you will visit the Black Dragon Pool more than once. And even if you can only make a single trip, you still might find the price to be worth it (especially if you compare it to the price of a lot of Western attractions.
As a comparison, Mufu Palace costs 40 RMB ($5.75) and Lion Hill costs 35 RMB ($5.00). But those tickets are only good for one entrance (still worth it!).
What's There to Do at the Black Dragon Pool
Walk the Paths
There are miles of paths that wind along the shores of the Black Dragon Pool. Some of them break off and follow a stream flowing out of the pond. Others branch off right into the water and go over scenic bridges. You can enjoy picnic tables in the shade, or relax under that big pavilion.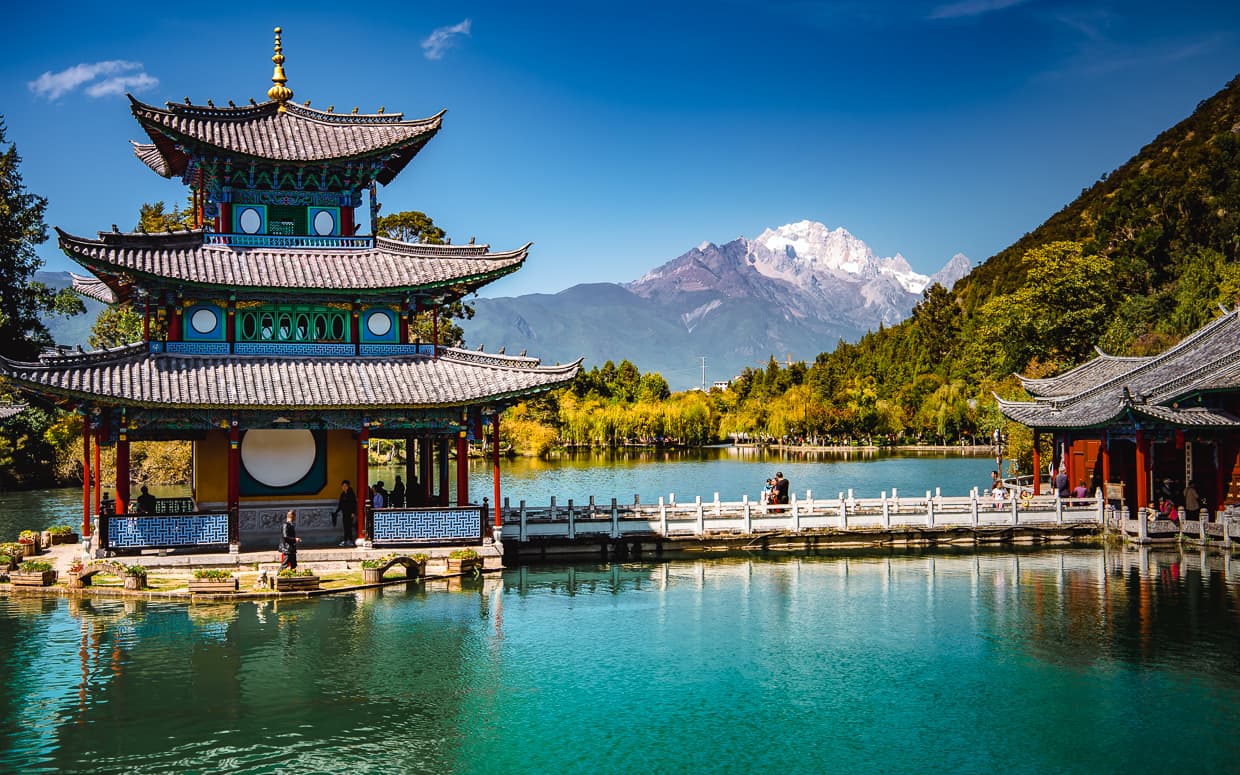 There are places along the path to buy food and drinks, including a cafe right next to the pool. And of course you can buy souvenirs as well, because this is still Lijiang, China, after all.
Take in the View
The first great view you will see will appear shortly after you enter the Black Dragon Park and follow the stream uphill, and climb a few (less than 10) stairs beside a small waterfall. From the promenade along the southern shore of the Black Dragon Pool, you can get easily get an unobstructed view of the Jade Dragon Snow Mountain reflecting off the water (as long as it isn't too windy).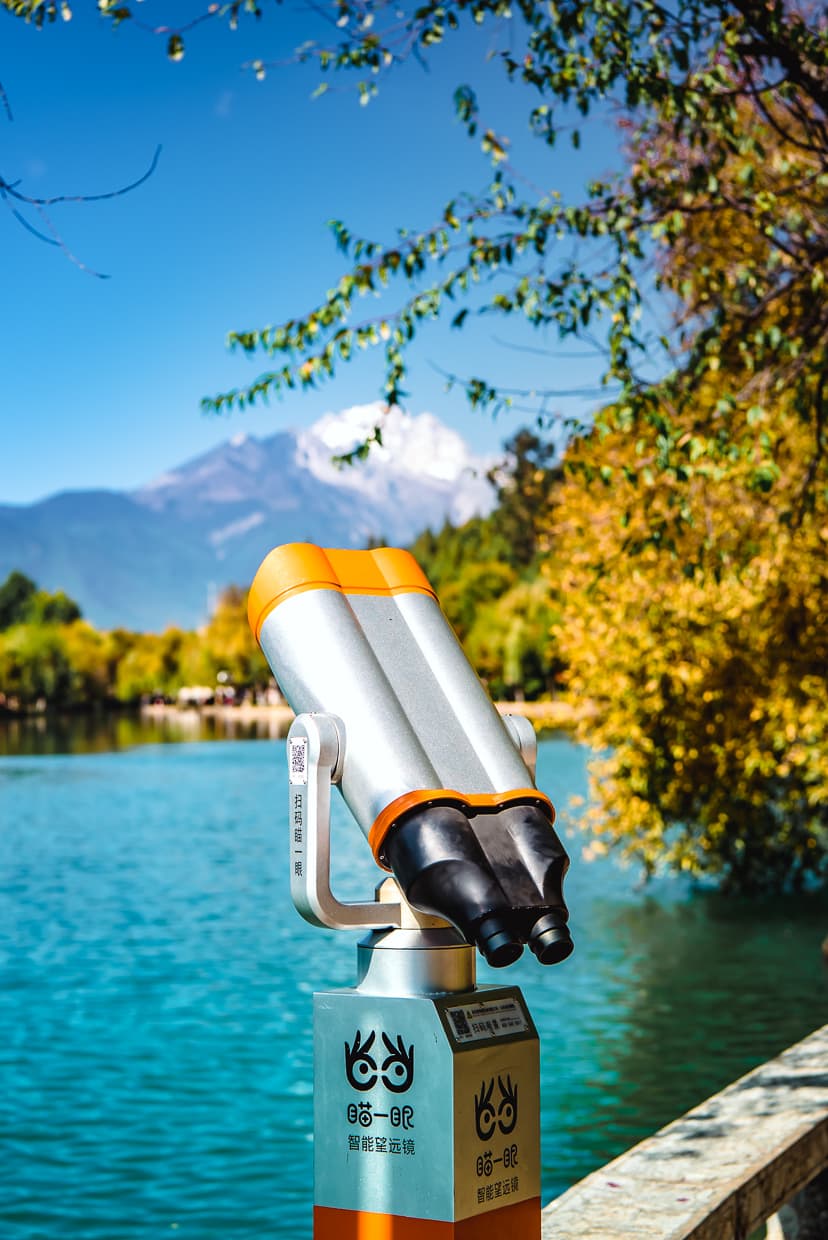 And of course you'll be able to see the pavilion and the stone bridge in there as well. This is one of the most frequently photographed views in the city, along with the water wheel, and that waterfall with the yak.
By the way, once you get to all that amazing scenery, you'll get better photos if you know how to use your camera properly. If you want to step up your game, my e-book, Easy Manual Mode Photography, is available in our shop now!
But if you want a similar - but slightly better - view, of the same scene, you can follow the path as it starts to curve around the southeast corner of the pond. When you get to the cafe, walk around the left hand side, and down to the water.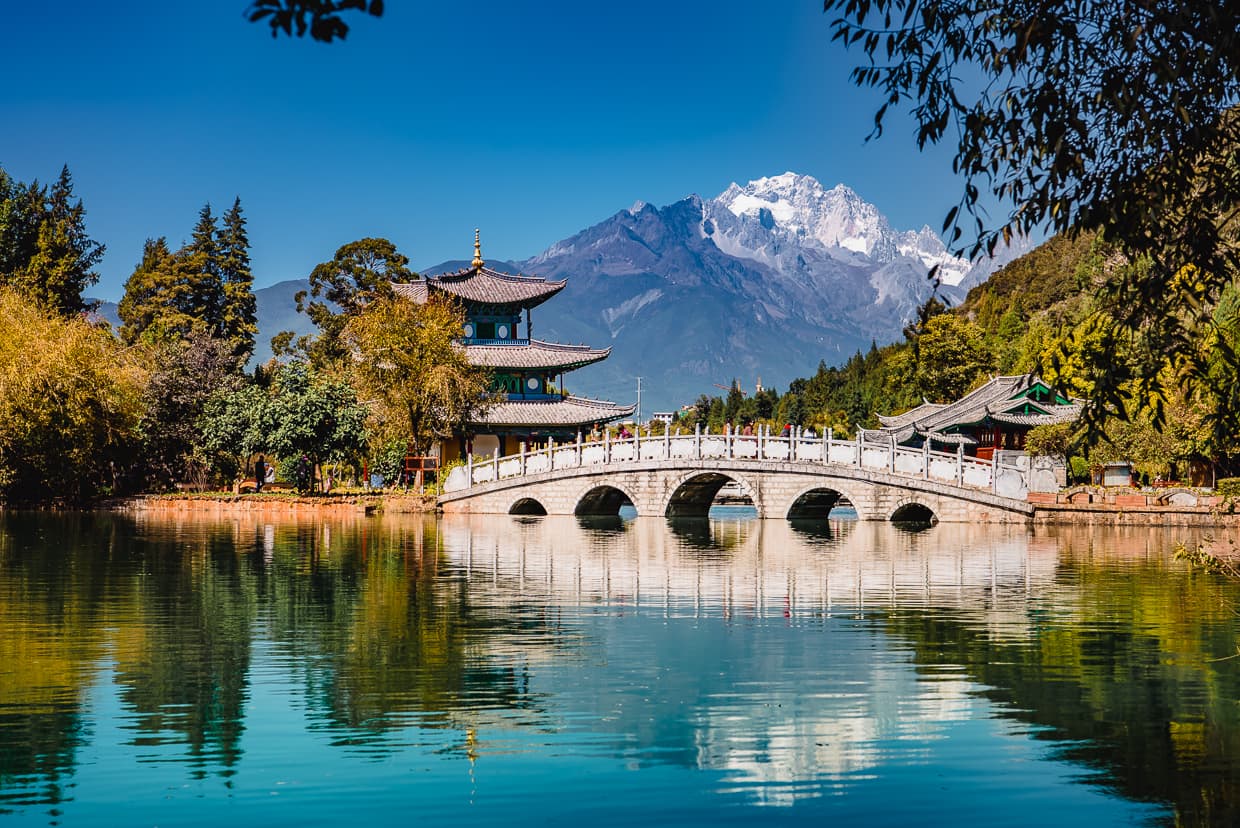 Way over to the left, you will see a small, rickety looking platform. You don't have to stand on it (I sure as heck wasn't going to), but from right around there you can get a great shot of the mountain and it's reflection on the Black Dragon Pool, but with the bridge and the pavilion in a more pleasing composition. You can also get some willow branches in the foreground here, if that is your desire. Another benefit of this side is that on the day I visited, the water was smoother near the hill on the east side of the park.
Unfortunately, from this angle you won't be able to get your family in the shot.
See a Buddhist Temple
I think I actually counted three temples as we were walking around the park. All of them are on the east side of the Black Dragon Pool. Like all Buddhist temples, they are very photogenic. They all have shrines inside where people can go inside to worship, though the interior of one (the northernmost one) was under renovations during our visit.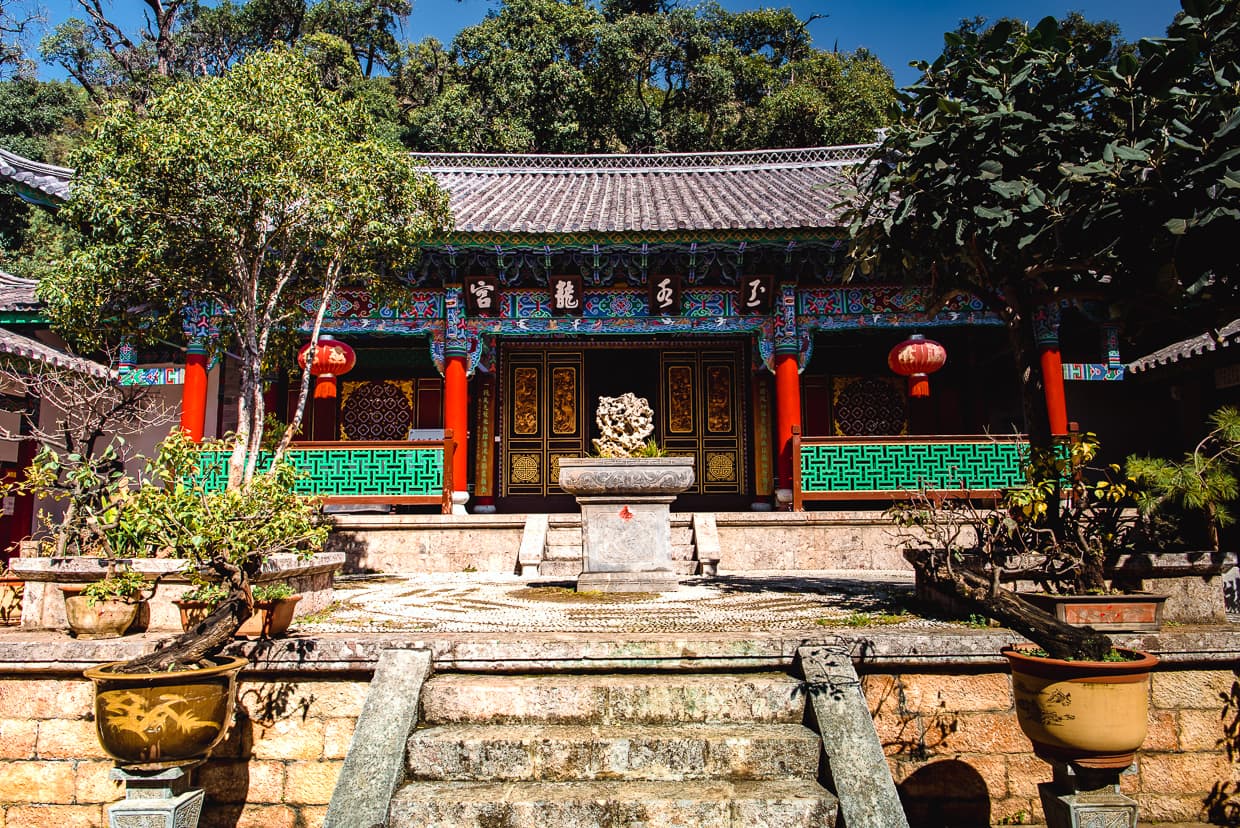 Feed the Fish
If you are visiting Lijiang with children, and your children are anything like ours, then they will enjoy feeding the fish. When I went to scout the Black Dragon Pool on my own I saw that a lot of kids were throwing pieces of bread into the water and watching schools of hundreds of bright red fish pick it to pieces. Huge brown fish were also circling below.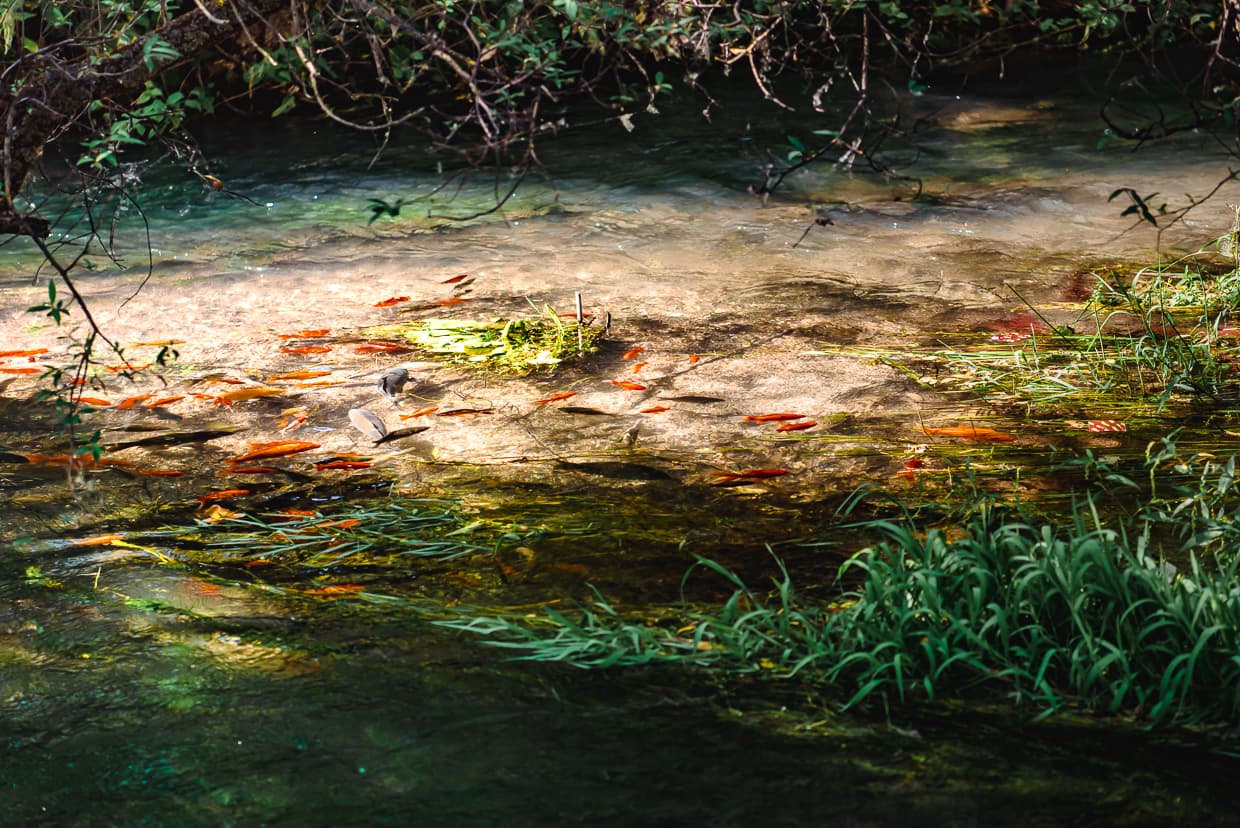 Even though it's not really good to feed bread to animals most of the time, we figured that based on how often we saw it happening, these particular fish were probably already on an all-bread diet. So we brought some bread with us when we came back with Lisa. While we were walking around though, we saw that one of the shops sold fish food for 15 RMB (about 2 bucks) a bag. We bought some.
At first we were worried that we got scammed when we started throwing it right over a school of red fish we saw hanging around just below the surface. They weren't biting. But then, one fish went up and took a bite, and instantly the whole school started going crazy. Lisa had a blast, and we eventually had to drag her away. We never did use up the bag of fish food, though. We could have kept throwing it for hours.
Go for a Hike
Now, we haven't actually done this, but it is definitely an option when we come back next time. Elephant Hill is right next to the Black Dragon Pool, and from various points along the eastern side of the park you can start making your way up on smaller paths. It's included in your park fee, but there are check points where they ask you to sign in.
For Westerners, it might seem kind of weird to sign in to a hill, but I don't think hiking is a very popular pastime in China, and it might actually be a wise precaution. Anyway, that's not why we didn't do it. We wanted Lisa to walk around while we were there, so we neglected to bring our baby carrier with us (read our review of the ErgoBaby Omni 360). Walking around on the flat ground is no challenge for Lisa, but we didn't feel like carrying her up that big hill.
Maybe she would have been fine, though. Later we took her with us on a shorter climb, and she made it up Lion Hill and Wangu Tower in one go, all by herself. If you were hoping to actually hike that big mountain in the background, I wouldn't plan on it - read the stories of our two failed attempts at just touring Jade Dragon Snow Mountain.
Have a Drink
There's a very pretty cafe and tea house on the edge of the water (the one I mentioned earlier with the view nearby), but that's not what I'm talking about here. As you are walking along the edge of the Black Dragon Pool, you might come across a line of people waiting for a turn to step down next to a small pool.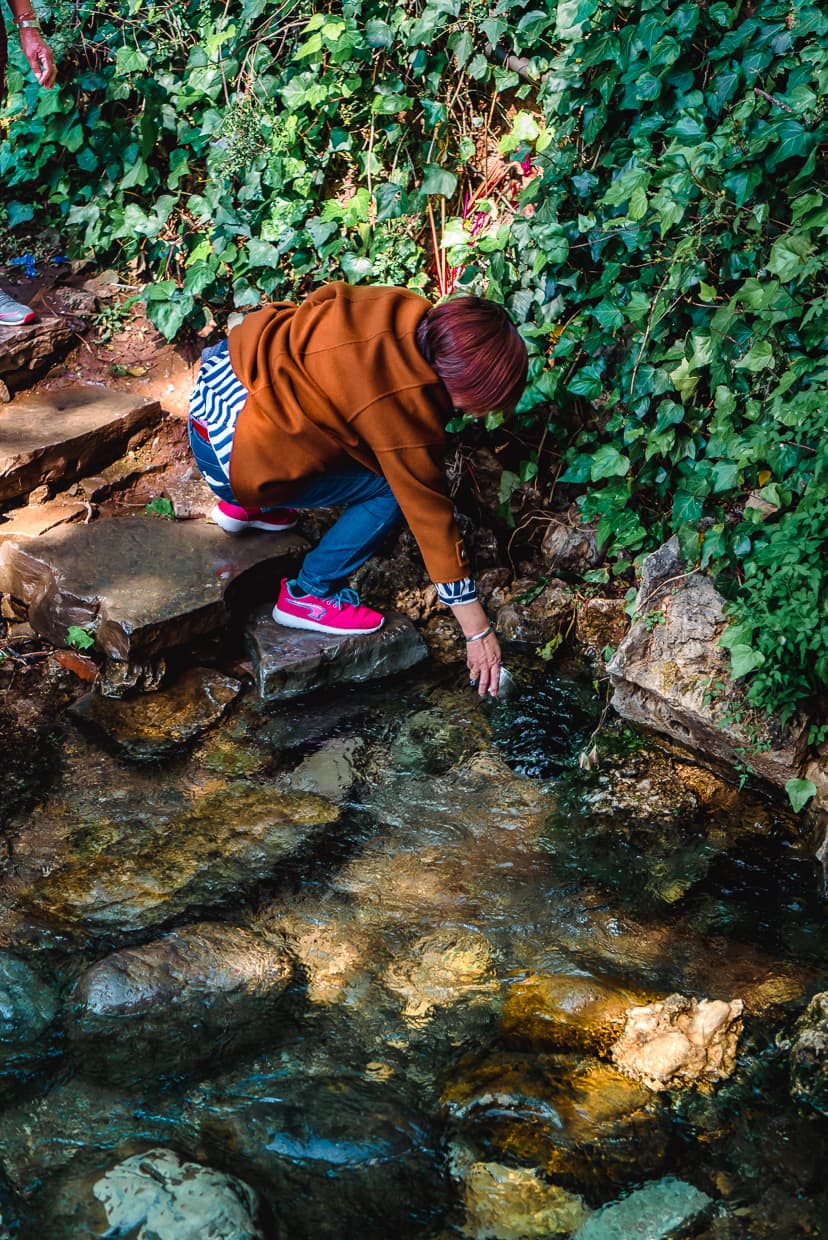 There are a few locations where a spring is bubbling to the surface right near the shore, and many people think it is fun to dip a cup into this pure, clean water and drink right from the ground. Go for it, I guess. But here's the thing…
Even though the water might be pure, everybody in that line seems to be drinking from the same cup. I'm just waiting for the headline about all the people who safely avoided Cryptosporidium and Giardia, but all came down with mono instead. Maybe you could just bring your own cup.
Tips for Enjoying Your Stay
What to Bring
Food and Water - Like I said, you can walk for miles if you want to, and though you have the option of buy snacks there, you might not like what's on offer. There are lots of good places for a picnic here, so bring something along.
Sunblock - Sunburn bad. Healthy skin good. We use this baby safe sunblock on all of us while we're traveling. Remember that Lijiang is pretty high in elevation, and there is less atmosphere to block those ultraviolet rays.
Camera Gear - If you are visiting a place that is famous for its photogenic views, then you really ought to take some photos. As always, I carried my Nikon D810 and my two favorite lenses, a 24-70mm and a 70-200mm. But even with a cell phone or a good point and shoot (like our Fujifilm X100T), you will have hard time taking a bad photo.
Some RMB - If you want to buy fish food, drinks, or just make a donation at one of the temples, it couldn't hurt to have some walking around money. Don't expect to use your credit cards here, though WeChat pay will probably do (read our list of must have apps for living in China).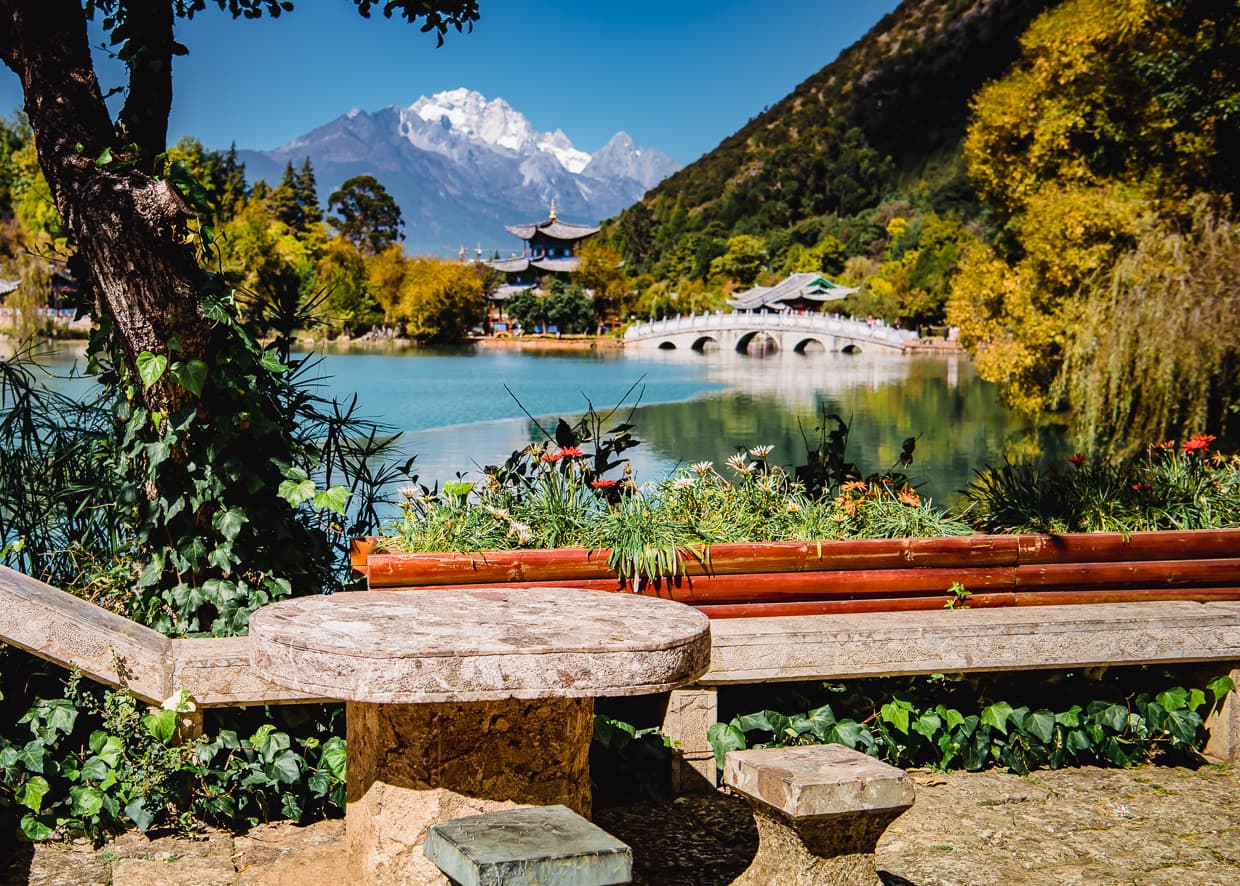 When to Visit
We didn't find the crowds to be a problem when we visited the Black Dragon Pool, even though the Old Town was mobbed. I went once during Lisa's nap in the middle of the day, and when we returned later in our trip it was late afternoon. Both times the visitors were sparse and it was easy to get around. This was in late October, though. If we had been visiting in the Summer during the busy season, we definitely would have tried to go early in the morning, not just to avoid crowds, but the heat of the day as well.
Note that even though you can be there for sunrise or sunset in the fall, Lijiang gets very chilly in the mornings and the evenings, so make sure you dress appropriately. Wear layers because by midday it still gets warm.
Conclusion
The convenience and beauty of the Black Dragon Pool make it one of our favorite attractions in Lijiang, China. It's very family friendly (but still not stroller friendly), and it's one of the few places tourists can go in town where they can actually hear themselves think. If you are staying near the North Gate, it will actually be easier to get to the Black Dragon Pool than it will to some of the more popular attractions like Mufu Palace, which are buried in the maze.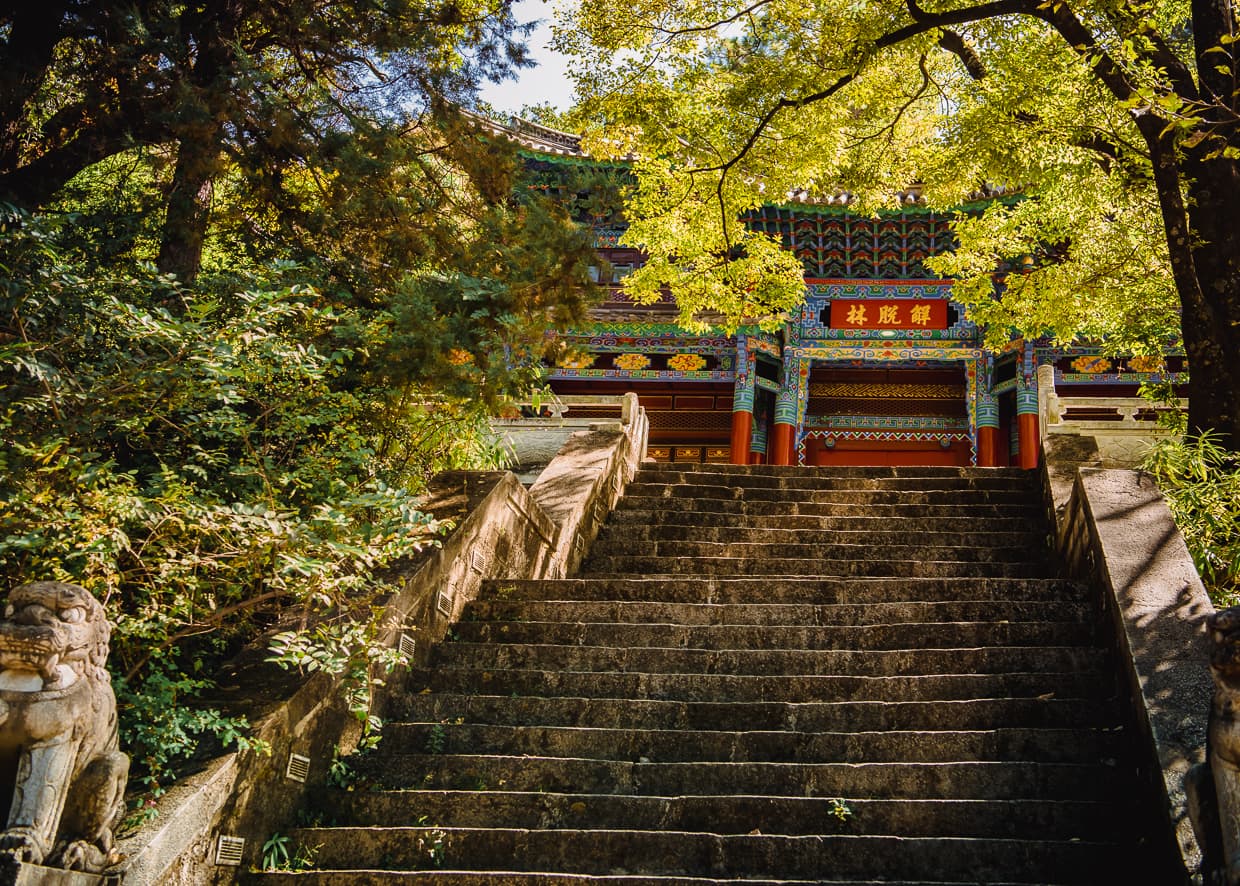 If you found this article helpful, we have plenty more for you to read about Lijiang, China. You can also find information, fun stories, and lots photos from all over the world by browsing around our destinations page. And if you have any question about the Black Dragon Pool, or if you have anything to add to what we shared, please head to the comments section below where we will respond as quickly as possible. Thanks for reading, and happy travels.