Cafe Central in Vienna, Austria is one of those sites that's iconic on a smaller scale. It frankly isn't big enough for every tourist to visit while they are in the city, but you might have seen it in Instagram photos or read about it in a listicle of things to do or places to eat in Vienna. Dannie and I were more excited about Christmas markets and the like, but with an entire month in the city, we were pretty sure we'd have time for it.
When we finally did stumble upon it, Dannie looked through the windows, saw the opulent interior and grabbed my sleeve. "That's it!" She said, "That's that cafe."
Breakfast at Cafe Central The Morning After Christmas
Where is Cafe Central in Vienna, Austria?
Cafe Central (Google Maps) is on the southern corner of the Palais Ferstel, about half a kilometer east of the Town Hall. We ran into it on our way back from ice skating at Wiener Eistraum. It is open from 7:30 to 22:00, every day except Sunday when it opens at 10:00.
How Busy is Cafe Central in Vienna, Austria?
We'll, the first time we saw it, it was fairly busy. In fact, despite being a fairly large cafe with many tables, there was a line out the door. Cafe Central is popular enough that they even have a bouncer doorman. The doorman was always the same man when we visited and he really looked the part.
We spotted Cafe Central, while walking home from a day of exploring Vienna on foot, and we were a bit tired. To be honest, sitting down for a hot cup of coffee late on a cold afternoon would have been pretty nice. But after watching how slowly the line was advancing, the thought of standing out there in the cold and the wind, wasn't too appealing. We walked home to warm up, and probably made it inside faster than if we had waited.
We often got worried about Lisa's warmth while we were walking around Vienna. The distances were too long for her to travel on foot, and even wearing a jacket, we thought she might get cold just sitting there in her travel stroller. That's one of the issues we discussed in our article about why Christmas in Vienna is better for adults than children.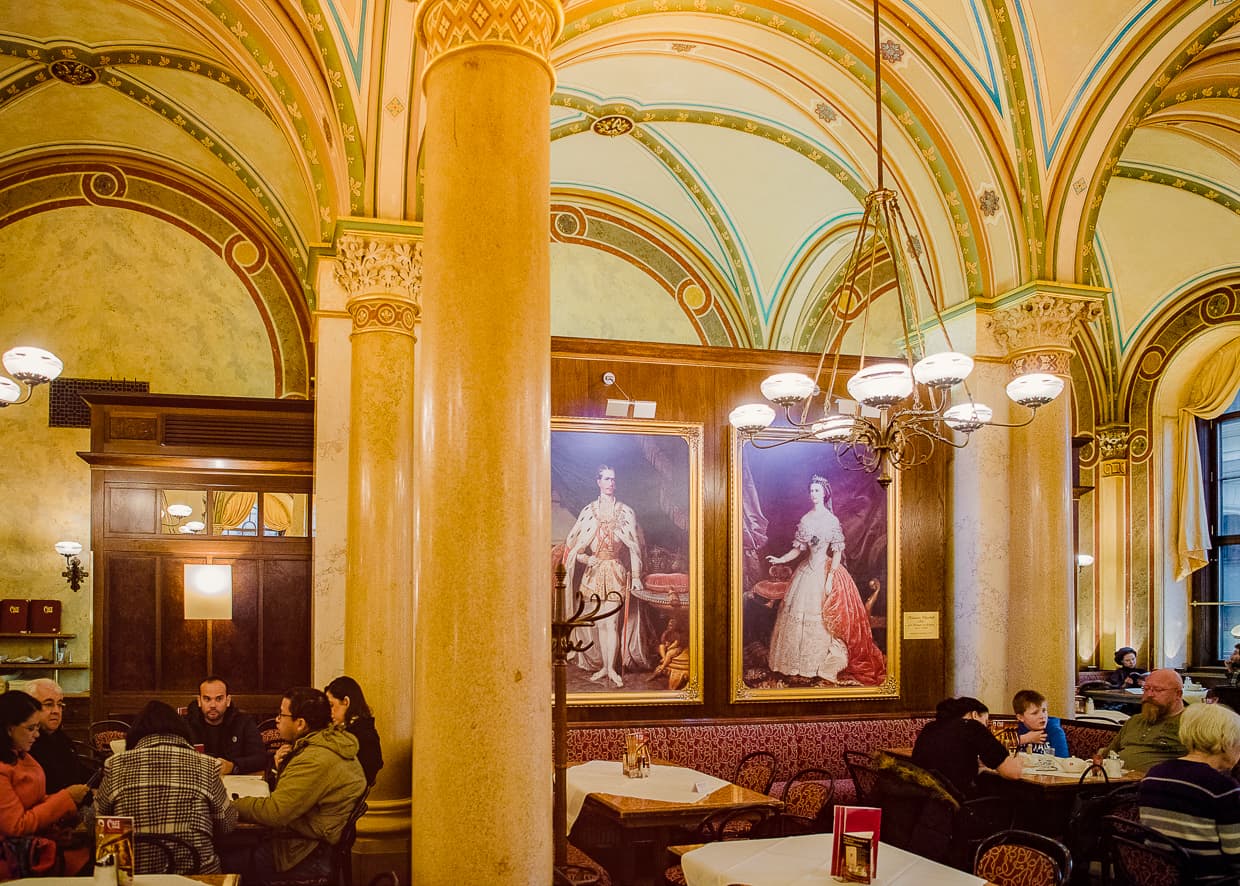 Because of the location near so many attractions, we knew we'd be stopping by again sometime soon. But it turned out that that line was always there, whether in the middle of the day or late in the afternoon. In addition to not wanting to wait outside in the cold, we also didn't really want to eat in a crowded restaurant (especially a fancy one filled with people trying to have a fancy experience) while snapping photos with our noisy toddler.
When is the Best Time to Visit Cafe Central?
If you want to get some photos (and a meal or a drink, I suppose) with Cafe Central all to yourself, I can officially confirm that there is at least one time when it can be achieved: Right at opening time on the day after Christmas.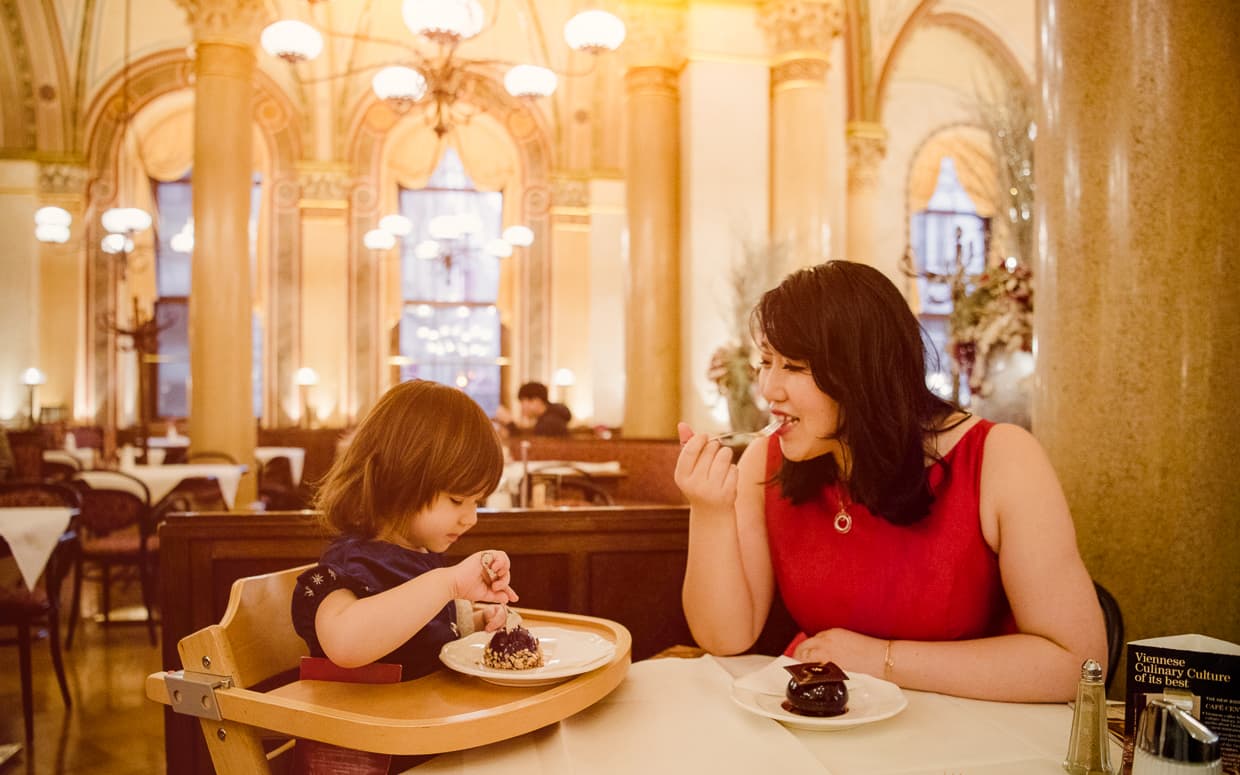 One time when we walked by just a couple of days before Christmas, we saw that they would be closed on Christmas Eve (in the afternoon, I think) and on Christmas Day. But - look at that - they'll be back to their normal schedule the day after Christmas (this was in 2017, you might want to check the Cafe Central website before committing to a visit on future years).
We know from experience that early morning is usually a good time for photography in crowded places, but we weren't sure if that would hold true for a cafe, since cafe's are popular for breakfast. That being said, Cafe Central isn't exactly the kind of place where you grab a coffee on your way to work.
Cafes in Europe are pretty different from Cafes in the United States. They are less casual and with a heavier focus on meals (though they are still largely about coffee). Some of them even require a reservation if you want to visit during busy hours. If you really want an American cafe experience while you are traveling, don't worry, there are still Starbucks everywhere (Google Maps Search Results).
Since we had been so lazy about our photography while we were in Vienna, mostly because Austria seems to be very cold and windy during December (who knew?), we decided to be industrious little travelers and head out early the day after Christmas. Christmas is a big deal in Vienna, where the Roman Catholicism is the dominant religion. We figured if there was ever going to be a slow moment at Cafe Central, this would be it.
We were right. We showed up just before the cafe opened and there was no line at all. When they opened, everything was already set up inside. The display cases full of beautiful pastries were full, the tables were set, and the staff was at hand to show us to our table (though we asked if we could switch to one with better scenery around it, because honestly we were there for the photos, not the food).
How is the Food in Cafe Central in Vienna, Austria?
Even though we were most excited about the amazing interior architecture and photos of our two year old attacking dainty little delicacies, the food was also quite yummy. We ordered a little bit too much, but we managed to eat it all and leave feeling as full as we had the day before after cooking and eating all day long.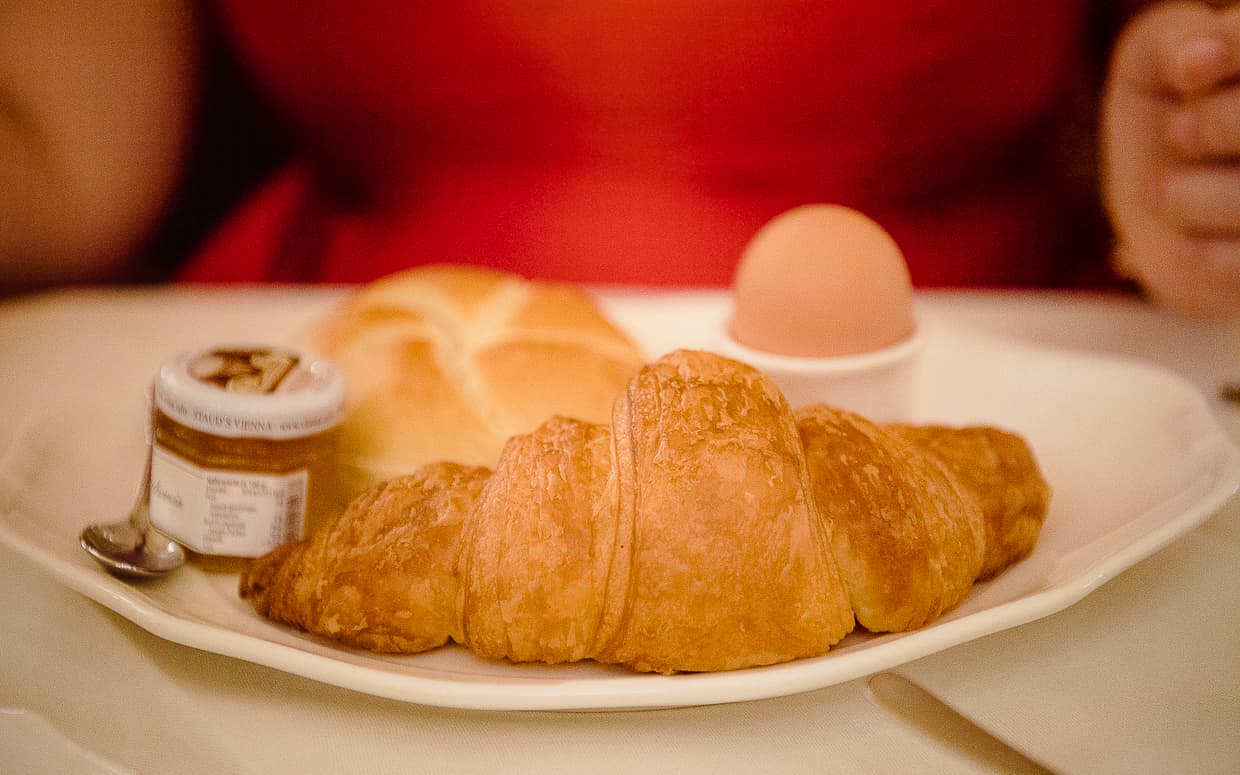 My coffee was good, even though, like everywhere else in Europe, it was too small (and yes, that holds true even if you order an "americano"). We ordered one of their breakfast combinations - the only one without meat in it - which included a drink, a pastry and a hard boiled egg served in one of those fancy egg cups. Lisa loved eating her egg from a cup just like Peppa Pig does.
We also ordered three cakes, because what the heck, it's Christmastime… sort of. I ordered the pretties ones I saw in the display case, only to realize as we were leaving that there was a second display case with even more options. We'll try them next time!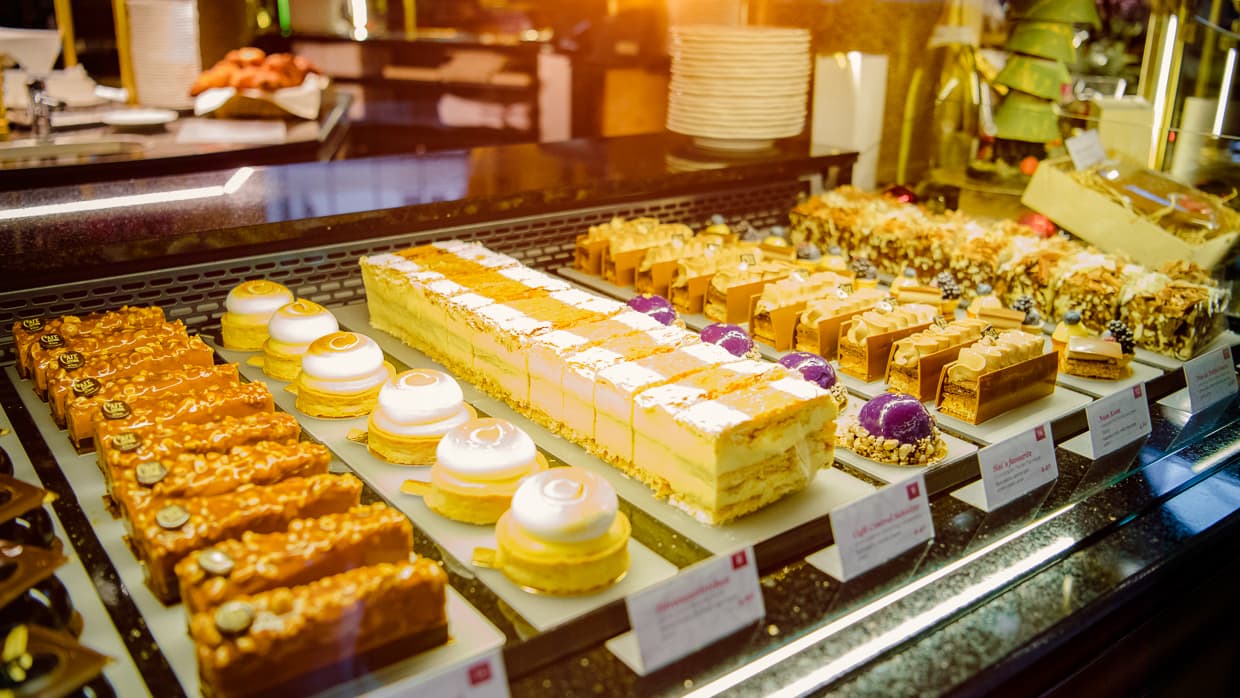 Is Photography Allowed in Cafe Central?
If you've read this far, this question should answer itself. Yes, you can take photos in Cafe Central, though you are probably better off if you don't try to turn a profit by selling them without permission. We didn't use a flash while we were there, and even if they are permitted (probably not) it would be pretty inconsiderate to other patrons to do so.
The lighting will definitely be your biggest challenge inside. Sitting close to a window will give you the best lighting for your food, but if you want to photograph yourselves with the amazing arches and columns in the background, then you are probably better off sitting somewhere near the middle so that the lighting will be even throughout - otherwise you will have to choose between a very dark background or a blown out foreground. At night the lighting will be more even, but probably lower and less flattering to people.
If you use your camera in automatic mode and find that it struggles in a lot of situations, you could try taking creative control of your images by reading my e-book, Easy Manual Mode Photography. It's available in our shop.
Speaking of Photography…
While you are there, consider taking a stroll through the Ferstel Passage (Google Maps), a mall that resembles an ornate tunnel cutting through the same building as Cafe Central. We didn't do any shopping while we were there, but we did take some photos early in the morning. The front gate opened up before most of the stores, so we were able to get some photos before the hallway got cluttered with restaurant signs, etc.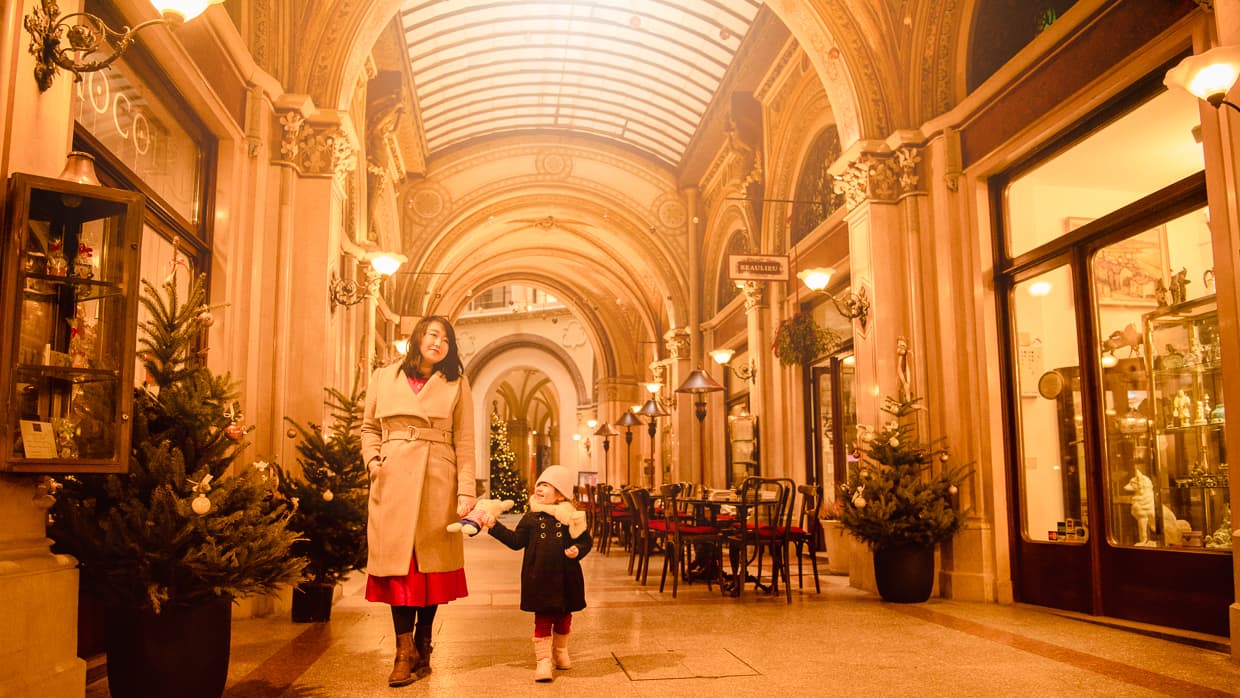 Inside you'll find more amazing arches like the ones inside Cafe Central, plus a fountain in a room with a high domed ceiling. There's also a beautiful staircase. The passage goes from one side of the building to the other.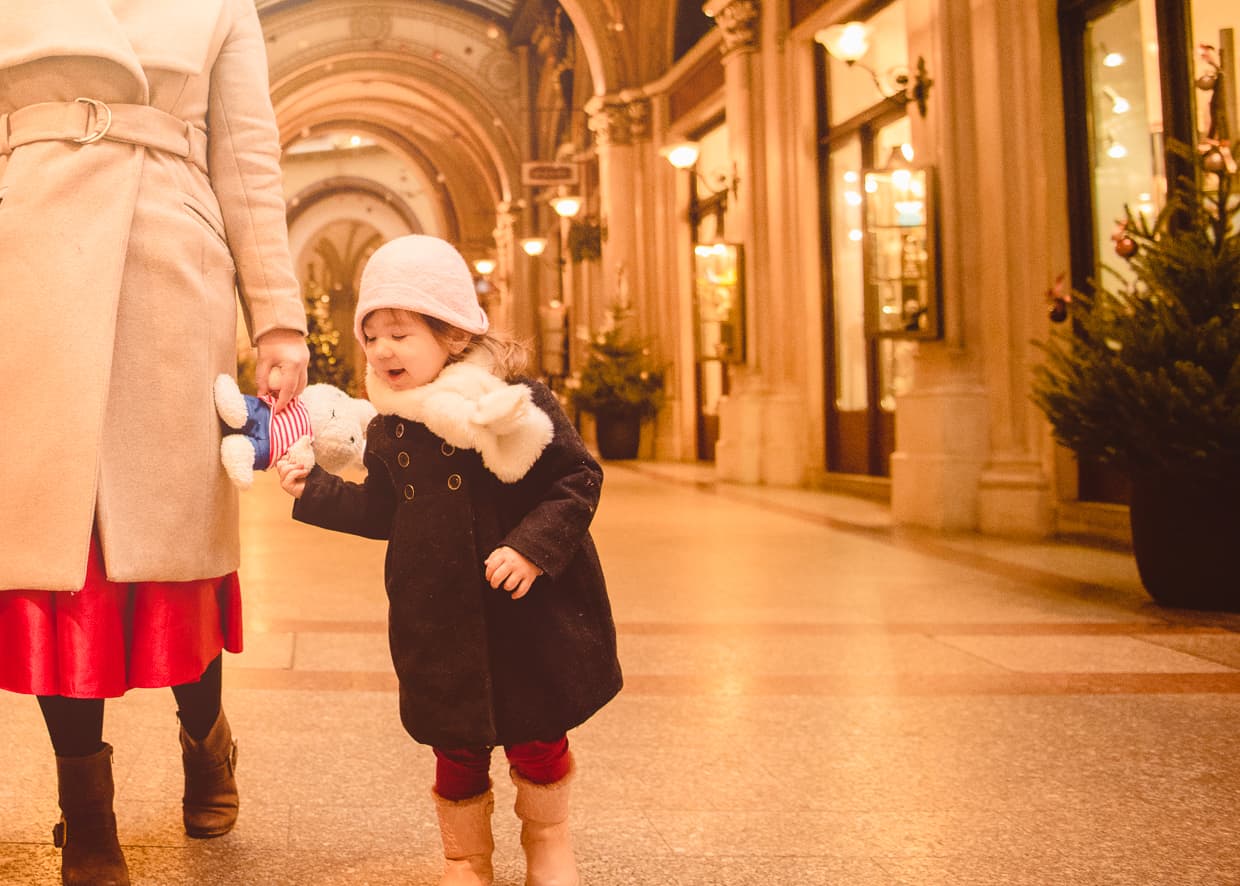 Conclusion
We didn't visit a lot of Cafes in Vienna, but it was easy to see why this one is well known. In addition to being easy on the eyes - one of the most beautiful restaurants we've been to actually (also see the Jiufen Teahouse and the A-MEI Teahouse in Jiufen, Taiwan) - it's also an enjoyable dining experience, at least when it's not busy.
If you have a lot of time to kill between attractions, and you don't mind a wait in line, then by all means, have a go at it while you are out touring. But if you really want to have the place to yourselves, an early morning trip might be in order. You probably don't have to do it right after a holiday like we did, so go ahead and sleep in after your Christmas dinner.
If you found this article useful - and we hope that you did - you can read about some of the other things we did in Vienna, Austria, or you can check out the destinations we have visited around the world for photography guides, family travel tips, and more. And if you really enjoyed this and would like to help us create more content, you can thank us and support us by commenting on this (or any other post), visiting our resources page or our shop, or just generally browsing around our website. Thanks so much, and happy travels.