Ever since Jake and I reorganized our office it has been bothering us that the walls are a little bare. I mean, we're photographers - we have so many photos, especially since we've been making a point of taking more photos of ourselves. I've always considered myself to be a fairly creative person, and when I have a camera in my hand or when I'm in front of my computer, I am. Jake is too. But when the time comes to envision decor solutions for my walls, I just draw a bit of a blank. I see so many beautiful home makeovers on Pinterest, then I look at my own home and wonder why it doesn't come as naturally to me as photography. I guess what I'm trying to say is that you can be creative in one area and in other areas… not so much. That's why I was so pleased with myself when I came up with a simple way to display some photographs that looks really nice, cost almost nothing after the prints, and (with Jake's help) only took half an hour to set up.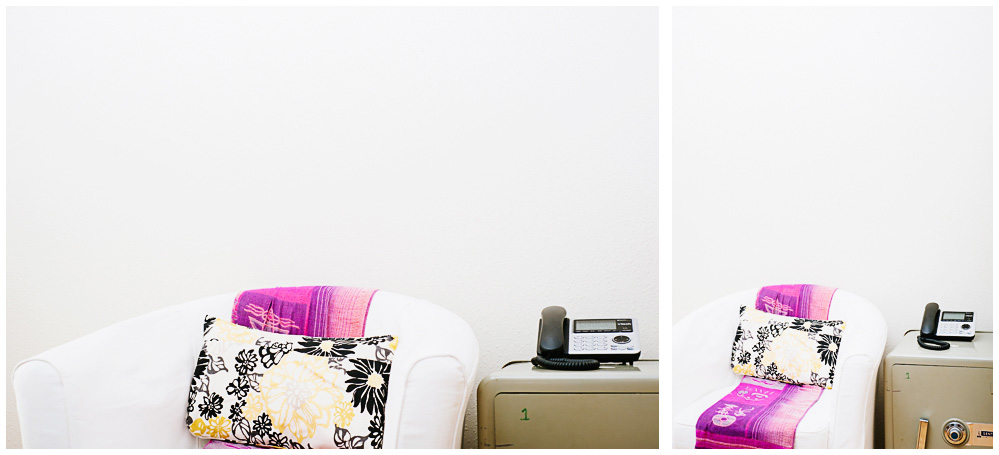 We'd ordered a bunch of square photos from Artifact Uprising. We've been looking into various print companies that our clients might use. We already have a favorite printer that we use when clients order through us, but they only print for photographers, and we want to have a list of printers to recommend to our clients if they choose to buy the digital files instead of ordering prints. Even if our clients don't order from us, we want their photos to look good when they get them printed, so if we can help them choose a good printer it makes us feel better. The quality we got from Artifact Uprising was good. The paper was sturdy and the color was pretty accurate. We also liked the fact that we could get a matte finish, which isn't available at, say, Walmart (yes we know that Walmart lets you choose between glossy and matte, but we tried it and it was still pretty darn glossy).
We came up with our idea while randomly wandering the aisles of Home Depot on a hot afternoon. I picked up a piece of 11/16″ PVC corner molding, and thought it would make a good shelf for a photo. Jake helped me pick out some L brackets to mount them, and some wood screws to hold it on the wall. The other stuff we needed, a power drill and a hot glue gun, we already had at home. The total purchase was only $11.20.
The first step was to cut the molding into 1 and a half foot segments, which was easy because a guy at home depot did it for us. We smoothed the edges with a file so it would look nicer on the wall.
Then we hot glued the L brackets to the molding segments, one near each end, making sure that the L Brackets were rotated 180 degrees from the L shape of the molding (see below).
Next we put the newly formed shelf against the wall and traced a dot in the circle so that Jake could drill a pilot hole for the screws. Here's a tip if you don't have a level: you can download a free level app for the iphone called iHandy Level, and it works really well. After drilling the pilot holes, Jake just tightened the screws by hand because he was afraid the power drill would strip the drywall and the whole thing would just pull out of the wall.
After repeating the process a few times we had a very simple, minimalistic and inexpensive display for our photos. We just stood them up on the inside of the molding and leaned them against the wall. We didn't have to buy any frames or stands for them, and we can switch the photos around easily and never have to straighten them because they are on a level surface.
If anyone tries this out, or if it inspires you to try something similar, please put it on Pinterest #jakeanddannie so that we can see what you did!