---
CONTACT US FOR YOUR DREAM COLLECTION
---
One size doesn't necessarily fit all, and not everyone's wedding can be matched perfectly with a particular package. We can help you build your dream collection from hours of coverage to professional products such as albums and guestbooks. Contact us today to request one of our collections or to inquire about a custom quote.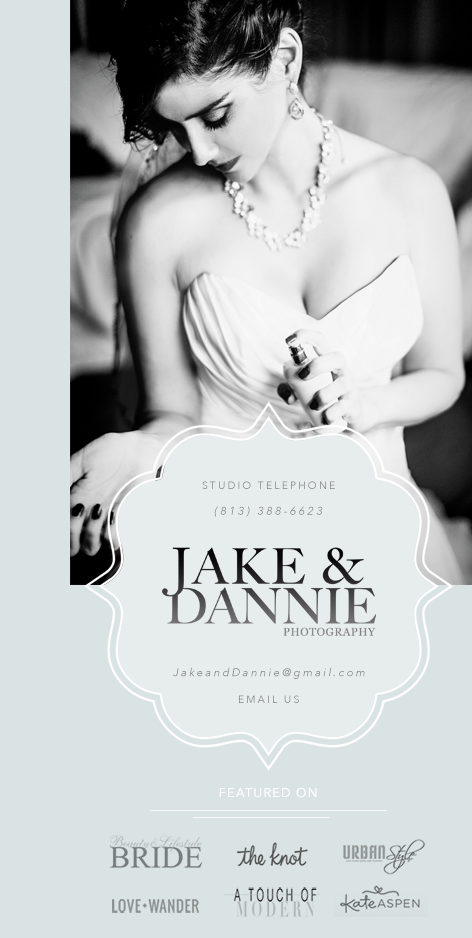 ---
---
COVERAGE, TRAVEL & OTHER FAQ
---
At Jake and Dannie Studio, we are often asked questions involving prices, travel, delivery timelines, albums and other wedding coverage details. Here we've compiled some of the most-asked questions for you. We hope you find these answers helpful! Please don't hesitate to contact the studio if you have any questions not answered here. We hope to hear from you soon!
How much do you charge for travel?
We can absolutely understand wanting to find pricing information without having to ask. We do not charge any travel fees for weddings within 150 miles of our studio (which includes Tampa Bay, St Pete and Orlando). However the price for extended travel or destination weddings would be hard for us to estimate without important details. We are happy create custom travel collections for many clients! Simply send us an email and we'll get you all the information you need!
Who do we get on our wedding day? 
When you hire us you are hiring us. You will see Jake show up on your wedding day ready to shoot, and you will get custom hand edited photos from Dannie, we don't send associates to your wedding, we don't let 3rd party handle/edit your wedding photographs. We try our best to provide the best service. When you hire us, you hire us!
---
How come you don't deliver USB? 
We use an excellent web delivery and download tool so you don't have to pay extra tax for the whole wedding on USB. If you do wish to order a USB from us we'd happy to deliver your wedding photo on a custom USB we can work with you to include it in your collection.
---
Do we get to keep the negatives? 
Well, first of all we shoot and process in digital. Though we do maintain ownership and rights to all of our images, however, for each client we do provide the digital files from your wedding day. We also give you a print release that will allow you and your family to make copies of those images for personal use (which means you can not sell those photos). These should not be confused with the unedited raw files which we do not distribute.
---
Do you come to the rehearsal? 
We love to attend your wedding rehearsal if there are not schedule conflicts and the distance is not prohibitive. We typically do not take photos during the reception (except for the purpose of our own preparations) or provide coverage of the rehearsal dinner as part of the wedding coverage. If you would like coverage of your rehearsal dinner, let us know and we will work with you to include another session in your custom collection.
---
If I need to cancel my wedding, is the retainer refundable?
The retainer fee and all monies paid are non-refundable. The retainer guarantees that we'll hold the date exclusively for you and once you've signed the contract we do turn down all other commissions for that date.
---
Do you offer discounts for off-season or non-weeked events?
Occasionally discounts are available but are based on time of year, our travel schedule and availability. If you have concerns about your budgetary needs, please contact us and let us know.
Do you edit all of our photographs?
YES. We do! Every image that you receive has been hand-edited by Dannie, one at a time, with your wedding style and theme in mind. We don't send your photographs off to 3rd party.
---
Where do you live and how far will you travel?
You wouldn't think that such a simple question would result in such a long answer, would you? Jake and Dannie lives in Spring Hill (Florida). Dannie grew up in NYC and Jake in New Hampshire, they both find the nature coast of Florida quiet and relaxing. However for photography, we have traveled to New York City, North Carolina, Georgia, different parts of Florida even China. Besides traveling for photoshoots we are both well traveled as a family. We are very comfortable traveling for events near and far. Rest assured that should you commission us to cover your wedding and travel to you then you are hiring someone very experienced with travel for business. Travel fee is billed very simple - we charge 57.5 cent (standard IRS rate) per extra mile if your wedding venue is outside of our coverage zone but within driving distance. If airfare and hotel and rental car are needed all you are responsible for is a direct reimbursement for the charges.
---
How long does it take before we receive our products and photographs?
Online galleries and digital downloads are posted within six weeks of the wedding date. Upon final approval of album design most albums are ready for delivery within twelve weeks.
---
How many pictures will we receive?
The number of photographs taken depends on many things - the number of guests, hours of coverage, types of events, size of the venue. Our Signature Collection averages about 500+ final processed images, but those numbers vary depending on the day.
---
Do you have venue and equipment insurance?
Yes, Absolutely. we are 100% covered. That means if your venue only works with photographers that has venue insurance we can provide the document (if your venue need to see paper documents, please let us know at least two months in advance of the wedding as it does take time for insurance company to process and provide that document), as for equipment, if anything bad to happen to our camera a week before your wedding, our insurance will cover the fee for us to purchase new equipment in time for your wedding.
---
Do we need to feed the both of you at the reception?
Yes, it's required in our contract if your event goes past five hours we do require hot meals. Many caterers offer "vendor meals" as an add-on option. Feeding us ensures we stay cheerful, mobile and doesn't faint from starvation or end up wildly "hangry".
Traditionally vendors are fed the last on a wedding day, but we've attended enough wedding to see bride and groom standing around waiting for their band members / DJ / photographer / videographer to come back from their meals. So in order to ensure a smooth timing on your wedding day, we prefer to be fed when you are fed. That means we do require to be served first (after the family of course) but before other guests, because when you're eating you're not at your most photogenic, so that's the best time for us to take a break, and when you're done, we want to be done as well to continue your coverage. If our meal arrives after your 100+ guests are served, the chances are you are long done eating before we will even hold our fork.