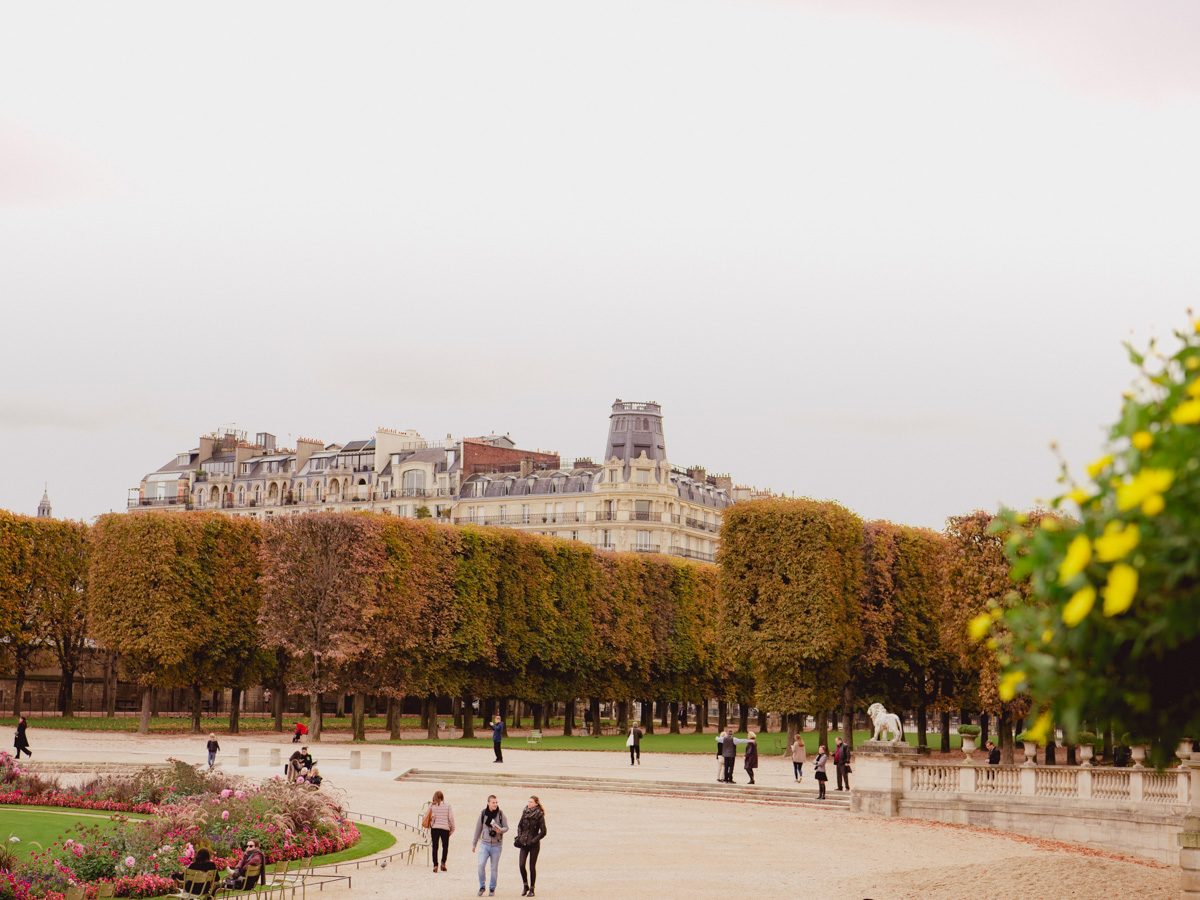 Lisa was so good on our trip to Paris that we thought we'd make our first post all about her. As our departure neared, we started to worry that we might be taking advantage of her good will - she rarely fussed as we woke her up early dragged, her around the city, and dressed her up to pose for photos with her mother. So Dannie and I decided that we should take a morning and make sure she felt appreciated. We grabbed some pastries from Ladurée and made our way to the Luxembourg Gardens for a little play time.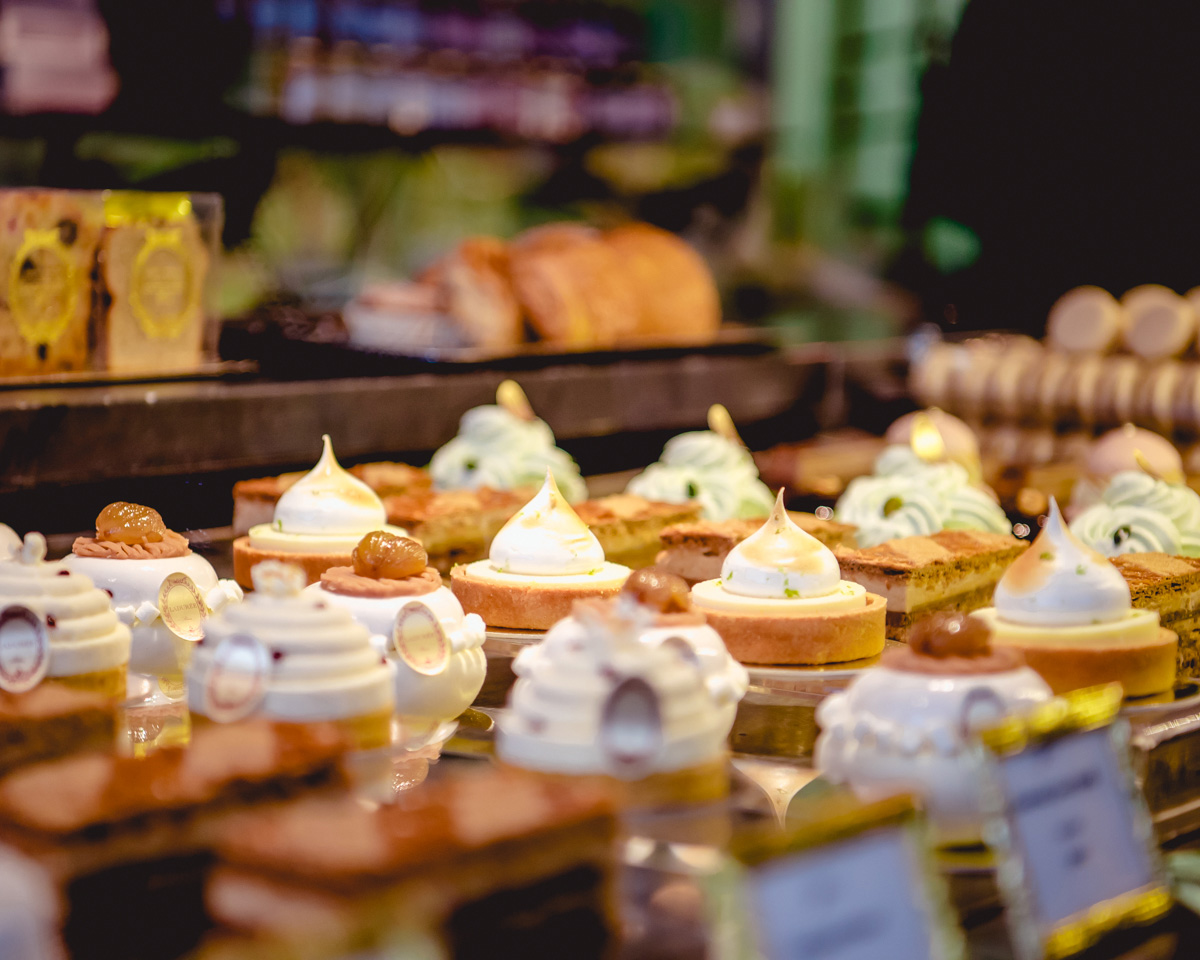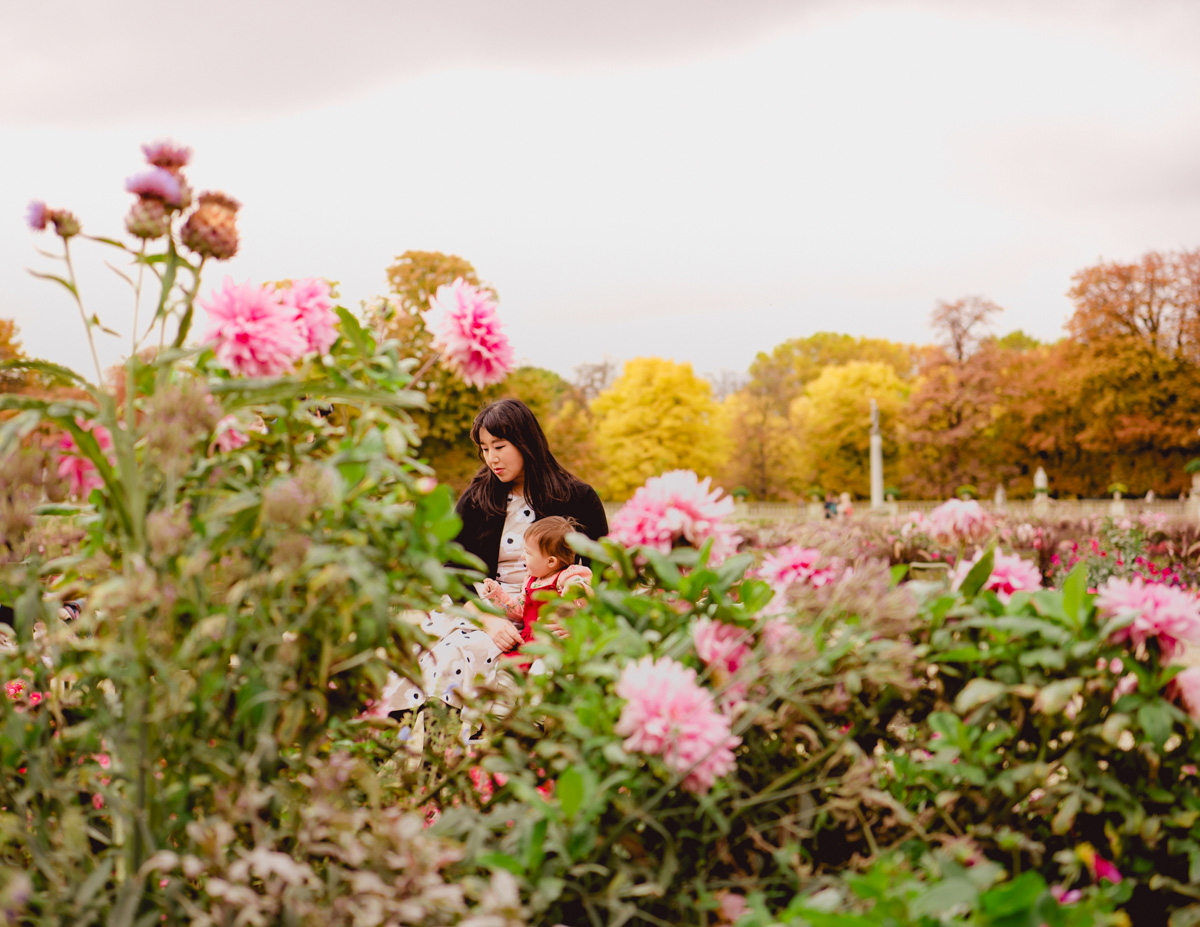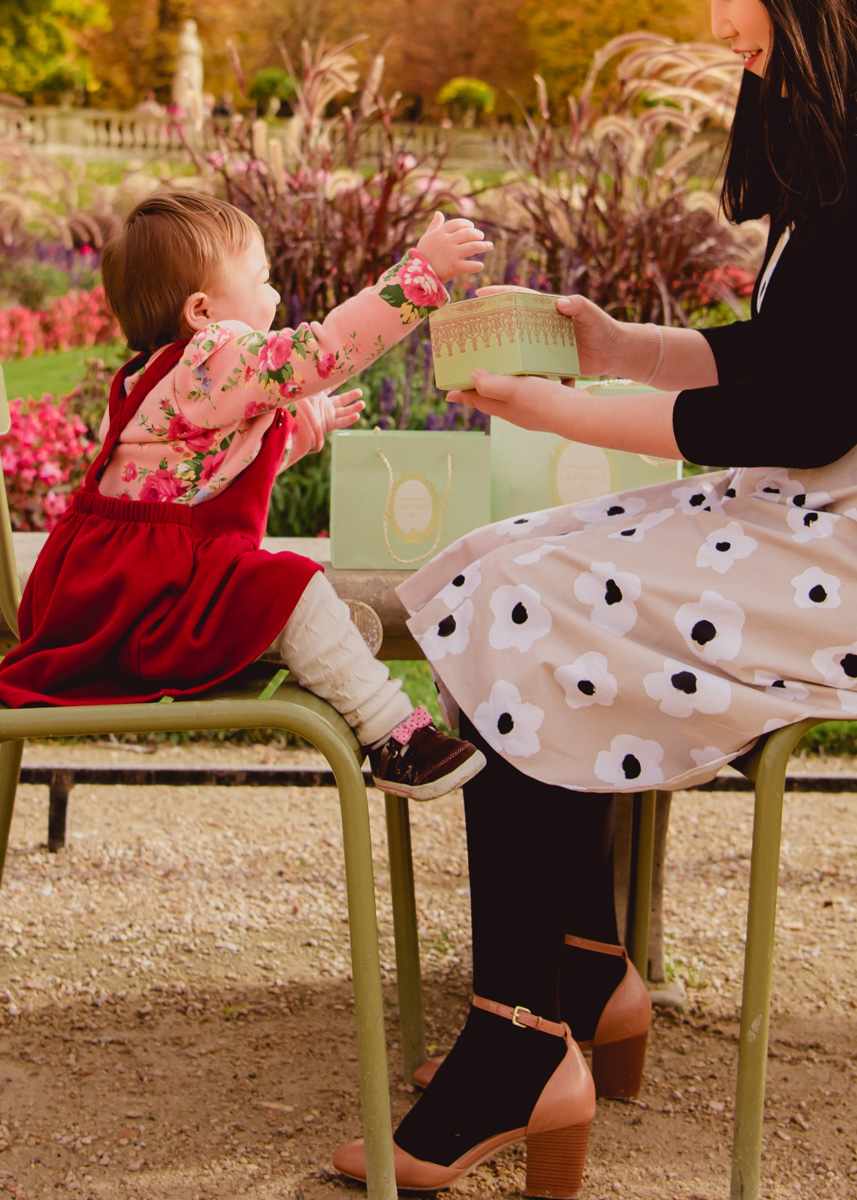 Since it was a weekday - and a cool, cloudy one at that - the park wasn't very crowded. We felt comfortable letting Lisa roam around on the ground, as long as she didn't get too far away. She was so excited to explore, but we thought she ought to have her just deserts before she got too dirty. At first, she was reluctant to try the pastries, but once she had a bite there was not stopping her. She emptied the box and then carried it to Daddy in the hopes that he would magically refill it.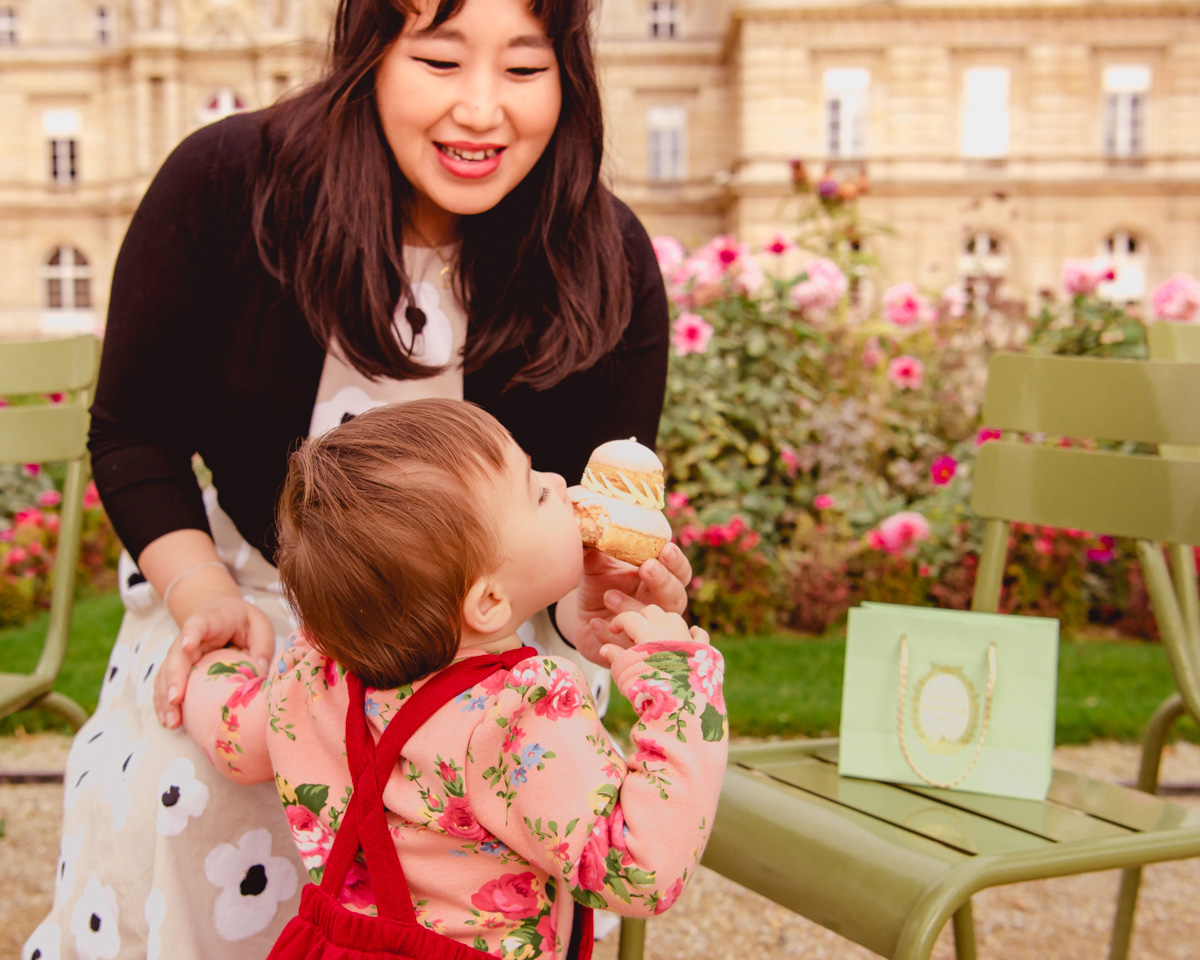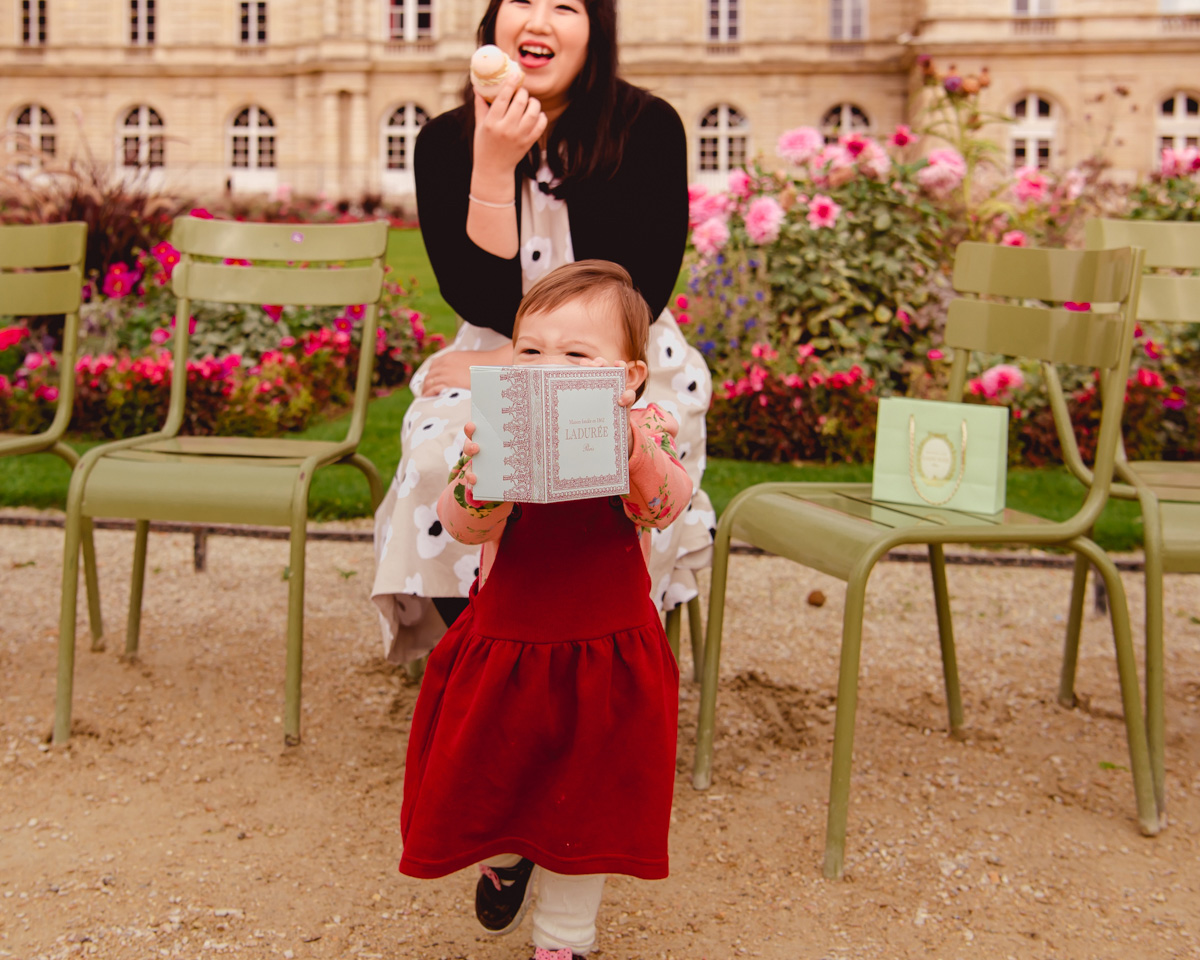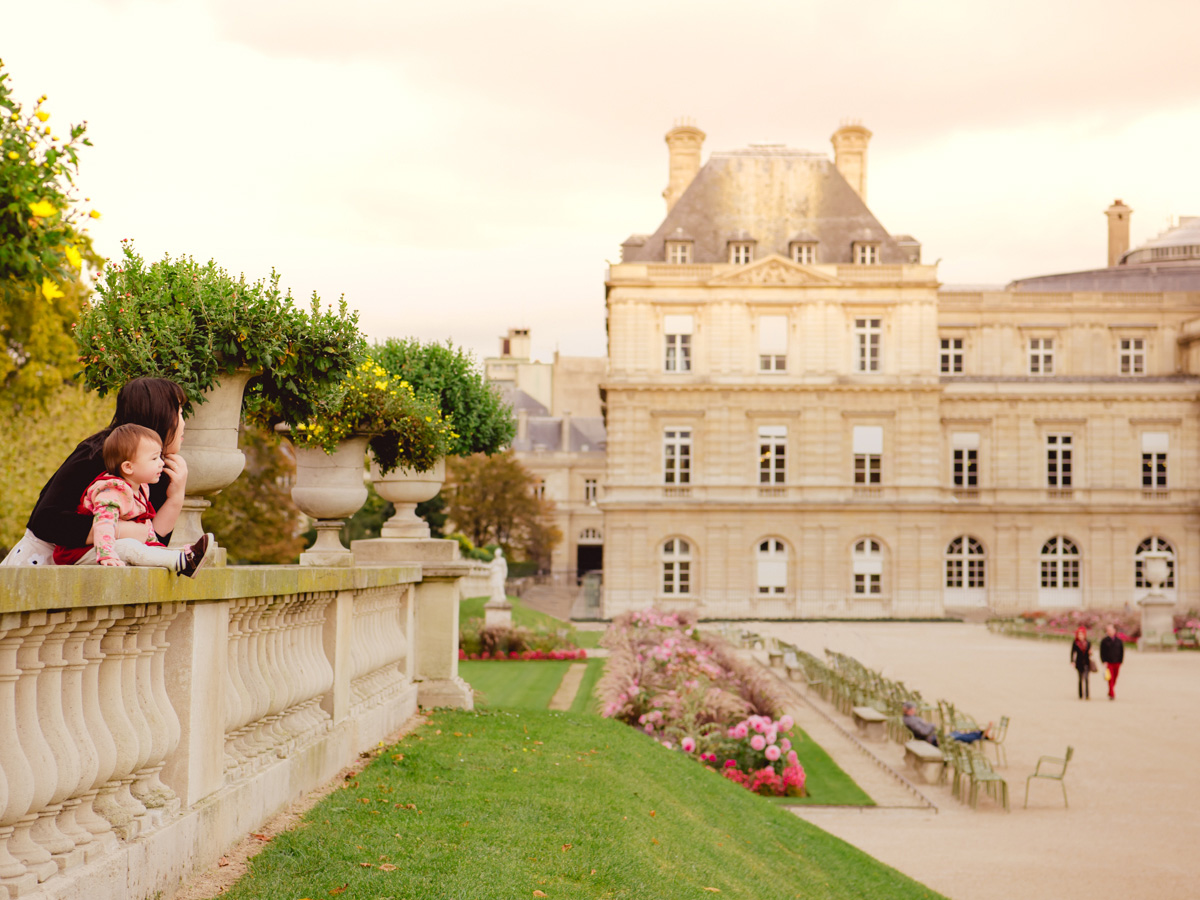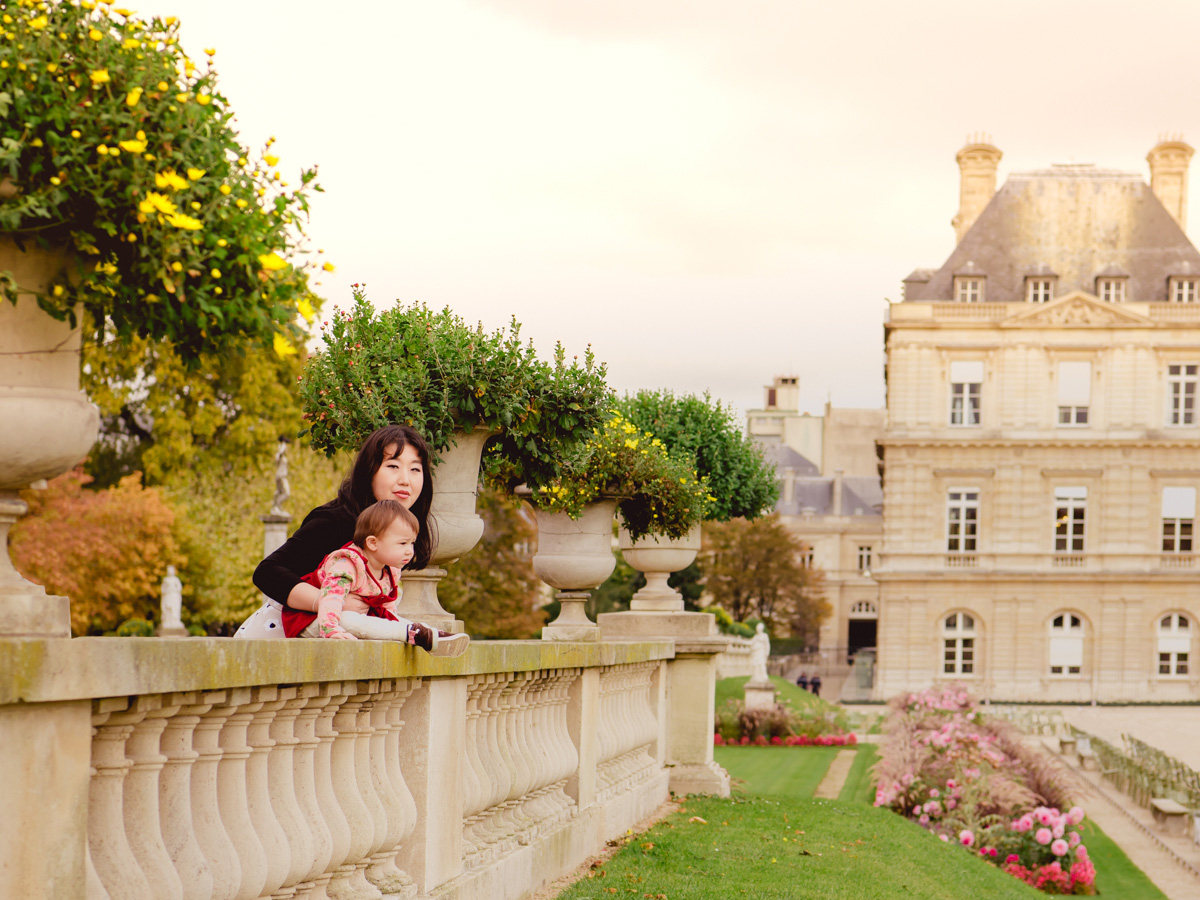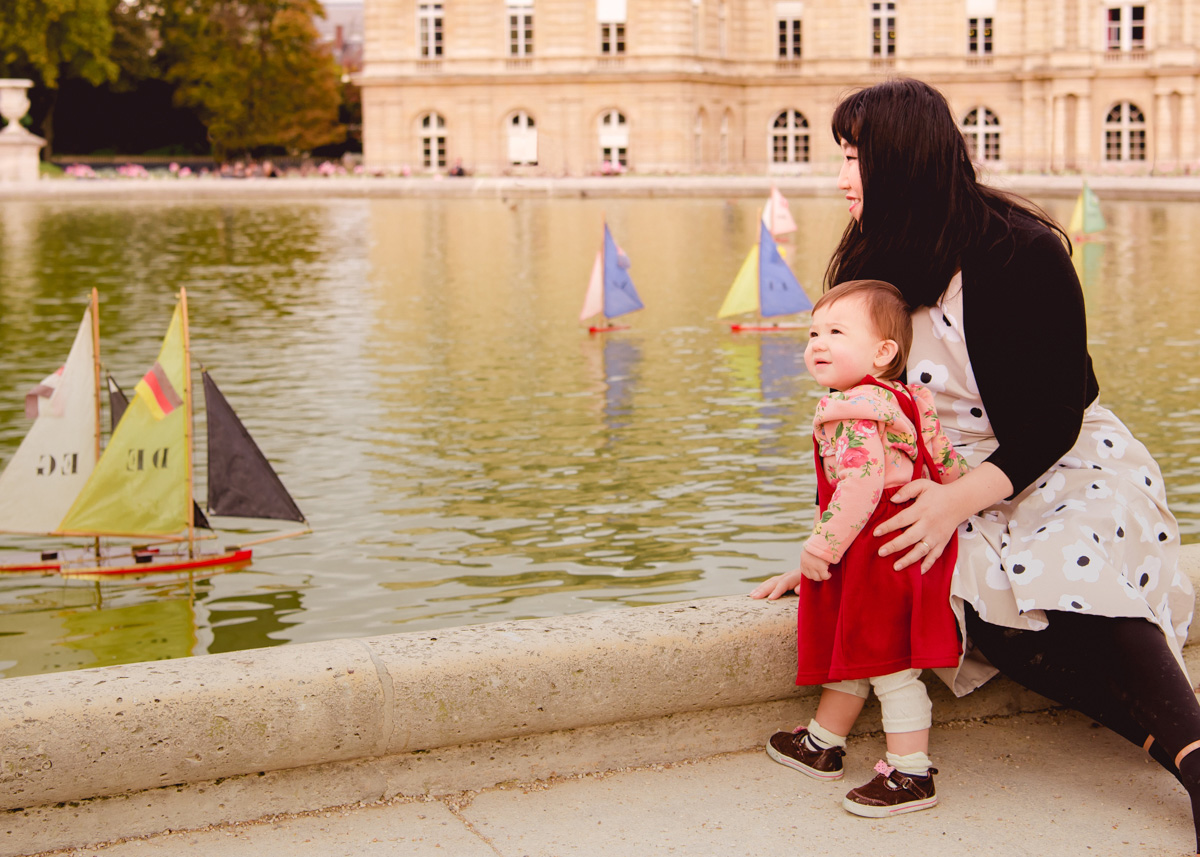 Lisa loved chasing the birds, looking at the flowers, and trying to climb over the ropes meant to keep her off the grass. But if she'd been a few years older, there were a lot of other activities she might have enjoyed too. Bigger kids were playing on the playground and pushing sailboats around the duck pond with sticks. Lisa watched them, pointed her finger and said "ooooh oooooh," which is what she typically says when she is extremely interested in something but doesn't quite know how to express herself.
Eventually, she learned to make her own fun, though, digging and drawing in the sand. It was kind of like what she does at home, except this time she was in front of a freaking palace and she was acting like she owned the place (#sandboxgoals). Lisa recently learned to brush her hands together when they're dirty to get the dust off. It's extremely cute because afterward she always looks up at us expecting praise. We try to let her know what a good job she did, while at the same time cleaning her hands with a wipe because she did such a terrible job. It's the thought that counts, Lisa.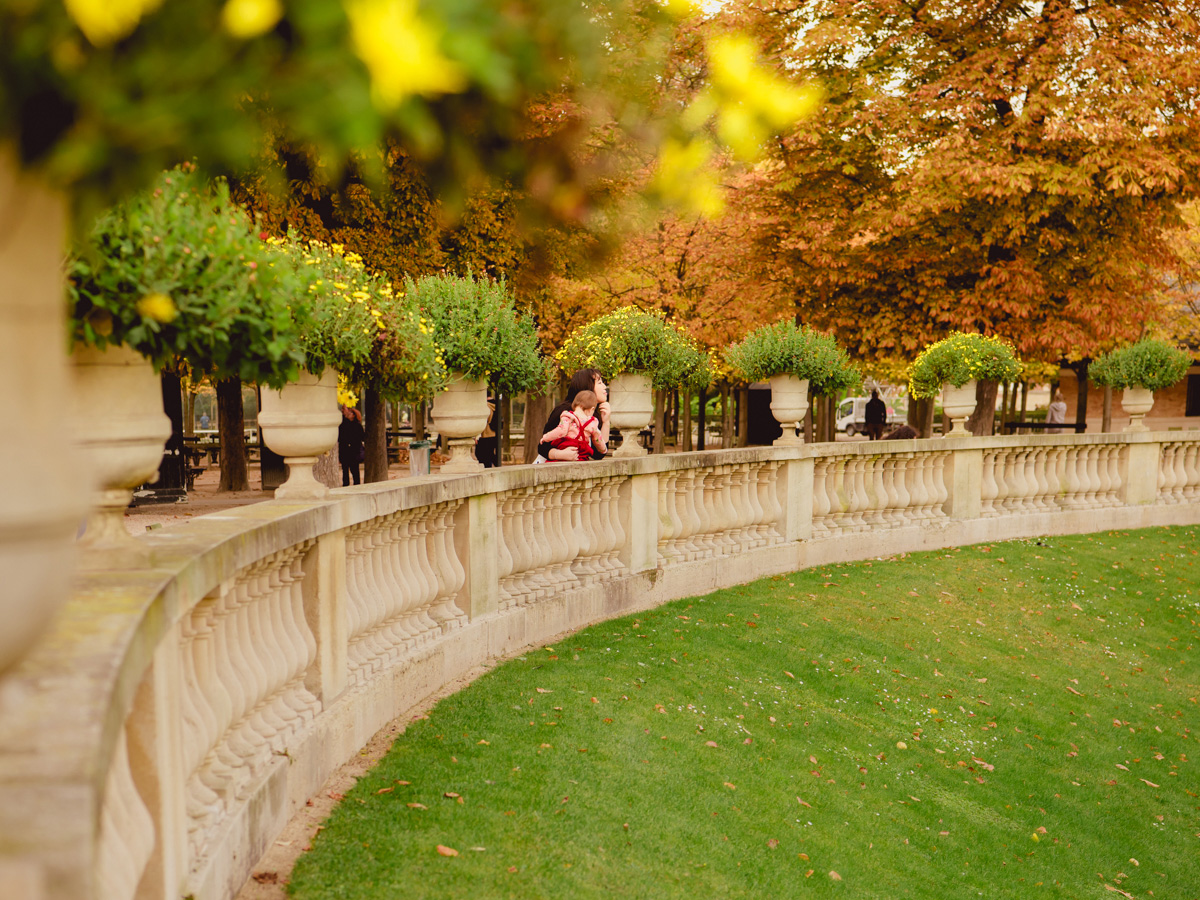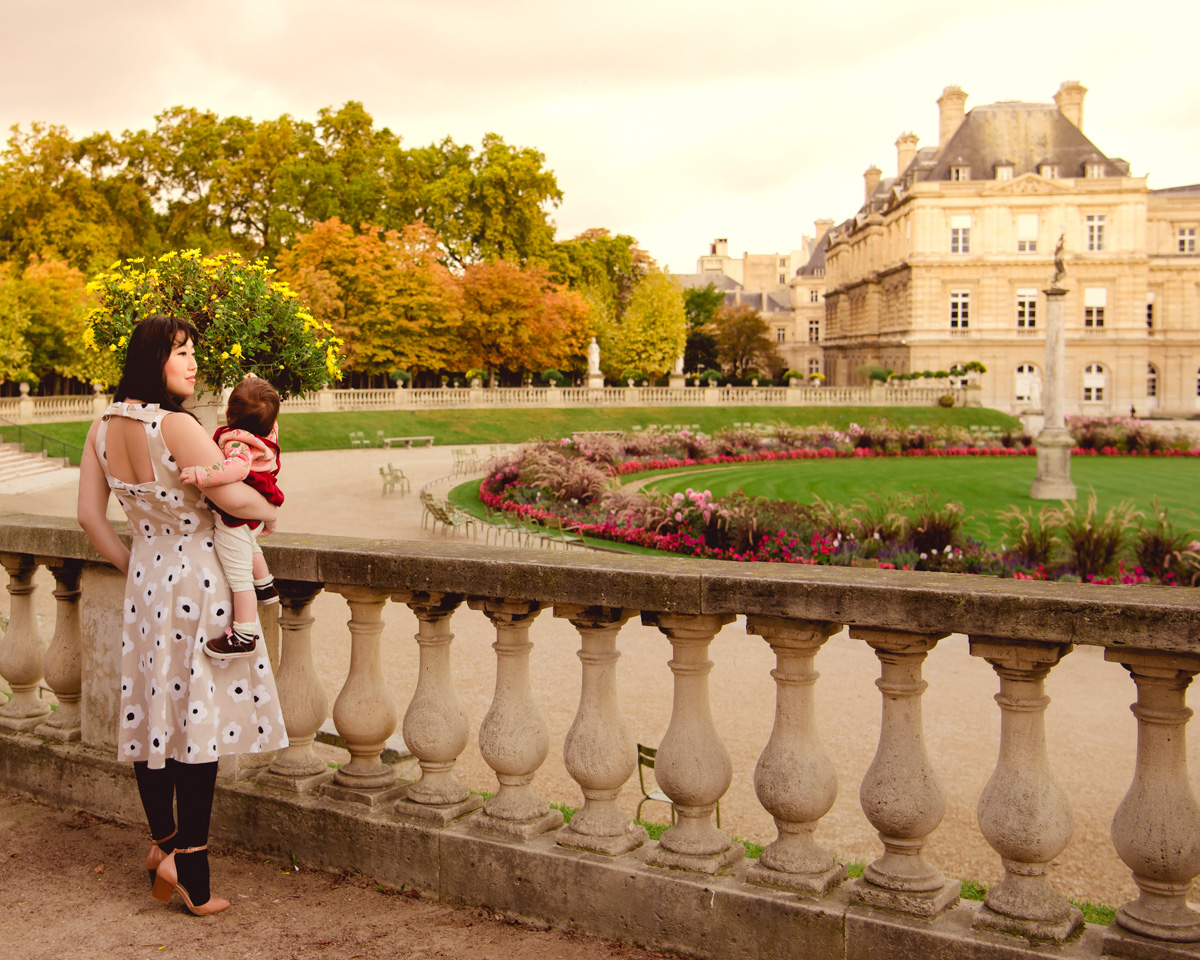 Dannie and I had a great time too. The leaves were changing color in the well-manicured trees, but even though it was fall, the gardens were filled with beautiful flowers. We even had a nice romantic moment when it started raining and we had to grab Lisa and dash for shelter under a gazebo. Plus, we got to take some pictures of our beautiful daughter, this time on her own terms.
Soon it was back to our usual busy schedule, but we felt better knowing Lisa had had a little "Lisa time." Sometime soon I want to write a whole post about Lisa's behavior on the trip, what we did to help her cope with our constant photo shoots, and a few mistakes we'll be correcting in the future to make things a little easier on her.
If you've got any tips for helping kids enjoy travel, feel free to share them below.